Despite the numerous tax and cost benefits of setting up a company in Dubai, the starting fee can be relatively high depending on the type of company. Specifically, Dubai company registration cost differs for offshore and onshore firms. If you are not planning to conduct business in Dubai, an offshore company can be a much cheaper option that allows you to enjoy low taxes and less stringent requirements. This article gives you a brief idea of how much prices can differ, by providing you with an estimate of the cost to register company in Dubai for different offshore and onshore businesses.
What is Dubai company registration cost?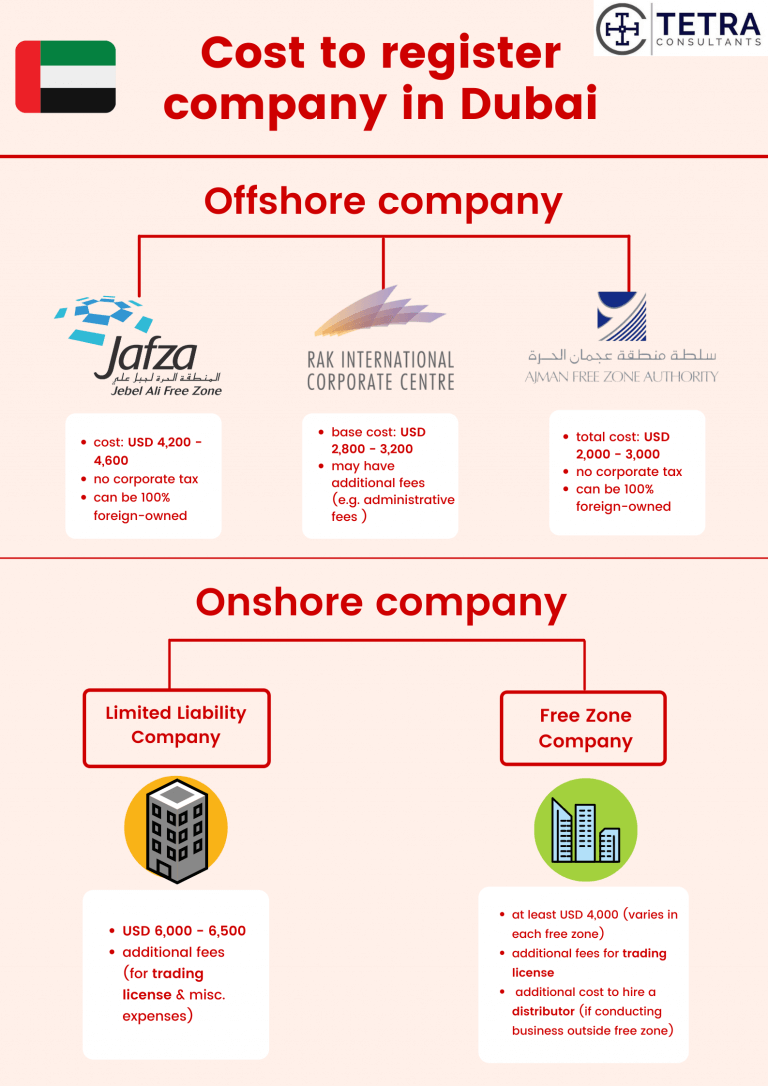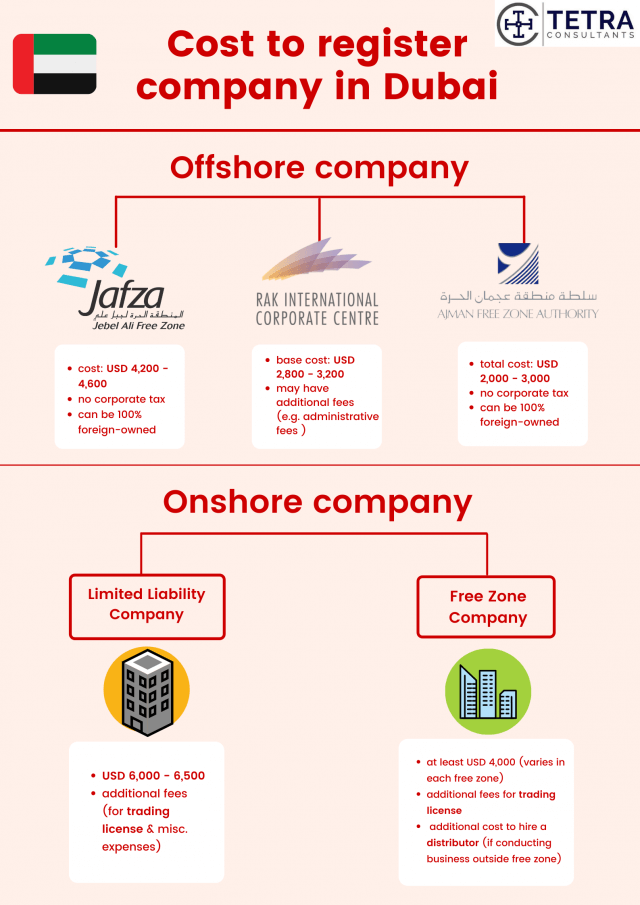 #1 Dubai company registration cost for offshore businesses
The UAE has three main jurisdictions for foreigners to set up offshore companies in, namely the Jebel Ali Free Zone, Ras Al Khaimah (RAK) and Ajman Free Zone. Costs will differ depending on which jurisdiction you choose. All companies must be incorporated by a registered agent who is recognised by an accreditation body in the UAE to provide services such as corporate advice and other legal services. Offshore companies are only authorized to conduct trade outside of the UAE. This means that they are not allowed to conduct business with residents within the country.

Jebel Ali Free Zone Authority (JAFZA) Offshore
Situated in the Dubai port of Jebel Ali, The Jebel Ali Free Zone is a free economic zone in which companies do not need to pay corporate taxes and can enjoy 100% foreign ownership. There are no restrictions on the hiring of foreign talent or capital repatriation back to the company's home country. Offshore business formation fees can range from USD 4,200 to USD 4,600, depending on the registered agent employed. The offshore registration cost for a new business set up in Dubai is the highest for JAFZA because it has an established reputation and a longer history of incorporating offshore firms. Previously, only JAFZA offshore firms were allowed to own property in Dubai but this rule has been extended to include RAK offshore companies.
Ras Al Khaimah International Corporate Centre (RAK ICC)
RAK ICC is a corporate registry situated in Ras Al Khaimah, United Arab Emirates. Like in the JAFZA, offshore companies registered under the RAK ICC will not have to pay any personal or corporate income tax and can be 100% foreign-owned.
The base cost to incorporate an offshore company with the RAK ICC ranges from USD 2,800 to USD 3,200 and will vary depending on the registered agent chosen. However, there may be additional fees that will be incurred such as administrative fees to verify documents and register information with relevant authorities.
Ajman Offshore
Similar to JAFZA Offshore, Ajman Offshore operates under a free zone in the UAE, more specifically the Ajman Free Zone. Offshore companies registered by the Ajman Free Zone Authority also do not have to pay corporate taxes and can be wholly foreign-owned. The total cost to incorporate an Ajman Offshore company in Dubai is around USD 2,000 to USD 3,000, and again this depends on the registered agent you employ.
#2 Dubai company registration cost for onshore businesses
If you are planning to expand your business to Dubai, an onshore company will be the option for you as it allows you to trade within the UAE. Onshore companies can operate anywhere in the UAE and will enjoy the same benefit – zero corporate taxes. The most common choice of onshore companies in Dubai are Limited Liability Companies and Free Trade Zone Companies.
Limited Liability Company
Limited Liability companies are ones where the shareholders will not be personally liable for the debts incurred by the business. The registration cost to set up a Limited Liability Company in Dubai typically ranges from AED 22,000 to AED 24,000. This translates to around USD 6,000 to USD 6,500. However, this cost does not include fees incurred in obtaining a trading license and other miscellaneous expenses. The total cost of starting a Limited Liability Company in Dubai is expected to be much higher.
Free Zone Company
Alternatively, foreign entrepreneurs can choose to register a free zone company. Previously, only free zone companies were not subjected to any foreign ownership restrictions. However, this has been amended in 2020 to include all limited liability companies in the UAE, with some exceptions.
The cost to register business in Dubai is much cheaper in onshore free zones and starts from around AED 15,000, which translates to roughly USD 4,000. This cost may differ depending on the free zone chosen. Similarly, this cost does not include the fees incurred in purchasing a trading licence. It is important to note that a UAE free zone company that wishes to conduct business outside the free zone must hire a distributor operating a business in the UAE mainland. This restriction, however, does not apply for limited liability companies.
How to calculate my Dubai company registration cost?
The initial Dubai company registration cost is much higher than that of other countries and jurisdictions. Besides the higher registration fee, there are many other costs incurred in setting up, which includes the cost of obtaining a trading licence for onshore companies, fees incurred in setting up a Dubai offshore bank account and other miscellaneous verification fees. In addition, if you are setting up an onshore company in Dubai, you will need to have a registered office, and it can be quite expensive to rent a local office space.
However, once you have successfully set up your company in Dubai, the benefits are tremendous. This includes zero corporate taxes, 100% foreign ownership and anonymity of business.
If you are looking to expand your business in the UAE, Tetra Consultants will provide you with a fast and easy way to  Dubai company incorporation through our service package which includes registration of your offshore Dubai company with the Registrar of Companies, provision of a registered agent and a registered address, opening of a corporate bank account and annual accounting and tax services.

Contact us and our team will revert within the next 24 hours.