Brazil is an emerging country which is currently experiencing a staggering increase in growth of domestic middle-class and affluent consumers. Being a member of the World Trade Organisation (WTO), Southern Common Market (MERCOSUR) and BRICS, the country finds itself to be an ideal location for many foreigners to incorporate their businesses.  Our team at Tetra Consultants has studied and drilled down into the top 4 most profitable businesses in Brazil for foreigners to start. Come find out existing business opportunities for foreigners to register company in Brazil.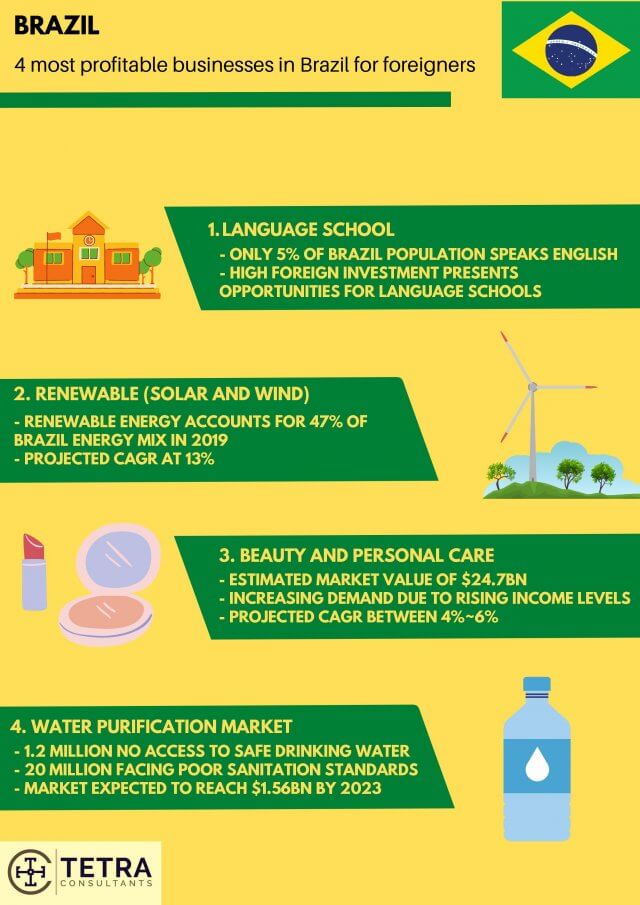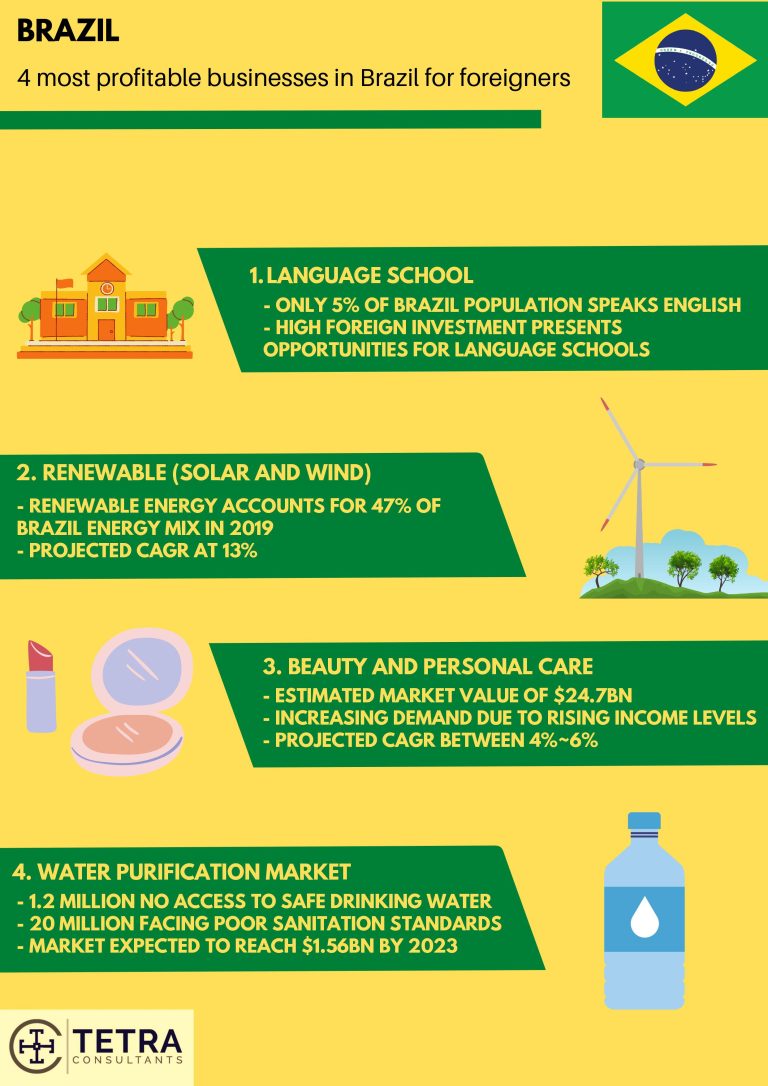 1. Language

School
In Brazil, the first language used and practiced is Portuguese, both in communication as well as the conduct of businesses. This represents about 98%~99% of the entire Brazilian population speaking Portuguese on a day to day basis. However, only about 5% of the Brazilian population is able to communicate in the world's most official language used, which is English.

Whilst English language is taught during elementary and highschool education, neither the public nor private schooling system are able to provide a comprehensive and adequate programme to effectively teach the English language. The students are given content to learn but no platform to practice. The low English language speaking rate is also coupled with the notion that mastering Portuguese language itself will be sufficient in their education and daily lives.

With increasing progression in foreign investment and their economy, Brazil is seeing an incremental increase in international firms incorporating their businesses in Brazil. In 2021, the estimated foreign direct investment reported by the Central Bank is worth about USD $60Bn. Despite the high foreign investment metric, many of the foreign businesses conducted in Brazil still require translation and documents to be provided in both the English and Portuguese language. This presents a huge opportunity for language schools to become one of the most profitable businesses in Brazil as they branch themselves into the country.
2. Renewable Energy (Solar and Wind)
To provide a snapshot of Brazil's energy mix, renewable energy accounts for 47% of the domestic energy supply in 2019. Hydropower even represents about 63% of Brazil's electricity mix. This goes to show that Brazil is no stranger to incorporating renewable energy into their mix of energy supply. Whilst we can see that the hydropower industry is relatively developed in Brazil, there are still opportunities to get into the solar and wind renewable business in Brazil. Brazil is expecting an increase in auction-based energy procurement with contracts lasting between 15 to 30 years, given the increasing deregulation of its energy market.

According to the International Renewable Energy Agency (IRENA), the solar market is projected to grow at a CAGR of 13% per year from 2020 to 2029. The geographic location of Brazil is close to the equator line, allowing for excellent levels of sunshine to be capitalised upon in the country, allowing for increased efficiency of the solar industry.

Brazil proposes wonderful potential for both offshore and onshore renewable wind energy generation. The Energy Research Office of Brazil conducted an assessment using ERA5 data, which measures land, oceanic and climate variables and assessed that the coastal regions have the potential to generate up to 700GW. Hence, the solar and wind renewable energy industry offers one of the most profitable businesses in Brazil for foreigners to expand into.
3.Beauty and Personal Care 
In Brazil, the dynamic shift in growth of middle and affluent class consumers is driving the market for beauty and personal care products, given the increasing consumer consciousness towards improving personal hygiene and appearances. In 2021, the beauty and personal care business in Brazil is estimated to be worth about $24.7Bn and is further expected to grow to $26.7Bn by 2023 according to Statistica.

The overall economic progression of the country has allowed for improvement in living standards, supported with rising income levels has propelled the sales of beauty and personal care products in the emerging country. Throughout the past decade, Brazil also oversees an increasing rate of female employment throughout the years, with . This creates demand for various beauty and cosmetic products such as foundation cream, eye make-up, lip sticks and deodorant. On top of the rising female working population, the rising influence of social platforms and beauty endorsers have catalysed the demand for beauty and personal care and also the exploration of premium and exotic products, realising their own personal consciousness for beauty. The beauty and personal care market in Brazil is expected to grow at a CAGR rate of between 4%~6% across the board, with the current industry being dominated by few major brands. Entering the beauty and personal market with exotic and diversified product offerings will allow you to tap into the potential of this market and differentiate yourself from the industry, making it one of the most profitable businesses in Brazil.
4.Water Purification Market
Despite being one of the emerging countries to look out for in the world, Brazil still faces a water and sanitation crisis. Between both urban and rural communities in Brazil, there are currently 1.2 million people without access to safe drinking water and 20 million people facing poor water sanitation standards. The lack of safe drinking water disrupts the socio-economic developments of the country and poses varying health complications towards the residents of the country if not addressed. The lack of confidence in municipal-based tap water as well as poor water quality standards drives the demand for water purification products and services to enter the Brazilian market.

The water purification market is expected to reach $1.56Bn by 2023, with further anticipated growth in this industry as investment surges. The water purification market is estimated to grow at a CAGR of 5.8% between 2018 to 2023 with municipal end users dominating the market. This makes water purification one of the most profitable businesses in Brazil for foreigners to capitalise upon.
Conclusion:
With Tetra Consultants by your side, starting a company in Brazil as a foreigner will be smooth and hassle-free. Our comprehensive service package includes planning and strategizing with our clients to select a suitable business entity, completing the registration and documentation processes, obtaining required licenses, opening a corporate bank account, and ensuring your compliance with the government regulations. 
Contact us to find out more about starting a business in Brazil and our dedicated and experienced team will revert within the next 24 hours.