The Sultanate state has an open economy that is favourable for trades and Foreign Direct Investments (FDI), which makes
starting up a business in Brunei
increasingly attractive to many investors. Brunei is known for its extensive exports in the energy rich resources such as oil and gases, supplying to major economies like Japan, Australia, India and Singapore. The government of Brunei is increasingly exercising more efforts for foreign investors to incorporate and elevate the technological and telecommunications industry in the country in a bid to shift away from over-reliance on exporting resources. Thus, investment opportunities and incentives are actively being created through the facilitation of the Brunei Economic Development Board (BEDB). With the business environment in Brunei poised towards welcoming FDIs and various higher level technological firms, there is increased demand to
register company in Brunei
. In this article,
Tetra Consultants
will share 6 things to know about
public limited company in Brunei
.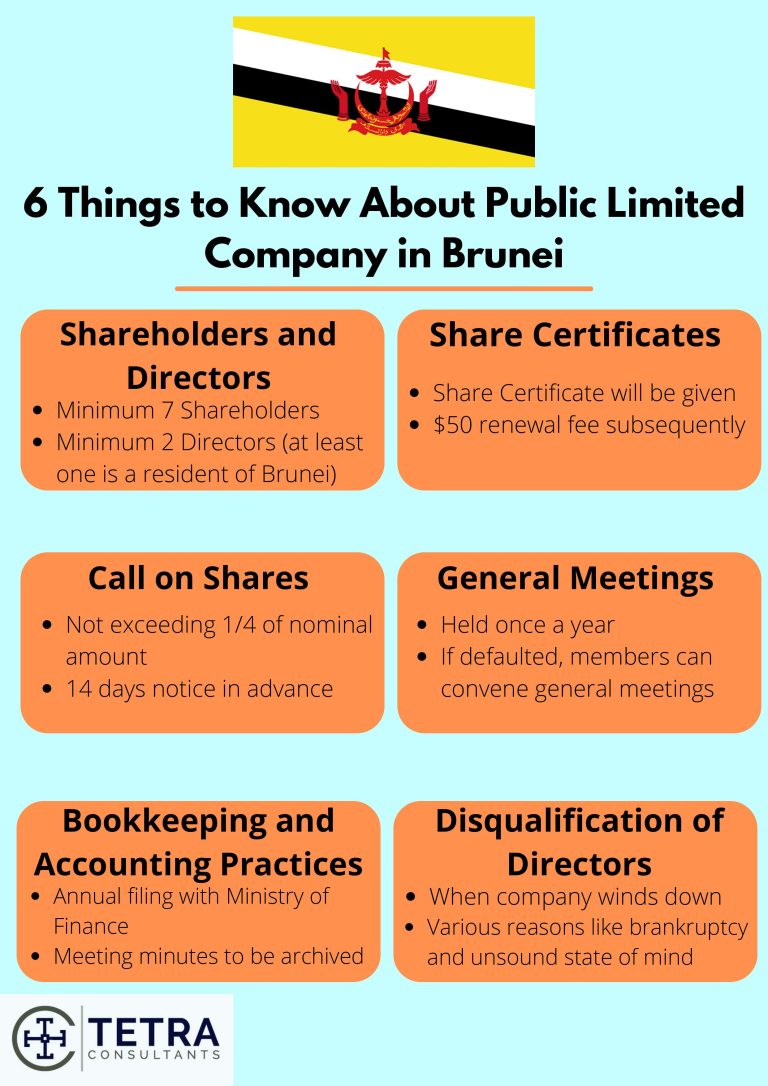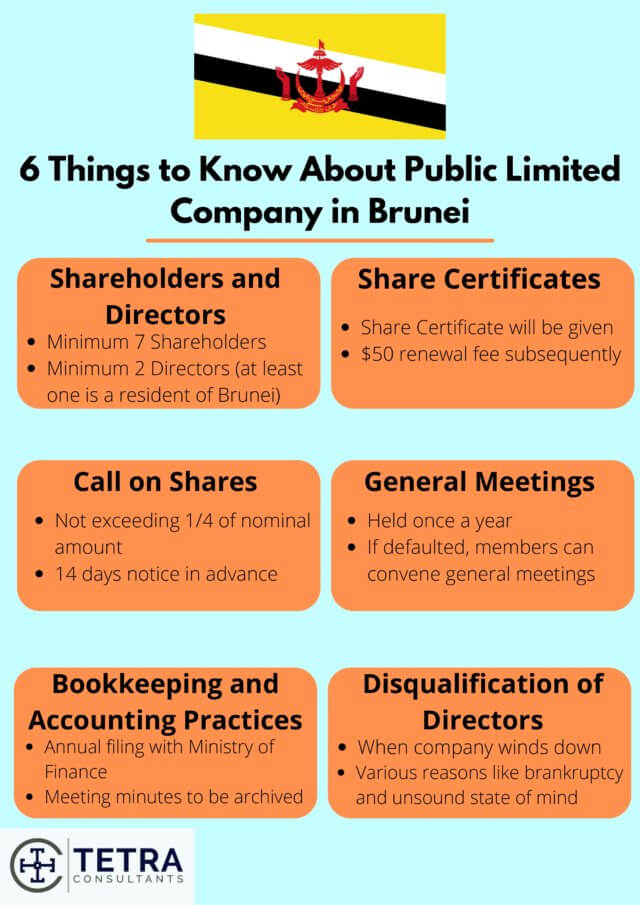 1. Shareholders and Directors:
The first thing to know for a public limited company in Brunei is that the minimum shareholder quota is 7. Additionally, all 7 of the initial shareholders have to be a Brunei Citizen or a resident classified under state legislation. Additionally, public limited company in Brunei requires a minimum of 2 directors, of which at least one of them has to be a Brunei Citizen or a resident classified under the Sultanate state laws.
2. Share Certificate
Every subscriber or shareholders of a public limited company in Brunei will have their details registered with the Ministry of Finance and Economy. The members registered, shall without payment, be entitled to a certificate under the seal of the public company specifying the total amount of shares held by him or her. Given that the share is defaced, lost or damaged, it will be renewed on a payment fee not exceeding $50.
3. Call on Shares:
Another thing to note for public limited company in Brunei is that directors may from time to time call upon the members of the business to pay the company moneys unpaid based upon their shares provided that no call shall exceed ¼ of the nominal amount of share that each member owns. Additionally, the call on shares must past at least one month duration from the last call and each member is subjected to receive at least 14 day's notice specifying the time of payment. Any member breaching the provision is liable to pay additional interest upon the sum at the rate of $5 per cent per annum from the day of appointed payment. Directors shall be at authority to waive the payment of the interest either wholly or in part.
4. General Meetings:
For public limited company in Brunei, a general meeting is required to be held once in every calendar year (not being more than 15 months after the prior preceding general meeting). In the event of a default in convening a general meeting, a general meeting shall be held in the next following month and may be convened by 2 members in the same manner as if the directors as soon as possible. Apart from general meetings, directors of public limited company in Brunei are able to call on extraordinary general meetings whenever they think fit.
In general for notice of general meetings, a 7 day notice (exclusive of the day when notice is served) minimally has to be granted to members and directors, specifying the location, date and time of the meeting. However, granted by basis of circumstances and emergencies, a shorter notice may be given before the convened the Board of Directors and members.
5. Bookkeeping and Accounting Practices:
For a public limited company in Brunei, auditors registered to the company have to originate from Brunei. Additionally, accounting and financial data is required to be submitted annually to the Ministry of Finance for Brunei. The financial ledger and accounting data are not the only required documents of a public limited company in Brunei. Meeting minutes, minute books of members, minute books of directors have to be recorded and kept and archived. The name and addresses of various members and directors have to be kept updated at all times to reflect consistency and clarify as part of the bookkeeping practices.
6. Disqualification of Directors:
A director part of a  public limited company in Brunei may be vacated in the following events:
Ceases to be a director by virtue of the company winding up

Without consent of the company in general meetings, hold any other office of profit under the company other than his/her existing role

Becomes bankrupt

Found to be of unsound mind

Resignation of office through notice in writing to the company



Conclusion:
Engage Tetra Consultants as we guide you to incorporate your business in Brunei in a smooth and hassle-free process. The team provides a comprehensive service package that includes planning and strategizing with our clients to select a suitable business entity, completing the registration and documentation processes, obtaining required licenses, opening a corporate bank account, and ensuring your compliance with the government regulations. 
Contact us to find out more about company registration in Brunei and our dedicated and experienced team will revert within the next 24 hours.