Register company in Brunei: Introduction
To register company in Brunei is hassle-free with Tetra Consultants' assistance. Situated on the island of Borneo in Southeast Asia, Brunei is home to a large reserve of oil and natural gas making it one of the wealthiest countries in the world.
Recognizing their dependence on these exports and their resultant vulnerabilities to oil shocks, and in recognition of their Vision 2035 aim of attaining a dynamic and sustainable economy, the local government has been trying to attract new foreign investment for key sectors such as life sciences, agri-business, info-communication and technology, and services. This vision is supported in terms of legislation by the Economic Development Act 2003.
Our service package includes everything you will require to set up business in Brunei:
Company registration with the

Registry of Companies and Business Names

Local company secretary and registered address

Nominee director

Corporate bank account opening

Financial license applications

Annual accounting and tax services
How long to register company in Brunei and open a corporate bank account?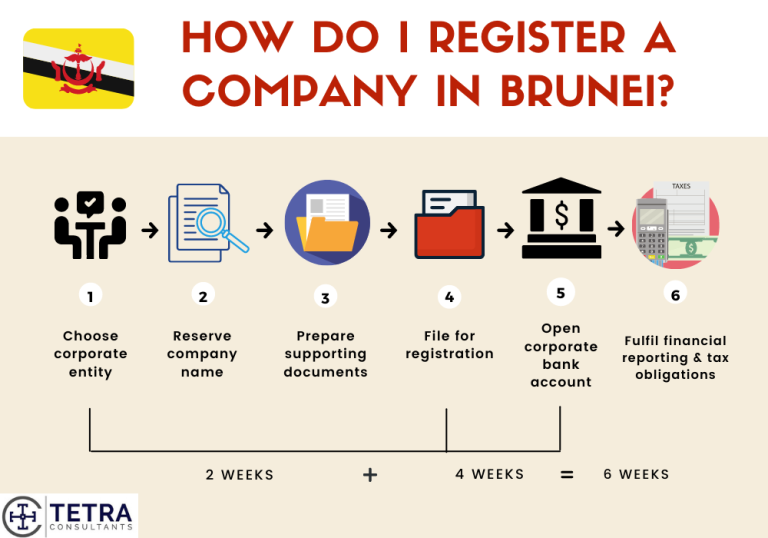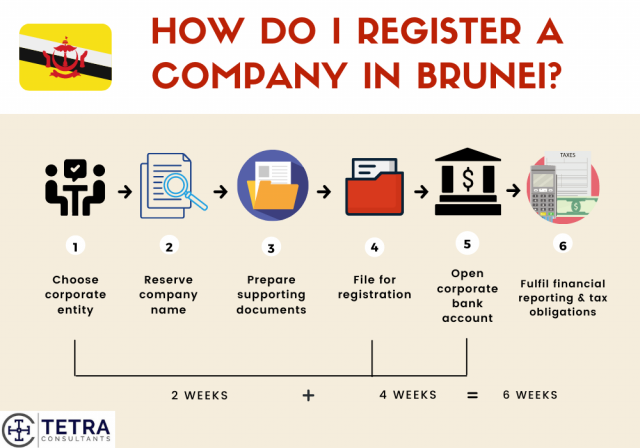 Tetra Consultants will complete your Brunei company registration within

2 weeks

. After receiving the due diligence documents of the directors and shareholders, we will proceed to check on the availability of your preferred company name and prepare the necessary incorporation documents.
Throughout the registration process, we will offer non-travel solutions.
After the setup is completed, we will courier the documents of your new company to your preferred address. The documents will include the Certificate of Incorporation as well as the Memorandum and Articles of Association.
Upon company registration, Tetra Consultants will open a corporate bank account for you within

4 weeks

.  
We will seek to provide you with non-travel banking solutions.
Within

6 weeks

from our engagement, you can expect your company to be fully set up and ready for business.
Can a foreigner register company in Brunei?
The Brunei government views foreign direct investment as a key driver of its envisioned dynamic, sustainable economy and thus allows for 100% foreign ownership.
Incentives and support to do so are offered through multiple channels, including the FDI Action and Support Centre, Economic Development Board and Ministry of Foreign Affairs and Trade.
However, foreign firms will still need at least one of the directors to be a citizen, permanent resident or residing in Brunei.
How to register company in Brunei?
Tetra Consultants advises you to read through this guide to fully understand the steps needed for how to incorporate a company and set up a bank account in Brunei.
Step 1: Choosing a suitable business entity to register company in Brunei
After understanding your business goals and activities, our team of dedicated consultants will recommend the most suitable entity for you to carry out your business. Prior to incorporating the company, you will be advised on the optimum paid up share capital, business structure, legislations and whether there is a need to apply for any licenses to operate.
Step 2: Reservation of company name
Tetra Consultants will reserve your preferred company name with the

Registrar of companies

.
Step 3: Preparation of supporting documents to register company in Brunei
Before Tetra Consultants can

incorporate your company

, you are required to provide a list of mandatory KYC documents. Some of these documents include the names of directors and identification proof.
Upon receiving all the necessary documents, Tetra Consultants will proceed to draft and notarize the company's Memorandum and Articles of Association.
As Brunei recognizes English as an official language in the field of business and education, these documents will not need to be translated into Malay by a certified translator. However, if required, we will provide you with a certified translator to translate these documents.
According to the business activity and corporate structure, Tetra Consultants will also draft articles of incorporation, business plan and other incorporation documents.
Step 4: Filing to register company in Brunei
A registered office is also required under local laws and will be provided by our team. In some cases, a registered agent may be required as well. For those special cases, we will allocate a registered agent to assist in your incorporation.
We will then proceed to file for registration with the Registry of Companies and Business Names.
After receiving approval, Tetra Consultants will courier the Certificate of Incorporation, Memorandum and Articles of Association and other documents to your preferred address. The official documents should be found in English.
You will also receive a

company registration number

.
Step 5: Corporate bank account opening
After registration, Tetra Consultants will assist you in opening a corporate bank account. Our team has established partnerships with multiple reputable banks in Brunei. We will present your business to each relationship manager and compliance team.
Typically, the bank account opening will take roughly four weeks. In most cases, the directors and shareholders are not required to travel. However, if travel is required, we will have a representative accompany you to the bank meeting. Alternatively, our team will negotiate with the banks to conduct a conference call instead or to request for a waiver.
Once your account has been successfully opened, Tetra Consultants will courier the internet banking token and access codes to your preferred address.
By engaging our services, you can leverage our full portfolio of banking partners.
Step 6: Financial reporting and taxation obligations 
Following the setup of your new company, Tetra Consultants will continue to provide you with the necessary accounting and tax services to ensure that you can continue to legally conduct business while staying compliant to regulatory obligations.
Our team of dedicated consultants will prepare your firm's financial statements, corporate tax returns and manage bookkeeping on your behalf.
Generally, corporate income tax is charged at 18.5%. For non-resident companies, you will be mainly taxed on income sourced in Brunei or on profits earned through business operating locally.
Companies are required to submit annual financial statements by 30 June of the year of assessment.
Our team of dedicated consultants will continue to clarify any doubts you may have with regards to your company's obligations.
Types of business entities in Brunei
There are many types of business structures in Brunei each with distinct levels of personal liability protection, tax ramifications, ownership and management flexibility as well as compliance requirements.

Companies in Brunei can be either a public company or private company, differentiated by the number of shareholders and share transfer capabilities. Both a public company and private company in the country are governed by the same Companies Act.
Prior to the start of the engagement, Tetra Consultants will fully understand your business before recommending the most optimum business entity. Some considerations we take into account include the type of business activity, tax obligations and nationalities of shareholders and directors. Our consultants will also offer more information on the requirements imposed to set up these entities.
Sole Proprietorship
The simplest form of business structure, a sole proprietorship is simply an extension of the owner's legal personality. As such, the owner remains personally liable for all obligations incurred by the business. While this provides greater simplicity operationally, it might be problematic when closing the business. Any transfer of business is not allowed and hence, there is no continuity.
The business income of sole proprietorships is taxed as per personal income tax rates. This might sound like an attractive prospect since there is no personal income tax, but unfortunately such businesses can only be registered by local citizens and its permanent residents. As such, you will not be able to register sole proprietorship if you are a foreign investor.
Partnership
A partnership formed must have at least two business partners but cannot have more than twenty partners. It is not seen as a separate legal entity, hence partners have unlimited liability and can be personally liable for all debts and obligations incurred by the business.
Similar to a sole proprietorship, a partnership can only be registered by local citizens and permanent residents.
International Limited Partnership
With minimally one or more general partners, this type of limited company can be formed for any legal purposes. Typically, in the event of a winding up, general partners can be made personally liable for all the debts and obligations of the company. Between the general partners, there must be at least one who owns a licensed entity in Brunei. However, a limited partner will be exempted from any personal liability, and has no national requirement. As such, with lower stakes, a limited partner is also not permitted in participating in the conduct of the business.
Generally, this corporate structure is best suited for those looking to engage in trading and holding activities since doing business in Brunei is restricted and they are not allowed to deal with local clients. A resident director is also not required. A minimum share capital of US$2 is required to set up an International Limited Partnership.
Corporations
Corporations constitute a separate legal entity from the shareholders and directors. This prevents them from incurring unlimited liability and does not make them liable for debts of the company. In general, corporations have stricter requirements as compared to the other structures for incorporation and compliance, though these steps have become increasingly simplified as the Brunei sultanate seeks to increase the ease of doing business in the country. For now, companies will need to have at least two directors of which half of them must be ordinarily resident, two shareholders and file their annual returns and reports. Minimum capital for both structures is only US$1.
Public corporations are subject to stricter requirements. They must have at least seven shareholders and all of them must be local residents. They also are subject to statutory audits. However, this does give the right to issue and transfer stocks, which allows them to raise capital more easily.
Brunei Free Trade Zone Company
This is a special form of limited liability company that is established within the Pulau Muara Besar Free Trade Zone.
This form of company offers several advantages, the biggest of which is that they are able to enjoy tax exemptions whilst still being allowed to deal with local clients. They also need one less director and shareholder.
Branch Office
Branch offices in Brunei are only required to have 1 registered company secretary and a registered local office. They typically exist to represent a foreign registered company. Operations are commonly defined by the parent company. This parent company will also be subjected to unlimited liability and has to be prepared to incur the losses and debts of its branch office. Appointing a resident director is also necessary when incorporating a branch office.
Unlike other International Business Company types, branch offices are subjected to a standard corporate tax and withholding tax. They are also not exempted from filing financial statements annually. To set up a branch office, you will also require a local registered office as well as a local agent.
Accounting and tax obligations
Accounting and tax considerations are important factors when incorporating your company. By outsourcing your Brunei accounting and tax obligations to Tetra Consultants, you can be confident that you will be in the best hands. Our team of consultants will ensure that your firm's financial statements, corporate tax returns and audits are completed without the need for you to travel.
Additionally, outsourcing your accounting and tax needs to Tetra Consultants will allow you to reduce overhead costs while being ensured of timely reporting and filings. Before the start of the engagement, our accounting team will also keep you updated of all the required deadlines and expectations. Thereafter, we will prepare all required filings in advance to ensure that the stipulated deadlines are met.
Annual reporting requirements
Typically, a Brunei entity's financial fiscal year is from 1 April to 31 March.
Typically, most Brunei-incorporated companies, such as a limited liability company, are required to file an annual financial statement. This filing has to be done via The System for Tax Administration and Revenue Services, a system introduced by the Revenue Division of the

Ministry of Finance

. The deadline for this filing is stipulated to be 30 June of the year of assessment.
Companies are also required to submit an estimated record of the chargeable income returns within 3 months of their financial year-end.
Corporate income tax
Brunei's corporate income tax rate is placed at 18.5%.
For non-resident companies, you can expect to be taxed on income that is sourced locally or for the profits you have earned directly by operating your business within the country.
Free trade zone companies are exempt from tax.
Sole Proprietorships and partnerships will not be taxed on income.
Withholding tax
There is no withholding tax placed on dividends paid out. Yet, director's remuneration can be charged a withholding tax rate of 20%.
However, royalties paid to a non-resident are subject to a 10% withholding tax rate.
As Brunei has established various income tax treaties for the avoidance of double taxation, withholding tax rate charged towards royalties may be reduced under the scheme.
Is Brunei a good place to start a business?
Political
As part of the ASEAN, Brunei has strong political and economic ties to other economies such as Japan, Hong Kong and Australia, featuring competitive trade agreements and benefits which can be leveraged, making it an attractive jurisdiction to conduct business in.
According to

Transparency International's

2020 Corruption Perceptions Index, Brunei is ranked 35

th

among 180 countries when it comes to the relative degree of corruption. This suggests that it is a relatively corrupt-free country.
The country's political scene is managed by an absolute monarchy. The Sultan is hence both the head of state and head of government. As such, political participation is largely restricted, as reflected in their political rights score of 7/40 on Freedom House's 2021 Freedom in the World Index.
The nation's controversial Shariah laws have also now come into effect. Criminalizing homosexuality, the laws have been opposed by the United Kingdom, Germany and France.
Economic
Owning extensive resources of oil and gas, Brunei's economy is one of the strongest in the world, with the oil and gas sector contributing about two-thirds of GDP.
The local halal industry is said to be part of the nation's diversification efforts. With the growing halal market, the industry is attractive to many foreign investors.
While the extensive resource of the oil and gas industry is appealing for the economy, the Bloomberg report also indicated that the country's dependency on oil exports may lead to a slowdown in its economy.
Social
While the official and widely spoken language in Brunei is Malay, all educated people are proficient in English as well. This is so as the primary education of the nation assigns English as their medium of instruction.
According to

Statista

, Brunei has a high unemployment rate at about 9.25%.
Technological
To aid the country's transformation into a smart nation.

Digital Government Strategy

was established to coordinate and enact policies that are intended to guide the country into building a digital economy.
Brunei is looking to upgrade its existing infrastructure such as optic fibre and 4G networks as well as build an IoT-based network that can help its transition into a digital economy.
The nation's internet penetration rate in 2019 was 95% of its population.
Legal
Brunei adopts a dual judicial system where its judiciary consists of both the secular and Sharia court. As such, the Muslim faith is largely inculcated in the laws enacted.
Under local legislation, a Brunei-based offshore company is free from all local taxation schemes, making

Brunei offshore company registration

an attractive option.
The country's laws ensure a high level of banking secrecy regulation. According to the

Tax Justice Network

, Brunei's bank secrecy regulations are ranked among the highest in the world.
Environmental
In April 2016, Brunei signed

The Paris Agreement

making a pledge to strengthen the global response in climate change issues.
Brunei is part of the

ASEAN Cooperation on Environmental Education

efforts. Specifically, it has initiated the ASEAN Plus Three Youth Environment Forum in 2007 to promote awareness and spark greater participation among the youths in environmental protection efforts.
Looking to register company in Brunei?
Contact us to find out more about how to register company in Brunei. Our team of experts will revert within the next 24 hours.
FAQ
What is the best business in Brunei?
There are many good businesses to establish in Brunei given that it has access to natural and petrochemical resources, high level of internet penetration and high levels of education and literacy.
This has allowed business from agricultural, to oil refinery and production and high-tech information communication technology based businesses to all be good businesses locally.
How much does it cost to begin a business in Brunei?
While there are no paid-up capital requirements when beginning a business in Brunei, Tetra Consultants will recommend setting aside at least US$5,000 as your paid-up capital to fund your overhead expenditures as well as initial deposit for corporate bank account opening.
As for Tetra Consultants' engagement fees, this depends on the exact services required from Tetra Consultants. Our fees are inclusive of government fees and all fees will be clearly stated in our engagement letter prior to the start of the engagement. Tetra Consultants believes in transparency with our valued clients and there are no hidden fees.
Is Brunei good for business?
It offers low taxes and a stable socio-political environment. Even though its ranking on the World Bank's Ease of Doing Business Index is considerably low at 66

th

, its individual ranking on the ease of starting a business is 16

th

, and it is the easiest location in the world to secure capital, making it a good place to do business.
Does Brunei offer online company registration?
What is Brunei's currency?
The nation uses the Bruneian dollar (B$).
Can I use Singaporean currency in Brunei?
Yes, Singaporean currency is customary tender in Brunei due to the Currency Interchangeability Agreement of 1967. Likewise, you can use Brunei money in Singapore.
What is Brunei's official language?
Even though their official language is Malay, English is a recognized language and is thus widely spoken.