Choosing to open offshore company in Malta has become the popular choice of many foreign investors. The jurisdiction is considered to be highly attractive given that the Maltese Islands are located between the crossroads Europe and North Africa, facilitating many trade and commerce activities throughout the year. Although the country is seemingly formed from the congregation of a small size of land mass, the country actually punches above its weight in varying factors across the world. Malta has a well developed and matured financial services sector that is well equipped with infrastructure of optimal standards, attracting high value of Foreign Direct Investments (FDIs) and also foreign investors. Furthermore, Malta has managed to further accentuate itself as a prime business climate given its competitive tax structure that was possible through entering an extensive level of double tax treaties, attracting a high level of foreign investors. When investors open a company in Malta, they are given access to a competitive talent pool of workforce that will be able to sufficiently meet the requirements of companies across the board. Given Malta's strong history of commerce, trading hub and prosperity, it has convinced many investors to consider the option to register company in Malta. Before you decide to open a company in Malta, Tetra Consultants has prepared a quick checklist for your consideration.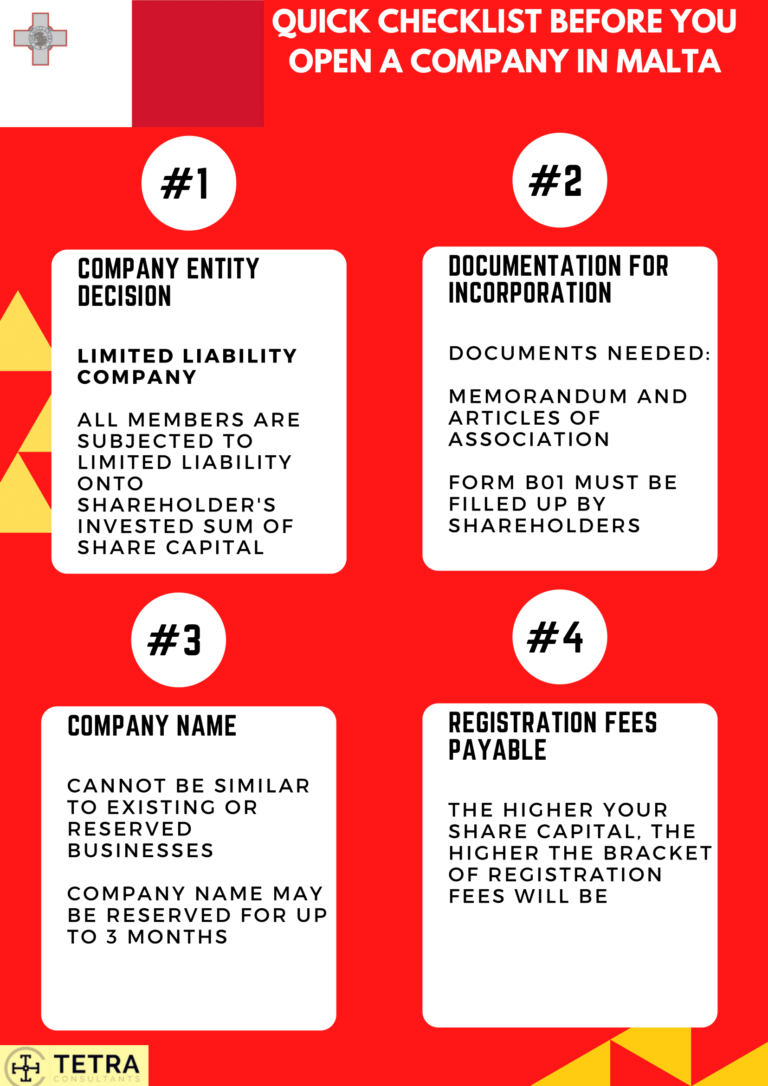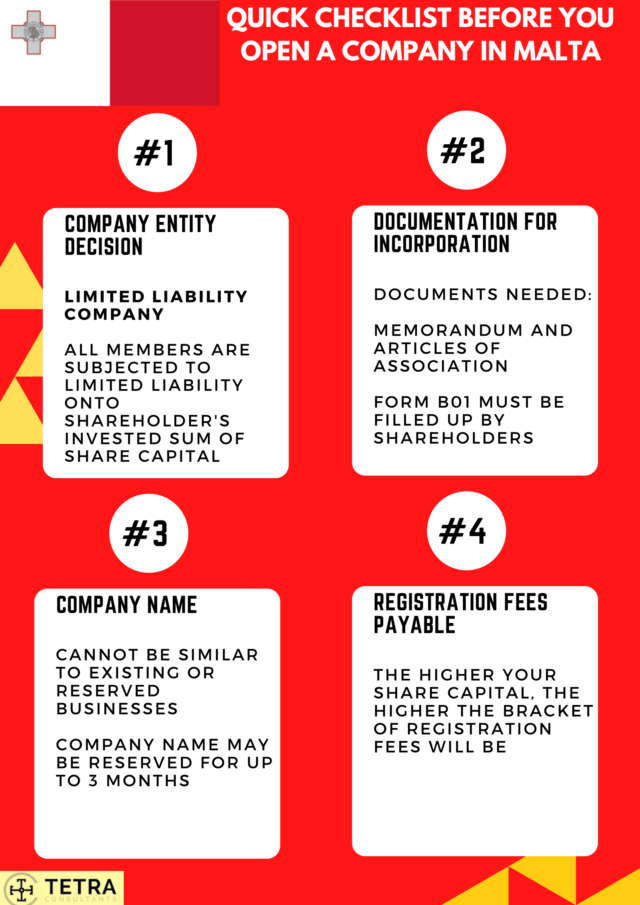 1) Company Entity Decision
The first thing on the checklist to open a company in Malta is to ensure you know which form of company entity you want to incorporate as in Malta. In general, foreign investors are allowed to choose to conduct their business or operations in the forms of a limited liability company, or to trade in their name through the formation of sole proprietorship, or to alternatively form a partnership with their desired business partners.

Limited Liability Company (LLC) is one of the most common forms of business entity for investors looking to open a company in Malta. A LLC is considered to be independent from its shareholders and any shareholders or members of the company are only subjected to limited liability. This means that the company's debts and obligations are not extended onto shareholder's personal assets less their individual invested sum of share capital. According to the Malta Business Registry, the following requirements have to be met before setting up an LLC. LLC has to have 2 shareholders and 1 director of any nationality, 1 secretary who is a resident of Malta, a registered office address and paid up capital.
2) Documentation for Incorporation :
The second thing on the checklist to open a company in Malta is to understand what documentations and information are required during your incorporation process. As with any incorporation, the memorandum and articles of association have to be prepared and submitted with any additional supplementary forms if necessary, subjected to each requirement of the respective jurisdiction. The memorandum of association shall contain the following details: specification whether it is a public or private company; name, residence and identification number of each subscribers, name of the company, location of the registered office, main trading activity, amount of share capital which the company proposes to be registered and number of shares taken up by each subscribers; number of directors, their name and residences; name and residence of company secretary; and lastly the copy of official identification of the company's judicial representatives. The articles of memorandum must be accompanied with the articles of association which predominantly describe  and lay out the internal regulations as well as the roles and responsibilities of members and directions in the company.  As mentioned earlier on supplementary forms, a Form B01 must be filled up by any of the shareholders of the proposed company who is part of the corporate body.
3) Company Name Decision:
The third thing on the checklist to open a company in Malta is to come up with a Company Name. According to the Malta Business Registry, one is free to choose any company name, so long as it is not similar to existing or reserved businesses. Do keep in mind as well not to include any offensive or suggestive name recommendations that would be otherwise undesirable as it may lead to the rejection by the Registrar of Companies. You may reserve your company name for a period of up to 3 months.

4) Registration Fees Payable:
The fourth thing on the checklist to open a company in Malta is to understand the registration fees payable. When you submit your memorandum and articles of association, it should also be accompanied by all relevant documentation and in this case specifically, a bank deposit of registration fees should also be produced. Upon registration, the registrar will issue companies with a certificate of registration that proves that the company has officially been registered in Malta. Fees payable to the registrar of companies are calculated according to the Company's share capital which can be found on the webpage of the Malta Business Registry. In essence, the higher amount of starting share capital that a company registers, they are subjected to higher brackets of registration fees. It is also important to note that if a company has been incorporated and subsequently chooses to increase its authorised share capital, the difference in registration fees would also be levied from the company.
Conclusion:
Engage Tetra Consultants as we guide you on how to register a company in Malta through a smooth and hassle-free process. The team provides a comprehensive service package that includes planning and strategizing with our clients to select a suitable business entity, completing the registration and documentation processes, obtaining required licenses, opening a corporate bank account, and ensuring your compliance with the government regulations. 
Contact us to find out more about company registration in Malta and our dedicated and experienced team will revert within the next 24 hours.