Located in the heart of Asia, Taiwan is a popular location for business owners seeking to expand into both the Chinese and Asian markets. As there is no minimum capital requirement or residence requirement for officeholders in the company, it is relatively easy to register company in Taiwan as compared to its neighbouring countries. Moreover, there are many Free Trade Zones in Taiwan that offer tax exemption and other monetary grants to newly incorporated companies in Taiwan. As such, many foreign investors have considered setting up a small business in Taiwan to take advantage of the tax benefits and pro-business environment. This article provides a list of popular small business ideas you can consider when starting business in Taiwan as a foreigner.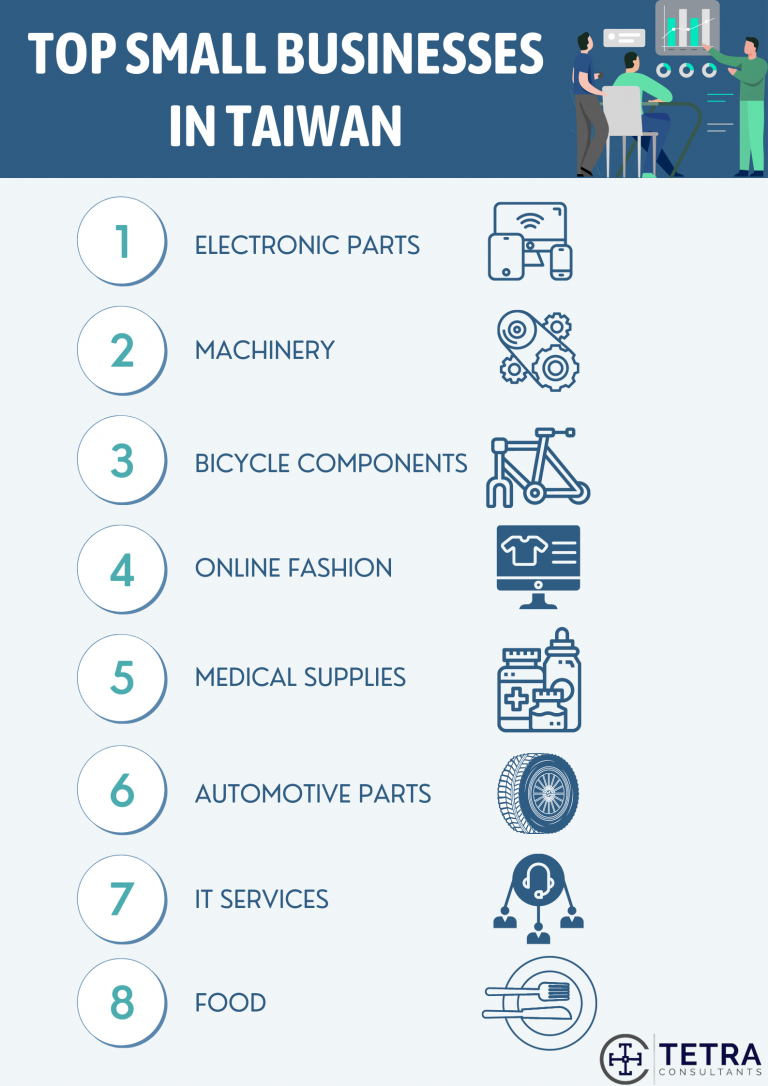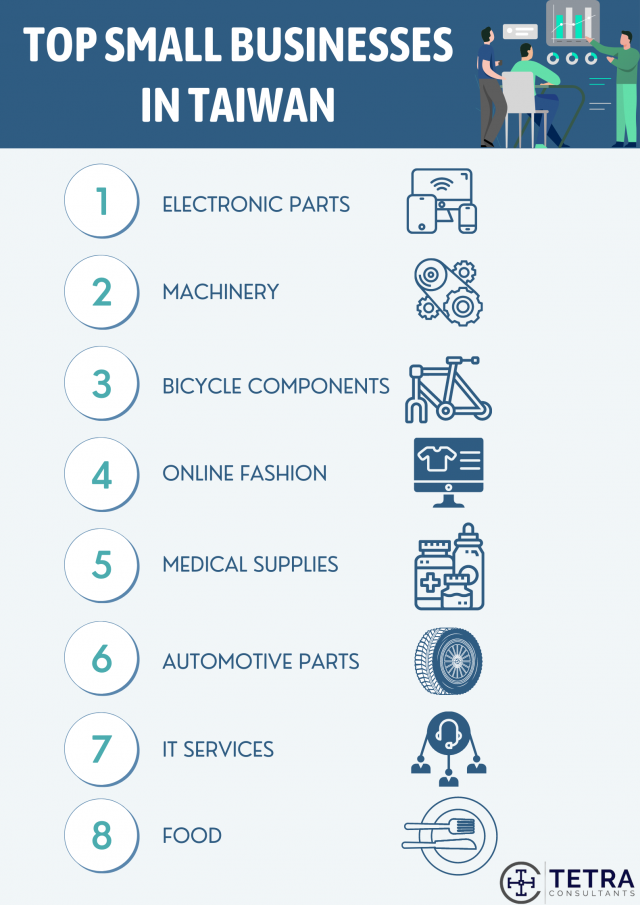 #1 Electronic parts
Taiwan's economy is driven largely by industrial manufacturing, more specifically the manufacturing of electronic parts such as semiconductors, integrated circuits, and other ICT products. Many of the industrial clusters in Taiwan have support infrastructure and high-end equipment to facilitate the manufacturing of good quality electronic components. Hence, it is profitable to set up a small electronic component manufacturing business in Taiwan because it gives you access to the huge pool of experienced workers in Taiwan and allows you to take advantage of Taiwan's strong existing foundation in manufacturing goods. Many of the Free Trade Zones in Taiwan also specialise in the manufacturing of electronic parts, hence providing business owners with greater assistance in setting up a business in this area.
Furthermore, the world's largest contract electronic chipmaker, Taiwan Semiconductor Manufacturing Company, known more commonly as Foxconn, resides in Taiwan. The company is in charge of supplying electronic components to many reputable technology companies such as Apple, Sony, and Huawei. The strong reputation of Taiwan as a manufacturing hub for electronic parts will help to boost the credibility and reputation of your small business.
#2 Machinery 
The machinery industry is another prospective industry in Taiwan. Generating $27 billion in total exports and $37 billion in local production, Taiwan's machinery industry is accredited for its outstanding quality and relatively low prices. The industrial parks in Taiwan have helped to facilitate the production of machinery and machinery parts by allowing manufacturers to exchange ideas and form strategic partnerships. Since Taiwan's economy is heavily reliant on manufacturing, there are many opportunities for businesses in the machinery industry. Setting up a business that aims to improve or distribute high-end machinery equipment will help to refine manufacturing activities in Taiwan. Thus, such a business activity will guarantee a large customer base from the manufacturing industry. 
#3 Bicycle component
Many of the big bicycle brands are incorporated in Taiwan. In fact, the world's largest bicycle manufacturer, Giant Manufacturing, operates in Taiwan and has sold bicycles to more than 50 countries. More than half of the global demand for mid and high-end bicycles is satisfied by bicycle manufacturing companies in Taiwan. Taiwan companies are also one of the largest exporters of bicycle components for bicycle companies in the US and Europe. Due to the strong reputability of bicycles produced in Taiwan, it may be advantageous to set up a small business in bicycle manufacturing. Moreover, the recent pandemic has seen a spark in the demand for bicycles as people switch to bicycles as a safer mode of transport because it minimises contact with other people. Hence, selling bicycles in Taiwan may be profitable, especially during this period of time.
#4 Online fashion
E-commerce sales have been increasing rapidly in recent years as it is both cheap and convenient to purchase goods online. The simple user interface in the online shopping platform has made it much easier for customers to navigate through the website to choose their desired product. One of the most commonly bought items on e-commerce applications is clothes. Hence, it may be profitable to open a fashion store in Taiwan that sells clothes online. An online fashion store is also relatively easy to set up compared to businesses in other industries because it does not require much expertise or field knowledge.
#5 Medical supplies
Another major component of Taiwan's manufacturing sector is the pharmaceutical industry. Taiwan mainly focuses on producing and exporting medical supplies to countries such as the US. However, most of the medical supplies produced by Taiwan companies are low to mid-end. Hence, there is greater room for opportunities for businesses seeking to produce high-end medical supplies and healthcare equipment. Due to the aging population in Taiwan, there has been a rising demand for high-end medical devices and products. Currently, most of Taiwan's high-end medical supplies are imported from other countries. Hence, setting up a business that can produce high-end medical supplies will allow your business to cater to the local population and set your business apart from other businesses in the region.
#6 Automotive parts
Taiwan's automotive industry is famous for producing good-quality automotive components for automotive companies in the US and Japan. As one of the few jurisdictions that have the ability to produce automotive components for electric vehicles (EV), Taiwan plays an integral role in the global EV supply chain. Major EV companies such as Tesla imports most of their automotive components from Taiwan companies. With the rising potential of EVs, setting up a business that is able to manufacture automotive components in EV can be profitable.
#7 IT services
Due to its strong manufacturing industry, Taiwan is well-known for producing IT-related products and offering IT-related services. The industrial cluster in Taiwan focuses on both the manufacturing and distribution of IT-related goods and services. Due to the reputability of IT products in Taiwan, it may be beneficial to set up a business in Taiwan that offers IT services such as cybersecurity services, cloud computing, and network infrastructure.

Taiwan business registration

in the IT industry is attractive because many of the Free Zones in Taiwan specialise in technological solutions and IT products.
#8 Food
Taiwan is popular for its local cuisine and street food. Every year, millions of tourists flock to Taiwan's night market to try a variety of street food such as oyster omelettes, stinky tofu, chicken cutlet, boba tea, braised pork rice, and many more. Setting up a small food business in Taiwan is relatively simple and inexpensive as long as you have the necessary expertise. The recent rise in demand for fusion cuisine in Taiwan means that it may be more profitable to sell dishes that contain both Taiwanese and Western elements.
Looking to start a business in Taiwan?
There are many benefits of setting up a company in Taiwan. The requirements to set up a limited liability company are also less stringent compared to many other jurisdictions. As long as you have one shareholder, one director, and a registered address in Taiwan, you can set up your business in Taiwan. The only barrier to setting up a company in Taiwan is the language. As the official language in Taiwan is Mandarin, all incorporation documents such as the Memorandum and Articles of Association must be prepared in Traditional Chinese. 
As such, Tetra Consultants can provide you with a fast and easy way to register company in Taiwan through our service package which includes registration of your company in Taiwan with the Ministry of Economic Affairs, provision of a local company secretary, a registered address, opening of a corporate bank account, tax registration, and annual accounting and tax services. Besides providing a general guide to setting up company in Taiwan, Tetra Consultants will also recommend the type of business entity suitable for your company, based on your long-term goals and business model. 
Contact us for more information about how to incorporate your firm in Taiwan and our team of experts will revert within the next 24 hours.