How to start a business in Taiwan as a foreigner?
As a foreign investor, you may wonder how to start a business in Taiwan. Before you choose to start a business in Taiwan, Tetra Consultants advises you to read through the following comprehensive guide to fully understand the steps required to successfully set up a business in Taiwan. Requirements and regulations are stated clearly to help you fully understand how to incorporate in Taiwan.
If you are thinking of how to start a small business in Taiwan, it is essential to understand what to expect throughout the whole incorporation process. This is to ensure your resources are well allocated and your company is compliant.
Tetra Consultants expects to incorporate Taiwan company within 3 weeks after receiving the required KYC documents. Thereafter, you can expect your Taiwan business account to be opened within 4 weeks. In total, starting a business in Taiwan takes around 7 weeks.
On average, a Free Trade Zone Corporation takes a longer duration to be incorporated due to the long approval process to attain an establishment permit and operation license. Our team of professionals will advise and ensure an accurate, seamless process.
Contact us to find out more about how to start a business in Taiwan. Our team of experts will revert within the next 24 hours.
Simply put, we can break down each engagement into four different phases:
Planning and Strategy
Incorporation
Corporate Bank account opening
Staying compliance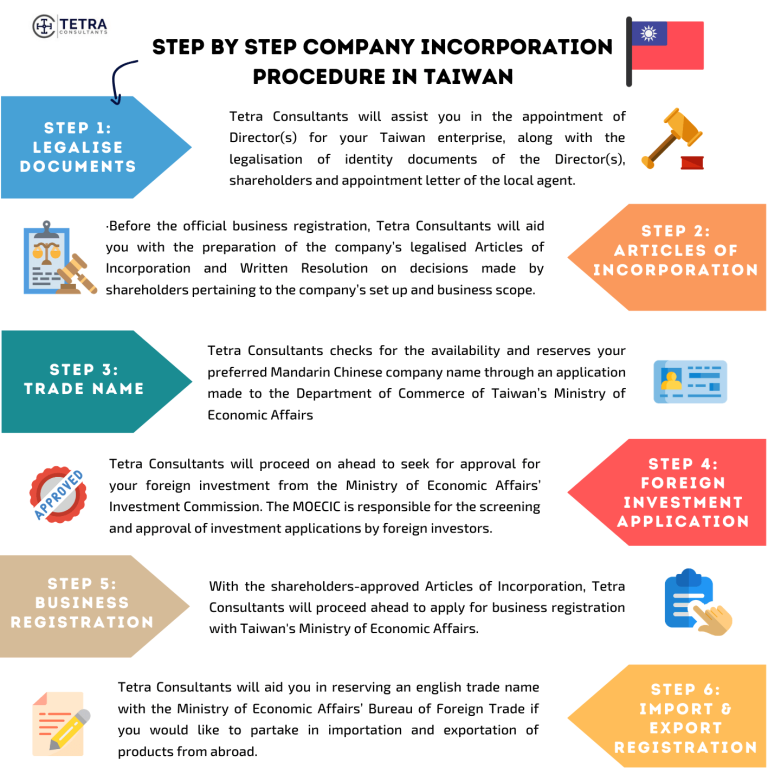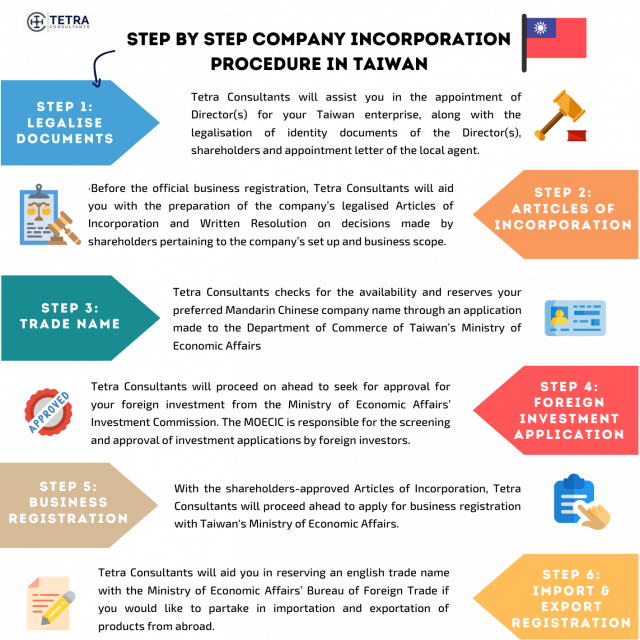 Step 1: Planning and Strategy
Prior to the start of the engagement, Tetra Consultants will advise you on how to start a business in Taiwan. This includes introducing the different types of companies in Taiwan, the required minimum paid-up capital, and other considerations. The recommendations will be tailored according to your company's business objectives, activities and long-term goals.
If you are planning to start a small business in Taiwan, Tetra Consultants will advise you on what to expect including loan for foreigners in Taiwan, introducing the best bank for foreigners in Taiwan as well as Taiwan visa application.
Before Tetra Consultants incorporate Taiwan company, we will provide you with a local registered office and local resident public officer. The Public Officer serves as your local manager to submit accurate financial statements and corporate tax returns.
Furthermore, Tetra Consultants will assist you in the appointment of directors for your Taiwan enterprise, along with the legalization of identity documents of the Director(s), shareholders and appointment letter of the local agent.
Prior to Taiwan company incorporation, Tetra Consultants will aid you with the preparation of the company's legalized Articles of Incorporation and Written Resolution on decisions made by shareholders pertaining to the company's set up, business scope and appointment of directors.
Step 2: Incorporation
Pre-Approval of Business Trade Name      
Once you are clear on how to start a business in Taiwan, Tetra Consultants checks for the availability and reserves your preferred company name through an application made to the Department of Commerce of Taiwan's Ministry of Economic Affairs (MOEA). Our team of professional consultants will provide the department with a written document on the scope of your corporation's intended business activities.
The selected Trade Name should be unique, in Mandarin Chinese and it should not violate public ethics. If necessary, Tetra Consultants will arrange for a translation service conducted by a certified translator.
Foreign Investment Application
Tetra Consultants will proceed on ahead to seek approval for your foreign investment from the Ministry of Economic Affairs' Investment Commission. The MOECIC is responsible for the screening and approval of investment applications by foreign investors, ensuring that the proposed investments meet the nation's regulations and policies. The application has to be submitted along with the following documents:

Approved application to reserve your Business trade name.
Identity documentation on Shareholders
An original copy of any Power of Attorney documentation.
Local agent's personal identification documents (i.e. Passport) and legalized Letter of Appointment
Taiwan Company Incorporation
With the shareholders-approved Articles of Incorporation, Tetra Consultants will proceed ahead to incorporate Taiwan company within 15 days from the date of approval. The following documents are essential:

A copy of shareholders-approved Articles of Incorporation.
Shareholders incorporation legalised meeting minutes.
Attendance record for Board of Directors.
Personal identification of each respective authorized shareholder and Director.
Methods of distribution of losses and profits between business partners.
Accreditation of paid-up capital (if applicable)
An original copy of Power of Attorney documentation.
Office usage and lease agreement.
Once the company has been successfully incorporated, Tetra Consultants will send you the legal corporate documents including Taiwan Business Registration Certificate and company numbers. The official language in Taiwan is Mandarin Chinese. If required, our team is happy to assist with translation to English, notarization and apostille.
Application for import and export registration
Step 3: Corporate Bank Account opening
After Tetra Consultants incorporated your Taiwan company, our banking team will proceed to open a corporate bank account. Depending on your business needs and goals, Tetra Consultants can assist you to open a Taiwan business account or an international offshore friendly business account. You can leverage on our extensive banking network and expect to receive your account numbers within

4 weeks

.
Tetra Consultants will contact multiple reputable international and Taiwanese banks and present your business to the respective relationship manager and compliance team. Tetra Consultants works with some of the best banks for foreigners in Taiwan such as Bank of Taiwan, Hua Nan Bank, CTBC Bank, and many more. These bankers are proficient in English and if required, Tetra Consultants can provide a translator.
It is always challenging for foreigners to open bank account in Taiwan. This is mainly due to language barriers as well as distance. Tetra Consultants banking team will communicate with bankers and ensure you do not need to travel to Taiwan for the business bank account opening process.
Once the Taiwan business account is successfully opened, Tetra Consultants will courier the internet banking token and access codes to your preferred addresses.
Step 4: Staying Compliant
If you plan to be physically present and working in Taiwan, Tetra Consultants will advise on a suitable Taiwan work visa and proceed ahead with the visa procurement for you.
Contact us to find out more about how to start a business in Taiwan. Our team of experts will revert within the next 24 hours.
FAQ
How do I register a company in Taiwan?
Prior to company formation, it is essential to choose the correct type of company. Tetra Consultants will advise you on the most optimum business entity to suit your needs. Generally, the most common type of company in Taiwan is the limited liability company, which is also known as a company limited by shares.
Can a foreigner start a small business in Taiwan?
Yes. A Taiwan limited liability company can be registered with a foreign shareholder and foreign director. However, this depends on your intended scope of activities. It is important to ensure that your newly incorporated company follows the guidelines set by Taiwan Company Registry.
How much does it cost to start a small business in Taiwan?
This depends on the exact services required from Tetra Consultants. Our fees are inclusive of government fees and all fees will be clearly stated in our engagement letter prior to the start of the engagement. Tetra Consultants believes in transparency with our valued clients and there are no hidden fees.
Can I physically travel to Taiwan to work instead of setting up a Taiwan offshore company?
Yes, this is possible if you have successfully attained a Taiwan work permit. In addition, you are required to increase your paid up capital depending on your business activities. Tetra Consultants is happy to assist you with securing the work permit.
Is it legal to use a virtual office instead of a physical office when setting up a company in Taiwan?
Yes, a virtual office is allowed. Most Taiwan offshore companies use the registered address of their local agents. Tetra Consultants is happy to provide our international clients with this service.
Is it easy for foreigners to open personal or business bank accounts in Taiwan?
Tetra Consultants has many years of experience with personal or business bank account opening in Taiwan. There are a few considerations to take note of including your nationality, business activity and preferably Alien Permanent Resident Card (APRC).
We recommend you to speak to one of our banking consultants to evaluate the bank account openings.
Is Taiwan or Hong Kong a better jurisdiction for Asia business set up?
Both jurisdictions are widely popular and have different pros and cons. Hong Kong offshore company has a very attractive tax regime while Taiwan offers Free Trade Zones and APRC. It ultimately depends on your personal and business goals. Are you planning to travel physically work in your new company as a foreigner? Are you planning to set up an offshore company?