Starting up a business in Brunei has become increasingly attractive. The sultanate state of Brunei is known to be rich due to its extensive exports in the field and resources related to oil and gas. The economy of the sultanate state is favourable and welcomes Foreign Direct Investments (FDI) to help the nation diversify its economy away from over-reliance on resources based exports. As a result, through government planning and consumer demand, investment opportunities and incentives are actively being created through the facilitation of the Brunei Economic Development Board (BEDB). On top of a stable political structure, the country is also generally sheltered from natural disasters, providing an ideal business environment for many investors. For those who have wondered how to start a business in Brunei for foreigners, you have come to the right place. In this article, Tetra Consultants presents the ultimate guide on how to register company in Brunei.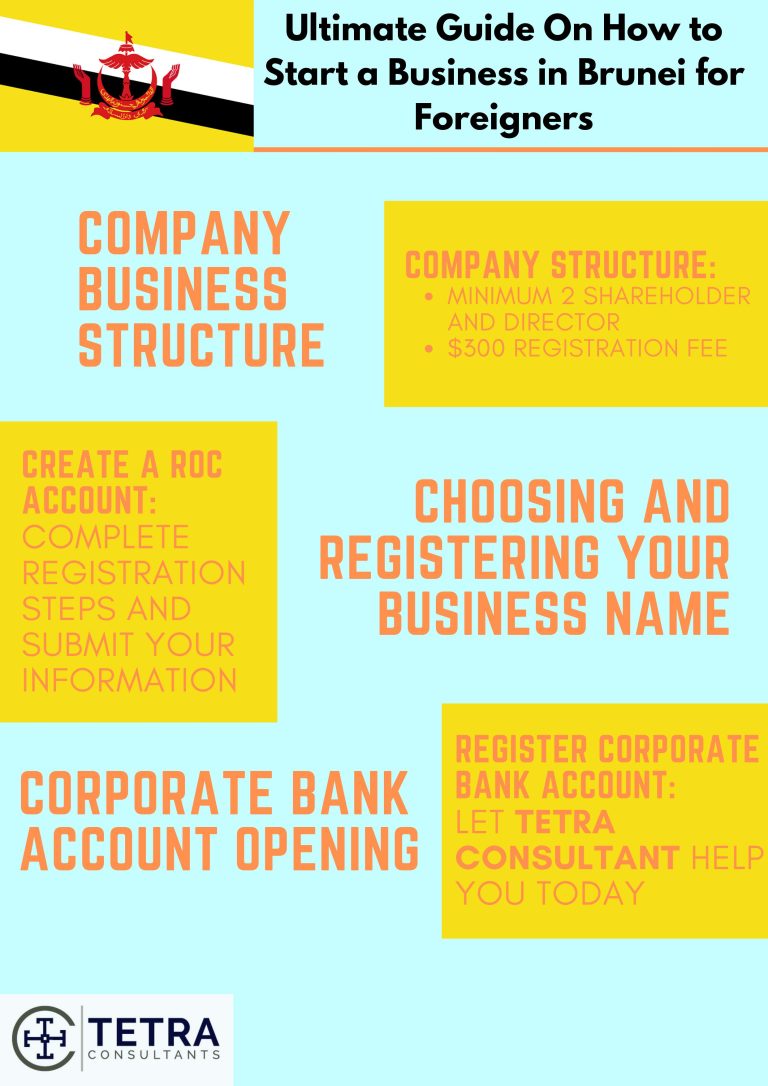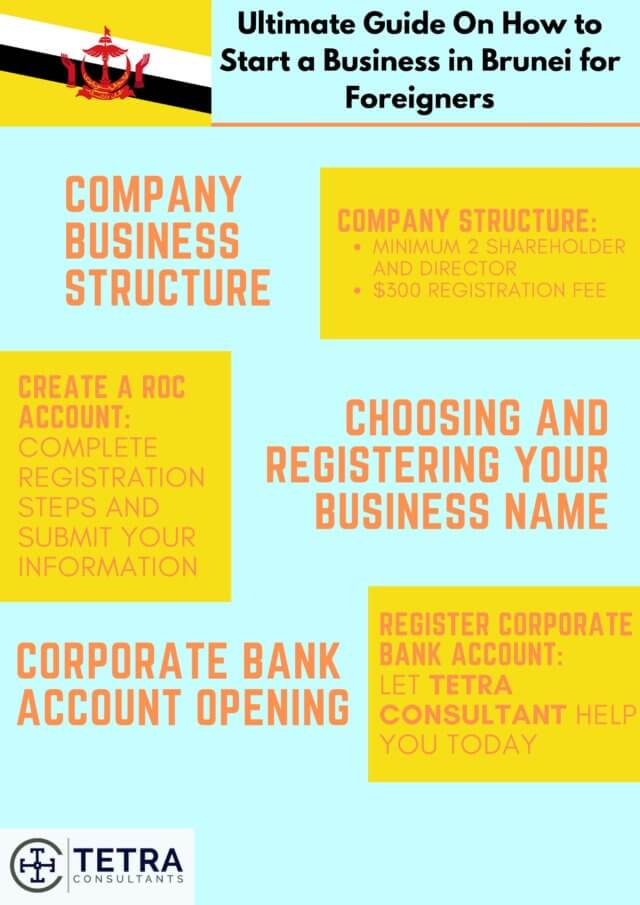 1. Company Business Structure:
The first step on how to start a business in Brunei for foreigners is to pick the business structure that your business plan would fit most appropriately. In Brunei, there are mainly 3 different legal structures to choose from. However, only the formation of the company structure is allowed for foreigners.

1) Sole Proprietorship

The sole proprietorship is the most common form of business structure operated in Brunei. For sole proprietorships, the owner and the business can be classified as one and the same. This means that owners of sole proprietorship have unlimited liability. All profits, losses and any legal action taken against the business will be held against the owner. However, the sole proprietorship structure is not allowed to be opened by a non-resident, so long as they are not a Brunei Citizen or permanent resident. A registration fee of $30 will be charged for the registration of sole proprietorship in Brunei.
2) Partnership
The partnership business structure is a business firm or organisation that consists of two or more partners. Similarly to the sole proprietorship model, partnership does not constitute a separate legal entity and all partners are subjected to unlimited liability under this scheme. Under the regulations set by the Registry of Companies and Business Names (ROCBN), the generic partnership should only hold a maximum of 20 partners. Anything exceeding 20 pax must be incorporated and the business firm or organisation should file for a company instead. Foreigners are also not allowed to open the partnership business structure, so long as they are not a Brunei Citizen or permanent resident. A registration fee of $30 will be charged for the registration of partnership in Brunei.

3) Company
The company business structure is a form of separate legal entity from its directors as well as shareholders. Investors looking to start a company can either be privately held or publicly-owned. A minimum of two shareholders and two directors (of which at least one must classify to be an ordinary resident of Brunei Darussalam) are required. A registration fee of $300 will be charged for the registration of a company in Brunei.  

Afterwards, you will be required to create an account with the Ministry of Finance and Economy for your ROC account registration. This is done through their One Common Portal (OCP), which is essentially an e-service to guide your process of registration.
2. Choosing and Registering Your Business Name:
The second step on  how to start a business in Brunei for foreigners will occur after having created your ROC account. Using the ROC account, you will then complete the various necessary steps and provision of due diligence information to the OCP portal. Under Brunei's business name act, you are not allowed to use exact or resembling business names of existing firms. Additionally, the following words will not be permitted: "Royal", "Diraja", "Brunei", "Co-operative", "Savings" or "Trust/Trustee". This is done so to prevent any untrue relations or patronage with the Sultan or the government of Brunei.

If your business name is approved, you will be subsequently prompted for payment of registration fees ($300 for registration of company for foreigners). Once you made the payment, an official business/company registration certificate will be sent to your email. Your business will be automatically registered with Tabung Amanah Perkejah (TAP) which is a compulsory employee trust fund that the government of Brunei will use to invest and make returns.
3. Corporate Bank Account Opening:
The last step on how to start a business in Brunei for foreigners is to set up your corporate bank account with proof of your company registration. Contact Tetra Consultants to leverage on our existing strong relationships with various reputable banks in Brunei for a straightforward process.

Conclusion:
Engage Tetra Consultants as we guide you on how to start a business in Brunei for foreigners in a smooth and hassle-free process. The team provides a comprehensive service package that includes planning and strategizing with our clients to select a suitable business entity, completing the registration and documentation processes, obtaining required licenses, opening a corporate bank account, and ensuring your compliance with the government regulations. 
Contact us to find out more about company registration in Brunei and our dedicated and experienced team will revert within the next 24 hours.