Singapore, part of the renowned Four Asian Tigers, is ranked 2nd in the Global Talent Competitiveness Index and 5th place in the World Competitiveness Ranking. The country is also regarded as 2nd and 18th against Asia and global competitors, under the Ease of Doing Business Index for the year of 2020. Supported with world class infrastructure and being the connectivity hub of many different countries, foreign investors and many alike have gravitated to set up new company in Singapore . In this article, Tetra Consultants will breakdown the 3 main steps that are necessary to register company in Singapore, and supplement with sub-steps to ensure you walk away with clarity and greater understanding of the processes.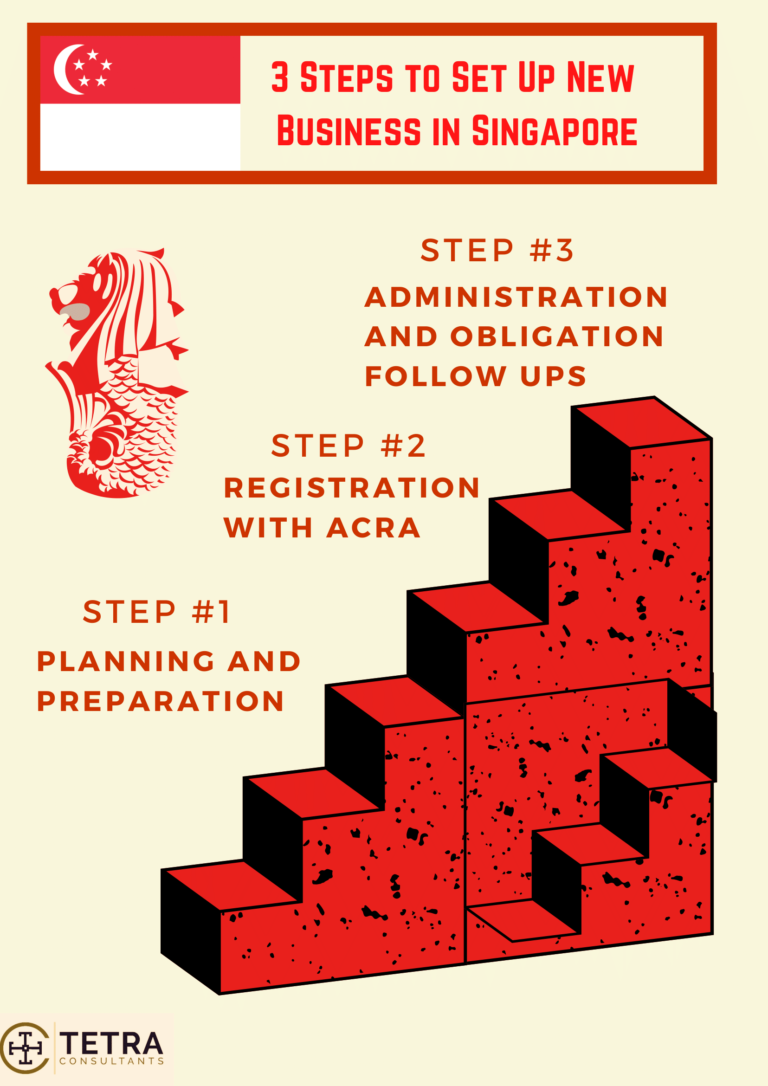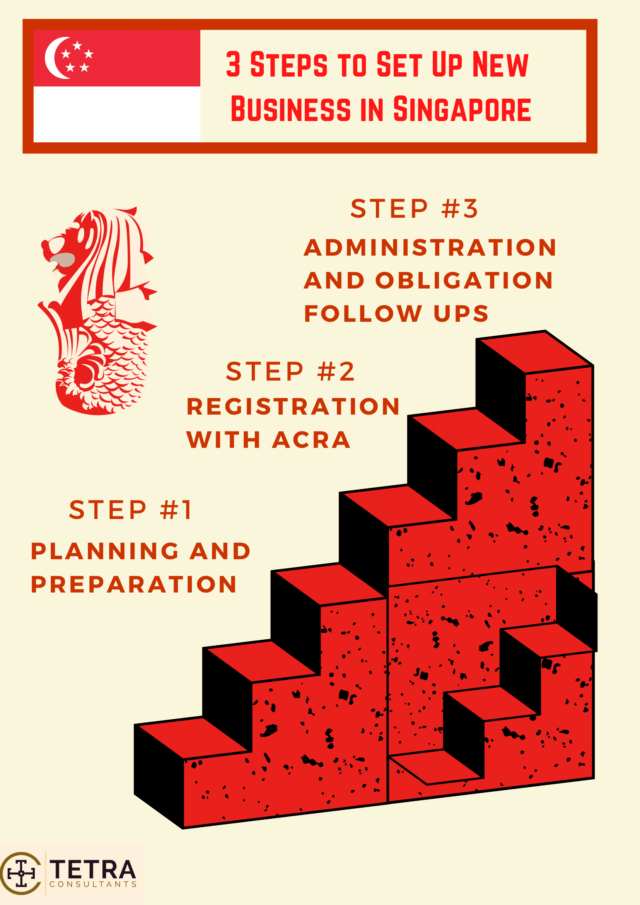 1. Planning And Preparation:
Making your process to set up new company in Singapore swift and efficient is easily done so as long as you plan and prepare the necessary information required. To start a business in Singapore, you first have to decide and choose the appropriate business structure that is suitable for your type of operations. In Singapore, there are a total of 4 main different business structures for interested parties to choose from.

The following business structures are available in Singapore:
1) Sole Proprietorship or Partnerships (one owner or two or more owners respectively)
2) Limited Partnership (LP)
3) Limited Liability Partnership (LLP)
4) Company

Do refer to the Accounting and Corporate Regulatory Authority (ACRA) and contact Tetra Consultant for more information regarding more details of the different structure as the team will recommend the most optimal business structure to meet your long term business needs.

In Singapore, choosing your company name and registering it with ACRA is a legal requirement in order to operate your business in the country. Regardless if you are setting up a company in Singapore for foreigners or locals, you are required to submit a name application with ACRA's online filing and registration portal known as Bizfile. During the application, you will be prompted to state your type of business activity in accordance with the Singapore Standard Industrial Classification (SSIC) code. In Singapore, companies can decide between 2 different financial year ending (FYE) models, either the 12 months or 52 weeks accounting period. Choosing your EYE is important as it determines when you have to submit corporate filings and taxes every year.

For companies, a company director and secretary are mandated to be appointed to run the business. Auditors are required for most companies as well but additional executive roles such as the Chief Executive Officer (CEO) and other managerial positions are not mandatory. The issued share capital for a company registering in Singapore has to be a minimum of $1.
2. Registration and Bank Account Opening:
After the necessary preparation, the next step to set up new company in Singapore is to register your business with ACRA. You need to provide an office address when you set up new company in Singapore and the location will be the place where communication and notices are sent to, together with the bookkeeping of the company's records. Companies' registered office addresses are mandated to be opened during ordinary business hours (minimum 3 hours) and during business days (any day excluding weekends and public holidays).

Companies opening in Singapore are required to submit a "constitution" to ACRA. The constitution is a legally binding document which lays bare the rules and regulation on how the company should be runned. The following information is required to be included in the constitution: registered name and office address, business activities and the manner in which it is to be carried out, liabilities of the members of the company, total amount of issued share capital and lastly rules on governance. Similarly with most business documents and registration, the constitution is to be submitted to ACRA via their business filing portal Bizfile. After your incorporation process to set up new company in Singapore, you can proceed to open your corporate bank account.

Tetra Consultants has years of experience and will be able to assist with opening your corporate account with the bank of your choice given our established relationships with multiple reputable banks across different jurisdictions.

3. Administration and Obligations:
When you have managed to set up new company in Singapore, you will be given a "Corpass" which helps you transact with various governmental bodies of Singapore. Additionally, all businesses incorporated in Singapore will receive a free business profile. On a fundamental scale, the business profile is used by various potential customers, suppliers or business partners to evaluate your company and conduct background checks.

The Companies Act in Singapore requires businesses to maintain registers of personnel in the follow categories: members (shareholders), directors, secretaries, auditors, CEOs and Controllers (Beneficial Owners). Generally, changes in these appointments have to be filed with Bizfile. Lastly, it is important to note that it is the duty of the director or secretary to ensure that changes in matters relating to personnel holding key positions, business operating details and movements in shares are to be updated to ACRA.
Conclusion:
Engage Tetra Consultants as we guide you to incorporate your company in Singapore in a smooth and hassle-free process. The team provides a comprehensive service package that includes planning and strategizing with our clients to select a suitable business entity, completing the registration and documentation processes, obtaining required licenses, opening a corporate bank account, and ensuring your compliance with the government regulations. 
Contact us to find out more about company registration in Singapore and our dedicated and experienced team will revert within the next 24 hours.