When you set up an offshore company in a different jurisdiction, you will usually want to open a corporate bank account in that jurisdiction because of the convenience of conducting transactions with a local bank account.  A local corporate bank account may also be a requirement for registering a company in that particular jurisdiction. With the proliferation of digital banking services and other online platforms, it has become much easier to complete the process of corporate bank account opening without travelling directly to the bank's location. Before you proceed with setting up your account, it is important to understand the corporate bank account requirements in the specific jurisdiction. While the requirements will differ depending on each jurisdiction, this article presents you with a general list to cross-check before you proceed to open your company's bank account.
Top 5 corporate bank account requirements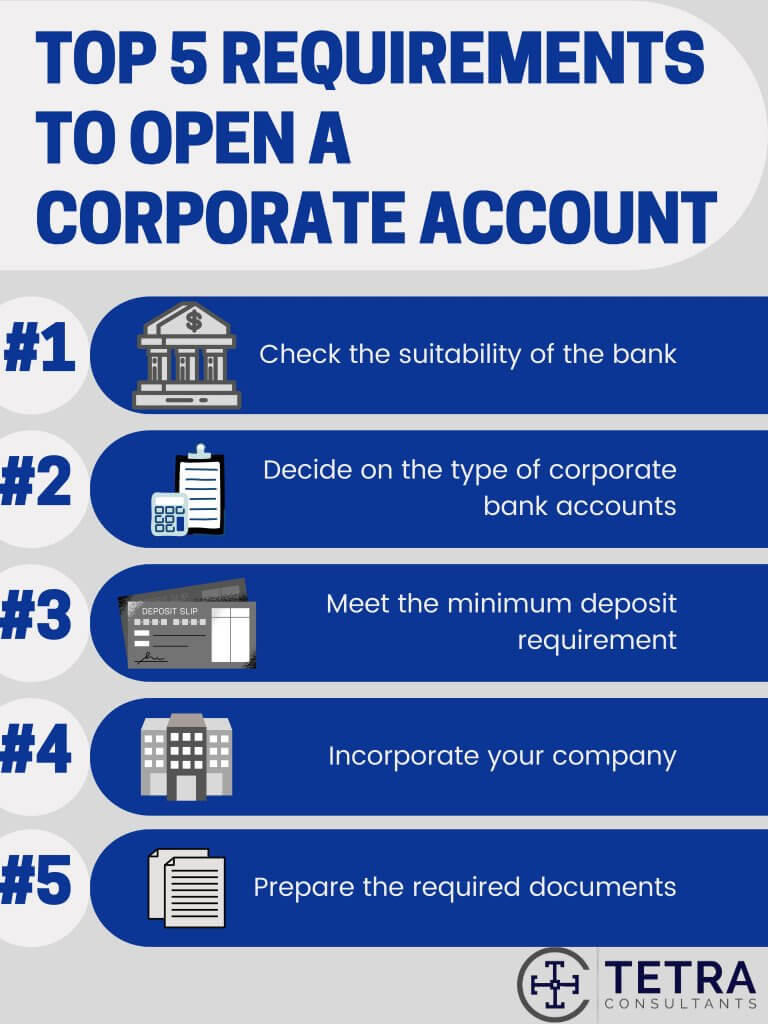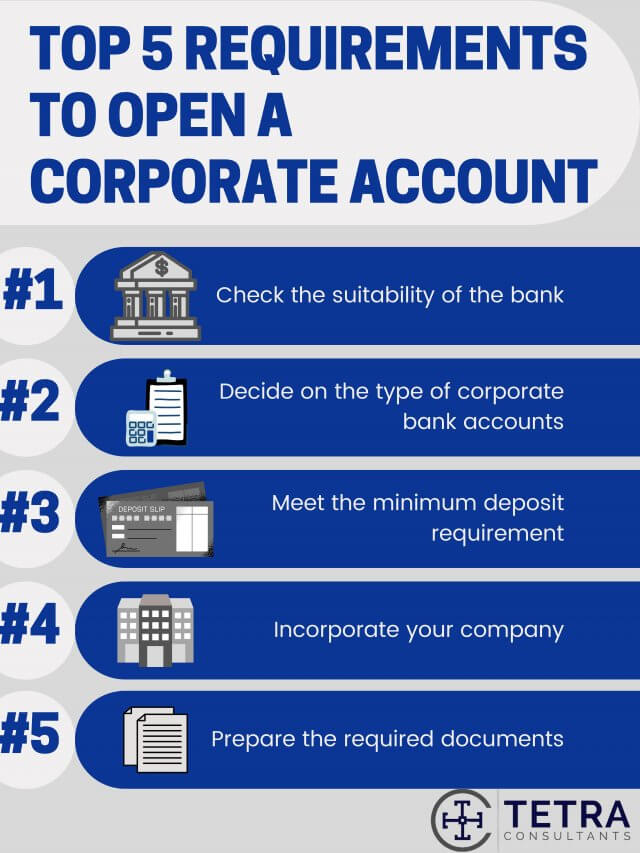 #1 Check the suitability of the bank
A reputable bank that has a larger scale of operation is usually the more ideal choice for an offshore bank account opening as it provides greater credibility and accessibility. For example in Singapore, reputable banks such as DBS, OCBC, Citibank and HSBC offer excellent internet banking facilities with world-class customer services and good reputations. However, you may wish to consider a smaller community bank if your company has a lower credit score because it may be more difficult for you to secure a loan in a larger bank. Smaller banks may also offer more competitive fees and be more adaptive to local conditions. Alternatively, companies may consider online banks if they only require simple business services and do not need to deal with physical cash.
#2 Decide on the type of corporate bank accounts
There are many different types of business bank accounts that businesses can choose from, depending on the services they require. Businesses will usually want to open more than one bank account to manage cash flow from different types of transactions.
a) Business checking account
A business checking account is the most common business account because it allows you to deposit and withdraw money through a variety of methods, including electronic transfers, checks, and ATM transactions. However, many business checking accounts do have a limit on the number of monthly transactions such that additional transactions would incur a fee. Hence, it is important to open a business checking account that allows for sufficient free transactions for your business. 
b) Business savings account
A business savings account has a higher interest rate than a business checking account, hence allowing funds in this account to earn a better payoff. However, there is usually a much lower limit for the number of times cash can be withdrawn from and deposited into this account. Hence, a business savings account is optimal for storing profits that your business does not plan to use in the short term.
c) Money market accounts
A money market account is an interest-bearing account that typically has an even higher interest rate and less strict requirements for the number of transactions as compared to a business savings account. However, it is more expensive to open a money market account due to the higher minimum balance requirement and monthly fees.
d) Merchant account 
A merchant account allows a company to accept payments by credit and debit cards. Businesses will need a merchant account if they wish to accept electronic payments from clients.
Most companies will have a combination of bank accounts to manage different types of funds such as income, payroll, and taxes. It is important to consider your business model and segregate your funds before you decide on which bank accounts to open.
#3 Meet the minimum deposit requirement
Different banks and bank accounts will have different minimum deposit requirements. There is also a minimum monthly balance requirement that must be fulfilled if the company does not want to incur an additional monthly fee. It is important to consider the scale of your business and whether your business can meet the capital requirements before you proceed with business bank account opening.
#4 Incorporate your company 
Most banks require businesses to provide evidence of company formation to open an offshore business account. In other words, companies must provide a copy of their certificate of incorporation. Hence, it is necessary to incorporate your company before you open your corporate bank account. 
#5 Prepare the required documents
Besides a copy of the certificate of incorporation, there will be other documents required such as personal identification and information of directors and beneficial owners, resolution by the Board of Directors, copy of company's Memorandum and/or Articles of Association, copy of company's business profile, business plan, business license and contracts signed with suppliers. The documents required will vary depending on the bank and bank account your company chooses. 
Need help fulfilling corporate bank account requirements?
Although most banks allow the remote opening of business account for foreigners, there are still banks in certain jurisdictions that require a face-to-face interview for bank account opening. While bank account opening may seem simple, it can be a tedious process because it involves researching and choosing the appropriate bank and bank accounts, negotiating with the bank on the terms and conditions, and preparing the relevant documents.
Tetra Consultants provide corporate bank account opening services that allow you to open your corporate bank account without any hassle. Our services include providing advice on the choice of bank and bank accounts, arranging interviews, and negotiating with the bank on your company's behalf, and preparing the relevant documents required based on information provided by your company. If the bank requires a physical meeting with the client, Tetra Consultants will be happy to accompany your representative to the bank meeting.
Contact us to find more information about how to open a corporate bank account in the jurisdiction suitable to you. Our team of experts will revert within the next 24 hours.