After registering your new business with the relevant authorities, the next step is to set up a corporate bank account for your business. Corporate bank account opening helps business owners professionally manage business finances while separating from their personal finances. As there are numerous choices of offshore corporate bank accounts, business owners should consider various factors when opening a business bank account. In this article, we will explore the top 3 requirements to open a business account.
Most global banks will require the following documents during corporate bank account opening:
Corporate documents of the business including the Certificate of Incorporation and the Memorandum & Articles of Association

KYC documents of the directors and shareholders including their passport copies and residential proof

Corporate resolutions and UBO declaration

Business Plan

Invoices issued to customers

Contracts signed with suppliers

Financial licenses (if applicable)
Top 3 requirements to open a business account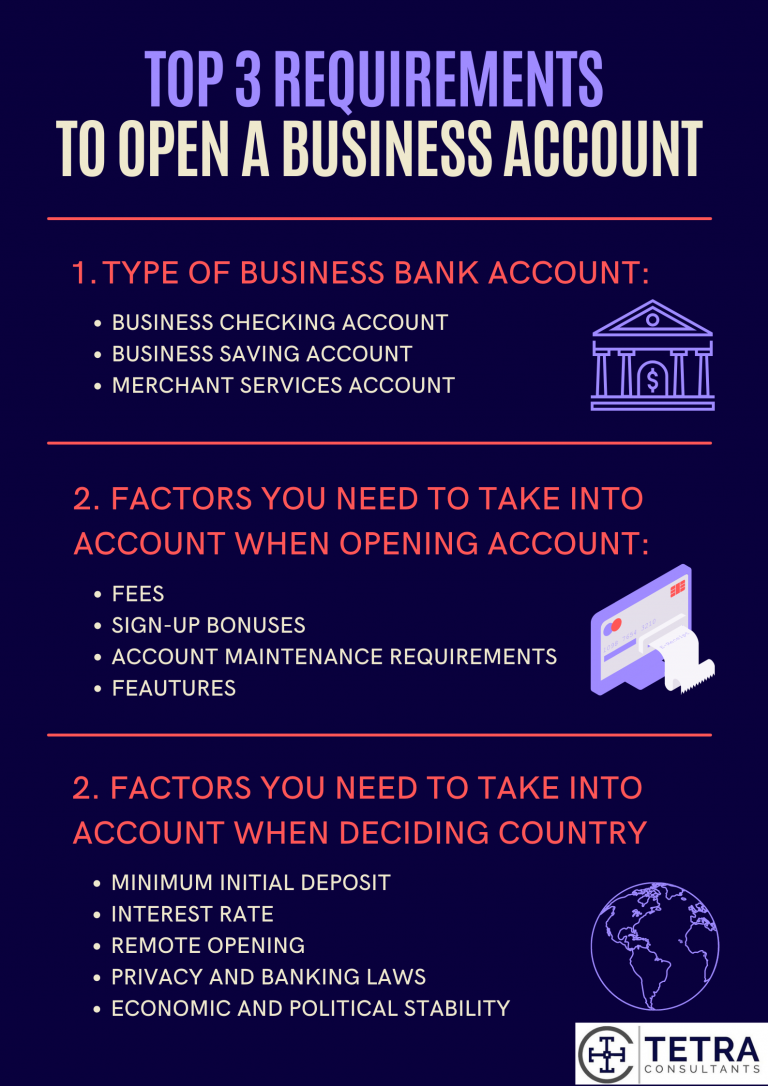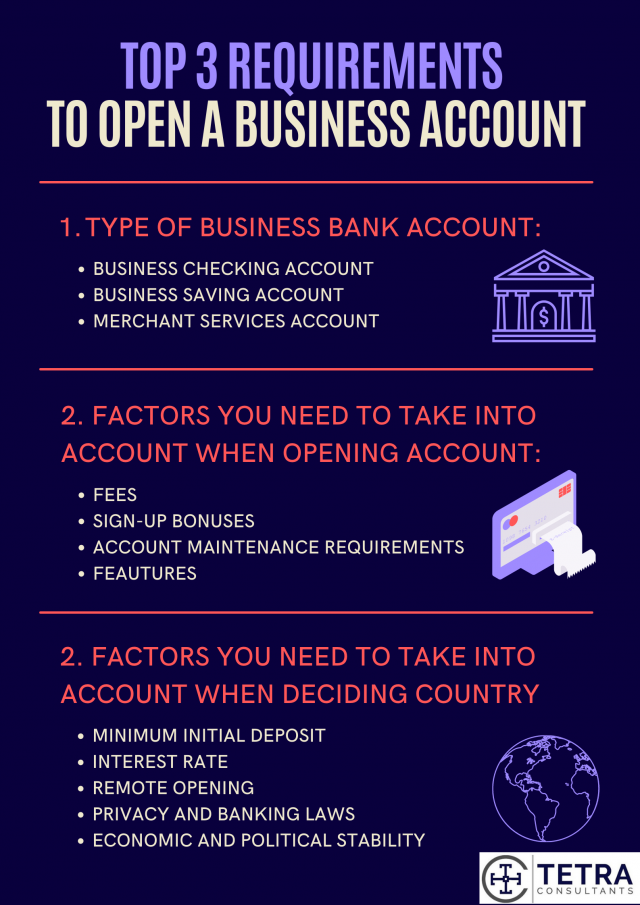 #1 Which type of business bank account should you open?
Similar to personal banking, there are several types of offshore business bank accounts. Depending on the nature of the business activity your company engages in, you should choose bank accounts that meet your business goals. Here are 4 types of business bank accounts:
Business checking account
A business checking account helps to manage employees' payroll, expenses, and other financial tasks your business engages in. 
Business savings account
A business savings account will go hand in hand with a business checking account as it will be useful in holding the business' earnings. 
Merchant services account
You should set up a merchant services account if your business plans to accept debit/credit card payments. It allows businesses to accept and process electronic payment card transactions. 
#2 Things to consider when choosing a bank for your business account
Fees
As banks have different fee structures and features, it is crucial to choose a bank that offers competitive fees so as it does not eat into the company's profits. Some examples of fees include transaction fees and early termination fees. Compared to personal accounts,

business accounts usually have higher fees charged and lower minimum balance requirements.
Sign-up bonuses
Banks often implement sign-up bonuses to attract more people to open a bank account with them. While it may seem attractive, it is important to note that there are often hidden terms and conditions attached to them. These sign-up bonuses are also taxable. 
Account maintenance requirements
Business bank accounts often have account maintenance requirements. For certain banks, it is mandatory to maintain a certain minimum balance in your business bank account. 
Features
Certain bank features aimed at improving the efficiency of business operations are important considerations when choosing an

offshore corporate bank account

. Some bank features include mobile apps to digitally deposit checks and digital alerts to notify when the balance is nearing the minimum. 
#3 Which country should you open an offshore bank account in?
Depending on your business needs and long-term goals, you must decide on a country best suited for your business. Below are some considerations to take when deciding on the country to open an offshore bank account:
Minimum initial deposit
Several banks implement a low deposit minimum and some do not require the initial deposit for an

offshore bank account opening

. This is a crucial consideration for start-ups, entrepreneurs, and SMEs as it may be financially difficult for them to meet the minimum initial deposit if it is high. 
Interest rates
Offshore banks tend to offer higher interest rates than the banks in your home country. If an offshore bank account offers higher interest rates on assets relative to a country's inflation levels, this means that the real value of assets is higher and investors are able to gain more.
Remote Opening
One important consideration is whether there is a need to open an account online or visit the bank in person.

Especially during the COVID-19 period, tightened travel restrictions across the world may pose a stumbling block when physically setting up an offshore bank account. However, remote opening of bank accounts creates a high level of flexibility and convenience for non-citizens who wish to open an offshore bank account from their home country.
Privacy and Banking Laws
Banking secrecy laws and privacy measures can be an important aspect of determining your ideal jurisdiction for a

business bank account opening

. Strong secrecy laws that are implemented prevent people from revealing client information.
Economic and Political stability
Countries that have economic and political stability tend to have stable and sound banking systems. This includes a stable money supply, low inflation rates, low corruption levels, and minimal capital controls. Therefore, a developed financial system breeds an environment of certainty and stability. For example, Singapore has a high rate of both economic and political stability and offers many reputable banks such as DBS, OCBC, UOB, Standard Chartered and Citibank.

In conclusion, a business bank account plays a pivotal role in growing and expanding your business. While business bank accounts offer numerous benefits and perks, you must take into consideration the type of business activity your business engages in. 
How we can help you fulfil the requirements to open a business account
We, at Tetra Consultants can assist you in opening a business account for your newly incorporated company by leveraging our extensive banking networks formed in various countries. On understanding your business activities, needs, and resources, our team of experts will recommend the best-suited type of bank account for your business and the best country to set up your offshore account in.
Contact us for more information about opening a corporate bank account and our dedicated team will revert within the next 24 hours.