Deciding on which countries to expand your business to can be a complex and difficult decision.  As an aspiring entrepreneur, you might have heard of the lucrative business environment of Isle of Man and might be wondering about the process of register a business Isle of Man successfully. In this article, Tetra Consultants will provide the ultimate guide on how to register a business Isle of Man so that you may better understand this business phenomenon and make a more informed decision about whether you should register company in Isle of Man.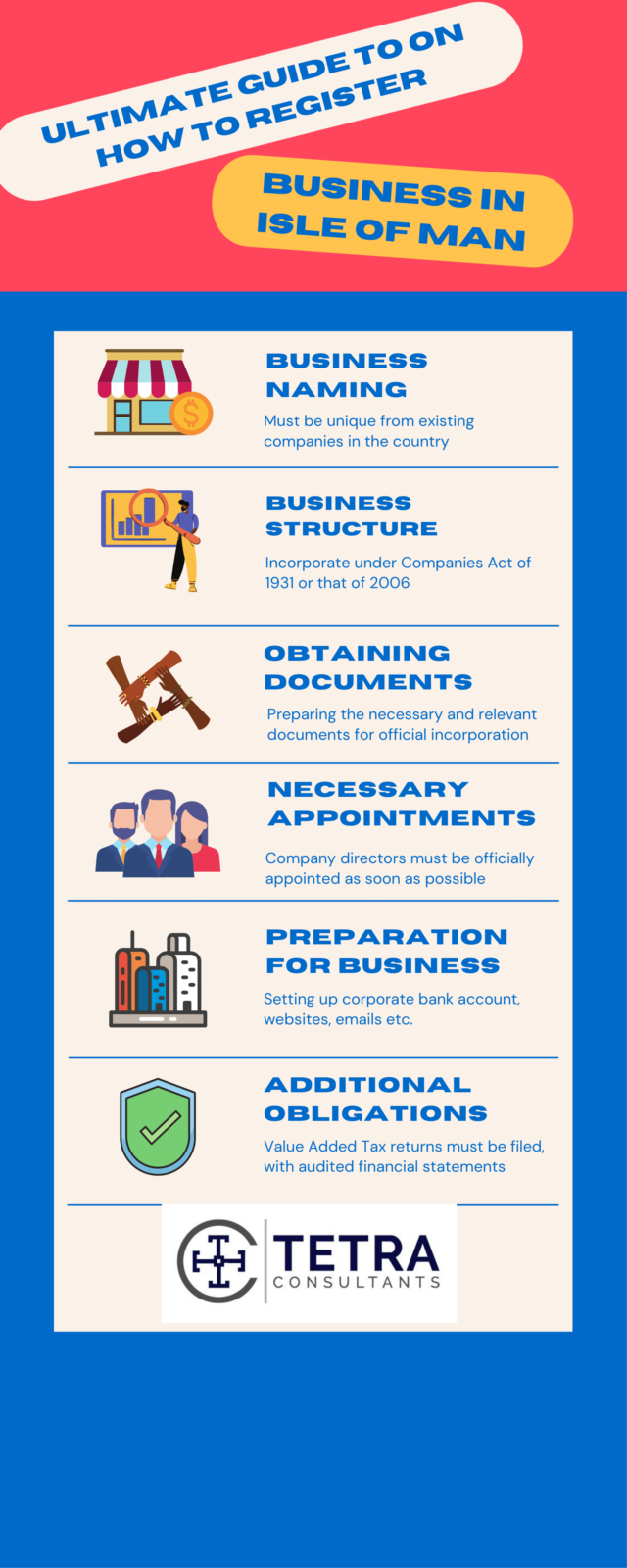 Deciding on a business name
The very first step to take before choosing to register a business Isle of Man is to choose a unique name for your business.  While this may seem like a trivial step, your business name will determine how other companies, businesses and market participants view you and your firm.  Once a unique name not taken by any other pre existing companies has been selected, you can submit it to the Registrar of Companies so that this name can be successfully approved.  
Choosing the specific business structure you want to incorporate under
There are two main legal frameworks and provisions you can turn to in order to go over the different types of business structures your firm can incorporate under.  Firstly, The Companies Act of 1931 is a common law commonly applied by any domestic businesses in the Isle of Man.  However, this act is also a preference for multiple foreign investors and actors.  In terms of its requirements and stipulations, it is mandatory for at least 2 directors to be appointed for the firm, but it can be self managed.  This means that it need not have a corporate service provider specifically licensed by the government of the country.  
The second type of legal framework is The Companies Act of 2006.  In contrast to the previous law covered, this act only requires a single director.  This specific business structure is predominantly utilised by foreign investors and actors as there it is mandated that a financial service license holder hold the position of a Registered Agent.  As such, this increases the costs associated with running the business, making it a more expensive process overall.  
Obtaining the relevant documents and supporting information in preparation of official incorporation for your business
Once you have selected the appropriate business structure for your company, the documentation for incorporating the Isle of Man company must be provided to the country's Registrar of Companies with the prescribed feed such that it can be vetted and approved.  For those opting to incorporate under the Companies Act of 1931, most commonly with an emphasis on domestic services, this process can be successfully completed on an independent basis.  However, for those opting to incorporate under the Companies Act of 2006, a Registered Agent, as explained earlier, must be appointed to assist in the process in order for your process of incorporation to be successful. 
Organising the necessary appointments and registers
Once your business has been successfully incorporated, the company's directors must be officially appointed into their respective positions, with the business shares being distributed accordingly.  After which, the nominated officer from your company must update the Isle of Man's government Beneficial Ownership register, submitting the relevant information regarding the firm's directors and beneficial owners.  On top of these duties, the company's corporate registers should be properly established as well so that the business can soon begin to operate.  
Preparation for the initiation of business activities and related operations
The specific steps of business preparation may vary from firm to firm, from industry to industry, as it is largely dependent on the necessary resources required for your business.  Despite this, there are many common preparations businesses often need to make before commencing their operations.  For instance, the opening of a corporate bank account within the Isle of Man to support any financial transactions or related financing activities is most definitely a vital step to business preparation.  Alongside the set up of a corporate bank account, establishing proper accounting systems to record critical business information, data and financial statements is almost always required for businesses as well.  Next, setting up your firm's email address, websites and Internet domain would serve as a platform for future activities you hope to carry out.  Additionally, swiftly identifying the optimal physical premises to set up shop in is equally as important as well. 
Once these steps have been completed, your firm is mandated to register as an official employer with the Isle of Man's Income Tax and National Insurance department.  For employees who do not hail from the Isle of Man,  your company is required to apply for the relevant work permits. Another part of registration which  your business may need to complete is Value Added Tax (VAT) registration.  Last but not least, your business can opt to register for data protection as well, depending on the nature of your business and the need for such legal safeguards in ensuring that your operations flow smoothly.  
Additional business obligations 
Even after being successful in the process of register a business Isle of Man, there are certain monthly, quarterly and annual obligations which need to be continuously fulfilled and attended to as well.  When it comes to monthly responsibilities, these include bookkeeping to ensure that financial records are accurate and reflective of the firm's current state at any point in time, as well as any payroll, billing and supplier obligations.  With regards to quarterly obligations, VAT returns need to be prepared and submitted to the Customs and Excise department of the Isle of Man.  Finally, when it comes to yearly responsibilities, proper auditing for financial statements, filing of tax returns, filing of corporate returns, as well as the renewal of relevant data protections is crucial as well.     
Conclusion
Navigating the country of Isle of Man's complex business climate might be a challenging process – a hassle to say the least.   As such, Tetra Consultants hopes that this article has provided you a much better understanding about the key steps to register a business in Isle of Man so that you can truly decide on whether you should register company in Isle of Man yourself.
So, what are you waiting for? Contact us to find out more about the process of starting a business in Isle of Man, and our dedicated and experienced team will respond within the next 24 hours.  Tetra Consultants will not only empower you by helping to navigate the different regulations of Isle of Man, but also aid in facilitating the registration of your company there while providing invaluable, nuanced insights into any potential challenges.