Wyoming is widely recognised as the most business-friendly state to conduct business in the United States (US) given its friendly and low tax requirement. The country has a low tax burden on businesses incorporated in its jurisdiction, imposing no corporate or personal state income tax which allows businesses to maintain a higher level of profit margin. The jurisdiction of Wyoming also consistently receives a high level of praise for its state management with regards to foreign investments and has passed legislation bills that allow for startup companies to enter highly regulated industries. The Wyoming government provided numerous grants, loans and incentive programs to help businesses set up and scale their operations in the state. Added with its critical and business-centric infrastructure, many foreign investors are keen on starting a business in Wyoming for those very reasons. Before you register company in Wyoming, allow Tetra Consultants to share the ultimate guide on how to register a business in Wyoming for your reference.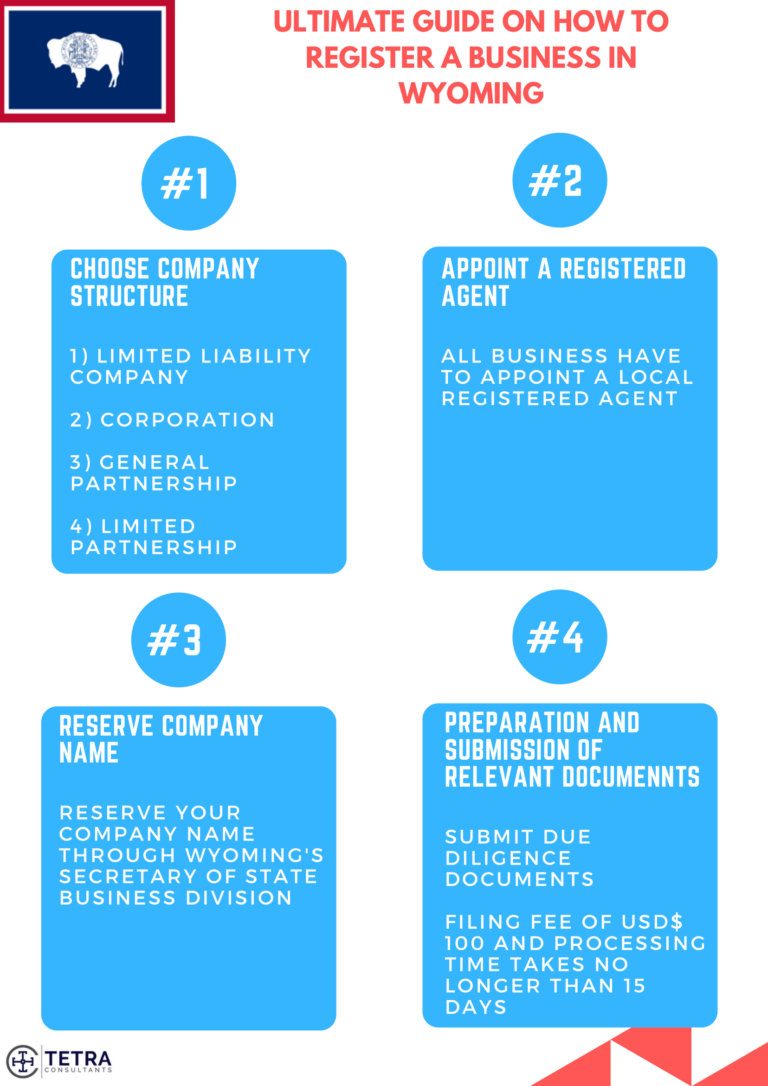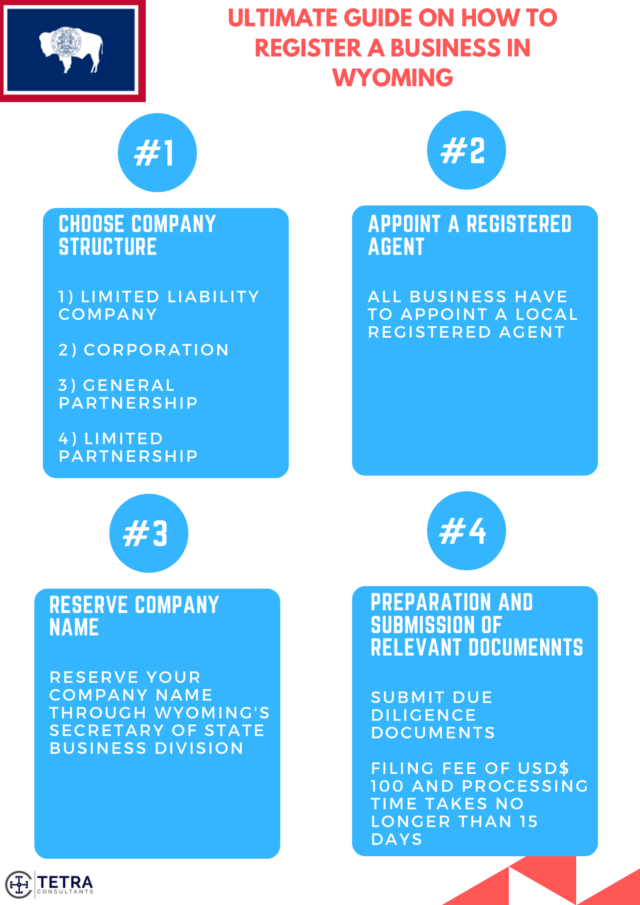 1) Choose Your Optimum Company Structure
The first step in the ultimate guide on how to register a business in Wyoming is to choose your optimum company structure that will best fit your business. In general, there are 4 kinds of business entity you can choose to set up:

1) Limited Liability Company (LLC)
LLCs are seen as a separate legal entity when formed and shareholders are not made personally liable to its debts and obligations if any. Instead, shareholders are considered to be limitedly liable, and only so for their own respective invested sum of share capital. Specific to Wyoming, investors can also choose to set up a 'Series Limited Liability Company' where it allows each series to own unique membership interests, assets and operations.

2) Corporations
Corporations are entities that are formed under state or federal laws and are also considered to be a separate legal entity from its shareholders. The corporations are usually managed by a board of directors who hold various fiduciary responsibilities and there are two types of corporations that can be formed – C Corporation and S Corporation.

C Corporation, also known as profit corporation offers owners the highest level of personal liability protection. Seen as a separate entity under the eyes of the law, C Corporation is required to report and pay taxes based on its profits. The board of directors identified has a fiduciary responsibility to manage the corporation's affairs and ensure that the corporation interests are always placed at the top.

S Corporations are instead taxed differently from C Corporation as it allows for pass through taxation. This means that profits or losses are reported as part of the owner's personal returns.

3) General Partnership
General partnership is formed jointly by 2 or more partners and all partners are considered general partners who hold full responsibility for the profit and losses of the partnership business. There are no state requirements for annual filings and partners can easily make decisions with ease without having to meet various formalities as compared to other company entities.

4) Limited Partnership
Limited Partnership is formed jointly by 2 or more partners of which minimally there must be one general partner. The general partner will hold full responsibility over the debts and obligations of the business whereas remaining limited partners will hold limited liability. Naturally for undertaking greater risk in the event of a winding up, general partners often have more say in the decision making of the business.
2) Appoint a Registered Agent 
The second step in the ultimate guide on how to register a business in Wyoming is to appoint a registered agent. While there are no requirements for nationality, all companies have to appoint a local registered agent .
3) Reserve Your Business Name
The third step in the ultimate guide on how to register a business in Wyoming is to reserve your business name through Wyoming's Secretary of State Business Division. Your proposed business name will be reserved for up to 120 days.
4) Preparation and Submission of Relevant Documents
The fourth step in the ultimate guide on how to register a business in Wyoming is to prepare all your due diligence documentations and identifications of founding members and shareholders. Wyoming imposes a standard filing fee of USD$100 and the processing time will take no longer than 15 business days.
Conclusion:
Engage Tetra Consultants as we guide you on how to register a company in Wyoming through a smooth and hassle-free process. The team provides a comprehensive service package that includes planning and strategizing with our clients to select a suitable business entity, completing the registration and documentation processes, obtaining required licenses, opening a corporate bank account, and ensuring your compliance with the government regulations. 
Contact us to find out more about company registration in Wyoming and our dedicated and experienced team will revert within the next 24 hours.