The United Kingdom (UK) is considered one of the world's leading investment destinations and for good reasons. The jurisdiction is home to some of the world's leading industries that deal with the field of Life Sciences, Aerospace, Information and Communication Technology (ICT), Automotive Engineering and Financial Services. The UK's vibrant economy is also supported by world-class infrastructure that facilitates the transactions across the diverse market, attracting both foreign investors as well as multinational companies to incorporate in the UK. The UK's proximity to Europe provides investors access to the European Union (EU) market, making the destination look even more attractive to investors. All these make the jurisdiction an attractive location for investors to register a business in the UK but it can be tricky for first timers who are looking to invest in the country. Before you register company in UK, you may wish to consult service providers such as Tetra Consultants to aid you in your business registration journey. In this article, Tetra Consultants will share the ultimate guide on how to register a company in UK for a foreigner.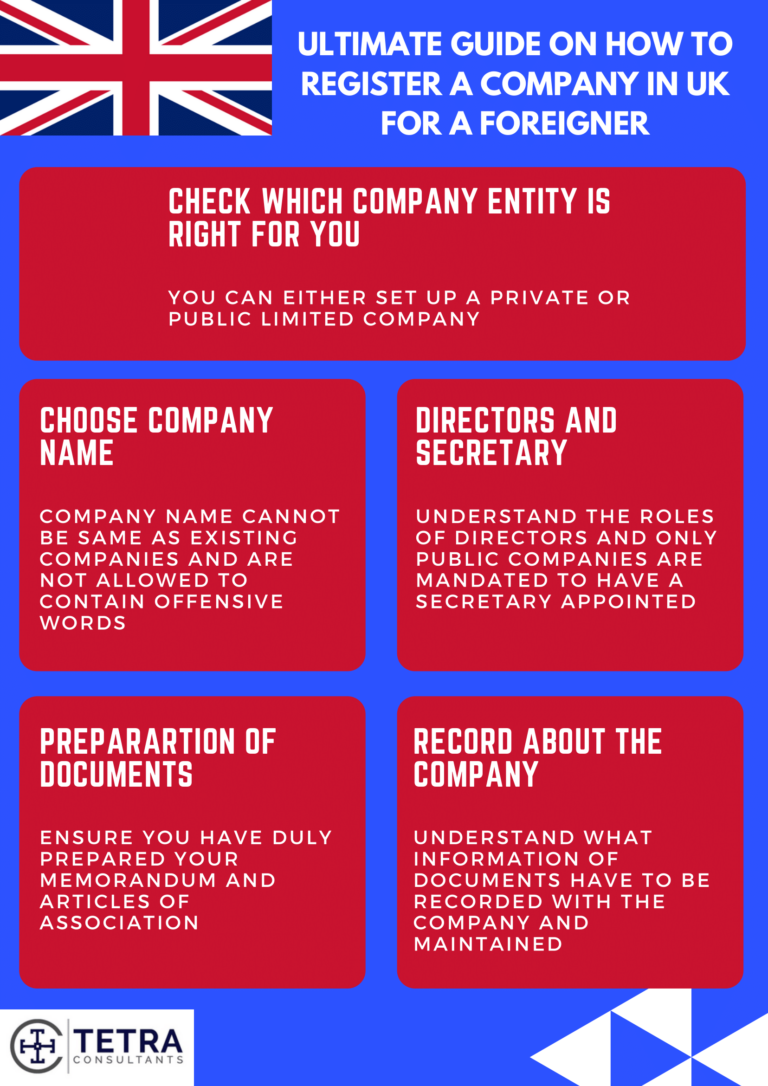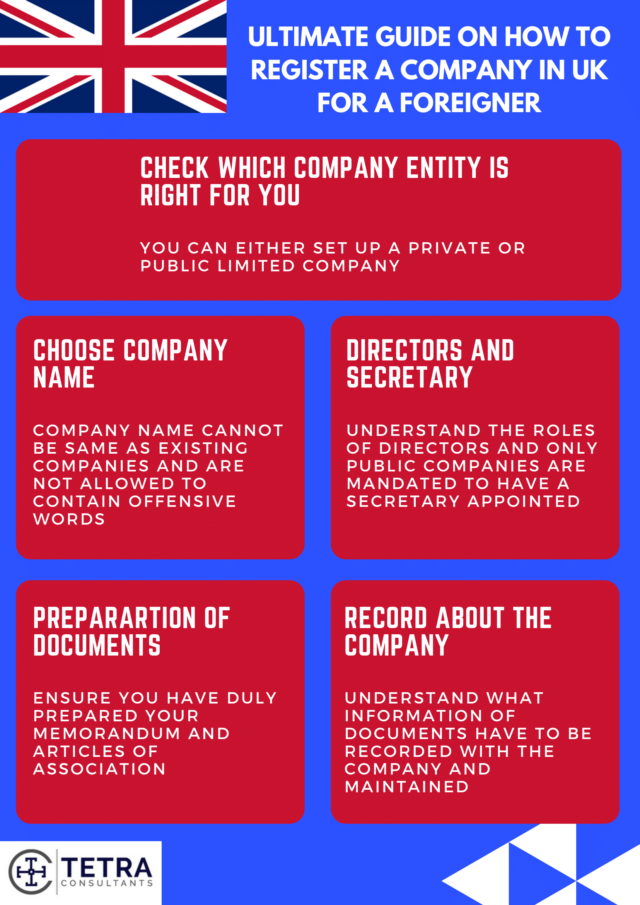 1) Check Which Company Entity is Right For You
The first step on the ultimate guide on how to register a company in UK for a foreigner is to check which company entity is right for you. When registering a company in the UK, you can choose to set up either a limited company or public limited company. According to the UK Companies House, a limited liability company requires a minimum of 1 shareholder of any nationality, 1 director of any nationality, an official registered UK office address and no minimum capital paid upfront. For public limited companies, they require a minimum of 2 directors of any nationalities, 2 shareholders of any nationalities, an official UK registered office address, appointment  of a company secretary and a minimum capital of EUR 50,000 of which 25% has to be paid upfront. Both company entities' shareholders are subjected to limited liability and the difference only lies in terms of the public limited company being able to list on the London stock exchange and sell its share publicly.
2) Choose Your Company Name:
The second step on the ultimate guide on how to register a company in UK for a foreigner is to choose your company name. Generally, your company name cannot be the same or too similar to existing companies. You are also not allowed to include an offensive or 'sensitive' word that will give off wrongful expressions.
3) Directors and Secretary:
The third step on the ultimate guide on how to register a company in UK for a foreigner is to understand the responsibilities of higher management positions. As director of a limited company, you must comply with the company's rules as stipulated in the articles of association, maintain company records and keep it up to date, and also file annual reports and company taxes. You are also legally required to declare if you might personally benefit from a transaction the company makes. In the event a director does not meet their responsibilities, they may be fined, prosecuted and disqualified from helming the position. Do note that company secretary is only a requirement for public limited companies and not mandated for limited liability companies. When incorporated in the jurisdiction of the UK, you have the responsibility to check that information provided by the Companies House on your company is up to date and accurate. This is also known as the confirmation statement. Things that you would be required to check include details of your office address, directors and secretary information, statement of capital and shareholder information, company SIC code (identifies your business activity type) and register of 'people with significant control'.
4) Preparation of Documents:
The fourth step on the ultimate guide on how to register a company in UK for a foreigner is to prepare what is known as a 'memorandum of association' and 'articles of association'. The memorandum of association in short, contains all the names of all initial shareholders or subscribers agreeing to form the company. The articles of association are written rules about how the company should be runned and have to be agreed by the shareholders, directors and company secretaries.
5) Record About the Company:
The fifth step on the ultimate guide on how to register a company in UK for a foreigner is to know what records have to be kept with the company. The following are details that must be duly recorded and kept: directors, shareholders and company secretaries; results of shareholder votes and resolution; promises for company to repay loans at a specific date in the future and whom to pay back; indemnities during possible events where company failed to make payments; transactions when someone buys shares of company; and any loans or mortgages secured against the company's assets.
Conclusion:
Engage Tetra Consultants as we guide you on how to register a company in UK through a smooth and hassle-free process. The team provides a comprehensive service package that includes planning and strategizing with our clients to select a suitable business entity, completing the registration and documentation processes, obtaining required licenses, opening a corporate bank account, and ensuring your compliance with the government regulations. 
Contact us to find out more about company registration in UKand our dedicated and experienced team will revert within the next 24 hours.