Deciding on which countries to expand your business to can be a complex and difficult decision.  As an aspiring entrepreneur, you might have heard of the lucrative business environment of Canada and might be wondering about the process of registering for a money services business (MSB) license successfully. In this article, Tetra Consultants will provide the ultimate guide on how to obtain a Canada MSB License so that you may better understand this business phenomenon and make a more informed decision about whether you should register for Canada MSB License as well.
However, first and foremost, before going into the process of registering for a Canada MSB License, it is crucial to understand what exactly a Canadian MSB License is, as well as its applications to various business entities and industries.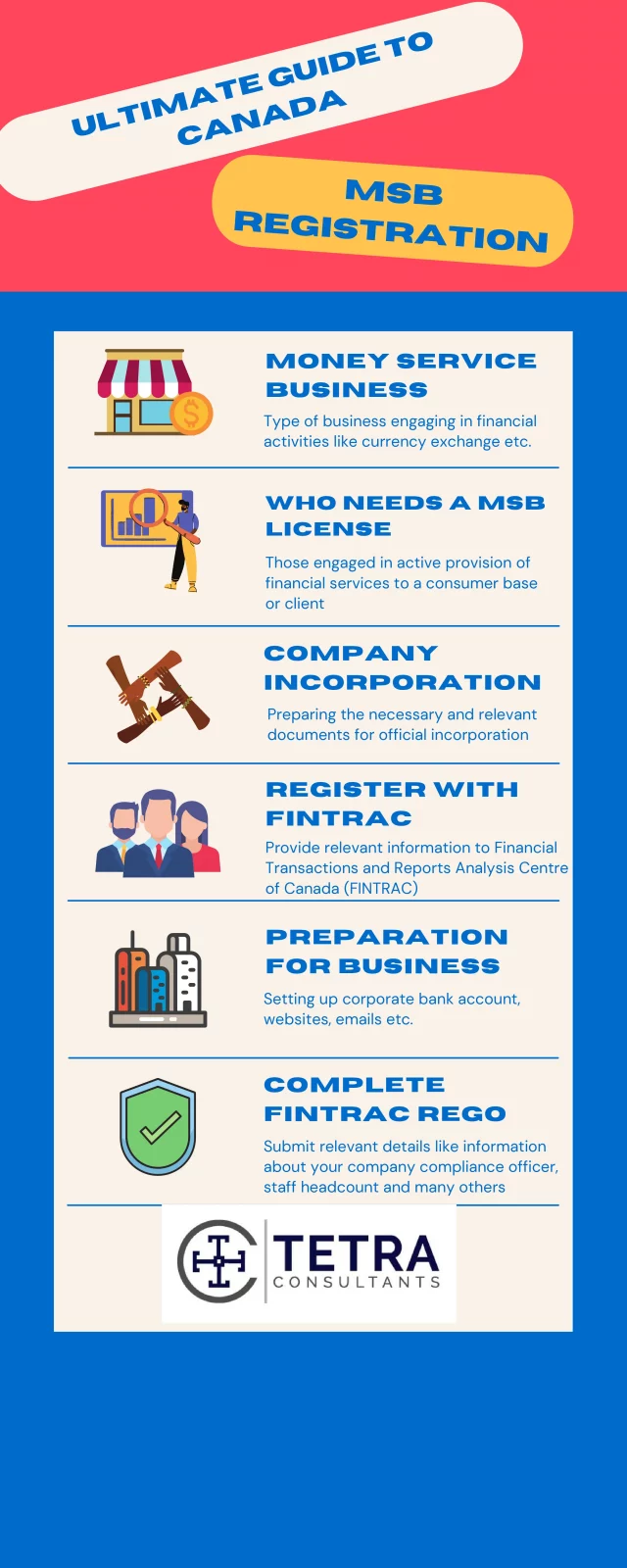 What is a money services business (MSB)?
A MSB is a type of financial institution which actively engages in various financial activities such as check cashing services, currency exchange services, virtual currency transaction services, issuance and redemption of the checks, money orders and bank chargers of foreign individuals, money transfer services, ATM operations etc.  However, a MSB does not encompass banks, another type of financial institution which need not obtain such licenses.  This leads nicely on to the next segment of this article, explaining the different entities who are required to obtain the Canada MSB License, and the types of metrics they are judged on.
Who is required to obtain the Canada MSB License
As alluded to earlier, businesses engaging in the provision of financial services to its consumers are obligated to obtain the Canadian MSB License.  These financial services include money transfers, where money is moved from one entity to another entity through an electronic money transfer framework most commonly, or any other platform and method.  Another main type of financial service commonly provided by a business which similarly, requires this Canadian MSB License, are those which engage in trading via virtual currency.  This encompasses virtual currency used for cash funds, cash funds used for virtual currency, as well as exchanges between different types of virtual currency.  The most recent regulations passed in Canada during early June 2020 has expanded the definitions of virtual currency to allow for cryptocurrency to be used and exchanged, allowing payment operators to run platforms with cryptocurrency exchanges.  
Now that you have a much clearer understanding of MSB Licenses, as well as which types of business entities would require such licenses, you may be wondering about what the process of registering a MSB License is.  Well, Tetra Consultants will now be providing 3 simple steps you can follow to obtain your Canadian MSB License today.  
Company registration and incorporation in Canada
First and foremost, your company must decide on the most basic details like your business name and location.  While this may seem trivial, your unique business name will represent how others view your company in the public sphere, and deciding on an appropriate name is imperative.  Similarly, you must choose a suitable province in Canada to operate in as it will determine your ability to obtain the right consumers and even employees.  When it comes to businesses providing such financial services, your company name must contain at least 2 words, with one word describing the financial services it engages in such as "money transfers" or "payment".  With regards to your business location, once you have decided on a suitable locale, you must provide a photo of your premises and details about your registered address when obtaining your Canada MSB License. 
When it comes to authorised capital, there is no official stipulation about the minimum amount of authorised capital to put down by the relevant government agencies and regulatory authorities.  However, it is strongly recommended to deposit and put up a sizable amount of authorised capital to demonstrate to the government agency your company's sincerity in its intentions of business planning and development.  Last but not least, when it comes to the management aspect of a business, during this registration phase, at least one official director should be appointed to run and control the internal affairs of your business.  
2. Preliminary registration with Financial Transactions and Reports Analysis Centre of Canada (FINTRAC)
In order to begin the process of obtaining approval for a MSB License in Canada, you must submit a variety of business details to FINTRAC.  These details include the finalised name of your company, the official physical address of the company's office and base of operations, the contact details of the relevant representative from your company, as well as a clear depiction of the financial services you intend to provide, and the types of commercial activities you intend to engage in.  
Once this list of information has been provided, an interview will be conducted between the representative from your company and a representative from FINTRAC before your Canadian MSB License can officially be processed and approved.
3. . Completing your registration with FINTRAC
Once this preliminary registration phase with FINTRAC, the relevant government authority has been completed, a list of other business details and critical information has to be provided to them as well.  This includes information about your corporate banking account, contact details and other relevant information about your company's compliance officer, your staff head count, your business' registration information (i.e. details of its incorporation and specific type of business structure), relevant information about the leaders of your MSB and members of your firm's senior management (i.e. individuals who control 20% or more of the firm), projected values of financial transactions every year for every type of financial service you intend to provide (denominated in US dollars), detailed information about your different branches of operations, as well as details about each MSB agent.
Once all of such information has been provided, your company's Canada MSB License can officially be approved so that you can engage in the provision of your respective financial services. 
Conclusion
Navigating the country of Canada's complex business climate as a firm intending to provide a range of financial services and in need of a Canada MSB License might be a challenging process – a hassle to say the least.  As such, Tetra Consultants hopes that this article has provided you a much better understanding about the key steps to obtaining and registering for a Canada MSB License so that you can truly decide on whether you should do so yourself.
So, what are you waiting for? Contact us to find out more about the process of starting a business in Canada, and our dedicated and experienced team will respond within the next 24 hours.  Tetra Consultants will not only empower you by helping to navigate the different regulations of Canada, but also aid in facilitating the registration of your company there while providing invaluable, nuanced insights into any potential challenges.