Deciding on which countries to expand your business to can be a complex and difficult decision.  As an aspiring entrepreneur, you might have heard of the lucrative business environment of India and might be wondering about the process of private limited company registration in India.  In this article, Tetra Consultants will provide the ultimate guide to private limited company registration in India so that you may better understand this business phenomenon and make a more informed decision about whether you should register company in India.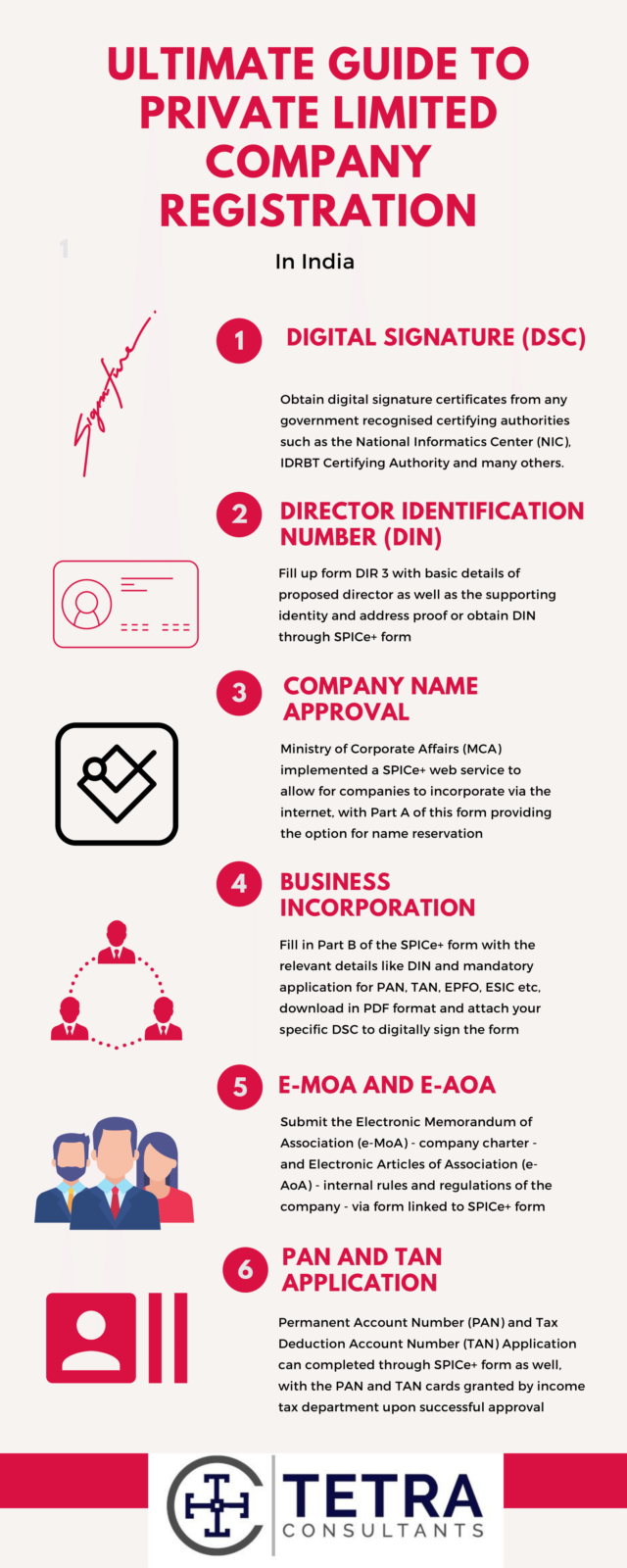 1. Applying for your Digital Signature (DSC)
In order for your private limited company to submit the necessary forms for company formation, a DSC is required.  This DSC is a must for all subscribers and witnesses under the Memorandum of Association (MOA) and Articles of Association (AOA).  To obtain this DSC, you must first get digital signature certificates from any government recognised certifying authorities such as the National Informatics Center (NIC), IDRBT Certifying Authority and many others.  The exact cost of obtaining your DSC thus relies on the certifying authority you go to and the payment they stipulate.  
2. Obtaining your Director Identification Number (DIN)
The DIN, as its name suggests, is an identification number for your company's director.  Thus, anyone who wishes to be a director at the company must hold a DIN, with 1 DIN being sufficient to hold the position of a director at multiple companies.  There are 2 predominant ways of applying for your DIN.
First and foremost, you can obtain your DIN by submitting form DIR 3.  This applies to individuals hoping to become a director within companies which already exist.  Additionally, form DIR 3 must be filled up with the basic details of the proposed director as well as supporting identity proof and address proof.  Another method of obtaining your DIN is by filing your application through SPICe+.  By utilising SPICe+ to file for your DIN, there can only be a maximum of 3 directors applying for the DIN.  If a company still wishes to set up a business with more than 3 directors who do not hold a DIN, the company is forced to first incorporate with only 3 directors, and subsequently, appoint new directors once the company has been officially registered. 
3. Obtaining approval for your company's name
While this may seem like a small issue, your company's name is critical to private limited company registration in India as it determines your business identity and how you are viewed by the market.  As such, when it comes to the issue of obtaining name approval, there are similarly, 2 main methods.  
Firstly, on 23 February 2020, the Ministry of Corporate Affairs (MCA) implemented a SPICe+ web service to allow for companies to incorporate via the internet, with Part A of this form providing the option for name reservation.  This reservation allows for two proposed names and one re-submitted one to be secured by the company.  As such, your business can opt to reserving a unique name under Part-A of SPICe+ Form, 
However, in the event where your business name is denied due to its similarities to the names of existing registered companies or trademarks, your business has to re-submit an additional SPICe+ form with a specific fee.  Once your name has finally been officially approved, it will be reserved for approximately 20 days.  During this time span, the company must continue the process of registration and incorporation by submitting Part B of this SPICe+ form.
Another potential possibility for registering your company's name is by submitting both Part A and Part B of the SPICe+ form at the same time.   However, in this combined application for both name recognition and incorporation, there can only be one business name submitted in the form.  Furthermore, in the instance where this combined application is denied as your business name is not approved, the applicant is allowed to re-submit the same SPICe+ form without additional fees imposed.  Even if your business name is not approved in the second submission, you are permitted to submit a complete different SPICe+ form again, ensuring that this process of name approval is cheaper than if you were to register it using the first option outlined prior.  This entire process of name approval and incorporation is relatively fast, taking around only 2 to 3 days. 
4. Incorporation of your business
If you choose to pursue the first option and have successfully registered your business name via Part A of Form SPICe+, your business must now be incorporated through Part B of the same form.  This process of incorporation can also be conducted online, thus increasing the efficiency and convenience of the entire incorporation process.  In the latest version of the SPICe+ form updated on 23 February 2020, Part B now integrates a variety of different applications into one submission.  These different applications include the following:
Application for allotment of DIN (Director Identification Number)

Incorporation of a new company

Mandatory Application for PAN and TAN

Mandatory Application for EPFO registration 

Mandatory Application for ESIC registration 

Application for Professional tax registration 

Mandatory Application for opening a corporate bank account for

Optional Allotment of GSTN (Goods and Service Tax registration number) 
As such, upon completing the SPICe+ form, the company should download this SPICe+ form in a PDF format and attach its specific DSC to digitally sign the form.  In fact, the digital signature of a professional is expected as well, with this professional certifying that all information provided and recorded in the form is accurate.  This professional could be Chartered Accountant, Company Secretary, Cost Accountant or advocate.
5. The electronic Memorandum of Association (e-MoA) and electronic Articles of Association (e-AoA)
The e-MoA(INC-33) and e-AoA (INC-34) are forms developed to ensure that the process of register new company in India remains smooth and simple.  The e-MoA contains the charter of the company while the e-AoA consists of all internal rules and regulations of the company.  While previous versions of this memorandum of association and articles of association had to be submitted physically, these forms can now be submitted virtually as a form linked to the SPICe+ form explained earlier.  However, do take note that both these forms must be digitally signed by subscribers to the Memorandum and Articles of Association.
6. Permanent Account Number (PAN) and Tax Deduction Account Number (TAN) Application
As alluded to earlier in Step 4, the PAN and TAN application can be completed solely through the SPICe+ form, where the online system will automatically generate the respective forms once your SPICe+ form has been filed.   A certificate of incorporation of your private limited company is given with its PAN by India's income tax department once your SPICe+ form has been successfully approved.   After which, the income tax department will grant your business its PAN and TAN cards such that you can officially embark on your business activities and operations.  
Conclusion
Navigating the country of India's complex business climate might be a challenging process – a hassle to say the least.   As such, Tetra Consultants hopes that this article has provided you a much better understanding about the key steps to private limited company registration in India so that you can truly decide on whether you should register new company in India yourself.
So, what are you waiting for? Contact us to find out more about the process of starting a business in India, and our dedicated and experienced team will respond within the next 24 hours.  Tetra Consultants will not only empower you by helping to navigate the different regulations of India, but also aid in facilitating the registration of your company there while providing invaluable, nuanced insights into any potential challenges.