Corporate Bank Account Opening Service
Tetra Consultants provide our international clients corporate bank account services in their preferred jurisdictions. After understanding more about your business, our team of experts will advise on suitable banks and jurisdictions which you may wish to consider.
Our team is familiar with the different requirements and expectations of each bank. Consequently, this allows us to provide accurate advice to all our clients, such as whether there is a need to travel for a KYC meeting.
In most cases, Tetra Consultants will provide non-travel banking solutions for our international clients. If it is mandatory for a face-to-face meeting, we will negotiate for alternative modes of identification such as video conference call or visiting a bank branch in our client's home country instead.
时间线
Tetra Consultants aims to provide our clients with a bank account within 5 weeks. This is achieved through a systematic methodology that has worked for us over the years.
Coupled with the preparation of a comprehensive business plan, our team leverages on our global banking networks to provide our clients optimum banking solutions.
In addition, our team is well-versed with the banking requirements and expectations, minimizing delays in the engagement. However, do note that for some business activities or jurisdictions, the bank account opening process may take up to 8 weeks.
How to open corporate bank account in 5 weeks?
Using these 6 basic steps, Tetra Consultants enjoys an extremely high success rate of opening corporate bank account in our client's preferred jurisdiction. On average, our team will successfully open your corporate bank account within 5 weeks.
#1 Knowing your business
Tetra Consultants banking team will fully understand our client's business nature. Depending on the long-term goals and business needs, our team of experts will recommend suitable jurisdictions to open corporate bank accounts. For example, the requirements of a business bank account for an Amazon seller will be different from that of a business owner dealing with imports and exports.
There are multiple factors to take into account when choosing the most suitable jurisdiction. This includes the risk category of business activity as well as tax implications.
During this phase, some questions our team will clarify include:

Do you require offshore banking to legally minimize taxes?
What is your intended business activity?
What is your corporate structure? Is it complex?
What is your expected incoming and outgoing transactions?
What are the nationalities of the directors and shareholders?
#2 Preparation of business plan
Within 2 business days, Tetra Consultants will provide our international clients a draft business plan for review. Our team fully understands the information banks are looking for before deciding whether to board your business.
We will prepare a comprehensive business plan to increase the probability of successful account opening.
For businesses dealing with high-risk business activities such as payment services or cryptocurrencies, the draft business plan may take additional time to complete. This applies to companies with multi-layer structure as well. Tetra Consultants is experienced in timely securing banking solutions for such businesses.
Within 1 week, Tetra Consultants expects the business plan to be finalized and completed by all parties. Thereafter, we will present the document to our preferred banking partners on behalf of our clients.
#3 Leveraging on our global banking network
Within 1 week, Tetra Consultants will provide our client a list of all banks that have provided positive feedback. In order to choose the bank which best fits your business, we will provide you important information such as bank account opening fees, initial deposits, transaction limitations and account maintenance fees.
Once our client confirms the most suitable bank for his business, Tetra Consultants will immediately advance our corporate bank account opening service.
#4 Completed and pre-filled account opening forms
Tetra Consultants will send you pre-filled account opening forms of your preferred banks. After you have completed the forms, our team will review the documents carefully before submitting to the bank officers and continuing negotiations to secure account opening
During this phase, Tetra Consultants will communicate extensively with the banks on behalf of our client. Our clients are only required to review and sign corporate bank account opening forms.
#5 Arranging Interviews
Contrary to popular belief, most global banks will not require our clients to travel for a face to face meeting. If required, our team will negotiate on behalf of our clients for alternative solutions such as video or phone interview. Our team will brief our clients and prepare questions expected for the interview.
Singapore and Hong Kong banks will require our client to physically attend a meeting in Singapore or Hong Kong respectively. If travel is a mandatory requirement, Tetra Consultants will accompany our clients to the bank meetings.
#6 Account Successfully Opened
Once the bank's compliance team approves your application, your corporate bank account will be successfully opened within 5 business days. Our team of experts will ensure everything is in place including activation of internet banking token, courier of bank documents and injection of initial deposit.
On average, our corporate bank account opening service will be completed within 5 weeks. Our clients can expect to have access to internet banking within 2 weeks after the account is officially opened.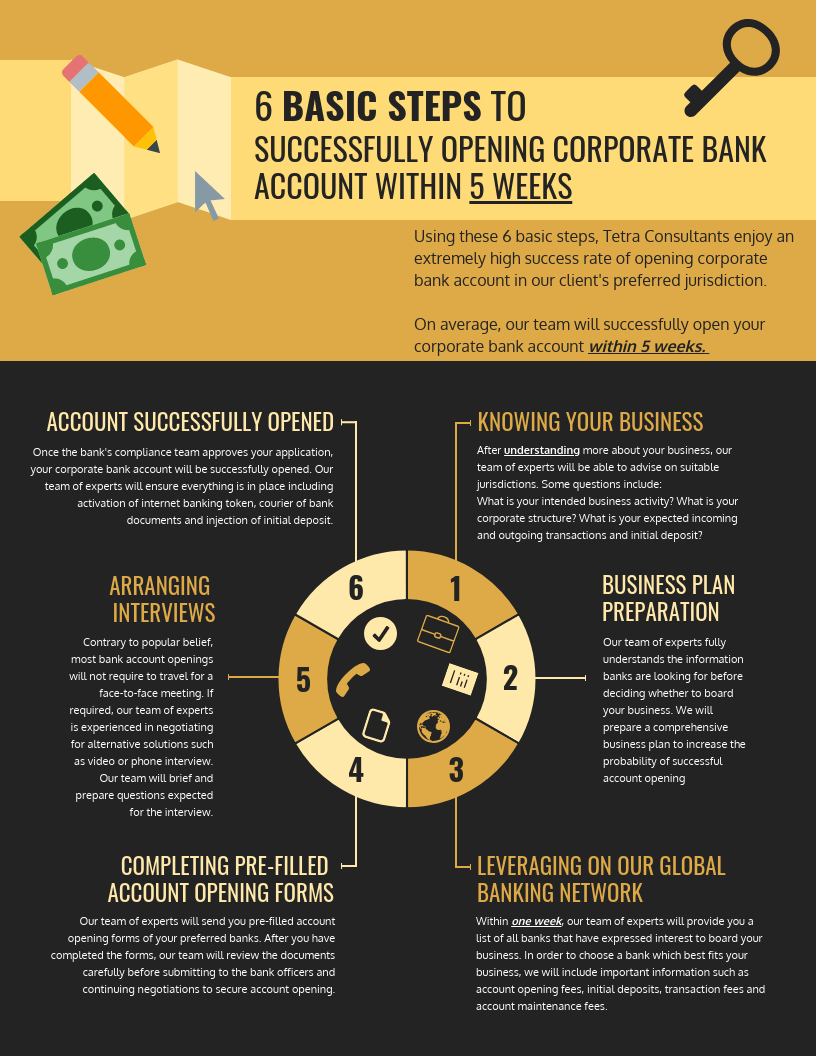 需要文件
Most global banks will require the following documents during account opening:

Corporate documents of the entity including Certificate of Incorporation and Memorandum & Articles of Association
KYC documents of directors and shareholders including passport copies and proof of address
Corporate resolutions and UBO declaration
商业计划
Invoices issued to customers
Contracts signed with suppliers
Financial licenses (if applicable)
Depending on the banks, they may revert asking for additional supporting documents. Tetra Consultants will ensure these documents are prepared and submitted in a timely manner.
What is offshore banking?
Offshore banking is essentially the opening of a bank account outside the country where the company is incorporated, and outside the country where the main business operation is conducted.
If you own a Singapore registered company with a corporate bank account in Switzerland, this is known as offshore banking. Jurisdictions such as Switzerland, Hong Kong and Singapore are reputable and well known for providing offshore bank accounts for low to medium risk businesses.
Despite the media portraying the term "offshore banking" to negative connotations such as money laundering and tax evasion, many global businesses are opening offshore bank accounts to reap the multiple benefits available.
Offshore banking allows your company to have access to multicurrency corporate bank accounts which may not be available in your home country.
This allows our clients to enjoy easier and faster access to international payments. Most global offshore banks provide excellent internet banking facilities in English.
了解更多
现在联系我们 to find out more about Tetra Consultants corporate bank account opening service. Our team of experts will revert within the next 24 hours.