Georgia Forex license
Tetra Consultants is experienced in securing Georgia Forex License for our international clients. Georgia has become a reputable investment and financial paradise for businesses looking to leverage on the country's immense growth potential.
During the past 6 months, the Georgian Legislative Herald has introduced new regulations regarding Forex license in Georgia. The new regulation is available online, but only in Georgian language. See below to find out more information.
Timeline
This license is granted by the National Bank of Georgia, which reviews applications within 2 months.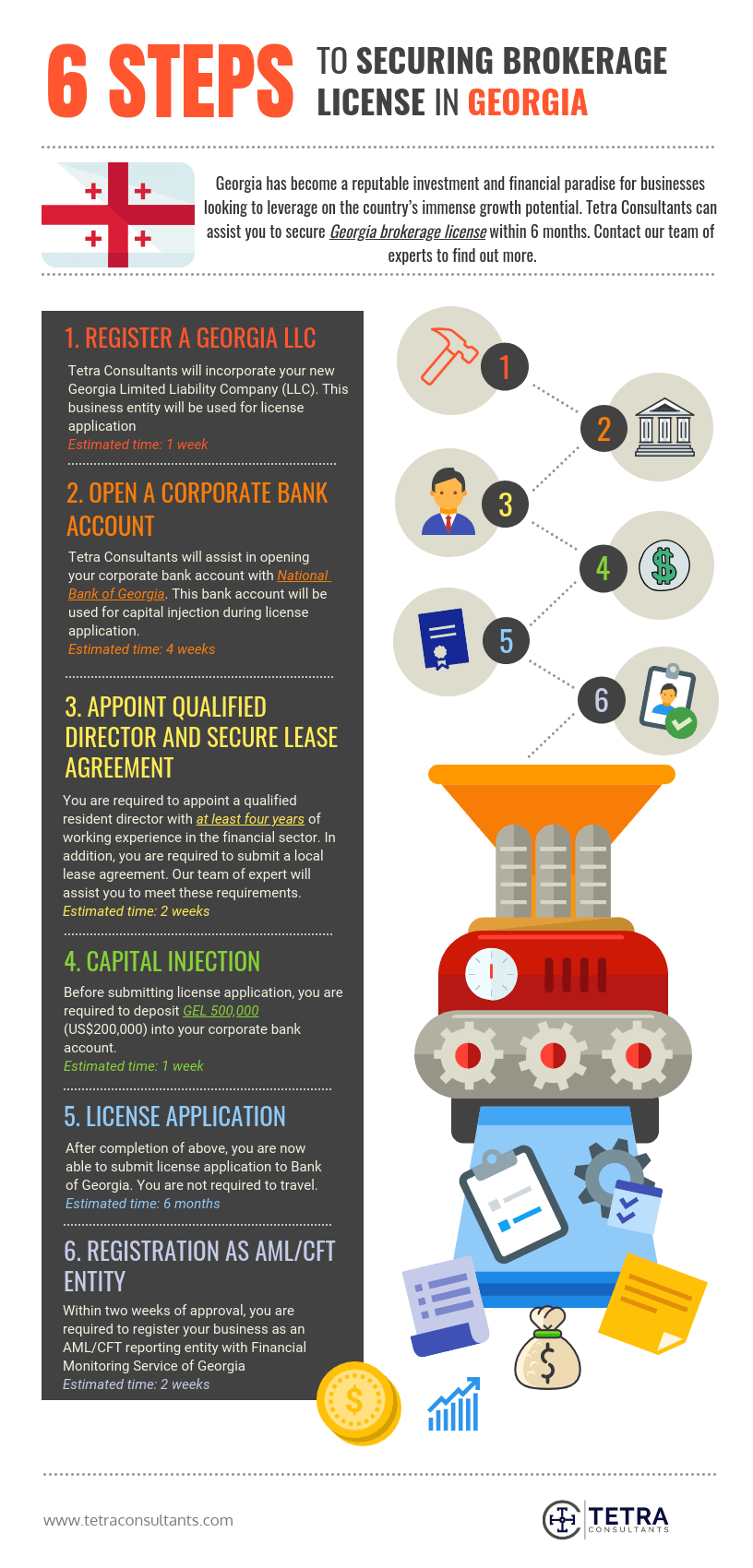 When do you require a Forex license in Georgia?
Your business will require the license in Georgia if you wish to conduct any of the below mentioned business:
Direct consultations with investors regarding investments, including the price of securities, investment in securities, purchase and sale of securities in the foreign currency transactions.
Carry out research on financial instruments and their issuers and provide recommendations for the results of this survey and/or investment strategy.
Consult the issuers with the issuance of securities and attract investments.
Prepare and carry out issuer securities on a non-guaranteed basis.
Accept and transfer customer orders in respect of securities, with the securities' funds to deal with securities for their interests.
Manage the clients, including pension schemes, investment portfolios and funds allocated for securities transactions.
Carry out the deposit and account of the investment funds and/or securities of the clients, as well as the nominal owner of the securities; To this end, the clients will have to pay cash and securities accounts and conduct operations on them.
Carry out securities transactions in their own interest with their funds.
Prepare and carry out issuer securities on a guaranteed basis.
To lend customers and to borrow securities, and to use their funds to buy securities for clients, participate in "short sales" defined by the National Bank of Georgia.
Carry out the currency purchase.
Perform other transactions with financial instruments, shares of entrepreneurial community or other powers as defined by law.
Requirements for a brokerage firm in Georgia
A person can be a significant shareholder or employee of more than one brokerage company, but this fact must be made known to the public and the National Bank of Georgia.
However, an employee of a stock exchange, a securities registrar or central depository who has access to sensitive information cannot also be an employee of a brokerage firm.
Commercial banks can take part in the securities markets directly or indirectly through subsidiaries such as brokerage companies.
With the exception of the above activity related to government securities and other necessary supporting activities, brokerage companies cannot undertake activities that are not listed in Article 23 of the Law of Georgia on Securities Market.
All companies that are not commercial banks and have activities not related to government securities will be subjected to regulation in accordance with the Law of Georgia on Securities Market.
The National Bank of Georgia has the discretion to determine the activities listed in Article 23 during the performance of which a person is not required to be a brokerage company or hold a license if the activities undertaken by the person are regulated under the relevant legislation.
A brokerage company shall conduct an account opening procedure in accordance with the Foreign Account Tax Compliance Act (FATCA). This means that a brokerage company must have information about a client's activities and the risk level of these activities. A brokerage company can refuse to open or close an account for a person if the person does not cooperate in providing the relevant information required by the FATCA.
Mandatory requirements for a Forex License
In order to obtain Georgia Forex License, the company must meet following requirements:
Minimum paid-up capital of 500,000 GEL is required.
It is obligatory for the company to have physical office in Georgia (owned or rented).
Director/UBO should meet eligibility criteria regarding education and experience.
Company should have local representative, who will stay in Georgia for minimum 16 days per month.
After obtaining the license, the Company shall hire accountant or accounting company who will manage to submit monthly, quarterly and annual reports to National Bank of Georgia and Revenue Service of Georgia and also send required notifications to Financial Monitoring Service of Georgia.
How to secure Forex license in Georgia?
Tetra Consultants has more than a decade of experience in advising our global clients on securing Forex license in Georgia. Our team of experts will manage your Forex license application from the start to the end, including incorporation of a new Georgia company, opening of corporate bank account, drafting the legal documents required, sourcing for qualified local representative and physical office and securing the Forex license.
The general Georgia Forex License procedure involves submitting a series of documents to the National Bank of Georgia (NBG). Besides providing proof that the company is incorporated in Georgia, financial companies that engage in brokerage activities will also be required to submit additional documents to prove that they are ethical, credible, and qualified. This includes:
Verification that no members of its governing body and important shareholders have been convicted for a serious crime or a finance-related crime, or have violated the legislation on securities in the last 5 years.
Information about the beneficial owner of the company.
Most recent annual or semi-annual financial statement that has been verified by an auditor. (In the case that the company has just established, the company can present its current balance sheet.)
Documents proving that no member in the governing body has previously been deprived of the right to be part of the governing body.
Documents proving that members of the governing body have the relevant qualifications and knowledge.
Information on the possession of the minimum amount of equity capital prescribed by the Agency.
Other documents required also include information about the company, its activities, its source of capital and proof of payment of the registration fee.
Contact us to find out more about how to attain Georgia Forex License. Our team of experts will revert within the next 24 hours.