Setting up a company in the Isle of Man
Tetra Consultants advises you to read through this guide to fully understand the process of setting up a firm in the Isle of Man.
In essence, your engagement will be broken down into 4 phases:
Planning and strategy
Incorporation
Bank account opening
Staying compliant
By systematically following the above 4 phases, you can expect to commence operations
within 6 weeks.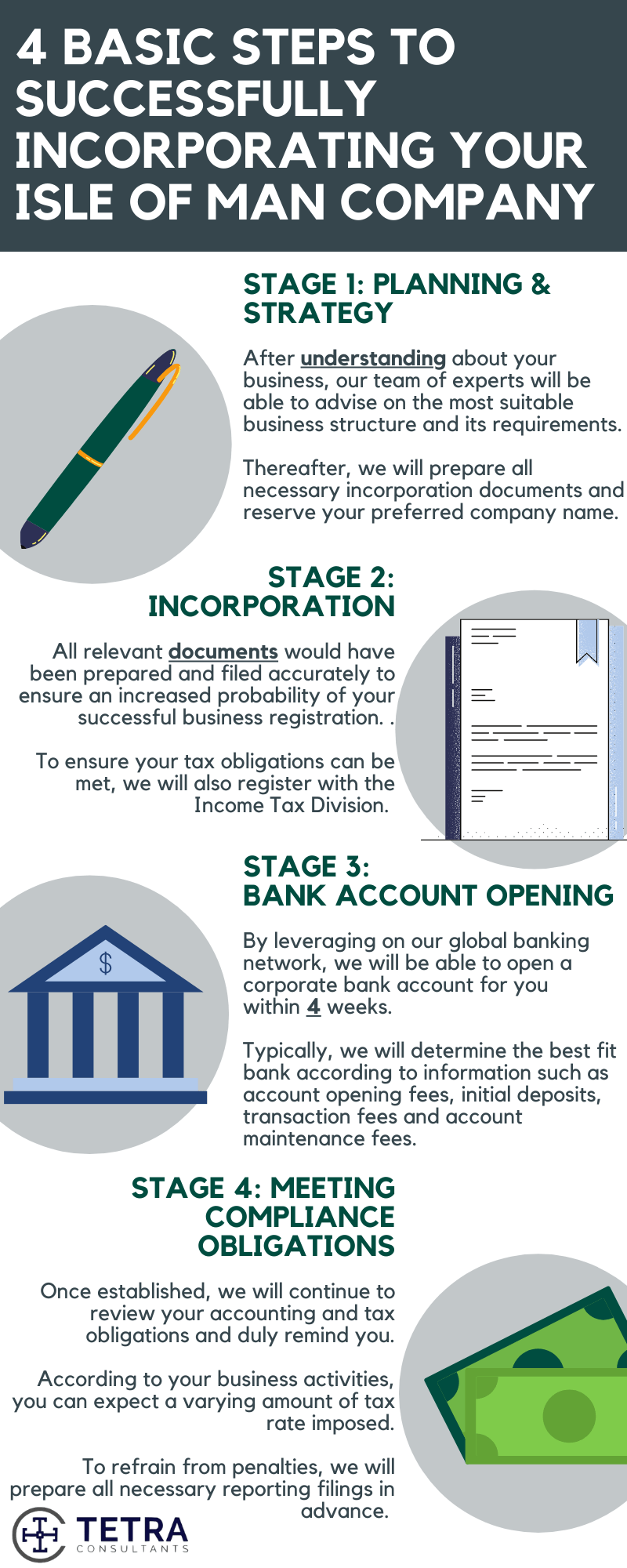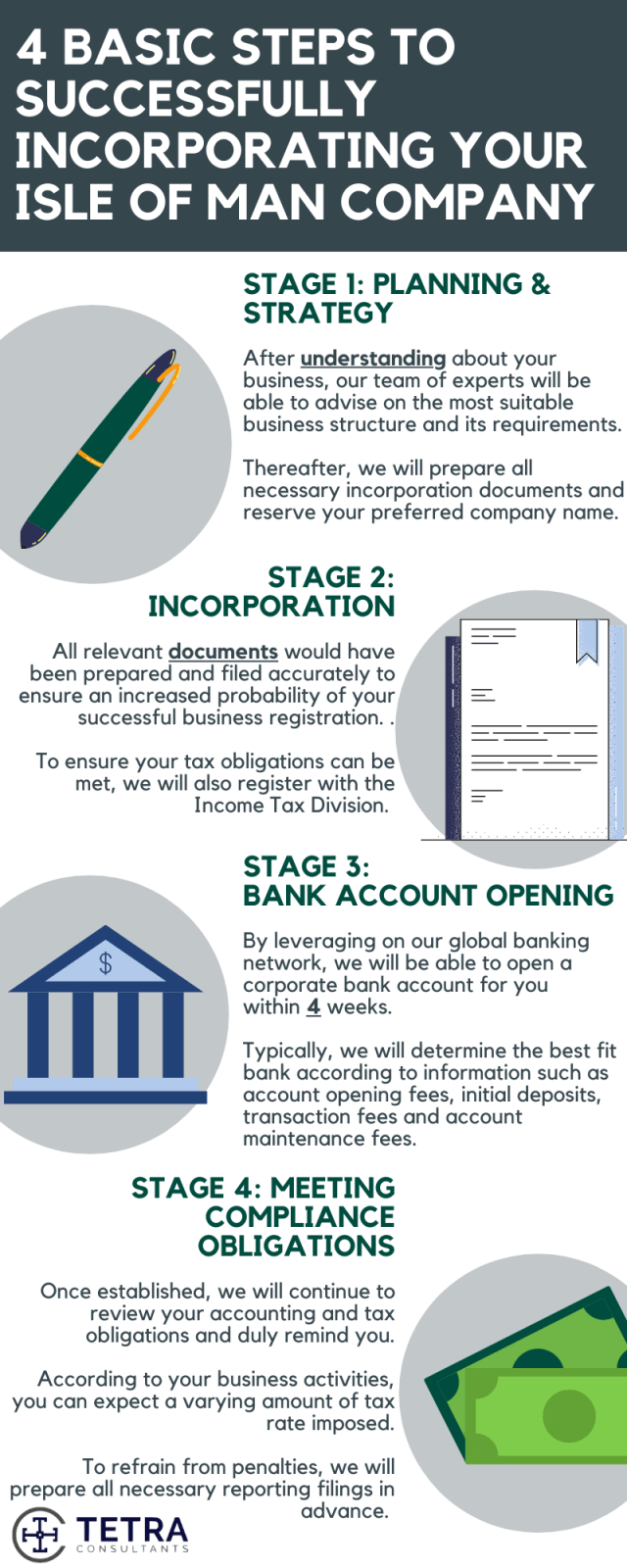 Step 1: Planning and Strategy
After understanding your business goals and activities, our team of dedicated consultants will recommend the most suitable corporate entity for you to carry out your operations. Prior to setting up a company in the Isle of Man, you will be advised on the optimum paid up share capital, corporate structure, legislations and whether there is a need to apply for any licenses to operate your business.
There are many different corporate structures but setting up a limited company in the Isle of Man is the recommended option for most clients as a private limited company offers limited liability for its shareholders and the greatest flexibility. Other options such as partnerships, foundations or trusts are also available for those with more specific needs.
Even though their standard incorporation process is already relatively quick at 48 hours, fast track options such as a 2 hour, or even a 'while you wait' option is available for customers working with tighter time frames. Do note that these fast-track options will cost more than the standard £100, costing £250 and £500 respectively.
It is necessary that you have a legal office address in Isle of Man. While you are not mandated to operate at this address, this requirement will persist for your registration needs. As such, Tetra Consultants will provide you with a local address.
Other additional requirements include appointing a registered agent. To meet this requirement, Tetra Consultants will assist you in appointing the registered agent coupled with its address so that you can meet your registration needs.
Before Tetra Consultants can incorporate your company in Isle of Man, you are required to provide a list of required KYC documents. Some of these documents include the names of directors, company's resolution and identification proof.
Tetra Consultants will reserve your preferred company name with the Companies Registry.
According to the business activity and corporate structure, Tetra Consultants will also draft Articles of Organisation, business plan and other incorporation documents.
Step 2: Incorporation
The Isle of Man Companies Act 2006 is an updated and flexible legislation that replaces the older, outdated 1931 Act. This new Act allows shareholders to either use the given Articles of Association or modify it to their needs, making it significantly easier to incorporate a company as compared to before and one of the key reasons as to why set up a company in the Isle of Man.
Once the above requirements are completed, Tetra Consultants will proceed with setting up your company in the Isle of Man in accordance with this Act. Our team will submit the incorporation forms to the Isle of Man Companies Registry.  After receiving approval, Tetra Consultants will courier the Certificate of Incorporation, Memorandum and Articles of Organisation and other corporate documents to your preferred address.
Once the Certificate of Incorporation has been acquired, our team will follow up in registration process with the Income Tax Division to ensure that you can meet your company's tax obligations.
Certain businesses are required to be Isle of Man regulated entities before they are allowed to commence operations. E-gaming companies must register with the Isle of Man Gambling Supervision Commission to be gaming license holders whilst firms providing financial services must register with the Isle of Man Financial Supervision Commission to be FSC license holders. Tetra Consultants is also able to assist you in this part of the company formation process to ensure that your Isle of Man company incorporation will go smoothly.
Step 3: Bank Account Opening
After proceeding to register company in Isle of Man, Tetra Consultants will assist you in opening a corporate bank account. Our team has established partnerships with multiple reputable banks in Isle of Man. We will present your business to each relationship manager and compliance team.
Typically, a corporate bank account opening will take roughly four weeks. In most cases, the directors and shareholders are not required to be physically present at the bank. However, if travel is required, we will have a representative accompany you to the bank meeting. Alternatively, our team will negotiate with the bank to conduct a conference call instead or to request for a waiver.
While nominee directors are not necessary for the setup of your company, you may still require one for your bank account.
If necessary, we will provide you with a suitable, fit and proper nominee director.
Once your account has been successfully opened, Tetra Consultants will courier the internet banking token and access codes to your preferred address.
Step 4: Staying Compliant
Following the registration of your new Isle of Man corporate home, Tetra Consultants will continue to provide you with the necessary accounting and tax services to ensure that you can continue to legally conduct business while staying compliant to Isle of Man tax laws.
Our team of dedicated consultants will prepare your firm's annual statements, corporate tax returns and manage bookkeeping on your behalf.
Generally, Isle of Man corporation tax stands at 0% for all resident and non-resident companies.
As for land and property income sourced from the country, you can expect to be charged a 20% tax rate.
For retail businesses with profits over £500,000, a 10% tax rate will apply.
VAT registration will be required for businesses with a total value of supplies exceeding or expected to exceed £85,000 on a rolling 12 month basis.
Other relevant accounting obligations include the need to file an annual return and nominated officers' declaration with the Companies Registry.
Our team of dedicated consultants will continue to clarify any doubts you may have with regards to your company's obligations.
Contact us to find out more information about our Isle of Man company formation services. Our team of experts will revert within the next 24 hours.
FAQ
Can I incorporate a company in the Isle of Man?
As per Section 93(1) of the Companies Act 2006, only individuals below the age of 18, undischarged bankrupt or disqualified individuals are not eligible.
Why do companies register in Isle of Man?
This is because of its pro-business environment, privacy and favourable taxation policies. Companies can be easily register and enjoy substantial tax subsidies.
How do I set up an offshore company in the Isle of Man?
With the update to the Companies Act in 2006, it has become significantly easier to do so, but will require a registered corporate service provider to apply on your behalf. Tetra Consultants is able to refer you to this corporate service provider, as well as provide the required local address for your company.
How do I start a business in the Isle of Man?
Starting a business in the Isle of Man can be done in many ways since there are multiple company structures to choose from. It is recommended to speak to our experts to find out which structure can best serve your needs.
Is Isle of Man a tax haven?
The Isle of Man is currently not a tax haven as it complies with the Organisation for Economic Co-operation and Development's global standards on tax co-operation and exchange of information, earning themselves a place on its whitelist.
Is Isle of Man VAT exempt?
Only certain industries and goods and services are exempt from VAT such as international trade out of the United Kingdom and essential goods like food and personal hygiene products. The remaining will be taxed at either the reduced rate of 5% or the standard rate of 20%.
Is Isle of Man part of UK?
The Isle of Man is a self-governing British Crown Dependency and is not officially part of the UK.
What is the tax rate in Isle of Man?
There are only two tiers of tax on personal income. The first £6,500 of taxable income will be taxed at 10%, and the subsequent taxable income up to £200,000 will be taxed at 20%. The first £14,250 of income will be tax-free.
What is the Isle of Man residency qualification requirement?
Isle of Man Tax residency rules state that you will be a tax resident after being present in the Isle of Man for at least 183 days in a tax year. Spending more than an average of 90 days in the country over 4 tax years will also make you a tax resident at the start of the 5th tax year. Alternatively, you can register directly with the Isle of Man Income Tax Division if you are intending to reside in the Isle of Man from the day of arrival.
Where is the Isle of Man located?
It is located in the Irish Sea between Great Britain and Ireland.