Isle of Man Gaming License
Tetra Consultants is able to assist our international clients in the application process for this license. The Isle of Man Gambling Supervision Commission (GSC) issues licenses to Isle of Man companies providing e-gaming business service.
Introduction
The Isle of Man Gambling Supervision Commission is the authority responsible for the regulation of the industry in the Isle of Man. Under the auspices of the Isle of Man Government, they have helped to develop both the traditional land-based gambling and online gambling industry in the country to its current heights. Imitation is the highest form of flattery, and even as the GSC faces a 30% year-on-year increase in licensed operators, they are also combatting an increasing number of unlicensed imitators. It is also an offence to operate gambling activities in the Isle of Man without a license from the GSC. Such offenders will face strict penalties under the Online Gambling Regulation Act 2001 (OGRA), the primary legislation regulating the e-gambling industry.
These regulations are in line with the GSC's aims of protecting the young and those at risk, ensuring that the industry remains crime-free and compliant to Prevention of Money Laundering and Financing of Terrorism rules as well as Know Your Customer policies, and lastly to ensure that services provided by its licensees are fair and true winnings are being paid out to the winners.
Benefits of an Isle of Man gaming license
The regulations mentioned above constitute one of the key benefits of this license. There is a strong level of legislative and governmental support for the e-gaming industry since the Government recognizes and appreciates the value created by the industry. Given that the Isle of Man is one of the first countries to begin operating online casinos, they are highly experienced both in terms of regulation, as well as their legal and banking systems. Not only are they keen on working with foreign stakeholders, but they are highly qualified as well. Beyond that, the infrastructure of the country also highly lends itself to the e-gaming industry, with excellent telecommunications facilities and even cloud-hosting options. Lastly, gambling in the Isle of Man is under one combined license as opposed to individual licenses for the different categories of games, making it a key reason why setting up a company in the Isle of Man takes a much shorter time than other countries.
All this has led to the Isle of Man Gaming license being held in high regard and prestige due to the safety and legitimacy it confers. This is beneficial as it makes it easier for your business to attract customers, and more importantly lets the Isle serve as a springboard for your company's international expansion.
Lastly, the Isle of Man tax laws are also set-up to attract foreign investments. The Isle of Man corporation tax stands at 0% for firms with foreign-derived income, and a gross gaming yield tax of only 0.1% to 1.5%. These benefits more than justify the Isle of Man gaming license cost.
Other alternatives
Other alternatives that gaming license holders can consider include the Malta gaming license, which is the second most popular option after none other than the Isle of Man itself. With amendments to their gambling license Ireland is also becoming a viable alternative as it is working on giving their e-gaming operators greater clarity and certainty by modelling their system after the UK Gambling Commission online casino licenses.
Types of license
There are four types of license available. As mentioned earlier, each license covers all types of gambling, the main difference lies in who they are providing their services to, and if they have their own software or content.
#1 Full License
Full license holders have the greatest amount of flexibility as they can conduct both business to customer (B2C) and business to business (B2B) operations. They also have their own games, which include but are not limited to casino-based games such as roulette, blackjack; peer to peer games such as poker and bingo; or mobile betting. They can also sub-license these games to other sub-operators by offering them private label solutions. This category of license has an application fee of £5,000 and an annual license fee of £35,000. It will remain valid for five years.
#2 Sub license
As mentioned above, a sub license involves an exclusive agreement between a full licensee and a sub-licensee whereby the sub-licensee's customer base will be able to enjoy the software or games provided by the full licensee. Similarly, this category of license has an application fee of £5,000 but a cheaper annual license fee of £5,000 instead. It will also remain valid for five years. This makes a sub license an attractive and accessible option for new entrants who might not yet have the financial capabilities to support the more expensive annual licensing fee of a full license; or are yet to have access to their own proprietary software and games.
#3 Network Services License
The network services license can be seen as an extension of the full license but with the additional perk of allowing licensees to accept registered players from other legal jurisdictions without the need for them to re-register themselves or for additional fees. While the migration of this data does not require any specific anti-money laundering or Know Your Customer checks and is thus significantly faster, the onus lies on the firms for their own continued compliance. This license option is the most ambitious as it offers the greatest potential reach and customer base.
#4 Software Supplier License
The software supplier license is for firms who possess their own software, but not their own customer base. While it is not a requirement for them to have it to supply software to Isle of Man firms, it allows them to be registered with the Gaming Services Commissions' Game Registry and is a certification of the company's adherence to the Isle of Man's high standards of corporate governance and game fairness. This streamlines their B2B operations since this allows license holders in the Isle of Man to utilize their games without further testing and offers them greater credibility as well.
When do you require an Isle of Man gaming license?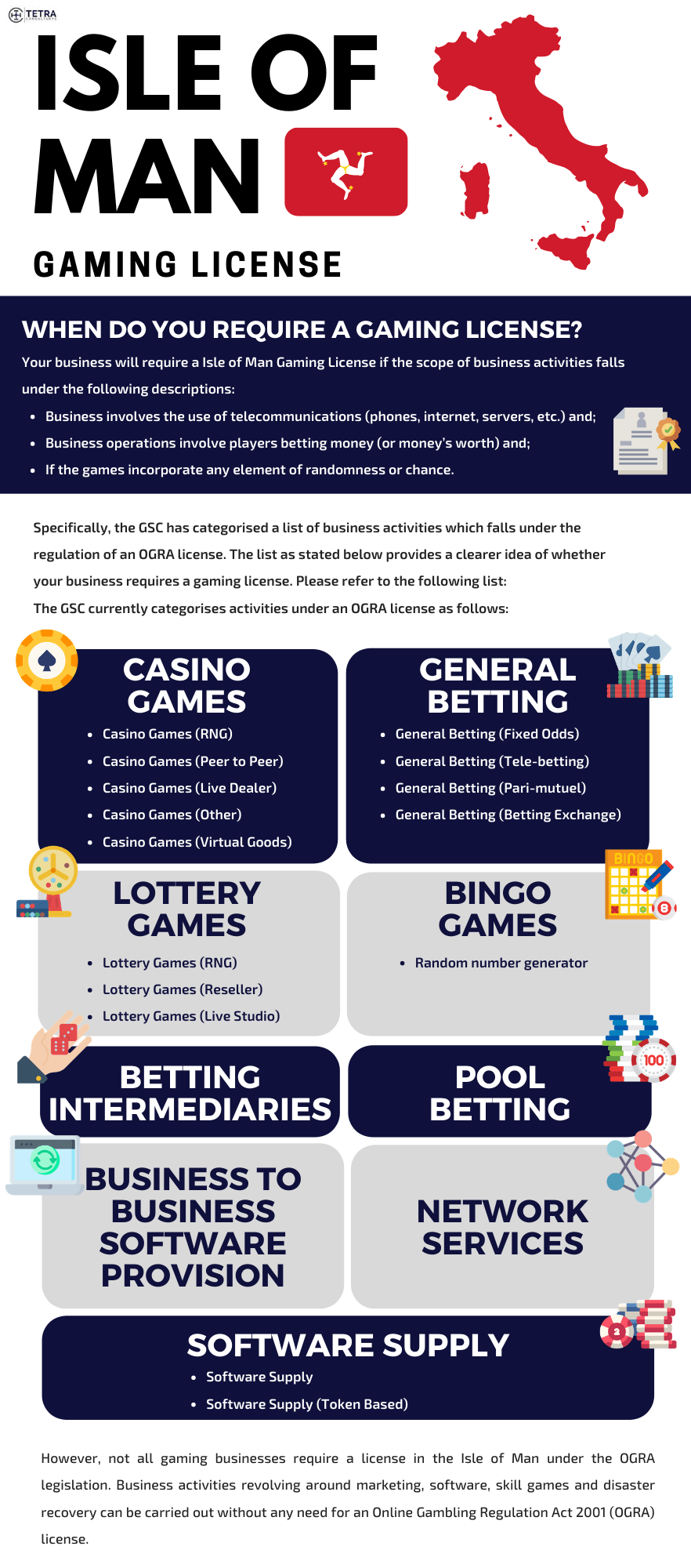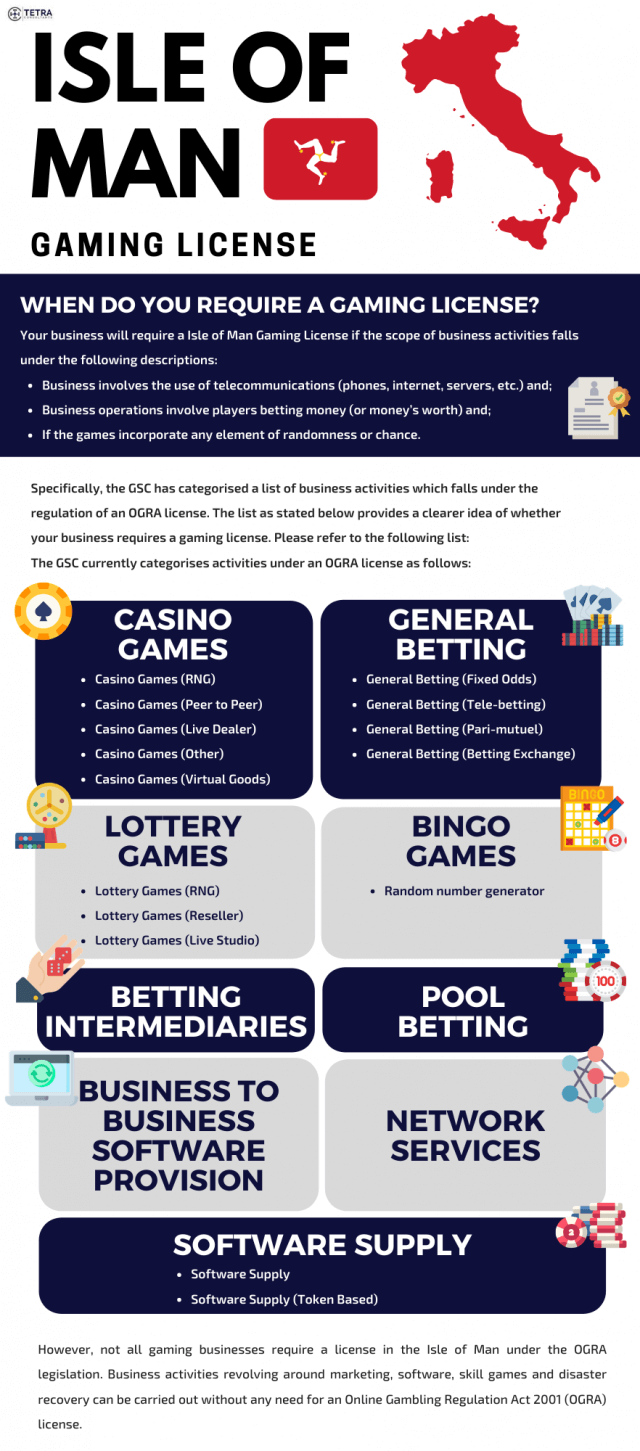 Your business will require an Isle of Man Gaming License if the scope of business activities falls under the following descriptions:
Business involves the use of telecommunications (phones, internet, servers, etc.) and;
Business operations involve players betting money (or money's worth) and;
If the games incorporate any element of randomness or chance.
Specifically, the Isle of Man Gambling Supervision Commission has categorized a list of business activities that falls under the regulation of an OGRA license. The list as stated below provides a clearer idea of whether your business requires a gaming license. Please refer to the following list:
The GSC currently categorizes activities under an OGRA license as follows:
#1 Casino Games
Casino Games (Peer to Peer)
Casino Games (Live Dealer)
Casino Games (Virtual Goods)
#2 Bingo Games
#3 Lottery Games
Lottery Games (Live Studio)
#4 General Betting
General Betting (Fixed Odds)
General Betting (Tele-betting)
General Betting (Pari-mutuel)
General Betting (Betting Exchange)
#5 Pool Betting
#6 Pool Betting (Virtual Goods)
#7 Betting Intermediaries
#8 Business to Business Software Provision
#9 Network Services
#10 Software Supply
Software Supply (Token-Based)
However, not all gaming businesses require a license in the Isle of Man under the OGRA legislation. Business activities revolving around marketing, software, skill games and disaster recovery can be carried out without any need for an Online Gambling Regulation Act 2001 (OGRA) license.
Mandatory requirements for Isle of Man gaming license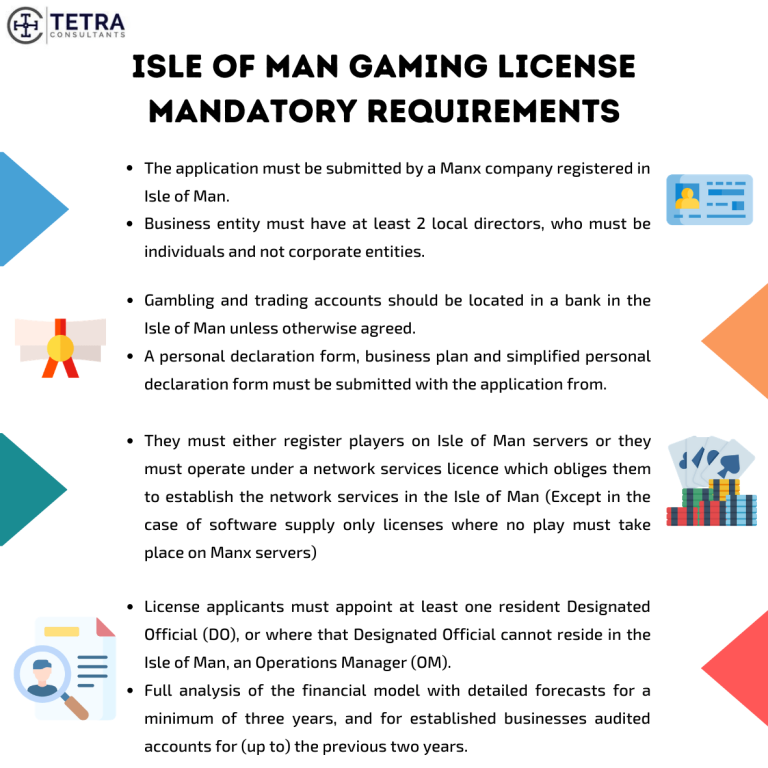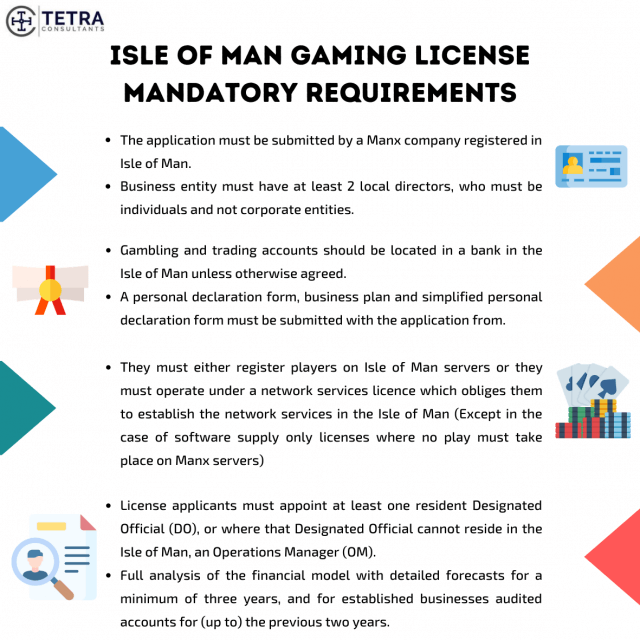 The application must be submitted by a Manx company registered in Isle of Man.
Business entity must have at least 2 local directors, who must be individuals and not corporate entities. These directors must also have a clean criminal record.
License applicants must appoint at least one resident Designated Official (DO), or where that Designated Official cannot reside in the Isle of Man, an Operations Manager (OM).
They must either register players on Isle of Man servers or they must operate under a network services licence which obliges them to establish the network service in the Isle of Man (Except in the case of software supply only licenses where no play must take place on Manx servers).
Gambling and trading accounts should be located in a bank in the Isle of Man unless otherwise agreed. This account should also contain the minimum paid up capital for the scope of their desired operations.
A personal declaration form, business plan and simplified personal declaration form must be submitted with the application form.
Full analysis of the financial model with detailed forecasts for a minimum of three years, and for established businesses audited accounts for (up to) the previous two years.
In order to maintain the reputation of the Isle of Man as a safe gambling jurisdiction, the licensees' games and gambling systems must also undergo third-party certification by approved testing houses, and players funds must be protected.
In line with the Isle of Man Gambling Supervision Commission rules on player protection, jurisdiction's rules and information about problem gambling must be clearly displayed, and access to the site must be blocked for minors.
Firms must also remain compliant to the Advertising Standards Authority Codes and Prevention of Money Laundering and Financing of Terrorism rules.
Timelines for acquiring Isle of Man gaming license
The processing time may vary and depend on various factors including the time taken in collecting requisite documents from the applicant, evaluation of the business model, and the time for the Inspectorate's analysis of the application.
From our experience, the process usually takes up to 12 weeks upon submission of due diligence documents. Furthermore, the validity period of the license is 5 years.
How to apply for Isle of Man gaming license?
After we have successfully registered your Isle of Man limited liability company, Tetra Consultants will proceed on to open a corporate bank account with a reputable Isle of Man bank. Beyond the usual Isle of Man bank account benefits, it is also a requirement from the Isle of Man Gambling Supervision Commission (GSC).
The Isle of Man business account will be used to deposit the minimum paid-up capital necessary to apply for Isle of Man gaming license. Within 4 weeks, Tetra Consultants will secure the bank account and internet banking token for our international clients.
Simultaneously, Tetra Consultants will assist you to prepare a comprehensive business plan and declaration forms essential for the license application. This is to ensure that the company adheres to the compliance, technology risk and audit requirements of the GSC.
The business plan will include primary information such as corporate financial accounts, game rules, internal control systems, transaction recordings etc. As such, this information will provide the GSC with a comprehensive outlook and understating of your intended online gambling company and its mode of operation.
Once the above is completed, Tetra Consultants will submit the license application for approval from the GSC. Accounting for the time necessary for the completion of inspections analysis of ownership and evaluation of business model to identify potential threats, it would take on average 12 weeks to secure the gaming license.
In the event additional documents are required, Tetra Consultants will immediately prepare the same for submission so as to prevent any engagement delay.
Contact us to find out more about how to secure your Isle of Man Gaming License. Our team of experts will revert within the next 24 hours.
FAQ:
Can you gamble with a gaming license?
Such licenses only allow businesses to operate gambling systems, but gambling still remains illegal for residents of the Isle of Man.
Is gambling legal in Isle of Man?
Online gambling is only legal for non-residents of the Isle of Man that are over 18 years of age.
Why do companies register in Isle of Man?
The Isle of Man offers favourable taxation policies and has a high ease of doing business. It is also a popular place for gaming companies to register since it enjoys a high level of governmental support.