Malaysia Cryptocurrency License
Tetra Consultants assist our international clients to secure Malaysia cryptocurrency license. Since blockchain technology is part of the fintech industry embraced and welcomed by the Malaysian government. The deployment and research development of blockchain technologies as well as the cryptocurrency exchange business have been slowly opening up. Although blockchain is a new space, the growth has been encouraging with Malaysia's government's liberalization approach to this new industry.
In 2018 it was repeatedly reported in several local publications that cryptocurrencies are the third-largest asset owned by the Malay community, following real estate and gold. This guide on establishing a cryptocurrency exchange in Malaysia is intended for foreigners that seek an easy, hassle-free, and rapid establishment in order to quickly expand into the Malaysian market before the door is closed to the foreign company.
Tetra Consultants team of dedicated experts is well aware of the regulatory requirements hence we will be able to assist you to the best of our ability and ensure that you are able to conduct your cryptocurrency business in Malaysia without any legal interruption.
What are the benefits of obtaining a Malaysia cryptocurrency exchange license?
There are risks associated with doing business in itself. While this may be true, something is important to know. Risks come with more benefits to enjoy. As for Malaysia, there are a few benefits that come with obtaining a Malaysia crypto license. These are:
Opportunity to do business in a business-friendly environment with great potential for expansion.
Malaysia has made moves to improve Fintech in the country by positively reacting to the emergence of blockchain technology.
It is one of the places in the world where businesses can be done effectively without the fear of the government imposing strict policies.
Who is the regulatory authority?
As of the time of writing, four exchanges are approved to sell cryptocurrencies in Malaysia: Luno, SINEGY, Tokenize, and MX Global.
What are the requirements for obtaining a Malaysia cryptocurrency license?
A Malaysia incorporated company or LLP;
Have main business operations carried out in Malaysia that is Office space rented or purchased in Malaysia;
Paid-up capital of RM500,000;
Shareholders' funds of RM500,000 maintained at all times;
Local workers on the payroll;
Proof of an absence of criminal records from all shareholders and founders;
Compliance with AML guidelines.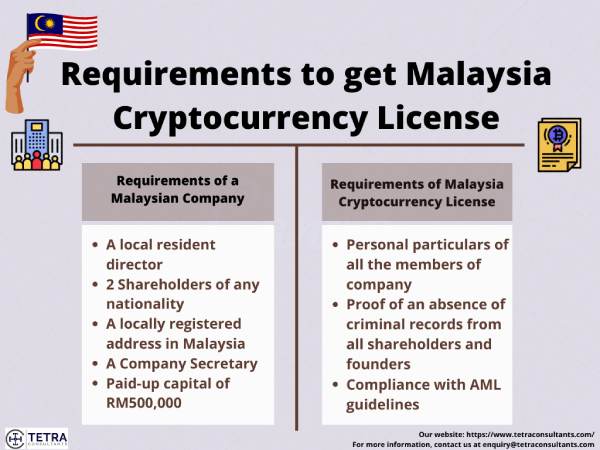 What are the important factors to be considered while applying for a Malaysia cryptocurrency license?
Below are the factors to consider in order to obtain a Malaysia cryptocurrency license:
Submission of Investment Documentation:
Investment documentation contains detailed information about the nature of an investment and the intent that is to be fulfilled through this investment. This is not submitted just to fulfill all righteousness but rather to obtain the approval of local banks in Malaysia.
Fulfill the conditions associated with the transaction in the legal framework of the country:
Crypto business is more about the transaction of digital assets and conversion of fiat currency and cryptocurrencies for individuals interested in such a service. To legally operate in Malaysia, an exchanger is expected to meet up the outlined conditions that are within the framework relating to the disclosure mode of the information about the transactions of clients and investors.
Present proof of capacity to protect investments:
This is critical in order to preserve the interests of Malaysians. A company might advertise itself as the finest thing that has occurred to the world since World War II, only to subsequently reveal that it lacks the ability to adequately secure the monies that individuals have invested. Therefore, the established measures for the protection of investors' funds must comply with AML standards while also aiming to combat terrorism on a global scale.
Capability to meet customers' needs:
Finding the ideal way to assure customer contentment is more challenging than obtaining a Malaysia cryptocurrency license. Malaysia places a high value on the safeguarding of its people's interests. This is why there is so much interest in how data on their inhabitants and their activities will be well-protected from cyber theft.
What is the procedure for obtaining a Malaysia cryptocurrency license?
Tetra Consultants has summarized the more common steps that will be required in a typical engagement for attaining a Malaysia cryptocurrency license:
Step 1: Evaluating the best-suited legal structure for your entity
After understanding your business goals and activities, our team of dedicated consultants will recommend the most suitable form of corporate entity for you to carry out your business in Malaysia.
Prior to incorporating a Malaysian company, you will be advised on the optimum paid-up share capital, corporate structure, legislation, and whether there is a need to apply for any additional licenses to operate your business.
A Malaysian company to be registered requires 1 local resident director, 2 shareholders of any nationality, a locally registered address, and a company secretary.
Rest assured, you need not worry about the requirements of resident directors as Tetra Consultants is proficient in providing nominee director services in Malaysia. We will draft a nominee directorship agreement with the candidate under which he will be liable for only passive participation in onboarding your cryptocurrency business in Malaysia.
Step 2: Registration of a legal entity in Malaysia
After the entity has been properly registered, we will deliver the corporate documents, such as the Certificate of Incorporation, Memorandum, and Articles of Association, as well as other internal documentary evidence.
Step 3: Preparation of supporting documents for cryptocurrency license application
Tetra Consultants' legal team will prepare the required documents for the cryptocurrency license application. These documents will include the business plan, AML/CFT policy, and insurance policy depending on the local requirements.
Further information required is the personal particulars of the applicant, directors of the company, and the AML/CTF (anti-money laundering and combating terrorist financing) officer, as well as the AML/CTF officer's specific policies and internal control regulations. The officer should also be prepared for an interview with the FIU to determine their suitability for their job.
Once the documents are prepared, Tetra Consultants will send over the drafts for your review. Thereafter upon confirmation, we will send them to you for e-signature and prepare for the cryptocurrency license application.
Step 4: Securing the legal registered address and meeting the economic substance requirements in Malaysia
As per the laws in Malaysia, for you to incorporate a Malaysian company there are requirements for you to have economic substance, Tetra Consultants will assist you to meet them. Our team will assist with the recruitment of local qualified employees to join the team.
Tetra Consultants' HR team will conduct the shortlisting and initial interviews with the candidates. Thereafter, you can shortlist the final list of candidates to determine who is most suitable to join the team. Once the candidate is chosen, Tetra Consultants will assist to prepare an employment contract with the terms and conditions that are agreed upon.
Our team will also shortlist a list of physical offices in Malaysia and send them to you. We will include important considerations such as monthly rental, location, size, etc so you can better decide which is most suitable for you. Once the office is chosen, Tetra Consultants will prepare the lease agreement to be signed between you and the landlord.
Step 5: Opening of corporate bank account
Tetra Consultants will open a corporate bank account with a reputable financial institution. The minimum paid-up capital required to secure the license will be deposited into this bank account.
Tetra Consultants will leverage our extensive banking network in Malaysia to open one for your Cryptocurrency business. Some of the banks we have previously worked with include Maybank, RHB Bank, and Standard Chartered Bank.
Step 6: Filing of license application
Once the above is completed, Tetra Consultants will submit the application to the Malaysia Securities Commission and pay the required fees. In case you are required to attend an interview with the regulator prior to license approval. Tetra Consultants will prepare you for the interview and assist with the follow-up actions required by regulatory authorities.
All going well, your firm will receive the Malaysia Cryptocurrency License and will be required to start business operations within the stipulated time frame in order to maintain the license.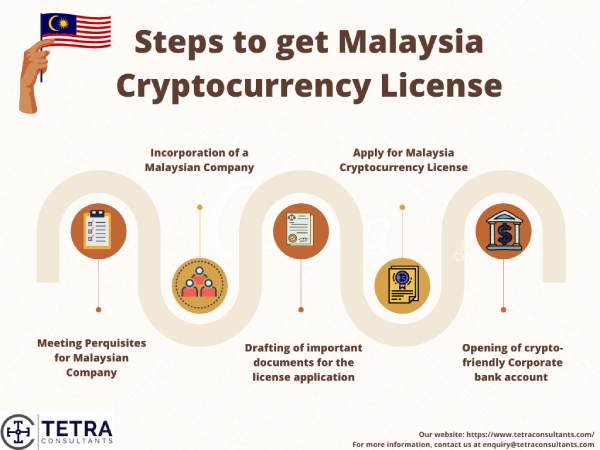 What are the tax implications for Malaysia cryptocurrency businesses?
Malaysia does not have a tax framework in place for digital businesses, and no capital gains tax for the sale of investments or capital assets exists.
However, companies earning income from frequently trading digital assets may be liable for income tax and digital asset exchanges are subject to corporate income tax.
A Tax Reform Committee was formed in 2018 by the Ministry of Finance but has yet to make any changes to digital taxation.
How much time does it take to obtain a Malaysia cryptocurrency license?
Prior to the start of the engagement, Tetra Consultants will send you a project plan with the timelines stipulated for company registration, preparation of documents as well as license application. This is to ensure that all parties are clear on the upcoming project.
How much does it cost to obtain a Malaysia cryptocurrency license?
The total engagement fee depends on the services you need from Tetra Consultants. We provide you with multiple services ranging from assisting you through the incorporation process to obtaining the Malaysia crypto license. The total fee that will be charged is inclusive of the company registration fee, license fee, and any additional cost that may arise.
We will discuss with you the total engagement fee in detail before we begin the registration process so that you have a better understanding of what you are paying for. Tetra Consultants strives to be transparent with the engagement fees prior to the start of any engagements. All these terms and conditions will be stated clearly in our appointment letter.
Withdrawal of registration and revocation of Malaysia cryptocurrency license
The Malaysia Securities Commission may withdraw the registration and revoke the respective license granted to the respective entity if–
The Securities Commission finds that, at any time, the client has submitted to the Securities Commission any false or misleading information or there is a material omission of information;
The client fails to meet the requirements as provided in securities laws, these Guidelines, any other relevant laws or guidelines or any direction issued by the Securities Commission on the digital asset custodian;
The client fails or ceases to carry on the business or activities for which it was registered for a consecutive period of six (6) months;
The client contravenes any obligation, condition or restriction imposed under these Guidelines; or
The client fails to pay any fee prescribed by the Securities Commission.
Our services
Tetra Consultants is an international consulting firm that specializes in securing cryptocurrency license for our clients. We will provide complete guidance on the operation of the exchange in compliance with the regulatory frame and various statistical and financial reporting formats including annual compliance with Inland Revenue and other Malaysian authorities. Our services include:
Drafting of business plans, AML manuals with risk mitigation and KYC system, and other related operation manuals of the entity necessary for the purpose of obtaining licenses.

Bank accounts are set up in Ringgit and in foreign currencies.

Human resource advisory and guidance to set up a local team.
In addition, Tetra Consultants can also assist with attaining other offshore financial licenses depending on your long-term business goals.
Find out more!
Contact us to find out more about how to get a Malaysia cryptocurrency license. Our team of experts will revert within the next 24 hours.
FAQs
Are there any limitations on shareholders from certain countries?
No, only individuals from blacklisted countries (f.e. North Korea), will not be able to proceed with that license.
Can a legal entity become a shareholder?
Yes, this is possible, but you will have to present a certificate of no criminal record (also of a legal entity).
What are the KYC and AML requirements for the Malaysia crypto license?
The granting authority has defined its own requirements in regard to AML-CFT and KYC, which differs from the traditional ones (edicted by the FATF).
Which crypto exchange is legal in Malaysia?
The three approved recognized market operators (RMOs) announced by the security commission of Malaysia for operating in Malaysia are Luno, Tokenize, and Sinegy.