How to open a business in Norway?
Tetra Consultants' ultimate guide on how to open a business in Norway is tailored to help our international clients to fully understand the whole process. Before you decide to open a business in Norway, Tetra Consultants advises you to read through the following comprehensive guide as requirements and regulations are stated clearly to help you fully understand the process of company registration.
As a summary, you can expect your Norway company to be set up within 10 weeks, depending on the type of entity established upon submission of the required due diligence documents. This timeline ultimately depends on factors such as the nationalities of the directors and shareholders of the new company. Our team of professionals will advise and ensure a seamless process of opening your business in Norway.
If time is of the essence, you may wish to consider purchasing a Norway shelf company with an existing corporate bank account. With this alternative, Tetra Consultants will be able to provide you Norway company name and numbers within 3 business days.
4 steps on how to open a business in Norway
Simply put, we can break down each engagement into four different phases:
Planning and Strategy
Incorporation
Corporate Bank account opening
Staying compliance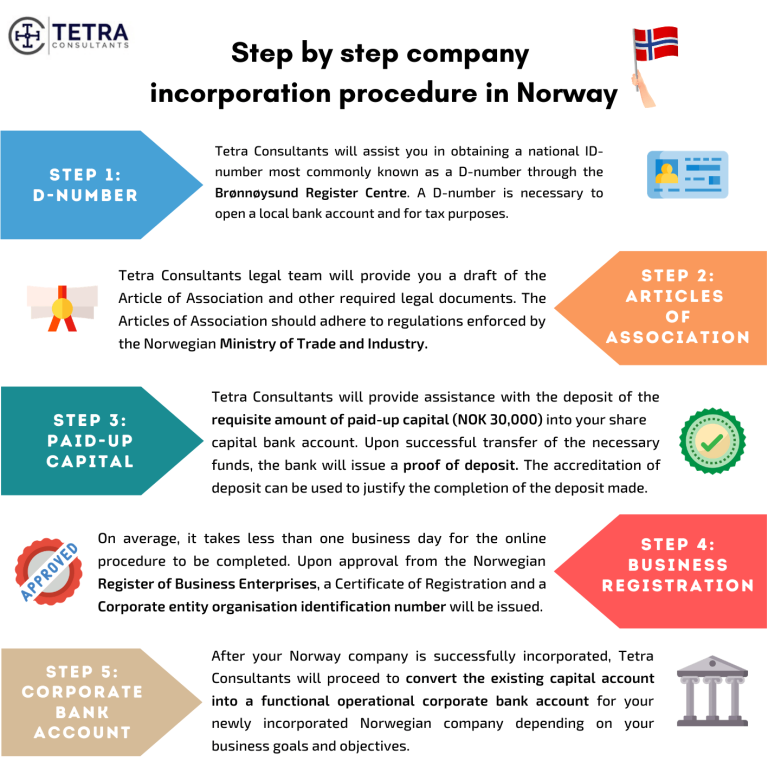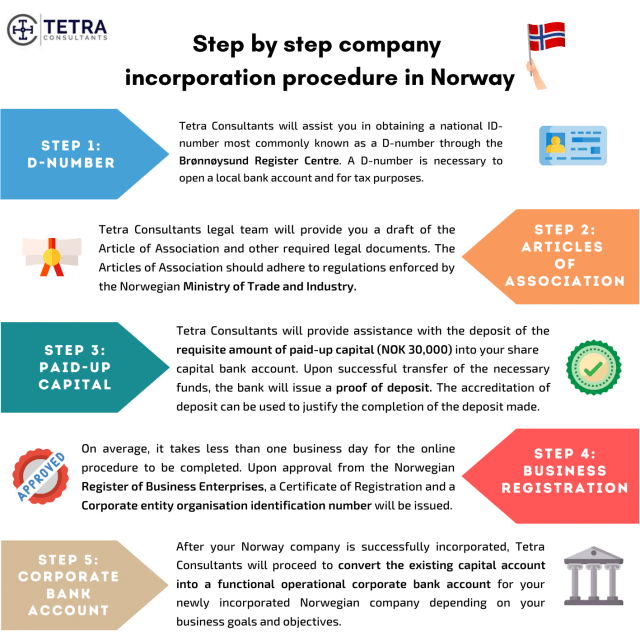 Step 1: Planning and Strategy
Tetra Consultants will assist you in the Norway company formation procedure by adhering to the following steps below.
Tetra Consultants will provide recommendations on the suitable type of entity catering to your business objectives and activities. Prior to the start of the engagement, Tetra Consultants will advise on the optimum paid-up share capital, regulatory requirements and whether there is a need for licenses for the intended business activity.
Before Tetra Consultants incorporates your company, we will provide you with a local registered office and local resident Director.
Before the official business registration, Tetra Consultants will aid you with the preparation of the company's legalised Articles of Incorporation and Written Resolution on decisions made by shareholders pertaining to the company's set up, business scope and appointment of nominee Director(s).
Step 2: Incorporation
Obtaining a D-number
Tetra Consultants will assist you in obtaining a national ID-number most commonly known as a D-number through an application submitted to the Brønnøysund Register Centre.
A D-number is necessary to open a local bank account and for tax purposes. Additionally, shareholders who are not holding any other position in the corporate entity need not apply for a D-number.
Articles of Association
Tetra Consultants' legal team will provide you a draft of the Article of Association, founding document, and other required legal documents. The Articles of Association should adhere to the list of relevant regulations and standards enforced by the Norwegian Ministry of Trade and Industry.
Paid-up capital
First and foremost, Tetra Consultants will provide assistance with the deposit of the requisite amount of paid-up capital (NOK 30,000) into your share capital bank account.
Tetra Consultants will contact multiple reputable international and Norwegian banks and present your business to the respective relationship manager and compliance team. To name a few, Tetra Consultants works with Bank Norwegian, DNB Bank, Nordea Bank and many more.
Upon successful transfer of the necessary funds, the bank will issue a certification or proof of deposit. The accreditation of deposit can be used during the incorporation procedure to justify the completion of the deposit made. Generally, the deposit of start-up capital requires less than one business day and can be carried out electronically.
Business registration with the Register of Business Enterprises
Upon preparation of copies of signed Article of Association, auditor statements and other legal documents. Tetra Consultants will proceed ahead with your Norwegian business registration with Norway's Register of Business Enterprises.
During the Norway company registration process, you are not required to travel as all incorporation forms can be signed digitally. Furthermore, it is necessary for the bank or a certified auditor to verify the successful deposit of share capital through an online signature. Our team of professionals will aid you in the preparation and timely submission of the necessary documents.
On average, it takes less than one business day for the online procedure to be completed.
Upon approval from the Norwegian Register of Business Enterprises, a Certificate of Registration and a Corporate entity organisation identification number will be issued. Tetra Consultants will hand these respective documents to you upon receipt.
Step 3: Corporate Bank Account opening
After your Norway company is successfully incorporated, Tetra Consultants will proceed to convert the existing capital account into a functional operational corporate bank account for your newly incorporated Norwegian company depending on your business goals and objectives. You can leverage on our extensive banking network and expect the bank account to be ready within 4 weeks.
Following that, Tetra Consultants will courier the internet banking token and access codes to your preferred addresses.
Step 4: Staying compliant
You can expect Tetra Consultants to secure your newly-incorporated Norwegian company Tax Identification Number from the Norwegian Tax Administration.
If you plan to be physically present and working in Norway, Tetra Consultants will advise on a suitable work visa and proceed ahead with the visa procurement for you.
Contact us to find out more about how to open a business in Norway. Our team of experts will revert within the next 24 hours.
FAQ
Can a foreigner set up a company in Norway?
Yes, a foreigner can set up and own 100% of the business in Norway.
What is the Norway incorporation regulatory environment like?
Norway's regulatory regime has been dramatically relaxed in recent years. Foreign exchange controls were substantially eliminated in the early 1990s, and profits and dividends can be repatriated freely, subject to Central Bank reporting requirements. With limited exceptions for smaller businesses, all companies must file annual accounts with the Register of Business Enterprises and undergo a statutory audit.
Is Norway good for international business?
Norway is a prosperous country with a robust economy and a progressive administration that advocates for open policies. These regulations have been successful in attracting foreign investment through Norway Company Formation, allowing the country to become a global leader in fields such as maritime, energy, communications, and technology.
What are the main types of Norwegian company formation structures?
The three most popular forms of corporate structure in Norway are a private limited company (AS), a public limited company (ASA), and a European stock corporation (EEA).
What are the minimum requirements to form a Norwegian private limited company (AS)?
For the formation of a Norwegian private limited company, you are required to have a minimum share capital of 30,000 NOK (€3500 approx.), fully paid up, at least one shareholder; board of directors required -50% of board members must be resident in Norway or an EU/EEA country.
Can companies enjoy tax benefits in Norway?
Yes, though Norway is not a part of the European Union, it forms part of the European free trade area. This shows that Norway has ties with the EU in terms of tax, trade, and commerce.