Poland EMI (Electronic Money Institution) License
Poland EMI License for electronic payment transactions in Poland is hassle-free to obtain with Tetra Consultants' assistance.
Despite their hesitant approach to regulate cryptocurrency, the Polish Financial Supervision Authority (KNF) has stressed that they are in support of innovative financial services, in particular the adoption of FinTech-based systems. This might make them an up and coming region in the FinTech sphere, and future developments in the country are definitely something to be watched.
Introduction to Poland EMI License
Although Poland has not directly regulated cryptocurrencies and other virtual assets, business that are designated to be qualified payment service providers such as domestic and foreign banks, as well as credit and electronic money institutions are still legally allowed to continue their business dealings in cryptocurrencies under the purview of the Polish Act on Payment Services 2011. This is an all-encompassing legislation governing payment services in general as opposed to just cryptocurrencies, a significant difference from other jurisdictions since it does leave some uncertainty with regards to electronic payments.
The PKD (Polska Klasyfikacja Działalności, Classification of Activities Code) that allows a business to run a cryptocurrency exchange is PKD 64.19.Z.
When will you require a Poland EMI License?
You will require a Poland EMI license when you are looking to perform payment transactions through electronic means or when you are seeking to transact electronically with another electronic payment institute. If you are an intermediary to such transfer, you will also require a Poland EMI license.

Requirements for Poland EMI License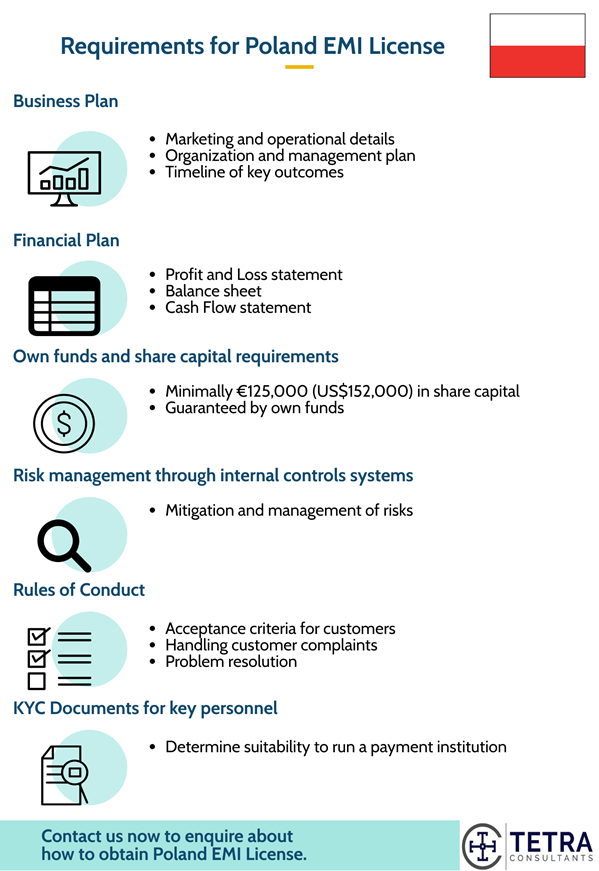 Business plan
Organization and management plan
This is in relation to how the firm plans to manage its employees, and other internal controls that will also be elaborated on below.
This is in relation to the target consumers of the firm, what services it will offer and what distribution channels it will use.
This is in relation to how to firm plans to carry out its activities, such as investment sources, financing sources, use of technology and how it plans to satisfy audit requirements.
Timeline of when the firm will achieve key strategic outcomes.
Information on types of activities to be conducted, and if it will include other activities not under coverage of the Payment Services Act.
Financial plan
Profit and Loss statement (based on estimated revenues and costs).
Balance sheet (including proposed capital structure and sources).
Own funds and share capital requirements
Each firm must have a minimum initial share capital of €125,000 (US$152,000). As a guarantee to this, it must also hold sufficient funds of its own.
Risk management through internal control systems
This refers to the internal controls put in place by the company in terms of how decision making and organization structure is being designed to mitigate risks determined to be present based on risk assessment methods.
Rules of conduct
Specific rules of conduct should be put into place governing the acceptance criteria for customers and they must also set in place procedures to handle customer complaints and subsequent problem resolution.
KYC documents for management and main shareholders
These KYC documents are to determine if the company in question are able to operate a payment institution with sufficient stability and caution. Thus, the approving authorities will require:
Educational and professional experience of the members
Criminal records or pending criminal proceedings, and any bans or restrictions as a result of past proceedings
Personal and corporate affiliations
Current financial and corporate commitments
How long to secure Poland EMI License?
Given the subjective nature of the requirements and the relative inexperience of the Polish regulatory authorities, it is likely for the application process to take up to 6 months. This might be extended if further requests for information or clarification are required.
How to apply for Poland EMI License
Prospective applicants will be checked for suitability and appropriateness based on the three criteria as listed below:
Safety of the operating system
In addition to these criteria, criteria set out by the European Central Bank and the Second EU directive will also be considered, in particular:
Three-year plan for the first three years of running the business
Details of the company structure, mechanisms to operate the company and tools for payment services
Evidence of technical abilities in the use of such systems confirm the suitability and qualifications of the Board of Directors
Proof of sufficient capital
Protection of client payments
Adherence to anti-money laundering directives
Adequate and suitable risk management systems
Step 1: Assessment of business activity and license requirements
Before assisting you in applying for the license, our team of consultants will seek to understand your company's business activities and structure to determine if a license is required, and if a Poland EMI license is the most suitable option. Some considerations include the nationalities of the directors and shareholders, working capital and tax obligations. We will also require KYC of the main shareholders and directors to conduct a preliminary KYC clearance.
Step 2: Poland company registration
Thereafter, our team will assist you in registering a Poland company. Regulated activities in Poland can only be undertaken by either limited partnerships, limited joint-stock partnerships or corporations. If you have a pre-existing company, you can also establish a branch in Poland. Tetra Consultants will recommend the most suitable structure for your business activities based on the operation and management flexibility, compliance costs and tax obligations. The company incorporation process is expected to take 3 weeks.
Step 3: Preparation of business plan and financial plan with the appropriate compliance policies
Our team will then assist you to prepare these items in detail so that you may satisfy the requirements stated above.
Business plan
Organization and management plan
Organizational structure with background of key office holders
Compliance with AML/CTF policies
Technical system risk compliance
Market segmentation and distribution channels
Description of payment services to be provided
Payment transaction diagram
Any other key assumptions and explanations
Financial plan
Quarterly budget forecasts for the next 3 years under target and stress scenarios
Any other key assumptions and explanations
Revenue and Cost projections
Step 4: Preparation of any other supporting documents
Protection of customer fund
Management structure and internal control system
Outsourcing services and control
Step 5: Submission of license application
Tetra Consultants will submit the completed application form along with all the required documents to the regulatory authorities. Sometimes the authorities might revert with requests for additional information or interviews. We will continue to prepare the information as requested as well as liaise with them on your behalf. Before the interview, we will also prepare you for questions that might be asked. If needed, we will also send a representative down to ensure this meeting goes smoothly. This whole approval process is expected to take 6 months.
Step 6: Corporate bank account opening
After you have successfully gotten the license, Tetra Consultants will assist you in opening a corporate bank account. We work with an extensive network of Polish and international banking partners that are experienced in dealing with foreign investors. Having a bank within the SEPA (single Euro payment area) will also make it cheaper and faster for your business to transact with customers in Europe. We will present your business plan to each compliance team and relationship manager.
Considering that your business is likely to be dealing heavily in international payments, we will open a multi-currency account for you. To facilitate the verifiability of such transactions, we will also provide you your IBAN and SWIFT number, two commonly used methods of verifying a bank account's identity and authenticity.
Typically, a corporate bank account opening will take roughly four weeks. In most cases, the directors and shareholders are not required to travel. However, if travel is required, we will have a representative accompany you to the bank meeting. Alternatively, our team will negotiate with the banks to conduct a conference call instead or to request for a waiver.
Step 7: Annual accounting and tax services
Our team of chartered accountants will also assist you in preparing your annual financial statements and tax returns in a timely manner to ensure that you remain compliant to all regulations. This will also prevent any unnecessary financial penalties or sanctions.
Our services
Tetra Consultants' team of licensing consultants will provide professional assistance in jurisdiction choice and with

payment license

acquisition, including preparation of required documents for application, company formation, search for personnel, support with Bank account opening, and consulting on full compliance with applicable regulations. On the completion of the license application, we will provide corresponding maintenance concerning accounting and reporting and legal support for your business.
Depending on your business needs and goals, Tetra Consultants can also provide support in attaining other

offshore financial licenses

as well.
How we can help you obtain Poland EMI License
Contact us to find out more about how to secure Poland EMI license to conduct electronic payment transactions and activities. Our team of experts will revert within the next 24 hours.
FAQs
Is forex trading legal in Poland?
Forex trading in Poland is legal and are managed by the Polish Financial Supervision Authority (KNR).
Do I require a different license to operate an EMI in Poland?
Poland does not separately regulate EMIs and thus you will only need to apply for a Payment Services License to become a registered Payment Institution.
What is the currency of Poland?
Poland currently uses the złoty (PLN) as its currency, though it is eventually expected to switch to the Euro due to the terms of their Treaty of Ascension.
Is the Euro accepted in Poland?
Only certain touristy regions will accept the Euro, and even then, not at a favourable exchange rate.
How many EMIs operate in Poland?
The biggest and first operator is Billon Solutions z o.o., a subsidiary of British-based Billon Group. They are one of only 5 firms to attain such a license in 2019 and 2020.
Can I provide cross-border services through my Polish EMI?
Yes, by obtaining a Polish EMI license, you will only need to inform the appropriate supervisory authorities in your desired country of operation.
What other countries offer an EMI license?