Deciding on which countries to expand your business to can be a complex and difficult decision.  As an aspiring entrepreneur, you might have heard of the lucrative business environment of Hong Kong and might be wondering about whether setting up a company in Hong Kong is a worthwhile investment and business initiative for you.  In this article, Tetra Consultants will offer insights into the 5 key disadvantages of setting up a company in Hong Kong so that you may better understand the limitations and concerns associated with this business venture and make a more informed decision about whether you should register company in hong kong.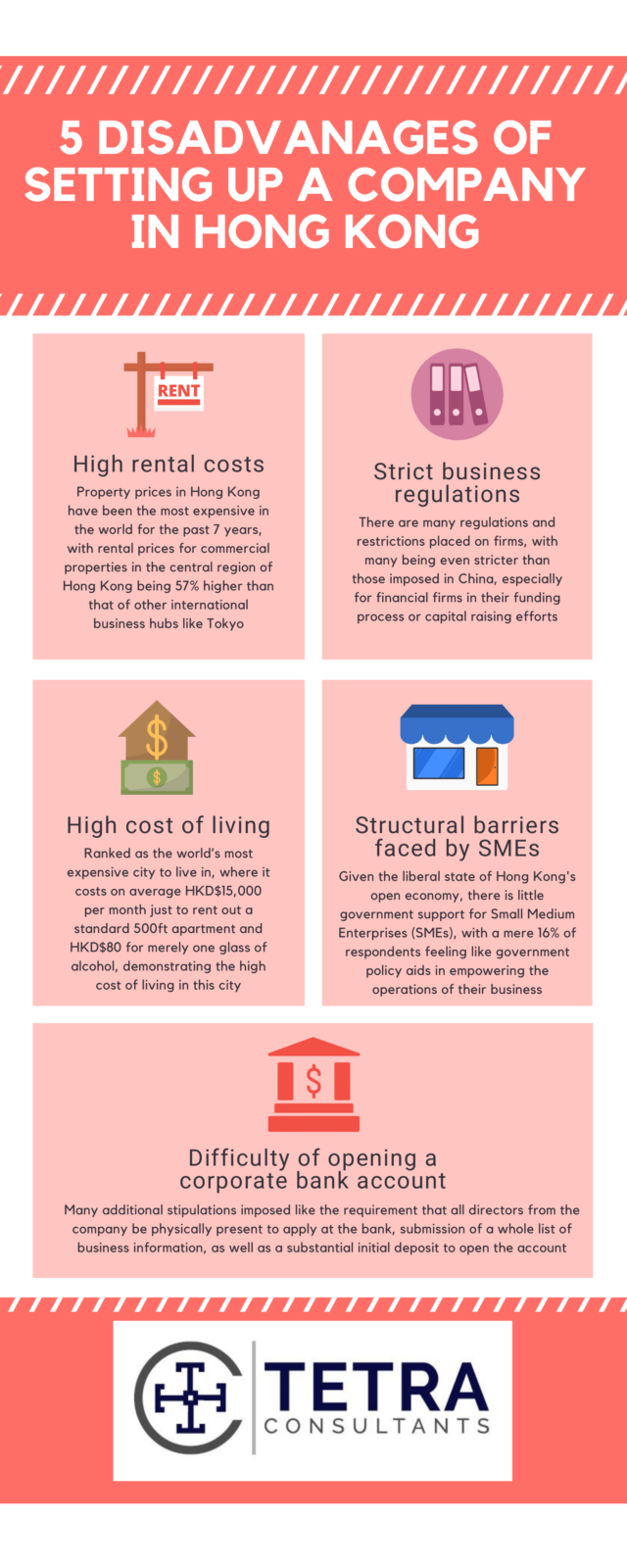 1. Difficult of opening a corporate bank account
When setting up a company in Hong Kong, establishing the appropriate platforms to conduct business activities and your daily operations is vital.  One of the most critical platforms to consider is a corporate bank account, allowing access to financial services which aids in the engagement of various business transactions or obtaining funding for your business ventures.   
Unfortunately, while the process of setting up a business in hong kong is relatively easy and convenient, the process of opening a corporate bank account is often tedious and challenging.  First and foremost, especially with traditional banks in Hong Kong, the cost and time incurred setting up an account there is often unnecessarily high, with no clear assurance that your application for opening a corporate bank account would even be successfully approved.  For instance, when one is in the process of opening a corporate bank account, it does not only require the bank teller to approve your applications requests.  Rather, there are additional stipulations such as the requirement that all directors from your company are physically present for the application to even start processing.  
In fact, unlike the relatively straightforward process for a personal bank account, in order to open a corporate bank account, you as a business owner must prepare the necessary documents and paperwork before going to a traditional bank.  These documents should include information such as but not limited to
The registered address of the company

The contact information of the company and its business owners

The incorporation documents of the company

A certified copy of the company's identification documents

A certified true copy of the company's Business Registration Certificate.

Audited financial statements or business plan submitted as proof of business

Details of ultimate beneficial owners for nominee shareholders/stockholders of a company.
Furthermore, all of these documents need to be certified by a company secretary, public accountant, banker and lawyer before they can be officially considered by the bank.   Additional requirements imposed on the opening of a new corporate bank account include a substantial initial financial deposit, a resolution by your company's board of directors, a corporate chart and many others.  Hence, the complexity of opening a corporate bank account is a major disadvantage for any business considering setting up a company in Hong Kong.
2. High rental costs
For businesses which cannot afford to operate on a virtual platform and require a physical presence to carry out activities, they may suffer higher costs as the property prices in Hong Kong have been one of, if not the most expensive in the world for 7 consecutive years already.  For instance, the rental prices for commercial properties in the central region of Hong Kong are 57% higher than that of other international business hubs like Tokyo, while the rental prices of retail properties also remain higher than the 5th avenue in New York.  Hence, the high rental prices is another potential disadvantage businesses may face when setting up in Hong Kong, especially for business requiring physical infrastructure and offices to carry out their business operations.  
3. Strict business regulations
The issue of strict business regulations largely applies for businesses in the financial sector looking to set up in Hong Kong.  There are often many regulations and restrictions imposed on financial firms in Hong Kong, with these restrictions being even stricter than that of China, where many businesses in the financial sector already face significant difficulties setting up and operating smoothly.  These restrictions even apply for the funding process and capital raising efforts many financial firms often engage in, thus impeding their business operations. 
4. High cost of living
Statistics have shown that Hong Kong is ranked as the world's most expensive city to live in, where it costs on average HKD$15,000 per month just to rent out a standard 500ft apartment.   To further extend on the issue of high rental costs explained earlier, the rental costs for office spaces are incredibly expensive as well, costing $72 per foot in 1 month if you are renting an office in the Central region
Other aspects of Hong Kong like the entertainment services provided are quite costly as well, especially for bars, where one serving of alcohol like a cocktail can cost a minimum of HKD$80 for 1 glass, further contributing to the high cost of living in that region.  This may be a disadvantage for new businesses considering setting up a company in Hong Kong as its employees will have to suffer from these cost pressures, leading to demand for higher wages and on net, greater costs for the business as a whole.
5. Structural barriers faced by Small Medium Enterprises (SMEs)
One key problem SMEs in Hong Kong face is that of maintaining a good cash flow, especially when it comes to receiving payments from its consumers.  While countries like Singapore are known to have the longest waiting period of 41 days for its accounts receivable, this waiting period for Hong Kong is relatively lengthy as well, with many local SMEs having to wait for 34 days before collecting its payments from consumers.  This can have a substantial impact on the overall efficiency levels of capital and cash flow in the company.  
Additionally, there is little to no government support for SMEs as well given the liberalized state of Hong Kong's economy.  According to a business survey conducted, only 16% of respondents felt like the government policy aids in empowering the operations of their business.  In fact, obtaining financial support in the form of funding remains to be one of the greatest challenges for SMEs, especially those with a high initial start-up cost who require such money and resources.
Conclusion
Navigating the country of Hong Kong's complex business climate might be a challenging process – a hassle to say the least.  In fact, with the key disadvantages regarding the exorbitantly high costs, inefficient corporate banking system and strict business regulations outlined above, it is easy to see why many businesses would choose not to set up in Hong Kong.  
Hence, Tetra Consultants hopes that this article has provided you a much better understanding about the key drawbacks to setting up a company in Hong Kong to keep in mind so that you can truly decide on whether you should register company in Hong Kong yourself.
So, if you are an aspiring entrepreneur hoping to set up your business in Hong Kong despite these disadvantages, contact us to find out more about the process of starting a business in Hong Kong, and our dedicated and experienced team will respond within the next 24 hours!  Tetra Consultants will not only empower you by helping to navigate the different regulations of Hong Kong, but also aid in facilitating the registration of your company there while providing invaluable, nuanced insights into any potential challenges.