The cryptocurrency market has increased in recent years. This has drawn an increasing number of Canadians into the cryptocurrency markets. There are many cryptocurrency platforms and thus, before choosing your platform, it is important to understand what each exchange has to offer. In this article, our team at Tetra Consultants will highlight 9 Best Crypto Exchanges In Canada 2023.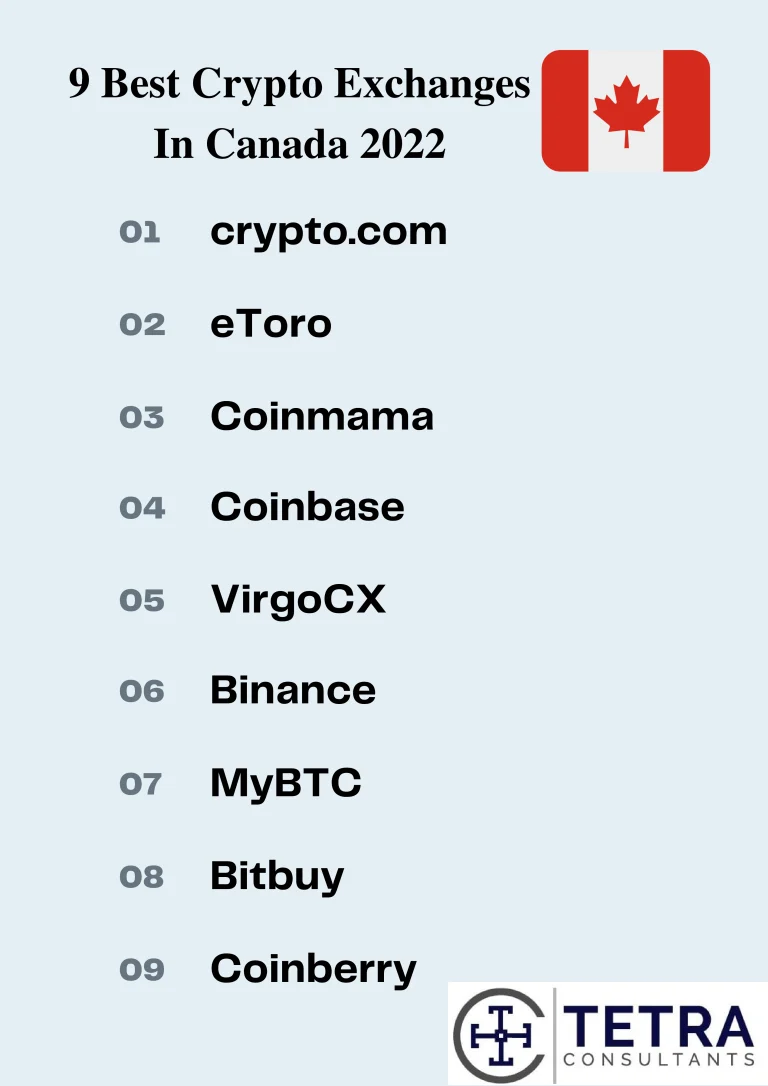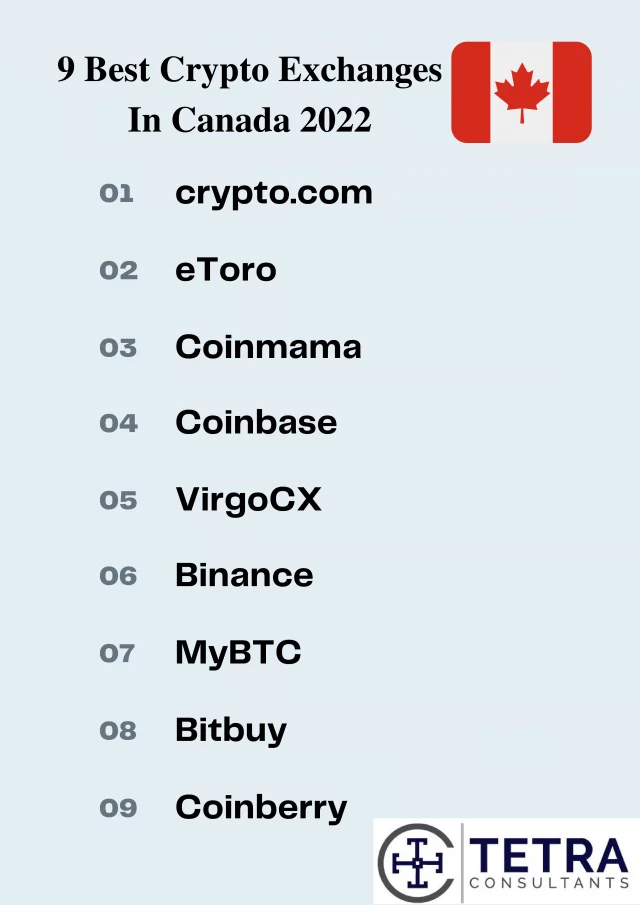 crypto.com:
Founded in 2016, Crypto.com offers more than 200 cryptocurrencies for individuals to buy, sell and exchange. It is deemed as the overall best Crypto Exchange Platform with over 10 million active users. As a partner of Visa, Booking.com, and Aston Martin, it enables the provision of a wide range of products. Crypto.com is one of the first companies to win the ISO security certification, which proves that it has strong security measures in place. Furthermore, it has 360-million-dollar insurance deals to protect individuals in the event of a security breach. This allows individuals to buy, sell and exchange with peace of mind. Furthermore, the reasonable transaction fees and the free educational resources provided by Crypto.com are definitely part of the reasons why you should utilize Crypto.com as the platform for your crypto exchanges. 
eToro
eToro started as a brokerage for stock and forex trading in 2007. As the individuals turned their interest to crypto exchange over the years, eToro added features that allowed crypto exchange, which is a great attraction for crypto traders and investors. Following international and local laws, the eToro headquarters is located in Canada. Therefore, you do not need to be too worried about the regulations of Canada. Furthermore, features such as Copy Trading and Copy Portfolios are available on eToro, which allows you to copy successful portfolios and trades of experienced users. Therefore, it allows you to invest in crypto stress-free, which is a great advantage for individuals who have zero or close to no experience.  
Coinmama:
The crypto exchange platform that has gained traction due to its secured services is Coinmama. As Coinmama does not store Bitcoin on its platform, hackers would not be able to find any assets to steal. Coinmama also requires users to go through the verification process, to reduce the risk of identity theft. Although Coinmama does not have a wallet system, individuals can buy crypto with their credit cards, which is straightforward and easy for users who are new to investing in crypto. Furthermore, having Apple Pay as a payment method increases the ease of the usage of Coinmama.
Coinbase:
Coinbase is known as the best for beginners. It is one of the longest and established exchanges for Bitcoin and has been improving and expanding since 2012. With over 73 million users over the world, there is an estimated $100 billion exchange yearly. There are two trading platforms and a unique cryptocurrency wallet product. Hence, it offers users of all experience levels a user-friendly platform. There are more than 100 cryptocurrencies being traded on Coinbase including Bitcoin, Ethereum, and Dogecoin. Furthermore, it offers insurance which is rarely seen on other platforms. It acts as a layer of protection in the event of hacking. This is one reason why Coinbase stands out from other exchanges.
VirgoCX:
VirgoCX stands out due to its affordability and security. There are no platform trading fees, no deposit required and no withdrawal charges. With a simple user experience such as the Tradingview charts and OTC desk for high network individuals, it is able to target users of different levels. In addition, VirgoCX has a wider selection of cryptocurrencies compared to other exchange in Canada. There are 37 different cryptocurrencies that can be traded in CAD.
Binance:
Being the largest cryptocurrency exchange, it is ranked first in terms of trading volume and liquidity. This allows Binance to offer low trading fees and competitive options. However, Binance does not support transfers from local bank accounts in CAD. One limitation would be that Canadians can only use USD on the platform by using SWIFT transfers. Despite that, there are still other features of Binance such as the low trading fees which attract Canadians to Binance.
MyBTC
Launched in 2016, MyBTC has been well established in Canada since then. It has a simple and user-friendly interface that caters to users with different levels of investing knowledge. One of the best features would be the account creation and the buying of cryptocurrencies directly to its hardware wallet. However, one disadvantage of MyBTC would be its fees are higher than average.
Bitbuy
Established in 2016, Bitbuy is Canada-owned and regulated by FINTRAC. It is one of the fastest-growing companies in Canada as it offers security, convenience and reliability in buying cryptocurrencies. Bitbuy is only available to residents of Canada and is limited to deposits in CAD. It does not support other currencies.
Coinberry
​​With no deposit and withdrawal fees for CAD transfers, Coinberry is a preferred platform based in Toronto, Canada. It was founded in 2017 and regulated by FINTRAC. It has a simple and user-friendly interface as well as a mobile app to trade cryptocurrency. The spot exchange, Coinberry Pay and AutoPilot function allow users of different levels to be able to trade easily. Coinberry offers 19 major cryptocurrencies.
Conclusion:
If you wish to start a cryptocurrency company in Canada, you may engage the service of Tetra Consultants. 
Tetra Consultants is an international consulting firm that assists clients with the entity formation, opening of corporate bank account and provision of accounting and tax services in Canada. We additionally fulfil the licensing needs of our clients and provide continued support from the preparation cryptocurrency license application till the acquirement of such authorization to operate the respective business in the country. 
Contact us to find out more about how to register company in Canada as well as secure a Canada MSB License to conduct cryptocurrency activities. Our team of experts will revert within the next 24 hours.