Cyprus is the most popular and recognized jurisdiction for obtaining a forex broker license in the European Union. Because a Cyprus forex license allows brokers to market, accept client funds, and legally establish a presence in all 28 EU member states, it carries a significant amount of prestige in all corners of the globe. 
If you are looking to apply for a Cyprus forex license, our team of experts is more than happy to guide your broker through every step of the process. Additionally, we are also able to assist investors to register company in Cyprus.
One of the main advantages of the Cypriot forex brokerage license is that there is one single license for plenty of different forex investment purposes. Compare that to Malta, for example, which has many different licenses, all of them with four levels depending on the services and complexity you will provide. All this costs money and time. That is not the case with Cyprus, which is like The Lord of The Rings: one forex brokerage license to rule them all.
Thus, even if you are mainly interested in forex brokerage, the license will allow you to handle other investment instruments across the EU without additional licenses or costs. There are other licenses for specific services, but one license covers most of the forex services.
Obtaining a financial license is usually a complex process and, in some jurisdictions, it is even more complicated for forex brokers. That is not the case with Cyprus, as it has a perfect balance of legal compliance and simplicity to be attractive for all kinds of brokers. Using the normal track, you will receive an answer in around six months, and using the fast track, you will receive your answer in only two months.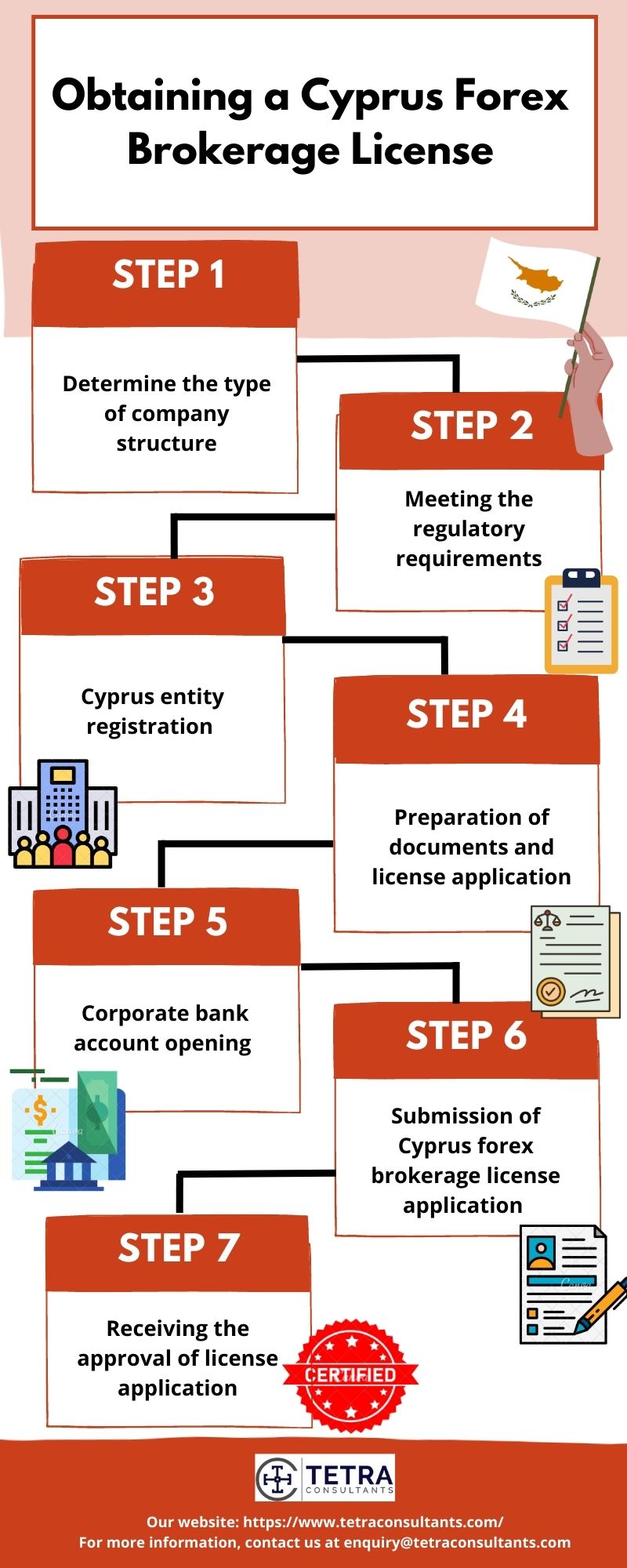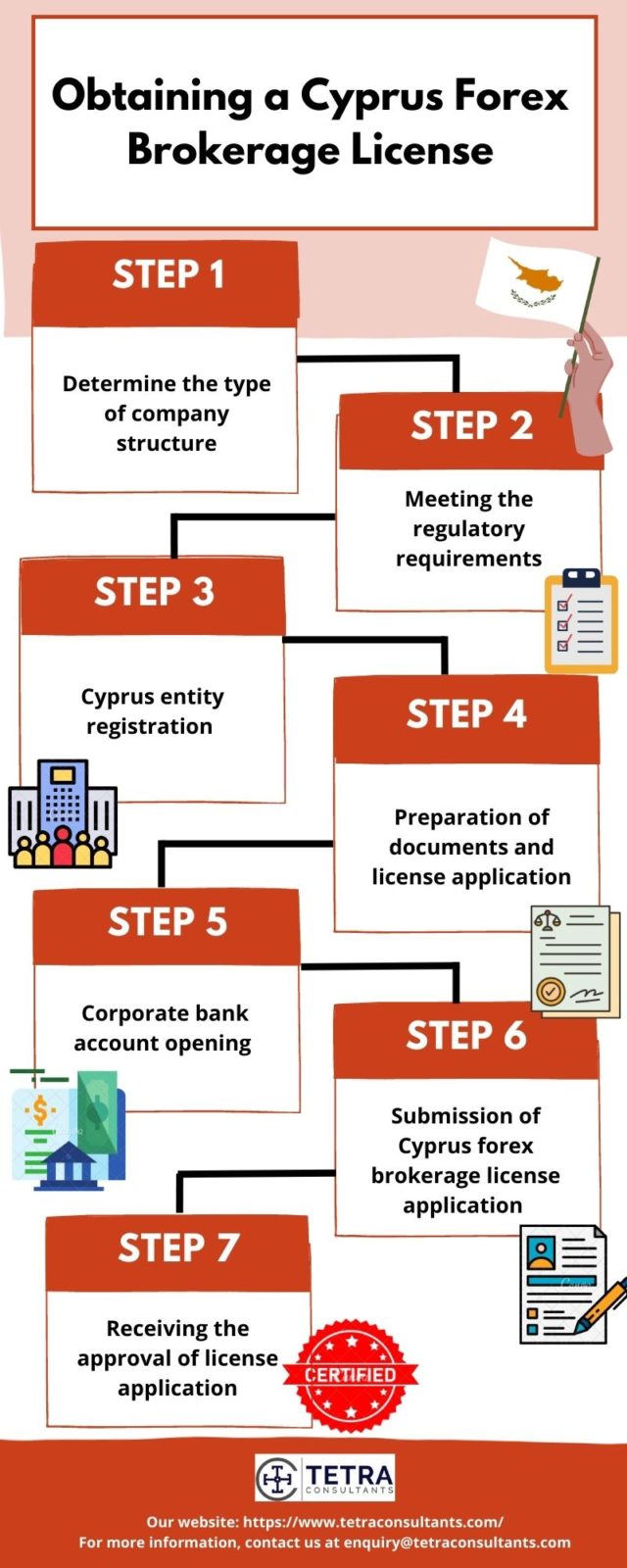 Step 1: Planning and strategizing
To start the process, we will have an initial discussion in order to better understand your business, goals, and specific requirements. Prior to the call, we will request some very basic information about your company and appointed directors/shareholders. After receiving all required information and holding a basic discussion, we will then be able to make a professional assessment, providing you a complete overview of the process
There are two types of licenses in Cyprus applicable for forex and usually, the companies are known as CIF – Cyprus Investment Firm:
Standard license – approx. €125,000.00, a broker can hold clients' money but cannot trade on its own account;

Full license – requires approx. €730,000.00 – a broker can deal on its own account (market maker)
Step 2: Meeting the regulatory requirements and registering the Cyprus entity
In order to register for the forex license, you will first need to have a registered Cyprus Investment Firm (CIF) with a suitable local presence. This can be met by having a local, registered office address, hiring a certain number of local employees, and by having a suitable expenditure within the country.
There will also be more specific requirements as indicated below.
Key appointment holders
Minimally four directors are needed, two executive and two non-executive directors, with minimally three out of the four, required to be resident in Cyprus. The Board of Directors is also required to be of excellent reputation and possess relevant work experience. In order to support this, they should submit the relevant KYC and personal documents, such as their Curriculum Vitae along with the relevant educational certificates and professional references, notarized copies of passports, and proof of residential address. 

In addition, you will also need a Risk Manager and Compliance Specialist, as well as internal and external auditors. The appointed internal auditors are required to be Cyprus residents.
Minimum capital requirement
The minimum capital requirement depends on what tier of license you are getting, with €125,000 being required for a Standard License and €730,000 for a full License.
Step 3: Corporate Bank Account Opening
The minimum capital requirement mentioned above must be deposited into a corporate bank account. You will also need proof that this deposit has been made.
Step 4: Preparation of documents 
The last step is for us to draft the necessary documents for the license application, such as the business plan and manuals, as well as prepare you for any possible questions they might ask you during the interview. 
Step 5: Submission of license application 
With this, we will proceed to submit your application with CySEC, as well as handle any follow-up requests for information.
Conclusion
If your forex brokerage entity is looking to obtain a forex license in Cyprus, engage Tetra Consultants today. After receiving some basic information about your business plans, we are happy to provide a price quote as well as a comprehensive overview of the license application process. 

Our team of licensing consultants has decades of experience in the foreign exchange industry, making us the ideal partner to assist your firm with a forex broker license application in Cyprus.

Tetra Consultants can additionally assist with applying for other

offshore financial licenses

in the choice of your jurisdiction. 
Contact us to find out how to apply for a Cyprus forex license and the steps prevalent to register company in Cyprus along with the process of completing corporate bank accounting opening, to begin the smooth operation of your investment firm. Our team will revert within 24 hours.