Cyprus Forex License (CySEC)
Cyprus Forex License (CySEC) is hassle-free to secure with Tetra Consultants' assistance.
Situated in the Eastern Mediterranean, the Republic of Cyprus is one of the most populous islands in the Mediterranean. The nation is well-known for its high-income economy and for offering foreign investors a business-friendly environment with low corporate tax rate. In fact, it has one of the lowest corporate tax rates in the European Union alongside Malta and Ireland. While it is often known for being a Mediterranean vacation destination with white sandy beaches, this does not do justice to the various economic policies put in place by the Cypriot government that have resulted in the economic diversification and development of the island nation.
More importantly, these changes have allowed them to meet the admission criteria of the European Union (EU), thus enabling them to join the EU in 2008. This grants your brokerage EU Passporting rights that will allow you to operate in other European market jurisdictions without the need to apply for separate licenses or establish physical offices in these jurisdictions. The versatility of this license also lies in the fact that it is one combined license for all forex trading purposes, with the only segregation being based on whether you are operating as a Market Maker or STP (Straight Through Processing). This makes the licensing process less confusing and time consuming as compared to a jurisdiction like Malta that has four different tiers of forex licenses.
Hence, a Cyprus CySEC forex license would be a good option for businesses seeking an entry point into the European market. Tetra Consultants is experienced in Cyprus CySEC forex license applications so you can feel free to contact us for a non-obligatory consultation or to find out more about the full suite of services we offer to help you start forex activity in Europe. Our team of experts will revert within the next 24 hours.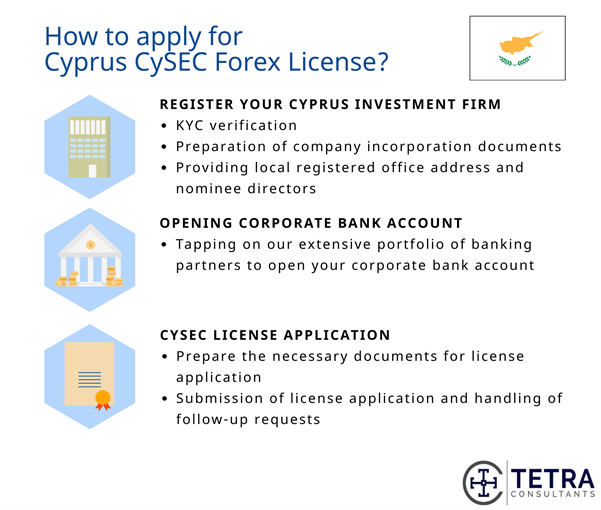 Introduction to Cyprus Forex License (CySEC)
Some countries have taken relatively tough and extreme stances against cryptocurrency, with countries such as China going as far as to ban cryptocurrency mining. On at the other extreme of the spectrum, we have countries such as Estonia that has dedicated laws governing cryptocurrency, and even had plans to mint their own national cryptocurrency, Estcoin.
Cyprus lies somewhere in the middle of these two extremes, regulating cryptocurrency as financial instruments under the supervision of the Cyprus Securities and Exchange Commission (CySEC). Similarly, derivatives on cryptocurrencies will also qualify as financial instruments. The main governing legislations in Cyprus are the Markets in Financial Instruments Directive of 2004 (MIFID) and Cyprus Investment Services and Activities and Regulated Markets Law of 2007.
The Central Bank of Cyprus is the central bank of the Republic of Cyprus and shares the stance of CySEC in that they do not directly regulate cryptocurrency. This is because as earlier mentioned, Cyprus has not taken the radical stance of classifying cryptocurrency as a legal tender.
However, they still recognize the risks it might pose being an unregulated and unpegged currency. Being unregulated means that there might be security concerns and associations with illegal activities. This also has the added risk that there are no legal guarantees or obligations in the case of stolen or lost cryptocurrencies. Being unpegged, cryptocurrencies are prone to large fluctuations, unlike pegged currencies that come with a greater degree of price stability.
Given that these risks are not unique to Cyprus and would also be faced by every other cryptocurrency jurisdiction, a key factor in the attractiveness of Cyprus to potential brokerage firms is their ability to implement and enforce a regulatory framework that can increase transparency and minimize the abuse of cryptocurrency platforms. With the numerous high-profile cases in recent years, such as the Africrypt scam which saw the loss of almost US$ 4 billion worth in Bitcoin and two high profile cryptocurrency hackings that took place in Japan in 2014 and 2018, involving Mt. Gox and Coincheck with a combined loss of almost US$1bn, it is especially important to ensure that investors and businesses operating under its regulations are able to enjoy the certainty and protection of a well-defined regulatory framework.
As one of the most versatile and flexible cryptocurrency licenses, Cyprus is an up and coming jurisdictions to base your cryptocurrency business in, especially if you are seeking an entry point to the European single market.
When will you require a Cyprus Forex License (CySEC)?
All Cyprus forex brokerage businesses must be licensed by the CySEC. They will then be allowed to provide a range of financial services as listed below. By notifying the relevant financial authorities, they will also be able to exercise their EU passporting rights to operate in another jurisdiction without the need to apply for separate licenses or establish branches.
List of regulated financial activities
Passing and receiving orders related to monetary instruments.
Carrying out customers' orders on their behalf.
Using own account to deal.
Placement of monetary instruments and/or underwrite monetary instruments on the basis of firm commitment.
Placement of monetary instruments and tools with no basis of firm commitment.
Providing clients with advice regarding investing.
Providing Multilateral Trading services
Providing Organised Trading services
Types of Cyprus Forex License (CySEC)
There are two main types of licenses available, Standard and Full. The option you should choose depends on your mode of operation as explained below.
Full License
The equivalent of a B-Book forex broker, or a market maker, such firms are able to process customers' trades in-house by acting as a counterparty to their trades. In other words, customers will be trading directly with the broker, which guarantees that there is more liquidity. This allows customers to execute orders and guarantee fills even when overall liquidity might be low. Customers would also be somewhat insulated from market shocks and fluctuations since such brokers charge a fixed spread.
Such firms have a minimum capital requirement of EUR730,000 (US$860,000).
Standard License
Known as A-book brokers, it uses a Straight Through Processing model whereby they pass customers order directly to the liquidity pool as opposed to dealing directly with them. While this is good in the sense that they cannot take advantage of customers' trading history as a B-book forex broker might be able to, it does leave customers vulnerable to larger spreads that vary drastically based on the prevailing liquidity. Lower liquidity could arise both due to market conditions, and when you are trading in a rarer currency pairing with lower trade volume. Higher spreads might also occur when trades are made during off-market hours.
Such firms have a minimum capital requirement of EUR125,000 (US$147,000).
If you are unsure as to the type of Cyprus CySEC Forex License your business requires, feel free to contact us for a non-obligatory consultation. Our team of experts will revert within the next 24 hours.
Requirements for Cyprus Forex License (CySEC)
Registered Cyprus Investment Firm
In order to register for the forex license, you will first need to have a registered Cyprus Investment Firm (CIF) with a suitable local presence. This can be met by having a local, registered office address, hiring a certain number of local employees, and by having a suitable expenditure within the country.
There will also be more specific requirements as indicated below.
Key appointment holders
Minimally four directors are needed, two executive and two non-executive directors, with minimally three out of the four required to be resident in Cyprus. The Board of Directors are also required to be of excellent reputation and possess the relevant work experience. In order to support this, they should submit the relevant KYC and personal documents, such as their Curriculum Vitae along with the relevant educational certificates and professional references, notarized copies of passports and proof of residential address. Shareholders and directors are also required to fill up a personal questionnaire, as well as submit proof of their clean criminal record, and good financial standing.
In addition, you will also need a Risk Manager and Compliance Specialist, as well as internal and external auditors. The appointed internal auditors are required to be Cyprus residents.
Minimum capital requirement
The minimum capital requirement depends on what tier of license you are getting, with EUR125,000 being required for a Standard License and EUR730,000 for a Full License.
Corporate Bank Account Opening
The minimum capital requirement mentioned above must be deposited into a corporate bank account. You will also need proof that this deposit has been made.
Application and licensing fees
In general, application will cost EUR 7000, with an additional EUR 5000 to be paid for those applying to trade in cryptocurrencies or Contracts for Differences on cryptocurrencies. Additional fees will also apply for additional ancillary services, or establishment of branches in other countries.
Licensing fees are changed based on the annual turnover of the company, on a percentage basis. This ranges from 0% for a company with a turnover less than EUR 500,000 to 0.5% for a company with turnover more than EUR 500,001 but less than EUR 1,000,000. Subsequent income bands will be charged cumulatively but at a lower rate.
Business Plan
The business plan should have 3 key components as listed below.
Organization and management plan
Organizational structure with background of key office holders
Anti Money Laundering Policy
Risk Management and Compliance Manual
Market segmentation and distribution channels
Description of payment services to be provided
Payment transaction diagram
Financial Plan
The prepared financial plan should include the three key financial statements: Profit and Loss statement, Balance Sheet and Cash flow statement, along with the key requirements and projections as stated below.
Quarterly budget forecasts for the next 3 years under target and stress scenarios
Any other key assumptions and explanations
Revenue and Cost projections
How long to secure Cyprus Forex License (CySEC)?
Each Cyprus CySEC forex license application will be individually reviewed by the Cyprus Securities and Exchange Commission to ensure compliance to all the stated requirements and determine the suitability of the company to operate a brokerage. The whole process is very thorough, and is thus expected to take around 6 months, but delays in the process might extend this to 10 months. These delays occur when information provided is inaccurate, incomplete or inconsistent, which then necessitates that the CySEC revert back with a clarification request or request for further information.
A fast track option would also be available and takes 3 to 4 months with an additional cost of EUR 25,000 (US$ 30,000).
How to apply for Cyprus Forex License (CySEC)?
The first step to applying for your Cyprus CySEC forex license would be to register your Cyprus Investment Firm. To do this, Tetra Consultants will first need to conduct the necessary KYC verification. After this is complete, we will assist your company in drafting all the required documents and satisfying other requirements, such as obtained your local registered office address and appointment of nominee directors through a nominee director agreement.
Using our extensive portfolio of banking partners, we will also help you to open a corporate bank account which will be used to hold the capital. The last step is for us to draft the necessary documents for license application, such as the business plan and manuals, as well as prepare you for any possible questions they might ask you during the interview. With this, we will proceed to submit your application with CySEC, as well as handle any follow-up requests for information.
Contact us to find out more about how to secure Cyprus CySEC forex license and register a Cyprus company to begin doing business as an investment firm. Our team of experts will revert within the next 24 hours.

FAQs
Is cryptocurrency legal tender?
Legal tender currencies refer to currencies issued and guaranteed by the regulatory body of a country and recognized as a legitimate form of payment. Since cryptocurrencies are not issued or guaranteed by the Central Bank of Cyprus, they are not legal tender.
Is it legal to trade in cryptocurrency in Cyprus?
Yes, it is legal to do so, but only if it is done through a recognized and licensed cryptocurrency brokerage.
Are there any alternative jurisdictions for forex licenses in Europe?
Other population options for forex licenses for our clients include Estonia and Malta.
Am I taxed on my cryptocurrency gains in Cyprus?
Yes, they are subjected to a tax rate of 12.5%.
How many active Cyprus Investment Firms are there?
There are over 250 CIFs registered in Cyprus. The full list is available on CySEC's website.
How many forex brokers are registered in Cyprus?
There are around 200 registered forex brokerages in Cyprus.