Taiwan has traditionally been a popular jurisdiction for foreigners opening a business in Taiwan. Due to its strong legal system, skilled labour force, relatively low tax rates, and Free Trade Zones, Taiwan has attracted many foreign investors over the years. As it is much easier to incorporate a company in Taiwan as compared to Mainland China, many business owners seeking to expand their business to the lucrative Chinese market may choose to incorporate their business in Taiwan. Since Taiwan has strong trading relationships with surrounding countries in the region, setting up a company in Taiwan will also allow businesses to penetrate the Asian market. In a nutshell, business owners may choose to register company in Taiwan due to the following reasons:
Top advantages of opening a business in Taiwan: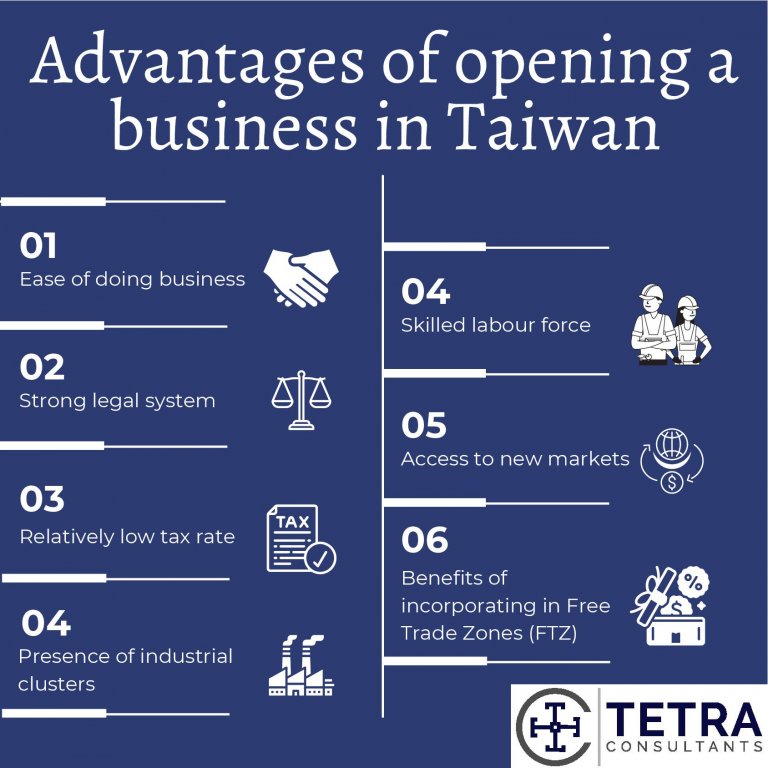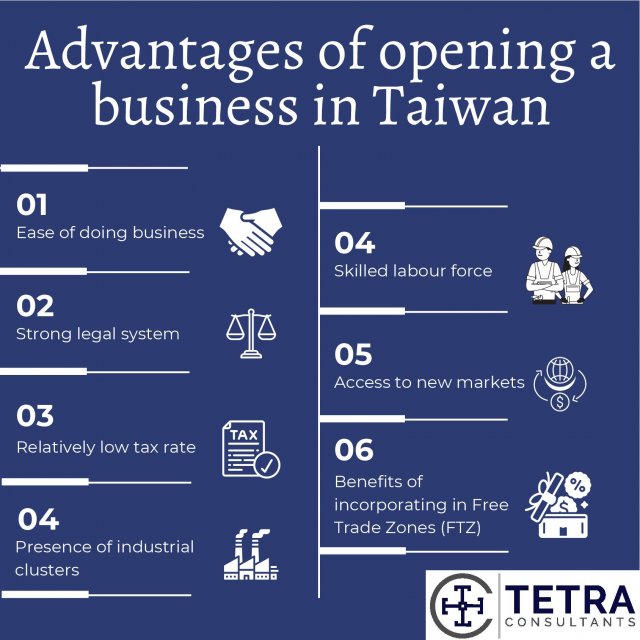 #1 Ease of doing business
It is relatively easy to open a business in Taiwan because the business registration process can be done remotely. In fact, Taiwan is ranked 15 out of 190 jurisdictions in 2020 in terms of ease of doing business by the World Bank. Not only are there no capital requirements for setting up a Taiwan company, but there are also no residence or nationality requirements for the director in a Taiwan company. This means that a Taiwan company can be wholly foreign-owned. Due to the less stringent requirements of

starting business in Taiwan as a foreigner,

Taiwan is an attractive jurisdiction for foreigners seeking to expand their business to the Chinese market.
#2 Strong legal system
Taiwan has a strong legal framework to ensure that the assets of business owners are well-protected. Specifically, the government has implemented various measures to ensure that intellectual property rights are safeguarded so as to encourage innovation in the economy. The Intellectual Property and Commercial Court Organization Act was enacted to formally address intellectual property and commercial cases and facilitate the jurisdiction's development in technological innovation. Taiwan's comprehensive business laws, strict law enforcement, and stable political landscape also play an important role in ensuring that business operations run smoothly, and unfair business practices are minimised. In addition, the Taiwan Tax Administration has strict rules and regulations in place to ensure that all companies adhere strictly to the International Financial Reporting Standard when preparing their annual report. This allows for greater transparency and credibility of businesses in Taiwan.
#3 Relatively low tax rate
Taiwan has a relatively low corporate tax rate of 20%. All resident companies that earn more than TWD 120,000 are required to pay corporate taxes on their net income, regardless of the location the income was derived from. Non-resident companies will only be taxed on income derived from Taiwan. In addition, businesses with annual revenue exceeding TWD 480,000 will also be subjected to Value-Added Tax (VAT). Compared to many other jurisdictions, the tax rates in Taiwan are considered relatively lower.
#4 Presence of industrial clusters 
Numerous industrial clusters in Taiwan produce different types of manufacturing goods. For example, northern Taiwan's Hsinchu Science Park is reputable for its production of electronics and semiconductors. Taiwan's southern region focuses more on petrochemicals and steelmaking while the central region of Taiwan places an emphasis on precision machinery. There is also an emerging cluster of small and medium enterprises (SME) in the southern Kaohsiung's Gangshan District that specialises in fastener manufacturing.

All these industrial clusters in Taiwan contribute to the competitiveness of Taiwan's manufacturing industry. In 2019, Taiwan was ranked 12 in terms of business competitiveness by the Global Competitiveness Report published by the World Economic Forum. The presence of industrial clusters ensures that industrial businesses remain highly competitive with regard to the machinery and technology used for manufacturing and the quality and quantity of goods produced. Companies in the cluster also enjoy access to cheaper raw materials, better equipment, and a skilled labour force.
#5 Skilled Labour Force
Taiwan has a relatively high labour participation rate of 59.2%, with approximately 36% of the Taiwanese workforce working in the industrial sector. As such, it is highly recommendable to set up a company in the industrial sector in Taiwan because it gives you greater access to a qualified workforce with the necessary expertise and knowledge in industrial processes and industrial development. The people in Taiwan are also highly educated, with approximately 45 percent of Taiwanese aged 25 to 64 having at least graduated from universities. Although Mandarin is the official language in Taiwan, most Taiwanese can understand and speak English.
#6 Access to new markets
Despite the rising tension between Mainland China and Taiwan in recent years, Taiwan still maintains a strong cross-strait trading relationship with Mainland China. Mainland China remains Taiwan's biggest trading partner, accounting for more than one-quarter of Taiwan's exports. Taiwan also has strong bilateral trading relations with the US and surrounding Asian countries such as Singapore, Japan, South Korea, and Vietnam. Hence, setting up a business in Taiwan can give your company access to the large Chinese market, as well as the surrounding Asian market.
#7 Benefits of incorporating in Free Trade Zones (FTZ)
There are currently 7 Free Trade Zones in Taiwan, located respectively in the Port of Kaohsiung, Port of Taichung, Taoyuan International Airport, Port of Taipei, Port of Anping, Port of Keelung, and Port of Suao. The Free Trade Zones in Taiwan are established to provide a conducive environment for business activities in specific industries and encourage new companies to incorporate in the area. The Free Trade Zones in Taiwan offer numerous advantages for newly incorporated companies, including tax benefits, strong support infrastructure, simple

Taiwan business registration

, and other monetary incentives and grants.  Companies that are set up in a Free Trade Zone in Taiwan may also enjoy exemption from corporate income tax, VAT, and import duty.

Each Free Trade Zone in Taiwan specialises in specific business activities such as trading, warehousing, manufacturing, transport, processing, repairing, and other technical services. Generally, the Free Trade Zones in Taiwan are situated in locations easily accessible through air, sea, and road. This facilitates the transport of goods and services to and from the Free Trade Zone.
Considering opening a business in Taiwan?
There are many benefits of setting up a company in Taiwan. The requirements to set up a limited liability company are also less stringent compared to many other jurisdictions. As long as you have one shareholder, one director, and a registered address in Taiwan, you can begin opening a business in Taiwan. Not only is there no capital requirement to set up a company, but there is also no nationality or residence requirement for directors or shareholders in a Taiwan company. The only barrier to setting up a company in Taiwan is the language. As the official language in Taiwan is Mandarin, all incorporation documents such as the Memorandum and Articles of Association must be prepared in Traditional Chinese. 
As such, Tetra Consultants can provide you with a fast and easy way to register company in Taiwan through our service package which includes registration of your company in Taiwan with the Ministry of Economic Affairs, provision of a local company secretary, and a registered address, opening of a corporate bank account, tax registration and annual accounting and tax services. Besides providing a general guide to setting up company in Taiwan, Tetra Consultants will also recommend the type of business entity suitable for your company, based on your long-term goals and business model. 
Contact us now to know more about how to incorporate your business in Taiwan, and our team of experts will revert within the next 24 hours.