Set up company in Switzerland has become an increasingly popular choice and viable option for consideration amongst various foreign investors. Switzerland is considered one of the world's most competitive business centres in the world, and for numerous good reasons. The country is home to top-notch innovation and technology and is governed by a pro-business governmental body with a stable political history. The jurisdiction of Switzerland has managed to establish close links with various foreign markets, including the United States, United Kingdom, China and Germany. The country boasts a GDP ranking of 18th in the world in 2021, with an estimated $824 billion of goods and services produced. The reason for their developed and high-income economy is largely driven by the services sector of the country. However, before you proceed to register company in Switzerland, it can be a tricky experience for first timers and those who have no prior experience of incorporating a company. Tetra Consultants has prepared the ultimate guide on starting a business in Switzerland as a foreigner.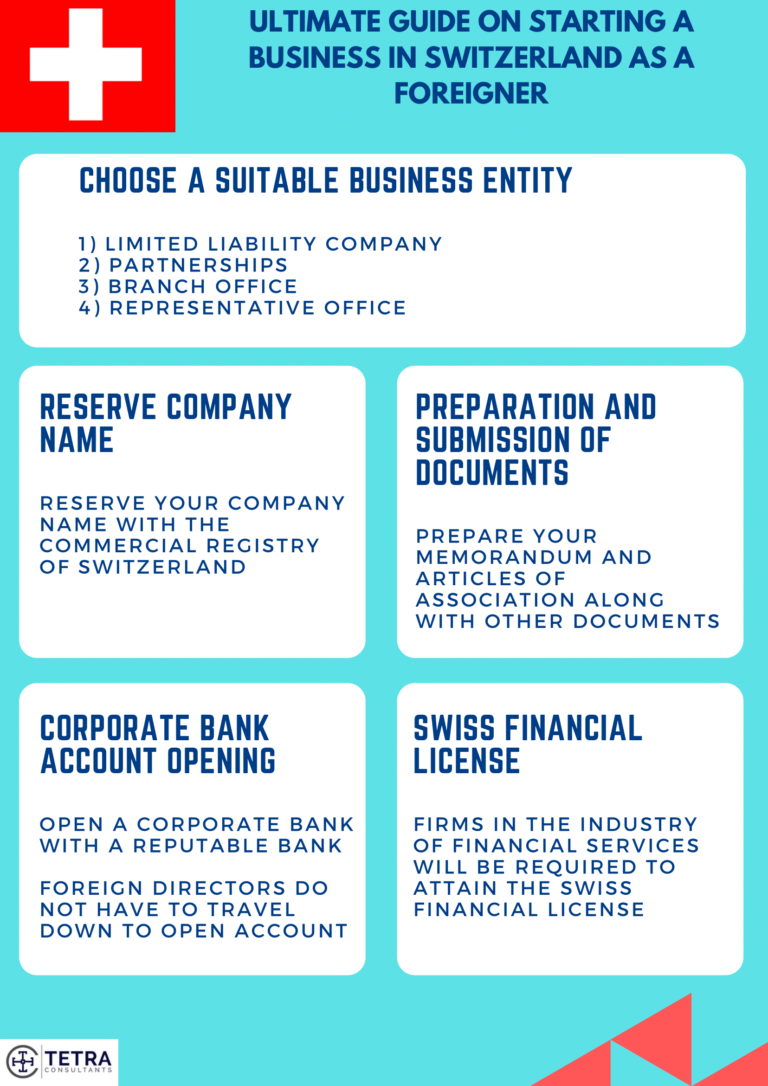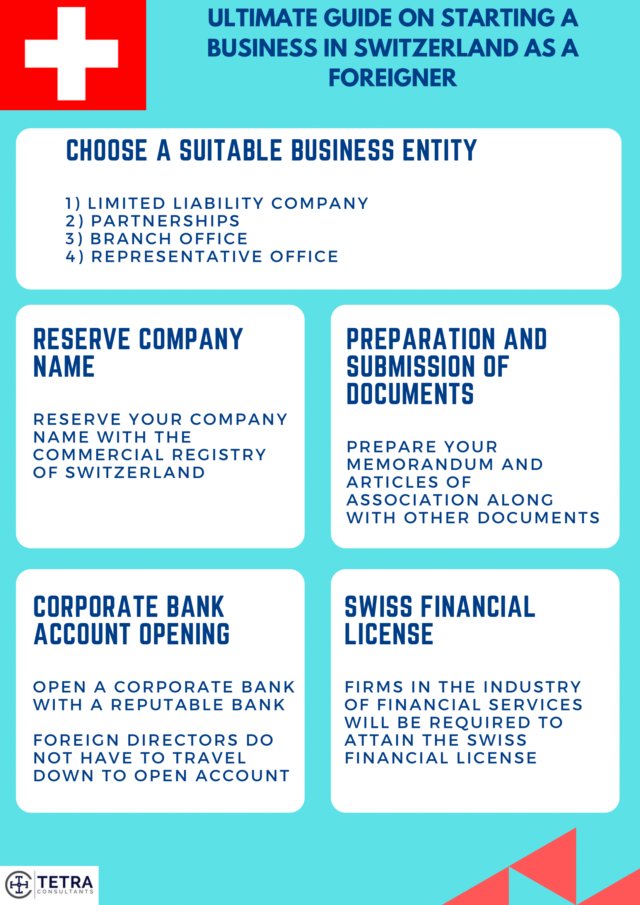 1) Choose a Suitable Business Entity 
The first step in the ultimate guide on starting a business in Switzerland as a foreigner is to choose the optimum business structure to incorporate your business as. In Switzerland, there are mainly 4 types of business structure to incorporate as.

1) Limited Liability Company (GmbH/SARL)
The Swiss LLC or known as GmbH/SARL, is considered a separate legal entity from its shareholders and each of them are only limitedly liable to their invested sum of share capital. Debts and obligations of the Swiss LLC are made personally liable by the shareholders. Minimally, there is a requirement of initial capital of Swiss franc 20,000 that has to be paid upfront during the incorporation of this business entity. All shareholders will be required to be registered in the commercial register. A local resident director has to be identified as well.

2) Partnerships
Partnership comprises minimally 2 or more co-owners to run the business together. In Switzerland, there are mainly 2 types of partnerships, namely the general partnership and limited partnership. In a general partnership, all partners are considered unlimitedly liable to business, and are jointly liable to the debt and obligations, if any, of the business. A limited partnership, on the other hand, is formed with at least one limited and one general partner present. The general partner will hold unlimited liability whereas limited partners will hold limited liability. Of course with the added risk, general partners tend to have more control over business decisions.

3) Branch Office
Parent companies can decide to set up a foreign branch in Switzerland. While the branch incorporated in Switzerland must file annual tax returns and submit audited financial statements, the parent company remains liable for the debts and obligations of the foreign branch incorporated. A local representative is required to set up a foreign branch office.

4) Representative Office
A representative office is often set up for the purpose of advertisement or market research into the destination and in this case the business environment of Switzerland. Representative offices are prohibited from committing any business activities or operations and it must have a local representative present.
2) Reservation of Company Name:
The second step in the ultimate guide on starting a business in Switzerland as a foreigner is to reserve your company name. The proposed company can be registered and reserved through the Commercial Registry of Switzerland. You can verify you your proposed company name is available against the Swiss trade register.
3) Preparation and Submission of Relevant Documents:
The third step in the ultimate guide on starting a business in Switzerland as a foreigner is to prepare your necessary due diligence documents to facilitate your business registration. These include preparing your memorandum and articles of association, certificate of incorporation as well as identification proofs of directors, shareholders and the company's resolution of incorporation.
4) Corporate Bank Account Opening in Switzerland:
The fourth step in the ultimate guide on starting a business in Switzerland as a foreigner is to open a corporate bank account for your incorporated business. Generally for most occasions, foreign directors and shareholders are not required to travel down to the country to open the corporate bank account.
5) Swiss Financial License 
The fifth step in the ultimate guide on starting a business in Switzerland as a foreigner is check if you are required to apply for a Swiss Financial License. In 2020, new regulations were passed under the Financial Services Act (FinSA) and Financial Institutions Act (FinIA) which introduced a new licensing requirement for financial firms operating in Switzerland. For firms that wish to operate under the following category, they will be required to apply for the Swiss Financial License: portfolio management, trusts, management of collective assets, fund management and securities firms. The idea behind the license is to ensure all financial entities adhere to strict financial requirements that are stipulated by the legislation and to safeguard the investors.
Conclusion:
Engage Tetra Consultants as we guide you on how to register a company in Switzerland through a smooth and hassle-free process. The team provides a comprehensive service package that includes planning and strategizing with our clients to select a suitable business entity, completing the registration and documentation processes, obtaining required licenses, opening a corporate bank account, and ensuring your compliance with the government regulations. 
Contact us to find out more about company registration in Switzerland and our dedicated and experienced team will revert within the next 24 hours.