The amended Proceeds of Crime (Money Laundering) and Terrorist Financing Act (PCMLTFA) has come into effect to prevent financial crimes in December 200. In addition, foreign money services businesses are also required to register with FINTRAC from June 2020. The main aim of this is to strengthen the regulatory framework for Money services business in Canada, deterring financial crimes. In this article, our team at Tetra Consultants will highlight what you need to know about Canada MSB License and help you understand what is the cost of MSB license in Canada as well.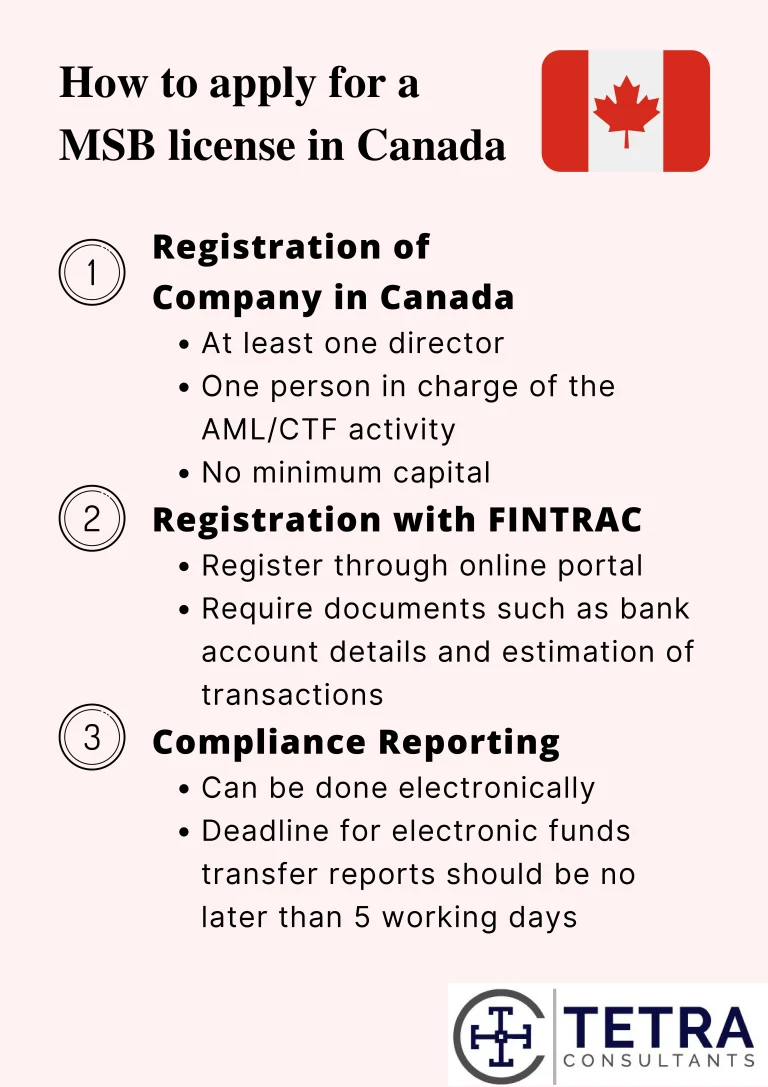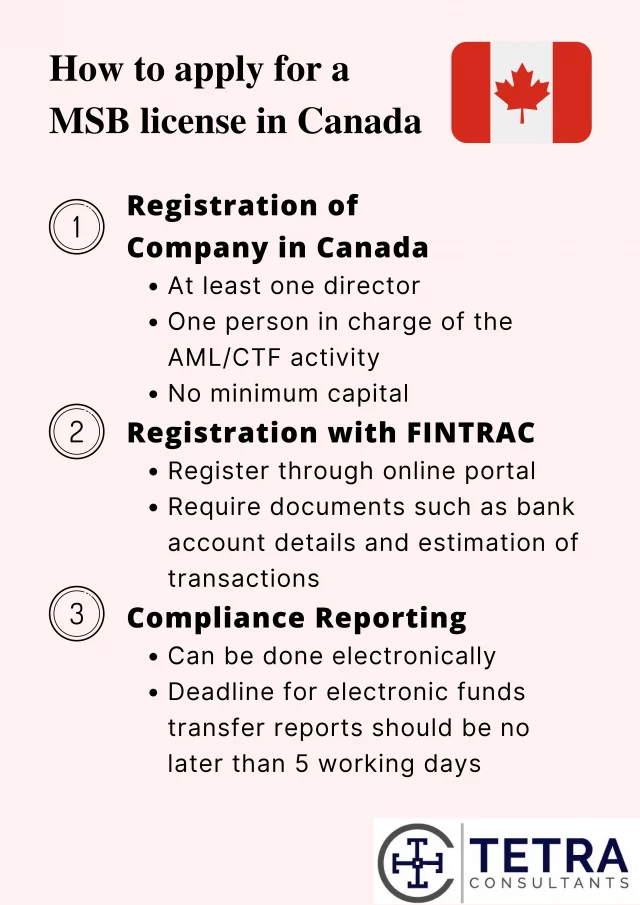 What is Money services business (MSB):
Money services business (MSB) include types of different financial activities namely currency exchange services, provision of money transfer services, issue or redemption of money orders, virtual currency transactions.
When is a MSB license required?
The MSB license is required if your business carries out MSB, provides direct services to a person or entity in Canada and provides service to clients located in Canada. To apply for the MSB license, you must register your business with the Financial Transactions and Reports Analysis Centre of Canada (FINTRAC).
How to apply for a MSB license:
The steps to apply for MSB are as follows:
Registration of company in Canada.
There must be at least one director with prior experience in the financial sector appointed during incorporation. In addition, there must be a person in charge of the AML/CTF activity of the company appointed during incorporation. Both director and AML/CTF in-charge are not required to be a resident of Canada.

The company name must have a minimum of two words and one of them should describe the main business function such as remittance or payment.

There is no minimum capital.
 2. Registration with FINTRAC
After which, you can proceed to register with FINTRAC through its online portal.

The following documents are required during registration of FINTRAC:

Company's bank account details;

Compliance Officer information;

Staff headcount;

Registration information;

Information about the owners of your MSB and senior management;

Expected total amount estimation of transactions in U.S. dollars per year for each MSB service provided;

Each branch information;

Each MSB agent information.
 3. Compliance Reporting
The compliance officer will be required to be fully equipped with the necessary knowledge about the Act and regulations to ensure compliance.

The filing of reports can be done electronically in accordance with the developed compliance program.

Compliance reporting can include information about suspicious transactions, electronic fund transfers reaching specific limits, large cash transactions reaching specific limits, terrorist property.

​​Reporting deadlines

:

The deadline for electronic funds transfer reports should be no later than 5 working days.

The deadline for suspicious transaction reports should be no later than 30 calendar days from when deemed reasonably suspicious of financial crime.

The deadline for large cash transaction and casino disbursement reports should be no later than 15 days.

 
Is there any cost of a MSB license in Canada?
Although there are no charges in FINTRAC, including registration or the filing of reports, there may be some recommended capital for the registration of the company in Canada. If you are unsure of the amount of recommended capital your business needs, feel free to contact us for a non-obligatory consultation. Our team of experts will revert within the next 24 hours.
Conclusion:
If you would like to register a company in Canada and apply for the Canada MSB License but are unsure of how to, you may engage the service of Tetra Consultants. Tetra Consultants can help in the registration of your Canadian company, open a local corporate bank account and secure a Canada MSB License from FINTRAC. Contact us to find out more about how to secure Canada MSB License. Our team of experts will revert within the next 24 hours.
Tetra Consultants is a one-stop corporate service provider with a global network of partners and a diversified portfolio of businesses. We provide extensive assistance to our international clients with securing a Payment License in the jurisdiction of their choice.
In addition, Tetra Consultants can also assist with attaining other offshore financial licenses depending on your long-term business goals.