A company that is incorporated in a jurisdiction other than that of its home country is considered to be an offshore company. There are multiple benefits and drawbacks to pursuing offshore company setup. In this article, we explore the purpose of offshore company.
The following are the reasons why many businesses choose offshore company incorporation: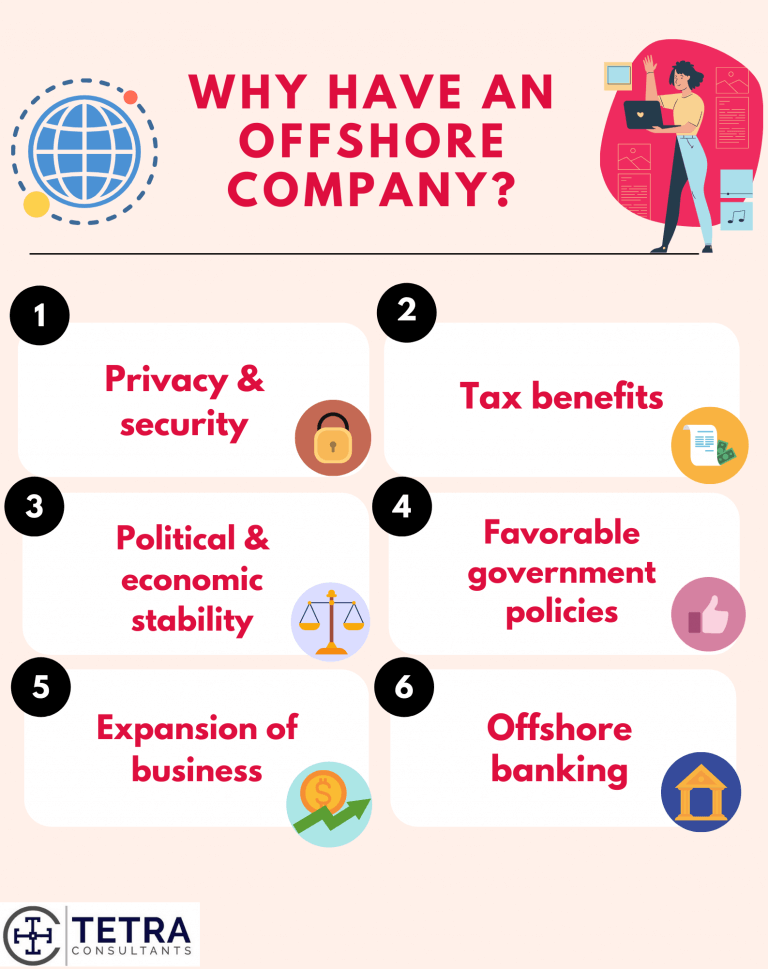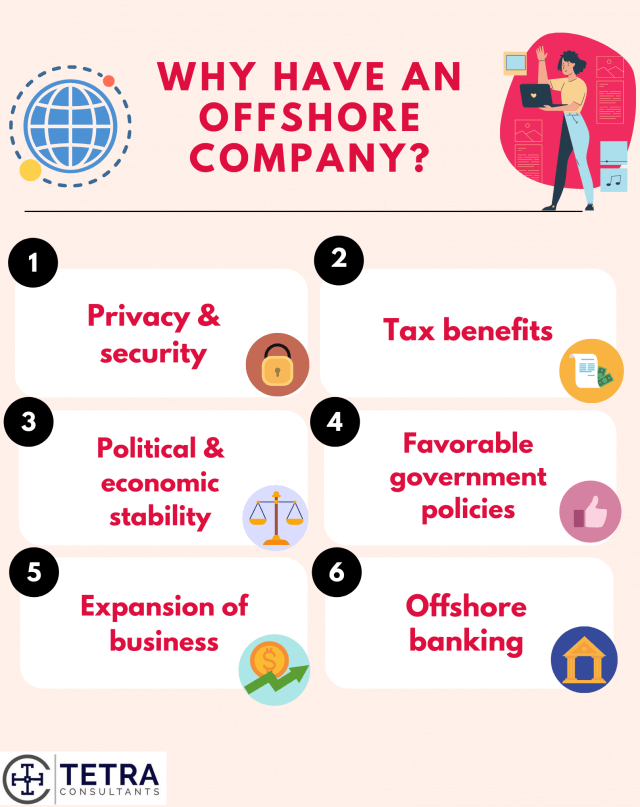 #1 Privacy and Security
Having an offshore company implies having more privacy and security for the business as a result of strict government policies. This subsequently leads to greater confidentiality and asset protection for the business. For example, in countries such as Panama, offshore companies enjoy high privacy as the company's investments are not disclosed to any external party.

Moreover, offshore companies protect the assets of a company by hiding them from the public, thus keeping the business secure.
#2 Tax Benefits
Each country has a different tax policy, resulting in varying corporate tax rates. Several countries, such as Singapore and Hong Kong, provide tax incentives and exemptions to promote foreign investment. Your business can take advantage of such policies by beginning

offshore business setup

in jurisdictions with competitive tax rates. Besides this, several countries have extensive tax treaties which allow businesses to be taxed only once, resulting in a lower tax charge.
#3 Political and economic stability
If there is political and economic instability in your country, it would be beneficial for your company to be shifted offshore to a more stable environment. If you continue to stay in an unstable environment, there could be a reduction in investment because of the increase in risk. This could subsequently result in a recession which would harm your business. Moreover, there is a possibility that the government could seize your business's assets.
#4 Government Policies
In many countries, government policies require incorporated companies to complete certain requirements, including getting a resident director, having the company's books audited, and other accounting and filing obligations. On the other hand, some of these requirements are not compulsory for offshore companies, making an offshore company more convenient to run.
Furthermore, in some countries such as Singapore, the government policies are such that a pro-business environment is created. Companies can take advantage of this to further scale their business, creating another purpose for setting up an offshore company.
#5 Expansion of business:
If a business wishes to expand globally, it would be easier to set up an offshore company than to complete the onshore company incorporation process. This is because onshore incorporation is more time-consuming and complex due to the extensive requirements and legal formalities involved. Moreover, with an offshore company, your business can trade globally. 

Besides this, setting up an offshore company in certain countries with favorable trade networks can increase your trading opportunities. For example, Singapore has a strong network system connecting it to over 600 ports in 123 countries. This can help offshore companies as they would now have a wider reach, expanding their target market.
#6 Offshore banking facilities
In several countries, there is a higher probability of opening an

offshore bank account

if you already have an offshore business in that region. The

offshore bank account

can serve as a huge asset for the business as it allows transactions to be carried out in all parts of the world remotely and conveniently. Companies would save a huge amount of time by not having to set up a separate bank account in each jurisdiction where they have a business in.

Moreover, offshore banks provide multi-currency banking which can reduce the risk of currency fluctuations. These banks may even provide a better currency exchange rate than the traditional local banks.

Additionally, these banks provide greater investment opportunities than traditional local banks as the former have access to international markets
Now that you have gained a better understanding of the purpose of an offshore company, you can now focus on the next steps to take. Firstly, you need to decide on the jurisdiction where you wish to set up an offshore company. This depends on the unique goals and needs of your business. Secondly, you need to understand the public implications of setting up an offshore company. On one hand, it may lead to a negative public perception as some tend to associate offshore businesses with tax evasion. Conversely, setting up an offshore company may result in a positive public perception if it is incorporated in a country with a strict but credible government.
Looking to start an offshore business?
At Tetra Consultants, we understand that it is difficult to plan and execute an offshore business setup. Therefore, we would like to offer our offshore incorporation services. Our team of experts will guide you through the full process, including evaluating various jurisdictions to identify the best one for your business, supporting you through offshore company incorporation, and more.
Contact us if you wish to receive more information about how and why you should set up an offshore company. Our team will revert to you within 24 hours.