Register Company in Alberta
The process to register company in Alberta involves various complexities but if you are equipped with the proper knowledge and navigation system the process might get hassle-free. With Tetra Consultants at your service, you can get supporting assistance and help for your business which will provide you with more time to dedicate to your business. 
Tetra Consultants' skilled and qualified employees will provide you with a seamless experience throughout the whole process of setting up your business in Alberta. Our team's collaborative goal is to open your business and make it fully functional within the stipulated time frame. With a vast array of cultures and businesses in Alberta, the place has been attracting a huge amount of investments from all around the world making Alberta an attractive location for entrepreneurs and investors. Our package includes everything you require to function as a successful business in Alberta: 
Register company in Alberta

Local company secretary and registered address

Opening a local or international corporate bank account

License applications (if required)

Annual accounting and tax services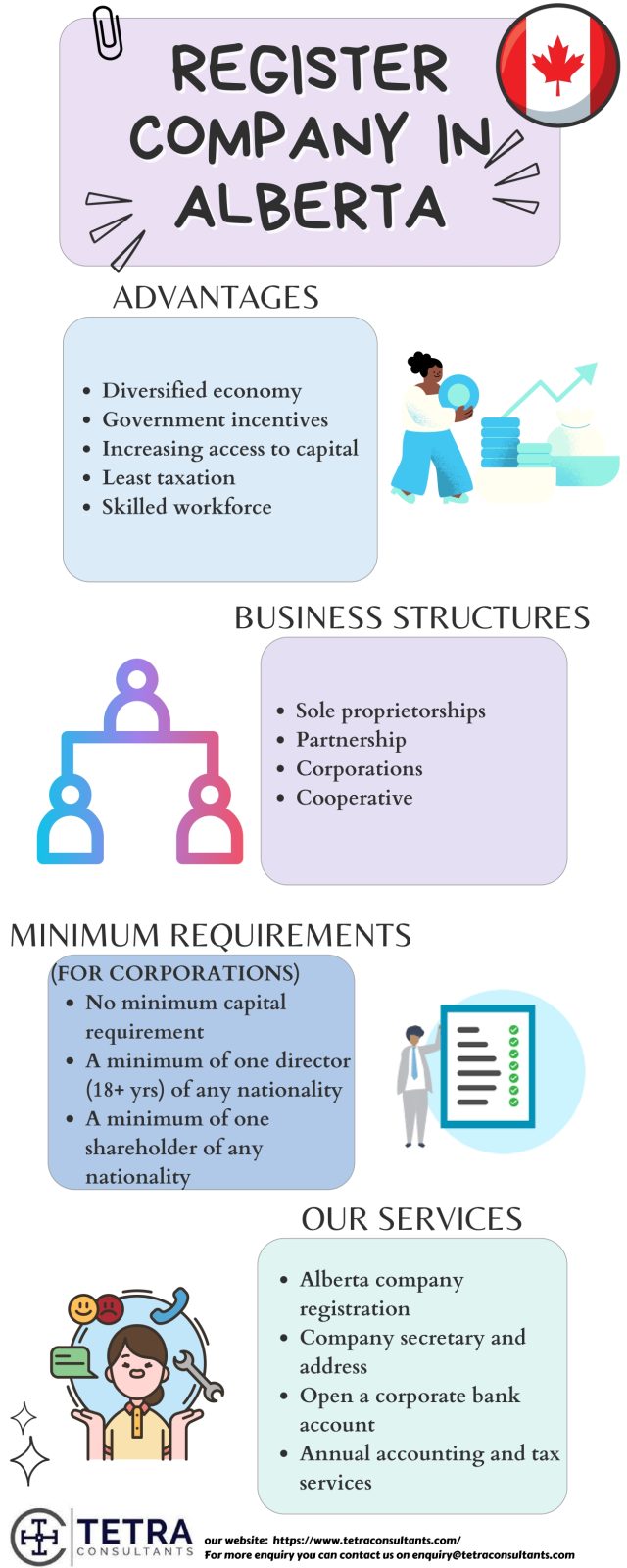 What are the benefits of registering a company in Alberta?
Diversified economy
Alberta's economy is diversified, with such key ingredients as energy, agriculture, forestry, culture, and many other industries. The diversification allows the company to tap into various sectors and markets, reducing its reliance on a single industry. The diverse economy helps the investors to scatter their funds across different sectors within an economy that attracts investors and entrepreneurs to invest and operate their businesses. 
Government incentives
Alberta has several incentive programs that are designed and introduced for foreign investors considering Alberta as a location for a greenfield investment or business expansion. These programs also include direct incentives such as grants, loan programs, and tax credits available exclusively for foreign entities in a broad range of sectors. 
Increasing access to capital
The

Alberta Security Commission (ASC)

has amended the self-certified investor prospectus exemption to facilitate investors and entrepreneurs and to provide them with greater flexibility to expand their businesses and investments. The exemption has been introduced and put into action on a three-year pilot basis expiring on March 31, 2024. 
Least taxation
Alberta has the lowest amount of taxation in the country, offering businesses the lowest rates of income tax. Providing exemptions from capital, general sales, and payroll taxes. The low taxation on the business income helps in optimizing the business. The low tax regime helps businesses to gather more funds for their businesses and also helps in gaining more income for investors. 
Skilled workforce
Alberta has a young population that is highly skilled and vibrant. This skilled and vibrant workforce provides well-educated and trained workers for businesses. The skilled workforce helps businesses to grow expand and achieve their business goals and objectives. This skilled workforce acts as a significant asset for businesses to establish operations in the province.
Can a foreigner allowed to register company in Alberta?
Any foreign entity can set up its business in Alberta. However, for Alberta company registration of such companies can be executed as an extra-provincial company. Moreover, all those foreign entities who wish to register company in Alberta need to appoint an agent for service who must be a resident in Alberta. Foreign entrepreneurs and investors who wish to register their businesses in Toronto will require a local address in Canada to facilitate mail and communication at that corresponding address. 
Additionally, there are many licensing requirements and permits for foreigners operating a business in Alberta. However, there is no requirement for local investors to invest the amount or own shares in the company along with the foreigner. There are various requirements for registration including federal business number, provincial employer health tax and worker's compensation, provincial sales tax account, and other provincial and municipal licenses. Our team of experts understands your business needs and requirements before advising your business. We aim to fulfill all the business requirements of our clients to provide them satisfaction through our business services. 
How long does it take to register company in Alberta and open a corporate bank account?
The processing timeline may vary depending on the business structure preferred by the company. Tetra Consultants can assist you in Alberta company registration within 2 weeks. After complying with all the necessary legal and administrative requirements. Our team will search for the availability of the preferred company name and prepare all the required necessary documents for the registration of a company in Alberta. 
Throughout the process of registration of your company, Tetra Consultants ensures that you are not required to travel to the state. 
After Tetra Consultants has registered your company, you can expect to receive the documents of your company which include a certificate of formation, Memorandum, and Article of Association as well as the register of directors and shareholders. 
Moreover, Tetra Consultants can help you with the opening of a corporate bank account within

4 weeks

of registering your company in Alberta. The bank account can be opened with either a local or international reputable bank according to the client's preference.
After the process of incorporation and opening of a bank account, you can expect your company to be fully functional and operational. The company gets ready for business within

2 weeks

from engaging with Tetra Consultants. 
An important caveat to note is that the duration of the company registration process is contingent on the state and your business activity. The abovementioned timeline is a generalized timeline of the extensive experience.
What are the kinds of business structures available to register company in Alberta?
Before you proceed with Alberta company registration, it is crucial to understand the various types of business structures present in the economy. Alberta is a place where there are various business structures such as sole proprietorship, partnership, corporation, etc. 
Before the start of the engagement, Tetra Consultants will fully understand your business before recommending the most optimum Alberta business entity. Some considerations we take into account include the type of business activity, tax obligations, and nationalities of shareholders and directors. Hence, downlisted are a few business structures available to register a company in Alberta. 
Sole proprietorship
A sole proprietorship is one of the simplest forms of business enterprise which is conducted by an individual only. Unlike other forms of business structures, sole proprietorship does not form any different legal entity. As such now the proprietor is personally liable for all the debts and obligations of the business. There is no continuity in the business as this business structure does not allow any transfer of business ownership. 
This business structure is feasible for those businesses that are small in nature and do not require more people in the business. The small setup of businesses such as art studios, bakeries, minimart, etc. is perfect for a sole proprietorship. 
This business structure is advantageous for an easy startup and complete control of the business, Sole Proprietorship may be the right business form for you.
To operate a sole proprietorship, registration with the state is not necessary. However, if a name that is different from your own is adopted, you will have to formally register with the state.
Aside from the sole proprietorship structure, all other business entities are required to be filed with state governments. Tetra Consultants can help you with setting up a sole proprietorship in Alberta. 
Partnership
A partnership business structure involves more than two individuals who combine to start a business together. The partnership firm is not a legal entity on its own. This business structure can be used for medium-sized businesses whose scalability is medium. This structure is simple and easy to set up, but the partners are personally liable for the debts and obligations of the partnerships. 
The partners are liable for the profits and losses of the firm. When filing taxes each partner is needed to submit their information of revenue generated from such partnerships with tax returns. Moreover, these partnership arrangements have various benefits attached to them. Less paperwork, meeting criteria set by the authorities. 
On the contrary side of the partnership business, the partners are liable for the company's debt and liabilities and also need to liquidate personal assets in order to cover the company's commitments. Thus, it can result in slowing down the partnership's operations. 
Tetra Consultants can assist in setting up a partnership firm along with assistance in complying with various rules and regulations present in Alberta. Our team of experts will guide you through various complexities and make the whole process seamless and hassle-free for your business. 
Corporation
A corporation is a legal entity that is separate and distinct from its owners. This business structure offers limited liability protection to the shareholders, which implies that the shareholders are not holding any personal liability towards the corporation for covering corporation debts and obligations. Incorporating corporations it can be done at the federal provincial or territorial level. 
To register a corporation in Alberta requires at least one director (of any nationality) to be appointed at all times. Moreover, it is required for a corporation to have its name end with 'Ltd.' or 'Inc.' for expressing legal elements. Along with this, the corporation is also required to decide the officer of the corporation. 
The corporation requires a minimum of one shareholder regardless of nationality. Moreover, a mailing address is required for the corporation to effectively communicate with the corporation. For extra-provincial registrations, a registered agent will be required to notify a member of the business entity. However, an agent must be an individual and must have a mailing address within Albert.
However, there is no specific requirement for a company secretary in the Companies Act of Canada, but a company may choose to appoint one. 
Alberta has a special tax regime for corporations offering various incentives and advantages to the corporations. The combined corporate income tax applied on the corporation is 23% (15% federal and 8% provincial) for general businesses. Moreover, small business owners who have income below CAD $500,000 have a combined corporate tax of 11% (9% federal and 2% provincial). Thus, these deductions on small businesses help to lower the overall tax burden. Along with such tax deductions, the government provides small business deductions, innovation employment grants, and other tax credits which will enhance the business growth and expansion. Alberta's corporate tax rates are among the lowest in Canada.
Tetra Consultants will assist you with the incorporation of your corporation. Our team of experts will provide you with hassle-free business services and a seamless process for registering your incorporation in Alberta. We recommend you set up a corporation if you are a foreigner looking to set up a business in Alberta. 
Cooperatives
A business structure where groups of individuals or legal entities work together to achieve a common goal is a cooperative structure. The cooperative structure is owned and operated by its members, who have a share in the revenue generated and benefits of the cooperative. For the formation of a cooperative, the minimum requirement of members is three members who act as initial members of the cooperative. 
Moreover, the cooperatives are required to prepare the Articles of Incorporation, which is a document outlining the purpose, structure, and governance of the cooperatives. Along with the Articles of Incorporation cooperative must establish membership qualifications in its bylaws. These qualifications define the eligibility criteria for individuals or entities to become members of the cooperative.
However, Alberta does not have any special tax exemption for cooperatives, but there might be some specific tax considerations and requirements depending on the nature and purpose of the business conducted.
You can consider incorporating your business as a cooperative if you are planning to run a successful business in Alberta. Tetra Consultants can help you in incorporating your cooperative along with that Tetra Consultants can also provide you assistance with various cooperative tax laws and regulations applicable to cooperatives in Alberta. 
How to register company in Alberta?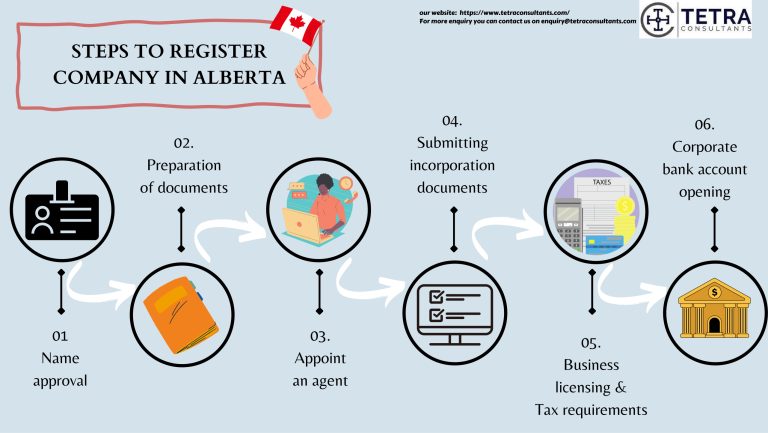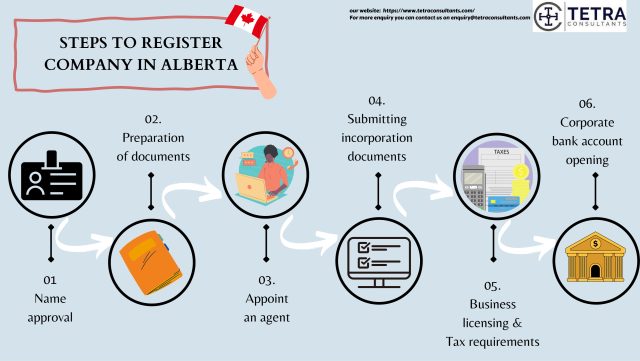 To register company in Alberta the process is quite easy and simple without any complexities but are contingent on different business structure and industries. Navigating the process of registering a business in Alberta might seem complex, but with the right guidance, it is achievable. Nonetheless, Tetra Consultants has generalized the process to be enumerated as follows:-
Step 1: Choose a unique name
Choosing a unique name for the incorporating company. The reservation of the company name is done through the

Alberta Corporate Registry

. The name reservation request needs to be submitted, and in some cases, a NUANS report is also needed to ensure that the concerned name is not used by someone else. 
Tetra Consultants will help in the preservation of your business name. Along with providing company secretarial services and local registered addresses will additionally assist with the provision of

nominee director services

. Our skilled team will assist you in preserving your business name in order to use the preferred business name for registration of business. 
Step 2: Preparation of essential corporate documents
Preparation of Article of Incorporation, which outlines the corporation structure, share classes, and other essential details of the company. As a foreigner, an individual needs to comply with specific requirements for non-resident incorporators. Along with this, the company also needs to prepare incorporation agreements and prepare bylaws, which detail the corporation's governance and operating rules. 
Tetra Consultants can help you in assisting the company with various compliances and documents. Every specific business requires a specific documentation requirement which is necessary in order to commence a business. Thus, Tetra Consultants might be of great help to you guys in incorporating your business. 
Step 3: Appoint a registered local agent
All foreign entities who wish to register company in Alberta need to have an agent for service who resides in Alberta. The agent can be a legal entity or any individual located in Alberta. The agent is not required to be a solicitor and must be eligible to receive correspondence on the company's behalf. 
Step 4: Submitting registration documents
All the prepared documents are required to be registered with the Alberta Corporate Registry. The completed draft of the Article of Incorporation under Form 1, notice of address in Form 2, and name of directors in Form 3 to the registry. These forms are required to be accompanied by the required fee amount which might vary according to the business. The submission of such documents can be made through an online website or through mail. 
Tetra Consultants helps businesses comply with the company in order to incorporate business and make it fully functional for their client's easements. Our team of experts can help you in assisting your business to get incorporated.    
Step 5:  Obtain a business number and register for tax accounts
Once the company gets incorporated, the business requires a business number that will be authorized by the

Canada Revenue Agency (CRA)

. Further, the business is required to register for various tax accounts, such as goods and services tax or payroll taxes. The tax account depends on the company's activities and revenue of the company. 
Tetra Consultants professionals and executives can help businesses obtain

offshore financial licenses

. Tetra Consultants will completely assist your company in applying for a business license. Moreover. once your company has been registered for tax, Tetra Consultants will continue to assist your company in meeting its annual accounting and tax obligations.
Step 6: Corporate bank account opening
Once the entity is registered, you can proceed with the

corporate bank account opening

. Tetra Consultants will assist in consolidating the documents and opening a corporate bank account with a reputable bank of your choice.
For many banks in Alberta, the people prefer local banks over international banks as they are much more accessible. The documents required for opening such a corporate account include a business registration certificate, articles of incorporation, trade name registration certificate, and Canada Revenue Agency (CRA) registration number. Opening a corporate account in many banks may require an in-person visit for proof of identity and for a meeting. 
Once the bank account has been successfully opened, Tetra Consultants will courier the internet banking token and access codes to your preferred address.
What are the minimum regulatory requirements to register company in Alberta? 
Appointing local director
In order to register a business in Alberta, there is no requirement for a local resident director. 
General requirements
The appointed agent must be an individual resident of Alberta with a mailing address for service within Alberta.
No minimum capital requirement to register a corporation in Alberta.
At least one director who can be an individual or corporation and need not be a Canadian resident.
At least one shareholder with no maximum limit can be foreigners as well.
Specific requirements
For private companies to register a business in Alberta there are minimal requirements to be met if you are considering how to register company in Alberta. 
A private company can have one or more shareholders.
Shareholders can be individuals or other corporations.
There is no residency requirement for shareholders in Alberta.
If the investment comes from a designated Canadian venture capital fund, a minimum investment of $200,000 is required.
A minimum of one director must be above 18 years of age and of any nationality. 
What are the documents required to register company in Alberta?
The documents and information are to be provided to the Alberta Corporate Registry in order to have the new entity incorporated in Alberta. The information provided below is generalized and may vary depending on the business structure, industry, and many other factors.
The original copy of the Articles of Incorporation
Legal document mentioning registered office address
Documents mentioning names and addresses of initial directors
Document showing a notice of agent for service
NUANS report copy for the proposed name
Documents providing valid identification
Details regarding the payment of the fee associated with the incorporation of business in Alberta. 
What are accounting and tax obligations for companies incorporated in Alberta? 
Accounting and tax considerations are important factors when incorporating your business. By outsourcing your accounting and tax obligations to Tetra Consultants, you can be assured that you are in the best place. Our team will ensure that your firm's financial statements, corporate tax returns, and audits are timely completed without the need for you to travel.
Moreover, the outsourcing of these services by Tetra Consultants will enable you to reduce the overhead costs associated with such services. Our team will also ensure the timely compliance of all reporting and filings within the due date. Before starting an engagement with the Tetra Consultant team, our accounting team will also keep you updated on all the mandated deadlines and expectations. Thereafter, we will prepare all necessary filings in advance to ensure that the stipulated deadlines are met. Note that however, the downlisted requirements are a generalized form of requirements of the state of Alberta. 
Financial statements
Companies in Alberta are generally required to prepare financial statements in compliance with Generally Accepted Accounting Principles (GAAP). In Alberta, the

Condominium Property Act

, section 30(3) requires that every corporation prepare financial statements and distribute these documents along with the annual budget to each owner of the company. 
Generally, all businesses need to file financial statements by May 1 of every year. Disclosures of documents must be made within 90 days of the end of the fiscal year. Failure to comply with these requirements may result in penalties and enforcement action by the

Alberta Securities Commission

. 
Goods and services tax (GST)
Businesses incorporated in Alberta are required to pay GST on products and services except for some exempted goods and services. Businesses that have an aggregate of CAD $30,000 in revenue received from operating in Alberta with worldwide revenue are required to get registered for GST. GST must be charged on all taxable sales and GST can be claimed once registered. 
The filing dates for GST returns are determined by the business's annual taxable income and can be annual, quarterly, or monthly.
Corporate tax
Businesses in Alberta are required to file a corporate tax return with the

Canada Revenue Agency

and

Alberta Tax and Revenue Administration

within six months of the end of the tax year. The worldwide business income is charged with the combination of federal and provincial corporate tax rates of Alberta businesses which are as follows: 
Income of a Canadian Controlled Private Corporation (CCPC) below $500,000 – 11.00%.
Income of a CCPC above the small business limit – 23.00%.
Income of non-CCPCs – 23.00%.
Investment income – 46.67%.
Taxes owed are due for three months after the year-end. However, if the total tax payable exceeds CAD $3,000 must be paid on prior-year installment payments which can be paid monthly or quarterly. 
Why register company in Alberta?
Being one of the most attractive locations to set up a business enterprise and invest makes Alberta advantageous for entrepreneurs and investors. With such advantages, you are bound to find Alberta to be the most suitable place to begin your business. 
Thereafter if you need further assistance, Tetra Consultants has a global team of experts that will work closely with you to meet your particular business needs.
Political
The Alberta political atmosphere is stable and steady making it the most captivating market for investors and entrepreneurs. Alberta has an entrepreneurial spirit that is supported by a young, educated, and diverse workforce. The spirit is created by the working environment and atmosphere created by the political influence of the state making it easier to start and operate a company in the province. 
The diverse economy of the province is enriched with thriving industries and plenty of opportunities for businesses and investors to tap into various business sectors. 
Legal
Complying with the legal regulations of the Alberta province is easy and simple for the individual who understands those regulations. Tetra Consultants can help your business comply with all the legal rules and laws of Alberta in order to run a successful business. 
Businesses operating in Alberta are required to adhere to various rules and regulations which may change according to the business's nature and structure. Businesses require various permits and licenses which can be obtained easily. 
Thus, businesses can take advantage of the legal side and can incorporate a successful business in Alberta. 
Economic
Alberta has a thriving economy with various industries and diverse markets present in it. The key sector includes energy, clean tech, agriculture, technology, financial services, aviation, and tourism which contributes to a large part of the economy. This diversification allows businesses to contribute to various sectors and markets, reducing their reliance on a single industry. 
Alberta has a growing population, which provides a large customer base for businesses to grow and expand. This helps businesses to attract large revenue and also to retain skilled workers. Moreover, the well-developed infrastructure and business-friendly solid policies provide extra support to businesses to stay in the economy and promote entrepreneurship and innovation. 
With a GDP of CAD$ 339.3 billion in 2022 and a high per capita income country makes Alberta a feasible country for investors and entrepreneurs to establish their businesses in Alberta. 
Social
Albertans have an entrepreneurial spirit, which is supported by a young and skilled workforce of talented individuals who are highly motivated to do work. This makes the province socially strong and non-reliant. 
Socially concerned, Alberta is a diverse state which makes it socially and culturally strong. With a young and growing population, the social factor of Alberta is safe and secure. Businesses can find ample opportunities here because of the diverse market and growing population making it easy for businesses to set up their enterprise in Alberta.  
Province has a low cost of doing business making it affordable and suitable for many foreign entrepreneurs and investors to operate their business from Alberta. 
Technological
With a growing number of startups and investments in the province, the technological sector is getting stronger day by day. The increasing number of startups comes with various technological advancements that help other businesses in the market take advantage of that technology.  
From developing and changing technologies, Alberta has a strong base of skilled and educated workforce who can operate these advanced technologies. With increasing startups and technological advancements Alberta successfully attracted many businesses and investors towards itself creating great opportunities for entrepreneurs and investors to generate more revenue. 
Environmental
For entrepreneurs and investors looking to invest in environmentally friendly initiatives, Alberta can be an excellent choice for them because of its commitment to reducing emissions and also to promote sustainable business practices. This commitment to environmental protection helps Alberta become a favorable and preferred place for businesses and investors looking to invest in sustainable projects. 
Moreover, the thriving industries of Alberta are also engaged in the production of clean energy resources and clean technology for the better future of our planet. The province has been actively engaging in such activities which makes Alberta sustainable and non-reliant which will attract entrepreneurs and investors. 
Further, the province has been working towards reducing its carbon footprint in order to make the province fueled with clean energy. 
Looking to register a business in Alberta?
Tetra Consultants is the one-stop solution for you where you can seamlessly register your company in Alberta. Our service package will enable you to register your company in Alberta which includes various ancillary services such as a corporate bank account, provision of nominee director services, and many more ancillary services. Tetra Consultants aims to serve their clients the best of their services by providing their clients with hassle-free and seamless transactions of services. 
Contact us to know more about the process to register company in Alberta and our team will revert within the next 24 hours.
FAQs
How much does it cost to register an incorporation in Alberta?
Alberta incorporation can be completed through the registry office. The government fee for incorporation may vary depending on the business structure and operation scale. The cost includes the government fees along with the cost of the NUANS search cost.
Can I register a business in Alberta through online mode?
Yes, businesses in Alberta can be registered online through the governmental authority website.
Can a foreigner register a corporation in Alberta?
If you are a foreign corporation you can conduct business in Alberta in two ways. One you can register an Alberta company or you can register your existing foreign business in Alberta as an extra-provincial company.
What documents you may require for Alberta company registration?
Documents required include an Article of Incorporation, business name report (if required), Valid ID, and fee payments. More documents might be required depending on the business activity and scale of operations.
Can I register a corporation in Alberta from India?
Yes, you can easily register a corporation in Alberta from India through Tetra Consultants. We provide incorporation services that will make the whole journey of incorporation seamless and hassle-free for you.
Where do I go to register the company in Alberta?
To register company in Alberta you can register online through ServiceOntario. An easy way to register a business in Alberta would be to opt for incorporation services through Tetra Consultants.