Register Company in Ontario
The process to register company in Ontario is a complex process that requires registration with securities regulatory authorities in the provinces or territories in which such activities are conducted. With Tetra Consultants you can experience seamless and hassle-free services which will save you time and energy. Our team of dedicated staff and experts will help you with various business services providing you some extra time to be dedicated to other important aspects of your business. 
With Ontario being one of the most attractive spots for business because of its diverse economy and large population base, it has been also attracting huge foreign direct investments. With our team of experts, you can rely on us regarding your business. We ensure satisfaction for our clients and our ultimate goal is to serve our client's business and make it fully operational and functional within the stipulated time. Our service package includes everything you will require to do business in Ontario:

Ontario company registration

Local company secretary and registered address

Corporate bank account opening

Annual filing and tax services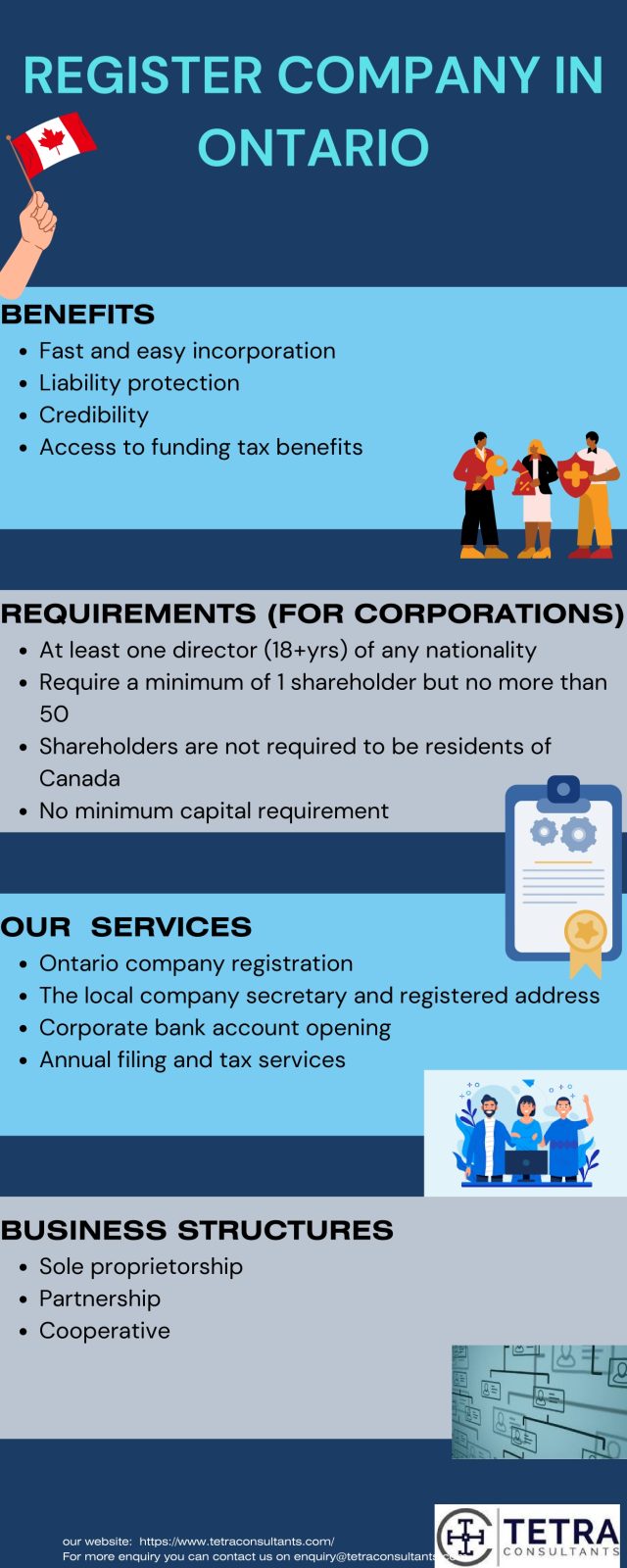 What are the advantages of registering a company in Ontario?
There are many advantages to registering your business in Ontario. Some of these are as follows:
Fast and easy incorporation process:
Ontario is among those states that have a fast and easy incorporation process that does not involve any such complexities. The procedure can be completed at a faster pace and is pretty straightforward which helps businesses and entrepreneurs to register company in Ontario. 
The easy registration process attracts many investors and entrepreneurs to invest in the Ontario market.
Liability protection
When a business gets registered in Ontario as a corporation, the business is considered to be a separate legal entity that is distinct from its owner. This implies that there is limited liability protection available for the business owners which eliminates the chances of losing personal property for covering business debts and liabilities. 
Credibility
Registering a business in Ontario helps establish credibility with potential customers, investors, and partners. This credibility allows businesses to grow and expand in foreign states. Registering a company in Ontario can help the company in taking the necessary steps to establish it as a legitimate entity. 
Business credibility is an important aspect for businesses without which it becomes difficult for businesses to carry out their activity. Higher credibility indicates higher trust of people in the business. 
Access to funding
Registering your business in Ontario enables access to funding options for those registered businesses. This access to funding is available only for businesses registered and not for unregistered businesses. 
The funding can be accessed through the assistance of financial institutions and banks which provide financial assistance to the businesses for their growth and development. 
Tax benefits
Businesses after registering may experience some tax benefits which may vary according to the business structure and sector. Small businesses can qualify for the Canadian Controlled Private Corporations (CCPCs) which reduces the portion of their corporate income tax. Another tax benefit available includes Lifetime Capital Gain Exemptions (LCGE) which allow for the exclusion of a portion of taxable capital gains realized on the sale of qualified small business corporation shares. 
Moreover, corporations also can defer taxes by retaining income within the corporations. This provides more flexibility in managing cash flow and tax obligations. 
Can a Foreigner register company in Ontario?
Yes, a foreigner can register company in Ontario but some key considerations must be followed to incorporate a company in Ontario by a foreigner which are discussed in further paragraphs. Before July 5, 2021, the Ontario Business Corporation Act required 25% of the directors to be Canadian residents. However, after July 5, 2021, Ontario corporations no longer required 25% of directors to be Canadian residents. This change enabled corporations to cast a wider net for directors and ensure that the most qualified individuals are appointed to the board.
Moreover, there are no requirements for shareholders to be Canadian residents to incorporate a business in Ontario. Foreigners who wish to acquire shares in a company can own up to 100% of the shares in an Ontario corporation. Thus, Tetra Consultants can assist you in acquiring shares and becoming a director of a company incorporated in Ontario. 
How long does it take to register company in Ontario and open a corporate bank account?
Every state has its own rules and regulations that affect the company's registration timeframe. Thus, Ontario has its regulations that dictate the duration of the company registration process. Our team at Tetra Consultant ensures the incorporation of your company within

2 weeks

. After receiving the required due diligence documents of the directors and shareholders, Tetra Consultants will search for the availability of your preferred company name.
Tetra Consultants ensures that during the whole process of incorporation, our clients do not have to visit the state in which the client proposed to incorporate a business. However, there might be some situations that may arise which require the presence of a business owner. Such a situation may arise during the opening of the corporate bank account of the newly incorporated business for which the bank might need to verify the client's identity and have a meeting with him. Other than this, we always represent our clients throughout the process. 
After incorporation, Tetra Consultants will guide you through the opening of a bank account at either a local or internationally reputed bank within

4 weeks

. Moreover, after Tetra Consultants has registered your company, you can expect to receive the documents of your new company which include the certificate of incorporation, memorandum, and articles of association as well as the register of directors and shareholders.
Upon passing the responsibility of incorporation on Tetra Consultants you can expect to start operations and issue invoices with your Ontario company in

2 weeks. 
An important point to note is that the duration of incorporation might vary and is contingent on various factors. The timeline mentioned is generalized through our extensive experience with assisting our clients. 
How many types of business entities are available to register company in Ontario?
Before you start the process of incorporation of a company in Ontario, it is crucial to understand that there are various kinds of business structures available for entrepreneurs to choose from. Ontario is home to a wide range of business entities which include sole proprietorships, corporations, partnerships, and more.
Before you start your engagement with Tetra Consultants, we will fully assist your business before recommending the most optimum Ontario business structure. Some considerations we take into account include the type of business activity, tax obligations, and nationalities of shareholders and directors. 
Sole proprietorship
A sole proprietorship is one of the easiest and most common forms of business which is quick and easy to establish. It is the least expensive as a sole proprietorship is considered to be self-employed. Although, you can hire employees for assistance usually you have to manage your business by yourself. 
Choosing a sole proprietorship has important tax implications. The income generated from a sole proprietorship is considered to be the personal income of the entrepreneur and is charged with personal income tax. Thus, if the business incurred a loss this would, in effect, lower the overall taxable income and reduce the amount of personal income tax you would have to pay. If your business earns a profit, this profit would be added to all other personal income and would be taxed at your income tax rate.
If you plan to operate a sole proprietorship business in Ontario you would need to comply with certain licenses which may be required for certain types of business. Moreover, the business is also required to register your business with the Ontario province. Tetra Consultants can help you with registering your business without troubling the clients and provide them with extra time to concentrate on other aspects of the business. 
Partnerships
A partnership is a business structure that is based on two or more person to pool their resources to Co-own a business and to share profits and losses generated from the business. Partnerships may need to obtain certain licenses which may be required for many businesses. 
If you plan to operate your partnership under a business name other than the exact names of the partners, you may be obliged to register your business name with the Province where you carry on business.
Tetra Consultants can assist you with Orinto company registration. We are well-equipped with experts and professionals who can assist you with all your business requirements. 
There are two kinds of partnerships prevalent in Ontario which are:
General partnerships
It includes two or more owners' shares in the management of the business. All the partners act individually or in tandem, which implies that the responsibility and the liability lie with each partner individually and all partners jointly. Therefore, all the partners are combined responsible for the acts of every other partner and the acts of the partnership as a whole. 
Limited partnerships
Limited partnerships involve all the partners to own assets but there presents a combination of the general and limited partnership. This means that at least one partner must be a general partner having unlimited liability and other partners might have limited liability only. 
Limited partnership interests can be transferred and, in this respect, limited partnerships are similar to corporations whose structure provides for the transfer of shares. This allows the league to evolve and continue if one or more partners should leave.
Tetra Consultants can be of great help to your business as we provide hassle-free and seamless business registration in Ontario. Our team of experts can understand your business needs and can work on them accordingly. 
Corporations
Ontario company registration is complex, expensive, and time-consuming to establish and maintain if you incorporate it as a corporation. However, it offers several key advantages that other forms of business do not.  
The greatest benefit to register a corporation in Ontario can be its limited liability which limits the personal liability to a maximum amount equal to the amount of share capital which is held by each owner. 
While many corporations are run and administered by only a single person, there are several types of positions associated with all the corporations. The shareholders act as the owners of the corporations and work according to them. Whereas, directors approve financial statements and make many important decisions regarding the operation of the business. 
Additionally, the Ontario corporation requires a minimum of one shareholder and a maximum of 50 shareholders of any nationality either be it individuals or corporations.  Moreover, there is no requirement for any local director, but a minimum of one director of any nationality can become a director of the corporation. 
Tetra Consultants can assist you in complying with all the requirements for Ontario company registration. Our well-equipped team can help you with various compliances businesses need to comply with for business registration in Ontario. 
Co-operatives
Cooperatives are often those business structures that include groups of people who are willing to work together and achieve a common goal. 
The structure is typically limited and may be varied depending on the business.  The owners of the cooperatives are its members who came together. Each member has an equal say in how a business is run. Members are not personally liable for the debts of the business. Moreover, cooperatives are eligible for tax breaks and exemptions making it attractive. 
Tetra Consultants can help you register cooperatives in Ontario if preferred by the clients. Setting up a cooperative can be a great opportunity for credit unions, caisse populations, and insurance companies. 
The Ontario Co-operative Corporation Act regulates co-operatives in Ontario. The cooperatives are subjected to have at least 3 directors, within whom 2/3rd of the directors must be members of the cooperative. 
There is no explicit requirement for the capital to register a cooperative in Ontario, but there are different financial considerations that vary depending on the nature and goal of the cooperative. 
How to register company in Ontario?
The steps to register company in Ontario seem quite simple and easy if you consult with Tetra Consultants. The steps are contingent on various businesses thus, a generalized process to be enumerated as follows: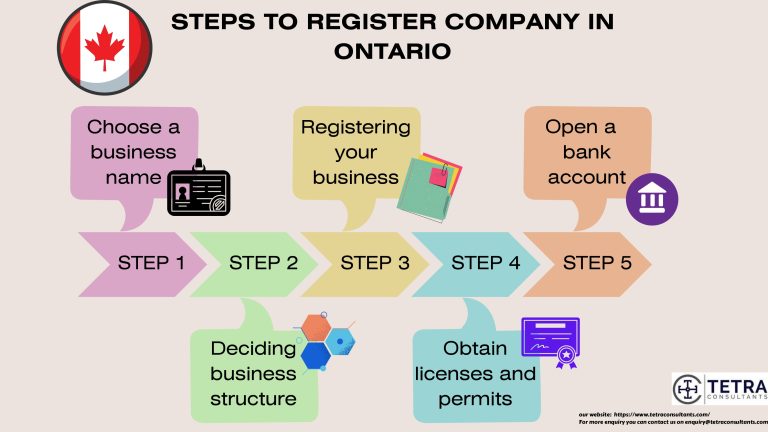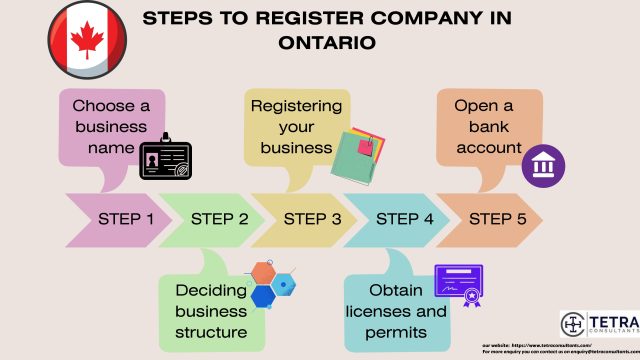 Step 1: Choose a business name
A unique business name is required to register business in Ontario. Before registering a business it is important to get an idea and know if there are already existing businesses with the same or similar name so that your business name does not deceive other people. 
In Ontario, it is prohibited for businesses to use such business names which are already incorporated. The prohibition is applied to avoid confusion and protect yourself from legal liability it is usually a good idea to have a unique name.
Tetra Consultants will help you in searching for a preferred name. Along with this, Tetra Consultants will also help you by providing company secretarial services and local registration addresses. 
Step 2: Deciding business structure
While registering your business, it is crucial to determine what kind of legal entity is suitable for your business. There are various business structures but businesses need to choose the structure that is suitable for their business operations and scalability. Tetra Consultants can help you with deciding your business structure with our export team and dedicated staff we can provide you assistance in many business services that will enhance your business operations. 
Step 3: Registering your business
Once the name of the business and business structure is selected, you can proceed to apply for business registration with the

Ontario provincial government

. Before registering your business you need to collect many documents for registering a company in Ontario. 
The documents required include documents regarding the name of the business, business permanent address, principal place of business, name of the owner or partners and addresses,  types of activity the business conducts, and business operations. 
Tetra Consultants will completely assist you and seamlessly work towards incorporating your business in Ontario. 
Step 4: Obtain a Business Number (BN) and other permits and licenses
If you are planning to incorporate your business in Ontario it is required to obtain a Business Number (BN) from the

Canada Revenue Agency (CRA)

. This number is also required to identify your business for tax purposes. Tetra Consultants will completely assist your company in applying for a Business Number (BN). 
Depending on the nature of the business you may need to obtain specific permits and licenses to operate legally in Ontario. You can find information regarding permits and licenses on the ServiceOntario website. Once your company has been registered for tax, Tetra Consultants will continue to assist your company in meeting its annual accounting and tax obligations. 
Tetra Consultants will complete tax registration with the designated authority of the state of incorporation. We will assist your company in securing business licenses and other permits. Our team of experts can guide you to obtain various

offshore financial licenses

required by the business. 
Step 5: Corporate bank account opening
Once the entity is duly registered, you can proceed with the

corporate bank account opening.

Tetra Consultants will assist in consolidating the documents and opening a corporate bank account with a reputable bank of your choice.
Many entrepreneurs need to travel to Ontario to open a bank account in a local or international bank in Ontario. However, not all local banks have such a requirement. If travel is required, we will have a representative accompany you to the bank meeting. Alternatively, our team will negotiate with the banks to conduct a conference call instead or request a waiver.
What are the minimum regulatory requirements to register company in Ontario? 
Appointing local director requirements
No minimum requirement for a local director is required. 
A minimum of one director is required who must be above 18 years of age and should not be bankrupted. 
The director can be of any nationality. 
Shareholders requirements
Ontario incorporation laws require a minimum of 1 shareholder but no more than 50.
The complete residential address of each shareholder must be listed.
shareholders are not required to be residents of Canada in order to obtain shares in a company registered in Ontario
General requirements
Registering a corporation in Ontario requires the appointment of a President and a Secretary.
A company must file Articles of Incorporation with the Ontario government.
What are the documents required to register  company in Ontario?
There are various documents required for registering the company in Ontario. It is to be noted that the documents mentioned are generalized and may vary according to the business. Thus, the following are the key documents required for registering a company in Ontario: 
Documents regarding the registration forms of the business
Schedule 548 particularly for foreign business corporations under the Extra-Provincial Registration Act (Ontario). 
Certificate of Incorporation
Documents regarding Business Number
Documentation regarding permits and licenses 
Accounting and tax obligations for companies incorporating in Ontario
Accounting and tax considerations are important factors for registering a company in Ontario. You can opt to outsource your accounting and tax obligations from Tetra Consultants you can be confident that you will be in the best hands. Our team will ensure that your firm's financial statements, corporate tax returns, and audits are timely completed without the need for you to travel.
Moreover, Outsourcing your accounting and taxation needs to Tetra Consultants can help you reduce overhead costs and ensure timely reporting and filings. Before we begin working with you, our accounting team will keep you updated on all the mandated deadlines and expectations. We will then prepare all necessary filings in advance to ensure that the stipulated deadlines are met. Please note that the following requirements are a general overview of the requirements of most businesses.
Filing of corporate tax returns
All corporations registered in Ontario are required to file a corporate tax return with the Canadian Revenue Agency every year. The return is required to be filed even if the company is not coming under the taxable income slab. The return is due six months after the end of the corporation's fiscal year.
Generally, incorporated businesses that have a permanent establishment in Ontario are liable for Ontario corporate tax. Corporations carrying on business through a permanent establishment in Ontario are liable for federal and Ontario corporate taxes. 
Lifetime Capital Gains Exemptions (LCGE)
Further, tax benefits that incorporated companies enjoy include LCGE, which allows for the exclusion of a portion of taxable capital gains realized on the sale of qualified small business corporation shares. 
The LCGE is a valuable tax exemption that can save corporations a significant amount of money. If you are considering selling shares of a qualified small business corporation shares (QSBCs), you should consult with Tetra Consultants to determine if you qualify for the LCGE. The exemption is only allowed on the first $971,190 of capital gains realized on the disposition of qualified small business corporation shares (QSBCs).
Providing financial records to shareholders
Corporations are also required to comply with rules and regulations to be legally correct. To comply with such laws, companies must share accurate financial records and information with their shareholders that shows the company's income, expenses, assets, and liabilities. Companies must also collect these reports and keep them for a minimum of six years for future reference. 
Why register company in Ontario?
There are myriad reasons why you should register company in Ontario. With a variety of business sectors in the economy, it makes Ontario a preferable place for many entrepreneurs and investors. 
Moreover, Tetra Consultants is present to assist you with any business services with their team of global experts which will closely work with you and meet your particular needs. 
Political 
With a stable political environment in Ontario, many business grows and expand without any political trouble. Along with this with the strong rule of law and property rights in Ontario, it helps entrepreneurs execute their business plans accordingly. 
Ontario state has a business-friendly government that helps the businesses of entrepreneurs to grow and prosper within the state. 
Economic
Ontario is one of the diverse markets of Canada, making up 38% of the Canadian GDP. The vast and diversified economy includes the services sector which makes a bulk of 77.9% of the economy while manufacturing and other sectors play an important role in 12.6% of the economy. 
The finance ministry of Ontario has projected real GDP growth of 0.2% in 2023 to 2.4% in 2026. This projection is able to attract many entrepreneurs and investors to the economy. The province is also rich in the workforce and skilled labour market which enables Ontario to become world-class research institutions and innovation hubs. 
There might be a slight downfall in the economy in 2023 because of labor shortages, inflation, healthcare system vulnerabilities, and forecasts of an economic contraction. But this downfall is not gonna prevail as the strong economy model of Ontario is pretty good and these downfalls are not going to affect the economy in the long run. 
Ontario's GDP has grown at an annualized rate of 1.7% over the five years to 2022, and the province is the second fastest-growing provincial economy in Canada. Despite odds and various challenges the Ontario economy remained resilient and continued to grow in 2022 in uncertainties too depicting the strong economy capable of handling its lows. 
Social
Ontario has a multicultural and diverse society present which enables entrepreneurs the opportunity to businesses and tap into new markets and customer segments. The wide sociocultural interface helps businesses to grow into new segments of the market and explore various untouched opportunities.
Within Ontario, there presents a highly talented and skilled workforce which will act as a competitive advantage against many businesses registered outside of Ontario. A business needs various things to set up a business but having a highly qualified and talented workforce is of utmost importance to create a successful business. Thus, the presence of a highly talented and skilled workforce within the social fragment of Ontario is helpful for businesses to grow. 
Technological
Ontario is home to many world-class research institutions and innovation hubs which improves the technological aspect of the province. Through these institutions, Ontario is having its technological advancements within the province which provides businesses with access to cutting-edge technology and talent. 
Another aspect of these technological advancements is because of Ontario's strong digital infrastructure which promotes research institutions and innovation hubs to advance in technologies without any foreign help. These research institutions and innovation hubs also assist and support businesses in adopting new technologies and expanding their online presence. 
Environmental
Ontario presents a strong commitment to environmental sustainability to ensure a better future for future generations. Though Ontario has been one of the most industrialized and urbanized provinces of Canada, it faces several environmental issues that businesses should be aware of. Because of several environmental issues, the government has enacted Environmental Protection and sustainability laws to promote the development and adoption of technologies and practices that reduce environmental impact. 
Moreover, these laws also benefit the businesses registered in Ontario if they adopt environmentally friendly practices. The environmentally friendly practices include reducing energy consumption, minimizing water usage, and managing waste effectively. Such practices provide businesses with a competitive advantage, reduce their environmental impact, and create positive social impacts.
Legal
Ontario has a strong legal system and regulatory framework, which helps in attracting more and more investors and entrepreneurs because of the security provided to them. Along with this, the strong legal foundation also provides businesses with a stable and predictable business environment which is important for businesses. 
Additionally, Ontario offers name protection for registered businesses in Ontario, as well as any other province or territory. This helps businesses to eliminate any legal liability of infringement.
Looking to register a business in Ontario?
To boot, Tetra Consultant is a one-stop solution for all your business-related problems. Our team of experts is committed to providing our clients with the highest quality of service and support. Our team of experienced professionals are expert in assisting our clients through various ancillary services designed for our clients. Our comprehensive service package will enable you to incorporate a company and include services with respect to opening a corporate bank account, provision of nominee director services, resident agent, local registered office address, and much more. 
Contact us

to know more about the process to register company in Ontario and our team will revert within the next 24 hours. 
FAQs
How many days does it take to incorporate a company in Ontario?
For registering a company in Ontario, the whole process might be completed within 2 weeks. The business might take a long to get incorporated because of various reasons such as incorporation through federal corporations, documents filing, and many more.
Do you need to be a permanent citizen of Canada in order to register company in Ontario?
No, you are not required to be a permanent citizen of Canada in order to register company in Ontario. However, business registration requires a permanent address for communications and mail in the province.
In how much time business licenses in Ontario expire?
The business licenses expire every five years. Thus, business licenses are required to be renewed every five years.
How much tax is charged on registered businesses in Ontario?
The tax charged may vary according to the business structure and operations. Generally corporate tax is levied by 11.5% and the small business tax rate is 3.2%. This implies that the combined federal and provincial taxes may come up to 26.5% for general corporate tax and 12.2% for small business tax.
How to register a business in Ontario?
If you are a non-resident of a foreign entity you can apply for Business Registration Online (BRO) to get registered. However one of the easiest ways to apply for business registration would be through Tetra Consultants. We have an experienced team that will provide a seamless and hassle-free registration for your company.
How much does it cost to register a business in Ontario?
The cost to register company in Ontario ultimately depends on the services you need from Tetra Consultants, the total engagement fee will differ.
Our services include Ontario company registration, corporate bank account opening, accounting, and tax services as well as provision of nominee directors and shareholders.
Tetra Consultants strives to be as transparent about our fees as possible and all engagement fees will be clearly stated in our appointment letter prior to the start of the engagement.
How to obtain a business license in Ontario?
In order to file for a business license, an application is required to be filled out and submitted within thirty (30) days of the business start date. Applications are readily available for download on the city's website.