How to open company in Lithuania?
Tetra Consultants' ultimate guide on how to open company in Lithuania is tailored to help our international clients to fully understand the whole process. Before you decide to open company in Lithuania, Tetra Consultants advises you to read through the following comprehensive guide as requirements and regulations are stated clearly to help you fully understand the process of company registration.
As a summary, you can expect your Lithuania company to be set up within 2 weeks and the Lithuania corporate bank account to be opened within the subsequent 4 weeks. In total, the engagement will be completed within 6 weeks upon submission of all required KYC documents.
4 steps on how to open company in Lithuania
Simply put, we can break down each engagement into four different phases. By systematically following the above 4 phases, you can expect to start conducting business with your Lithuania company within 6 weeks.
Planning and Strategy
Incorporation
Corporate Bank account opening
Staying compliance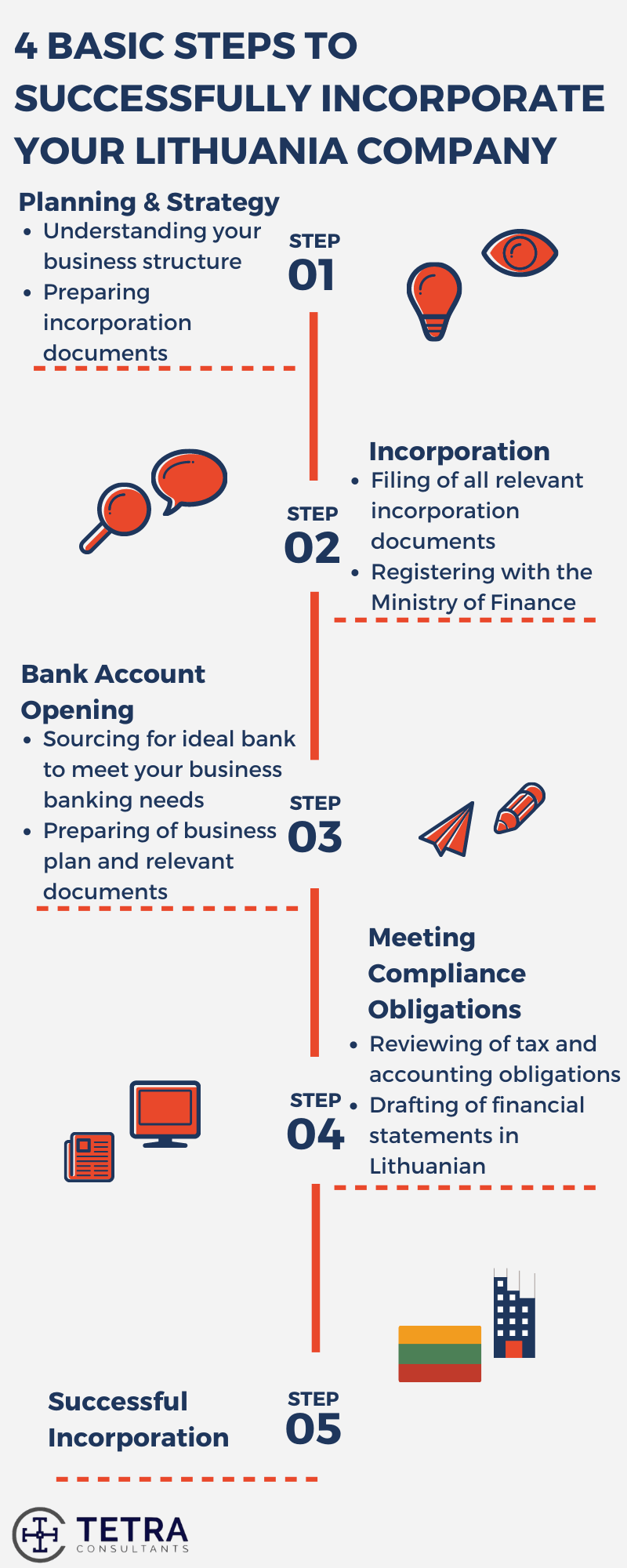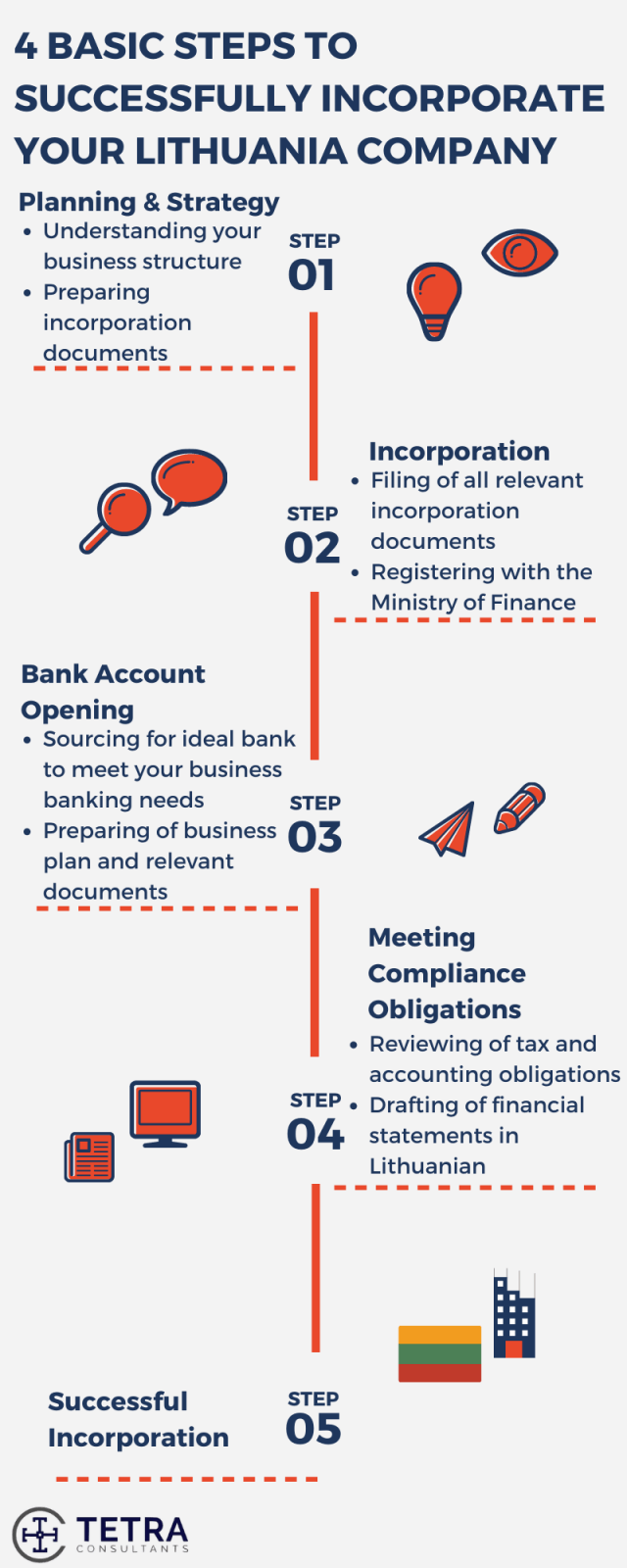 Step 1: Planning and Strategy
After understanding your business goals and activities, our team of dedicated consultants will recommend the most suitable corporate entity for you to carry out your business. Prior to incorporating a Lithuania company, you will be advised on the optimum paid-up share capital, corporate structure, legislations and whether there is a need to apply for any licenses to operate your business.
It is necessary that you have a legal address in Lithuania. While you are not mandated to operate your business activities at that address, this requirement will persist for your registration needs. As such, Tetra Consultants will provide you with a local registered address.
Before Tetra Consultants can incorporate your company in Lithuania, you are required to provide a list of required KYC documents. Some of these documents include the names of directors, company's resolution and identification proof.
Tetra Consultants will reserve your preferred company name with the State Enterprise Centre of Registers.
According to the business activity and corporate structure, Tetra Consultants will also draft Articles of Association, business plan and other incorporation documents.
Generally, the Articles of Association will have to be translated into the Lithuanian language. As such, we will appoint a translator to perform the translation.
Step 2: Incorporation
Once the above is completed, Tetra Consultants will then proceed to file for registration.
After receiving approval, Tetra Consultants will courier the Certificate of Incorporation, Memorandum and Articles of Association and other corporate documents to your preferred address.
We will also assist in translating the incorporation documents into English so that you can review and verify the documents.
Once the Certificate of Incorporation has been acquired, our team will follow up in obtaining a Value Added Tax Number with the Ministry of Finance.
Step 3: Bank Account Opening
After registration, Tetra Consultants will assist you in opening a corporate bank account. Our team has established partnerships with multiple reputable banks in Lithuania. We will present your business to each relationship manager and compliance team.
Typically, a corporate bank account opening will take roughly four weeks. In most cases, the directors and shareholders are not required to travel. However, if travel is required, we will have a representative accompany you to the bank meeting. Alternatively, our team will negotiate with the banks to conduct a conference call instead or to request for a waiver.
While nominee directors are not necessary for the setup of your company, you may still require one to set up your bank account.
If necessary, we will provide you with a suitable, fit and proper nominee director.
The meeting may be conducted in Lithuanian. In such cases, our team will also send a representative to attend the meeting so that any potential communication barrier can be overcome.
Once your account has been successfully opened, Tetra Consultants will courier the internet banking token and access codes to your preferred address.
Some of the international reputable banks we work with include Citadele Bank, Danske Bank and Nordea Bank. By engaging our services, you can leverage on our full portfolio of banking partners.
Step 4: Staying Compliant
Following the setup of your new Lithuania corporate home, Tetra Consultants will continue to provide you with the necessary accounting and tax services to ensure that you can continue to legally conduct business while staying compliant with regulatory obligations.
Our team of dedicated consultants will timely prepare your firm's financial statements, corporate tax returns and manage bookkeeping on your behalf.
Generally, corporate income tax is charged at 15%.
All financial statements have to be drafted and submitted in Lithuanian. As such, our team will review and translate your records into Lithuanian before submission.
Our team of dedicated consultants will continue to clarify any doubts you may have with regards to your company's obligations.
Contact us to find out more about how to open company in Lithuania. Our team of experts will revert within the next 24 hours.
Ways to start a business in Lithuania
There are different ways to start a business in Lithuania. You can either:
Register a new company or
Purchase an already established company.
The purchase of a ready registered company provides you the option to avoid the procedure of registering a new company in Lithuania. The procedure of purchasing a ready registered company begins with selecting a company from the list of companies on sale. UAB (Private Limited Liability Company) is the most common business entity in Lithuania.
The sale and purchase documents of a company (Private Limited Liability Company) usually must be certified by a Lithuanian notary. After signing sale-purchase documents of the company, you can proceed with the registration of sale-purchase documents at the Registry of Legal Entities.
Why choose to register company in Lithuania?.
Prior to Lithuania company incorporation, it is important to understand the business landscape before starting a business in another country. This is to ensure that your newly established entity will be able to safely and legally conduct business, while striving towards your long-term business goals.
Doing business in Lithuania is easy. According to The World Bank's Doing Business 2020, Lithuania was awarded a score of 81.62 and ranked 11th place globally. Additionally, Lithuania ranks 13th among the countries in the world in terms of economic freedom
Lithuania boasts a business-friendly tax environment with a low corporate tax rate of 15%, which is one of the lowest in the European Union. Having established 57 double tax treaties with countries in and outside of Europe, this provides tax relief for businesses where income arises from cross-border economic activities between the two countries.
Lithuania rank 3rd in the world according to the number of free economic zones, with 7 free economic zones. Businesses in FEZ are provided with special economic and legal conditions of operation. They have no tax on dividends and real estate tax, a 0% corporate profit tax during their initial 6 years of operation and 7,5% tax over the next 10 years.
Lithuania has a highly skilled and educated workforce. According to Eurostat, Lithuania has the highest ratio of young people and 1.5 million labor force participants. Moreover, 97% of working-age Lithuanians speak at least one foreign language.
As a member of the European Union since 2004 and NATO, Lithuania has established strong international relations with other countries.
Contact us to find out more about how to open company in Lithuania. Our team of experts will revert within the next 24 hours.
FAQ
What are the kinds of different business entities available in Lithuania?
The most popular and the most common registered legal entities (companies) in Lithuania are private companies limited by shares (LTD), individual enterprise (IE), limited liability companies (AB or UAB), general partnership (TŪB), small partnership (MB), branch office, representative office, and an agricultural company (ŽŪB).
Are there any restrictions for foreigners to establish or buy a company in Lithuania?
No, a foreigner, who wants to establish or buy a company in Lithuania, has the same rights as the citizen of Lithuania, and there are no specific restrictions applied.
What is the regulatory environment like?
In Lithuania, the government is committed to the free-market economy liberal business environment wherein investment laws conform to European Union standards, therefore foreign investors are free to buy Lithuanian companies.
Moreover, there is an unrestricted movement of capital and dividends and the existence of double-taxation agreements with many countries.
How long does it take to register a company in Lithuania?
With the guidance of Tetra Consultant, you will be able to register your Lithuanian company in 2 weeks.
How much does it cost to set up a company in Lithuania?
Depending on the services you need from Tetra Consultants, the total engagement fee will differ. Our services include planning and strategizing with your company, assisting you in the incorporation process, ensuring that you are compliant, and more. This total fee includes the registration fee charged by the Lithuanian government.
What are the documents required for the registration of a company in Lithuania?
To proceed with company registration in Lithuania, for a start, you are required to provide the notarized passport copy, proof of address, CV, and proof of income of the individual director and shareholder of the company.
If the shareholder is another entity, we will require the Certificate of Incorporation and Memorandum and Articles of Association of the corporate shareholder.
Once Tetra Consultants receives the above, we will review the documents and provide you with an updated due diligence checklist with the list of outstanding documents.