Lithuania Payment Institution License
Tetra Consultants assists our international clients to secure the Lithuania Payment Institution License. The Bank of Lithuania provides licenses to payment institutions that permits the provision of payment services.  The main goal is to promote higher confidence in the overall use of electronic payments while protecting the safety of consumers. This is also to create a favorable environment for both Lithuanian and foreign start-ups to engage in restricted activities.
Tetra Consultant is a professional consultancy firm that provides assistance with obtaining a

payment license

all over the globe. Our services consist of creating a comprehensive timeline for the full setup and operation of your entity, drafting the needed documents, and collating the relevant and acceptable documents required for the ultimate submission of the license application. 
Moreover, Tetra Consultants also provide advisory services pertaining to management structure, designing and creating a business plan that includes evaluation of the feasible market in the proposed jurisdiction, the structure of the company, procedures for operations, preparation of compliance management program, communicating with regulatory authorities on behalf of the client, serving as a liaison/project manager, tax compliance and legal services.
Tetra Consultants is proficient in providing assistance with attaining any

offshore financial license

depending on your long-term business goals.
Introduction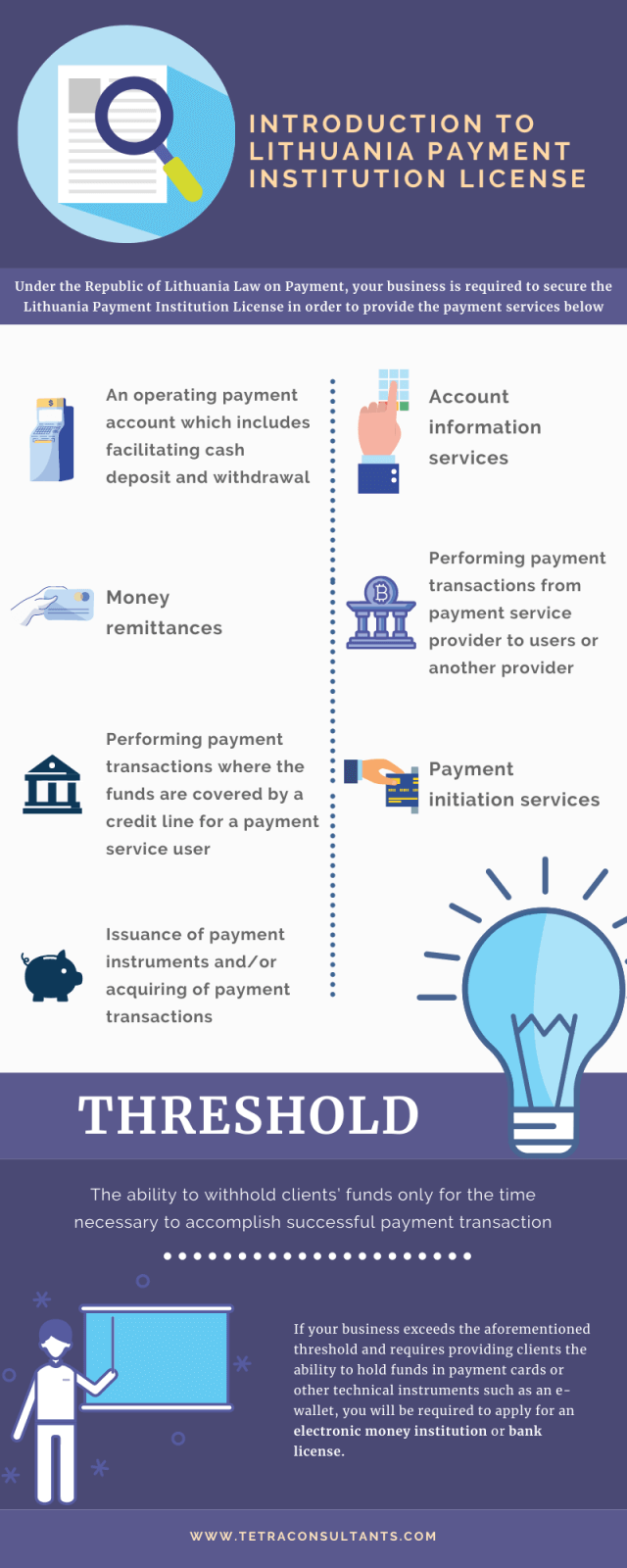 Under the Republic of Lithuania Law on Payment Institution, your business is required to secure the Lithuania Payment Institution License in order to provide the payment services below.
A person must have in force a Payment Institution License to be entitled to carry on a business of –
An operating payment account where services provided include facilitating cash to be deposited or withdrawn from the payment account
Performing payment transactions from payment service providers with payment service users or another payment service provider.
Performing payment transactions where the funds are covered by a credit line for a payment service user
Issuance of payment instruments and/or acquiring of payment transactions
Money remittances
Payment initiation services
Account information services
Important Considerations
For points 2 & 3 above, these include but are not limited to the following:

Effectuating direct debits, including one-off direct debits, execution of payment transactions via payment cards or similar devices and/or performing credit transfer, including standing orders.
Threshold
The ability to withhold clients' funds only for the time necessary to accomplish a successful payment transaction.
If your business exceeds the aforementioned threshold and requires providing clients the ability to hold funds in payment cards or other technical instruments such as an e-wallet, you will be required to apply for an electronic money institution or bank license.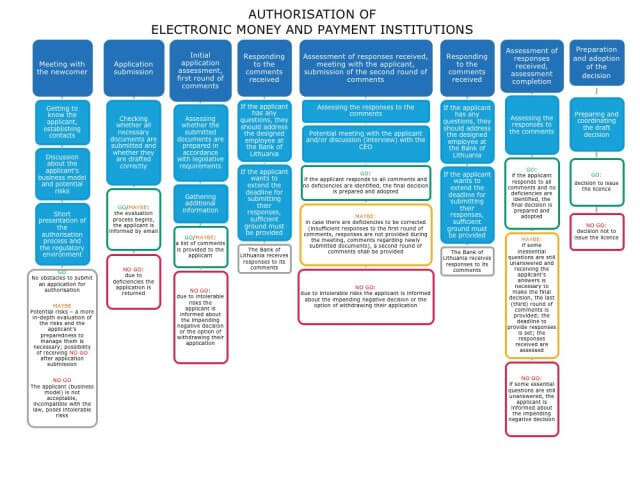 The above diagram is obtained from Bank of Lithuania's webpage on Authorisation of Payment Institutions.
Mandatory requirements for Lithuania Payment Institution License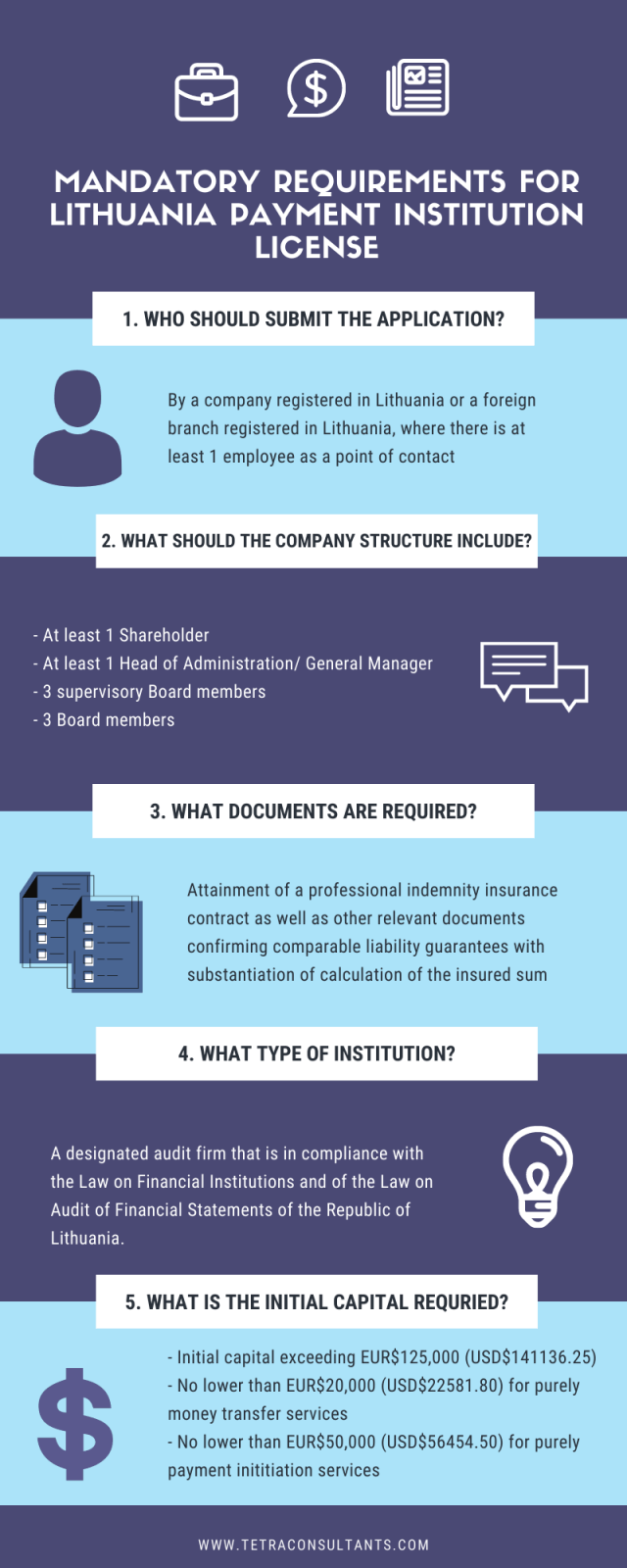 The application must be submitted by a company registered in Lithuania or a foreign branch registered in Lithuania, where there is at least 1 employee as a point of contact.
The company structure should include:

At least 1 Shareholder
At least 1 Head of Administration / General Manager
3 supervisory board members
3 Board members
Attainment of a professional indemnity insurance contract as well as other relevant documents confirming comparable liability guarantees with substantiation of calculation of the insured sum.
The payment institution should have an initial capital exceeding EUR125,000. Exceptions include the following stated below:

If the payment institution intends to provide only money transfer services, initial capital should not be lower than EUR20,000.
If the payment institution intends to provide only payment initiation services, initial capital should not be lower than EUR50,000.
Admission Criteria
The Bank of Lithuania has stated that they will consider the below criteria while assessing the issuance of the Payment Institution License.
Type of entity and profile of the applicant.
Stage of application's proposition and operational readiness.
Classification of regulated activity applicants intends to operate.
Presence of holding company.
Payment institution's funding sources.
Fitness and propriety of the controllers, directors and shareholders.
Fitness and propriety of the heads of the payment institution, pertaining to having the necessary qualifications acquired.
Anticipated staffing levels.
Key outsourcing arrangements.
Financial condition and track record of the company, more importantly the financial ability of the company to comply with the minimum capital requirement.
Whether the public interest will be served by granting a license, and if the provided financial services is carried out in a safe and sound manner.
Professional indemnity insurance coverage.
Compliance with legal and regulatory requirements.
Timelines
The Supervision Service of the Bank of Lithuania stated that there is no definite timeline for approving each license application. Submit an application and the Supervision Service will revert with the acceptance or the rejection of the application for consideration within

5 business days

.
Each application will be reviewed individually, and they may revert asking for additional supporting documents or information. Only after receiving completeness of information, they will provide feedback regarding the license application.
The shortest possible time frame for application and issuance of the license is

3 months

, assuming no deficiencies during submission. If you are applying for the payment institution license solely to engage in restricted activities, the timeframe of approval is a shorter

2 month

period.
How to apply for Lithuania Payment Institution License?
Tetra Consultants will assist you to register a Lithuania company by providing a local company address, local nominee director and local company secretary. This process will take approximately

2 weeks

. See this webpage for more information on the Lithuania incorporation process.
After the company is registered, Tetra Consultants will proceed to open a corporate bank account with a reputable Lithuania bank. This bank account will be used to deposit the minimum paid-up capital required to secure Payment Institution License the Supervision Service of the Bank of Lithuania. In

4 weeks

, Tetra Consultants will secure the bank account and internet banking token for our international clients.
At the same time, Tetra Consultants will assist you to prepare a comprehensive business plan and AML/CFT policies required for the license application. This is to ensure the company adheres to the compliance, legal and regulatory requirements regulated by the Bank of Lithuania.
Tetra Consultants will ensure that the business plan is realistic and correspond to the capabilities of the company's shareholders and directors. The main aim is for your newly established Lithuania Payment Institution to conduct business and provide financial services in a safe, sound and protected manner.
Simultaneously, Tetra Consultants will prepare internal policies such as technology risk management, management information and internal control system. These documents will include the administrative measures as well as the type of accounting system used. This is to ensure that your Lithuania Payment Institution has a detailed procedure in place prior to license approval.
If you are planning to carry out payment initiation or account information services, Tetra Consultants will assist you to source for professional indemnity insurance.
If required at this stage, Tetra Consultants will arrange for an initial meeting with the representatives from Bank of Lithuania. The aim of the meeting is to answer any queries that you may have. The meeting will be attended by at least two specialists from the Supervision Service of the Bank of Lithuania.
Once the above is completed, Tetra Consultants will submit the license application to the Supervision Service of the Bank of Lithuania for approval. All going well, we expect to receive feedback within 3 months upon submission. In the event additional documents are required, Tetra Consultants will immediately prepare the same for submission so as to prevent any engagement delay.
In total, Tetra Consultants expects to register your Lithuania company, open a local corporate bank account and secure the Payment Institution License within 5 months.
Contact us to find out more about how to secure Lithuania Standard Payment Institution License. Our team of experts will revert within the next 24 hours.