Cayman Islands Work Visa
Cayman Islands work visa is hassle-free to obtain with Tetra Consultants' assistance.
The Cayman Islands has been relatively more successful than the rest of its Caribbean counterparts in containing the spread of COVID-19, with just 619 infections and 2 deaths reported in the news since the beginning of the pandemic. Despite this, they have not yet re-opened their borders to visitors and tourists. Currently, only those with work or residency connections may access the island, including the Grand Cayman and Cayman Brac areas, and their Global Citizen Concierge Program which allows high-earning remote workers to freely enter and exit the island. Plush hotels such as The Ritz-Carlton have even been designated as new quarantine facilities, a sign of the exclusivity and opulence of this program.
Tetra Consultants will go through the types of work visas, when you would need one, and how you can go about applying for one. The process of Cayman Islands work visa application can be hassle-free if you know how. With Tetra Consultants at the wheel, you will be able to dedicate your time and resources to other more important business channels.
With our lean-and-mean mentality, you can rely on our team of experts to provide you a seamless experience throughout the whole process of applying for a work visa in The Cayman Islands. Our ultimate goal is for your visa to be obtained within the stipulated time frame.
Our service package includes everything you will require to register for work visa in The Cayman Islands: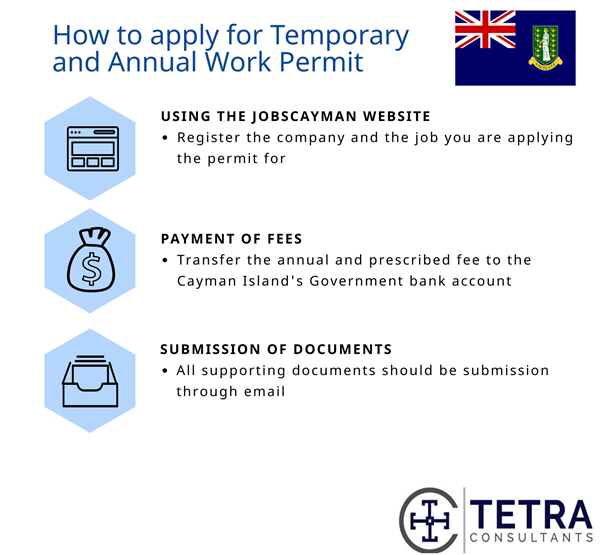 When do you need a Cayman Islands Work Visa?
All non-Cayman Islands residents are required to have a work visa before they are allowed to live and work in the country. This applies even if your country of residence is on the list of countries with visa-free travel arrangements as this would only allow you to carry out certain non-business activities.
List of countries with visa-free travel arrangements
The Cayman Islands offers free entry for many major European, American and Asian countries. Notable members on this list include:
Additionally, those holding onto a valid visa to enter Canada, the United Kingdom or USA may also be allowed visa-free entry into the Cayman Islands assuming they travelled directly from these countries. The full list of those who do not need a visa to enter The Cayman Islands may be found at the Cayman Islands Immigration Department's website.
What activities can business visitors carry out?
Business activities that are unpaid are allowed to be carried out. This includes attending business meetings and conferences, networking, and learning and development purposes.
What activities require a Cayman Islands Work Visa?
Work authorization will be needed if these activities are considered as work or other professional activities. Such activities include project planning and implementation, marketing, or auditing. In this case, even if your country is on the list of countries with visa-free travel arrangements, you will need to apply for a Cayman Islands work visa in order to legally carry out such activities. Every foreigner that wants to work or conduct professional activities in The Cayman Islands is required to apply for the visa as no country is exempt from this requirement.
However, certain groups of people will not need to apply for it, such as members of the British Armed Forces, crew of vessels that do not operate full-time in the island, or representative, agents or employees of the Cayman Islands, United Kingdom or Commonwealth government.
Types of Cayman Islands Work Visa
Temporary Work Permit
Temporary work permits is valid for a maximum period of six months. Such permits are to be used purely for a temporary nature, meaning that it cannot be renewed or extended indefinitely unless the initial permit was granted for less than six months.
Annual Work Permit (Gainful Occupation License)
For those who require a longer term work permit, they may apply for the annual work permit instead. Such permits are valid for up to a year, and can be renewed for a maximum of nine years. After these nine years are up, they can either apply for permanent residency or leave the Island for a year.
The Cayman Islands Global Citizen Concierge Program
With the rise of COVID-19, many employers and educational institutions have opted for remote working or virtual learning. The Cayman Islands are no exception and might be one of the better options to do so given how well they have managed the effects of the pandemic. This program allows those employed outside of the islands to relocate and work remotely from the Islands for a maximum period of 2 years.
If you are unsure of what type of work visa is best to operate your business, feel free to contact us for a non-obligatory consultation. Our team of experts will revert within the next 24 hours.
How long to secure Cayman Islands Work Visa?
The timeline will be different depending on what form of work visa you are applying for.
For a Temporary Work Permit, your application will be processed within 5 to 10 business days.
For an Annual Work Permit, your application will be processed within 3 months.
For the Cayman Islands Global Citizen Concierge Program, your application will be processed within 3 to 4 weeks.
The given approval windows are all assuming that information within the application is complete and accurate. Tetra Consultants will work closely with you to prepare this information to ensure minimal delays to your application process.
Requirements for Cayman Islands Work Visa
Temporary and Annual Work Permit
Applications for a temporary work permit requires:
Fully completed application form
Police clearance certificate
Full-face and profile photograph
Employers in the construction, landscaping and janitorial businesses must also complete Form A
For work permit applications longer than three months, a fully completed medical questionnaire and lab report showing HIV/VDRL test results will also be needed.
Each application will incur a fee of US$84, and an additional prescribed fee based on the employment category. Certain employment categories such as education or religious services and Cayman Islands Monetary Authority employees will not incur any additional fees on top of the application fee.
For both applications, additional criteria would also be considered by the relevant Board or the Director of Workforce Opportunities & Residency Cayman, including:
The necessity of the prospective employee's services
Sufficient attempts to fill the position with a local resident
Protection of local interests
The employee must also take and pass a English proficiency test if they are from a non-English speaking country
Employers must also hold a Trade & Business License or other licenses as required by the industry
Cayman Islands Global Citizen Concierge Program
Applications for the Global Citizen Concierge Program require:
Proof of Employment, stating position, duration of employment, and annual salary with company letterhead.
There will also be a minimum annual salary requirement of:
US$100,000 for individual applicants
US$150,000 for those applying with a spouse or civil partner
US$180,000 for those applying with dependents and/or spouse or civil partner
Proof of Legal Existence of company
Certificate of Good Standing or Certificate of Incorporation
Notarized bank reference and 6 months of previous bank records
Copy of photo and information page of passport
Police clearance certificate
Proof of health insurance
Dependents should also provide evidence of the relationship to the applicant, either through a marriage certificate or birth certificate.
Each application will have an annual fee of US$1, 469 per annum, with an additional fee of US$500 for each dependent. A credit card processing fee of 7% of the total application fee will also be imposed.
Any documents which are in a foreign language should be appropriately translated to English using a certified translator's services.
How to apply for Cayman Islands Work Visa?
Applications for Temporary and Annual Work Permit
Applications can be filed online through the JobsCayman website. Through the website, you should register your Cayman Islands company and the job you want to apply the permit for. From there, you can transfer the fees to the Cayman Islands Government's bank account, and submit the relevant supporting documents through email.
Applications for the Cayman Islands Global Citizen Concierge Program
Applications for this can be done online through the Visit Cayman Islands Website and will require the information and supporting as per the requirements stated above.
Looking to secure a Cayman Islands Work Visa?
FAQs
How long does it usually take to get a Cayman Islands work permit?
Annual work permits can take as long as 3 months to process but are usually completed within 6 weeks.
What is a business visitor's permit?
Business visitor's permits are issued by the Customs and Border Control and allow workers who need to work within the Islands for no more than 14 days at a time for a specified number of visits a year. However, this is not commonly used due to its strict limitations.
What is a visitor's work visa?
Also issued by the Customs and Border Control, this allows visitors employed outside the Islands to visit for business purposes for no more than 5 days at a time. However, this is also not commonly used as it does not replace the entry visa, and also does not permit the conduct of professional services.