One-Stop Solution to register company in Estonia
To register company in Estonia can be a hassle-free process, if you know how. With Tetra Consultants at the wheel, you will be able to channel your time and energy into other more important aspects of business.
With our lean-and-mean mentality, you can rely on our team of experts to provide you a seamless experience throughout the steps to register company in Estonia. Our ultimate goal is for your Estonia company to be operationally ready within the stipulated time frame.
Estonia has clinched the first position in innovating and facilitating a pro-business environment. This comes as no surprise given their high level of digital integration, such as their e-Residency program which enables anyone to base their business operations in the country. Besides their advanced digitalisation initiatives, Estonia is also home to many other benefits such as a simple and competitive incorporation process. Needless to say, it is obvious why there is a growing list of companies in Estonia.
Our service package includes everything you will need for starting a business in Estonia:
How long does it take to register company in Estonia?
Tetra Consultants will complete the process to register company in Estonia within 1 week. After receiving due diligence documents of the directors and shareholders, our team will search for the availability of your preferred company name and prepare all required incorporation documents.
After Tetra Consultants has registered your Estonia company, you can expect to receive the documents of your new company including your Estonia company registration certificate, Memorandum and Articles of Association as well as a register of directors and shareholders.
Within 4 weeks upon the formation of Estonia company, we will open a corporate bank account with your bank of choice.
As such, you can expect your company to be fully operational and ready for business within 5 weeks from engaging Tetra Consultants.
Requirements to register company in Estonia
The minimum requirements for an Estonia limited liability company are:
1 shareholder of any nationality
1 director of any nationality
1 local company secretary
An Estonia registered office address
Minimum paid-up capital depends on the type of business activity and business entity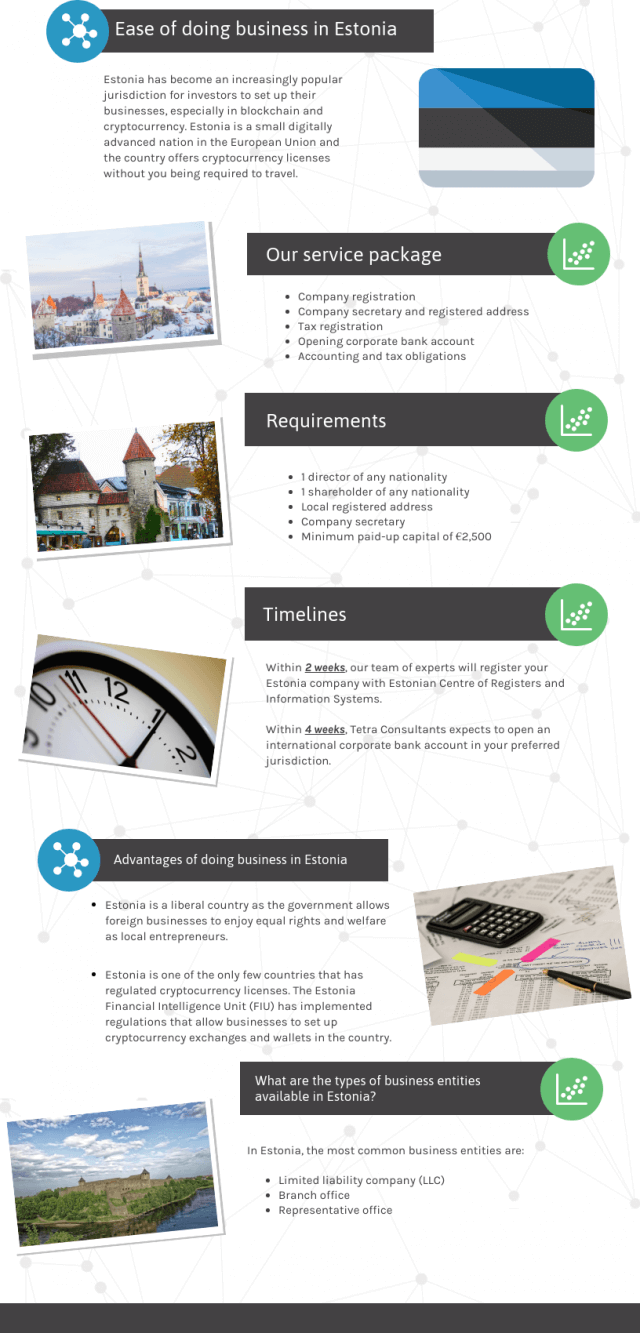 What types of business establishment are there to consider when register company in Estonia?
Before you advance to set up Estonian company, it is essential for you to consider the type of business structure to form. There are many types of business structures in Estonia, each with its own distinctive features. Some areas of differences include the availability of personal liability protection, tax ramifications, ownership and management flexibility as well as compliance requirements.
Tetra Consultants has consolidated the requirements to set up these entities.
Limited Liability Company (LLC)
Otherwise known as a private limited company, it is commonly adopted by foreign investors and entrepreneurs. An Estonian limited liability company is a separate legal entity distinct from its directors and shareholders. This protects directors and shareholders from the debts and liabilities incurred by the company.
To set up a limited liability company in Estonia, you will require a minimum capital of €2,500. There should at least be one director of any nationality and one shareholder of any nationality. A local registered office and company secretary is also required to

create a limited company.
Joint Stock Company
Otherwise known as a public limited company, this corporate structure is generally more suitable for those who are looking to expand their company. By incorporating a joint-stock company, shares can be bought and sold freely in the market.
To set up a joint-stock company, you need to meet a minimum capital of €25,000. This includes both cash and property contribution. One or more persons can be registered as shareholders of the company. There is no requirement for the shareholder or founder to be a resident of Estonia.
In terms of its managing body, the company should have both a management board and a supervisory board. The board should include one or more directors with minimally 50% of the board members being residents in the European Union. A statutory auditor is also mandated to be appointed.
General Partnership
Jointly shared between two or more partners, general partners and the business are seen as one and the same by the law. In the case of a winding up, the general partners can be personally liable for all debts and obligations incurred by the business. Unlike other countries, general partnership in Estonia is considered a legal entity.
There is no minimum capital requirement stipulated by the law.
Limited Partnership
Limited partnerships share characteristics with a general partnership and a limited liability company. They are made up of both general and limited partners. General partners are owners entitled to manage the company.
As such, general partners also bear unlimited liability for the company's debts and obligations. Meanwhile, limited partners are not entitled to manage the company. Their liability only extends to the amount of their investment.
Under Estonian laws, there is no minimum capital requirement.
Branch Office
This corporate structure is most suitable for foreign legal entities intending to expand into Estonia. Without a separate legal entity, the debts and obligations incurred by the branch office will be directed to the parent company.
The Estonian laws also require that a local resident director or representative is appointed. Otherwise, the branch should appoint at least one director who is a resident of Estonia.
Representative Office
Legally permitted for the sole purpose of conducting market research or promoting the parent company, a representative office is not a legal entity. Under the law, it is not allowed to sign contracts, sales agreement or earn Estonia-sourced income.
How to register company in Estonia?
Step 1: Choosing an optimum company structure
Prior to beginning to register company in Estonia, it is important to decide on the business entity type that best suits your needs. A private limited company (PLC) is the most popular option for our clients as it offers ease of incorporation, continuity and most importantly protection from personal liability. Hence, the steps below are with reference to starting a PLC company.
The procedures to establish a public company are similar. However it requires the additional appointment of a supervisory board and auditor and has a higher minimum share capital of €25,000 instead.
Before the start of the engagement, Tetra Consultants will fully understand your needs before recommending the most optimum company structure in Estonia. Some considerations include the type of business activity, tax obligations and nationalities of shareholders and directors.
Step 2: Establishing a company name
The proposed name must be submitted to the Estonia company registrar, the Centre of Registers and Information Systems (RIK) for approval. It must use only Latin characters and may not contain special characters.
Tetra Consultants will help to ensure your name is unique and distinguishable by conducting a name search on the Estonia company registration portal so as prevent any delays to registration.
Step 3: Local address and contact person
Your company will also need a legal address in Estonia and a local contact person. This person will merely be a messenger and will not have any decision making power. Tetra Consultants is able to provide both an Estonia virtual address and local contact person for those who require it to

register company in Estonia.
Step 4: Register company in Estonia online
You can choose to register company in Estonia in one of two ways, either through the online portal, or having a notary submit the Estonia company registration document on your behalf. The online portal will require either an Estonian ID or e-resident card, or a select list of EU member states.
In addition to the ID card, the only other documents required for business establishment are the completed articles of association, making it one of the easiest places to open company in Europe.
The application should also specify the nature of their business activity that is expected to be their main source of income.
Step 5: Depositing paid up capital and opening corporate bank account
The minimum paid capital of €2,500 for a PLC can be paid after registration is complete and can even be paid in instalments. Firms can choose to use bank accounts in Estonia, or within the jurisdiction of the European Economic Area. Tetra Consultants works with an extensive network of banks, and can help you in opening a local or international corporate bank account in the jurisdiction of your choice.
Firms can even opt to use a fintech company. Having multiple and flexible payment options makes starting a private company in Estonia even more convenient than it already is.
Proof of payment being made will then need to be submitted to the RIK for verification. The statement should be in Estonian and digitally signed, or otherwise notarized to be as such. Tetra Consultants is also able to secure translation and notarization services for your company if needed.
Step 6: Accounting and financial reporting requirements
Accounting and bookkeeping standards in Estonia are mainly defined by:
the Accounting Act of the Republic of Estonia
the guidelines issued by the Accounting Board of the Republic of Estonia.
In addition to staying compliant to these standards, financial statements should also be prepared in accordance with either the local Estonian GAAP or the EU's IFRS.
Annual reports and annual accounts should be submitted to RIK within six months after the end of the financial year. The exact scope of the annual accounts and audit or review requirements depends on the size of the company, which is measured by revenue, number of employees and value of assets controlled.

Step 7: Tax and Employee registration
Tax will only need to be paid on distributed profits at a rate of 14 to 20% depending on how dividends are paid out. Reinvestment of earnings will not be taxed.
We will assist in the creation of an e-services account with the Estonian Tax and Customs Board which will grant online access to the e-Tax and e-Customs portal. As another added convenience, businesses do not need to register separately for tax since their tax identification number will follow their company registration number.
Through this portal, you will be able to register your employees in the employment register, register for value added tax (VAT) as well as pay and submit your tax.
VAT registration is only compulsory for firms that have an annual taxable supply exceeding or expected to exceed €40,000.
Why register company in Estonia?
Before you begin to register company in Estonia, it is important to understand the business landscape of the jurisdiction. This is to ensure that your newly established entity will be able to safely and legally conduct business while striving towards your long-term business goals.
Political
According to Transparency International's 2020 Corruption Perceptions Index, Estonia is ranked 17th among 180 countries when it comes to public sector corruption. This highlights that Estonia is a relatively corruption free country.
In 2005, Estonia was one of the first countries in the European Union to allow its citizens to vote online. Although this has been refuted by many countries due to the reasonings of political cynicism, Estonia's support for online voting can be said to facilitate greater political participation among its citizens.
In its controversial 2019 parliamentary elections, Estonia has included the populist, right-wing EKRE party in government. Campaigning largely on Eurosceptic and anti-immigration agenda, the party has also made controversial statements undermining the independence of the judiciary as well as the freedom of the media.
Economic
Estonia's EU membership has allowed it to leverage on various benefits such as the free movement of goods and services which has strengthened its economy.
Estonia's rigid labour regulation policies have said to be an impediment to its productivity growth.
Social
While Estonian remains the official language in Estonia, the people of Estonia are relatively proficient in English. As reported by Education First's 2020 English Proficiency Index, Estonia is ranked 25th among 100 countries.
According to Statista, Estonia's unemployment rate has seen a downward trend since 2010, with the most recent unemployment rate being 5.38% in 2020.
According to Statistics Estonia, in 2019, 7% of the Estonian population is living at risk of poverty.
Technological
Estonia is among the most digitally advanced nations in the world. Its e-Residency program allows you to do business with anyone around the world.
Launching the Presidency Gateway, the portal is created for presidency events. This technological solution offers document depository, agenda, logistical management system and digital tools to facilitate polls during a presidency event. The solution is said to have revolutionized all future presidency events not just in Estonia but in other countries as well.
Its capital, Tallinn, is the birthplace of many tech giants such as Skype and Transferwise. Tallinn also has the higher number of start-ups per capita in Europe. On a national level, Estonia is also ranked 3rd in Europe.
Legal
Estonia is one of the only few countries that has regulated cryptocurrency licenses. The Estonia Financial Intelligence Unit (FIU) has implemented regulations that allow businesses to set up cryptocurrency exchange and wallets in the country.
Estonia legal environment generally favours and promotes entrepreneurship. Foreign investors are entitled to equal rights and obligations as per given to local entrepreneurs.
According to Invest in Estonia, Estonia is ranked 2nd among the European countries when it comes to managing court proceedings.
Looking to register company in Estonia?
Tetra Consultants will be your one-stop solution for you to register company in Estonia. Our services include company formation, registered agent, registered address and business bank account opening.
Contact us

to

find out more about

how to establish a company

in Estonia. Our team of experts will revert within the next 24 hours.
Find out more!
Contact us to find out more about company incorporation in Estonia. Our team of experts will revert within the next 24 hours.
FAQ:
Can foreigners open business in Estonia?
Estonia allows 100% foreign ownership and is very welcoming to foreigners with their e-Residency system that allows users to incorporate and manage their business without ever needing to step foot into Estonia.
How do I set up an Estonian company?
Tetra Consultants will recommend the most suitable type of business entity in accordance with your business activity. Thereafter, our legal team will send you incorporation forms and draft the articles of association before proceeding to register company in Estonia. At the same time, our banking team will work on opening your corporate bank account.
How many businesses are registered in Estonia?
There are more than 324,000 entities registered in Estonia.
Can I start a business in Estonia?
Yes, the only requirement for registering a company is for directors to be above the age of 18 and possess a clean criminal record. There is no residency requirement.
Does Estonia allow dual citizenship?
Unfortunately, dual citizenship is not allowed. Investors can consider applying for e-Residency instead.
Is Estonia a tax haven?
It is not. On the contrary, it ranks highest on the Tax Foundation's Tax Competitiveness Index 2020. This means that Estonia has a highly transparent and competitive taxation system.
How much does it cost to register a company in Estonia?
The engagement fee depends on the services you require from Tetra Consultants. Prior to each engagement, our team will fully understand your business needs and inform you of the exact services you require.
For example, you might already have a local address and may not require our virtual office service. Alternatively, you may not require our bank account opening service if you already have a bank account with some banks.
Tetra Consultants' fees include government fees such as the €190 company registration fee.
How to become Estonian citizen?
Becoming an Estonian citizen is relatively difficult since they do not have a citizen by investment program. Prospective citizens must reside in Estonia for at least eight years, of which the last five years must have been on a permanent basis. They will also need to pass a language proficiency exam and the examination on the Constitution of the Republic of Estonia and the Citizenship Act.
How much to start a limited company?
The absolute minimum amount to start a limited company would be €190 to cover the registration fee, and then deferring the payment of the minimum capital of €2,500. However, this would not be practical as businesses would likely incur more expenses when they apply for the necessary licenses.