Estonia Company Setup as a foreigner
Tetra Consultants advises you to read through this guide to fully understand the full process of Estonia company setup.
In essence, your engagement will be broken down into 4 phases:
Planning and strategy
Incorporate
Bank account opening
Staying compliant
By systematically following the above 4 phases, you can expect to start conducting business with your Estonia company within 5 weeks. If you are looking to register as a e-Resident, you can check out our guide here.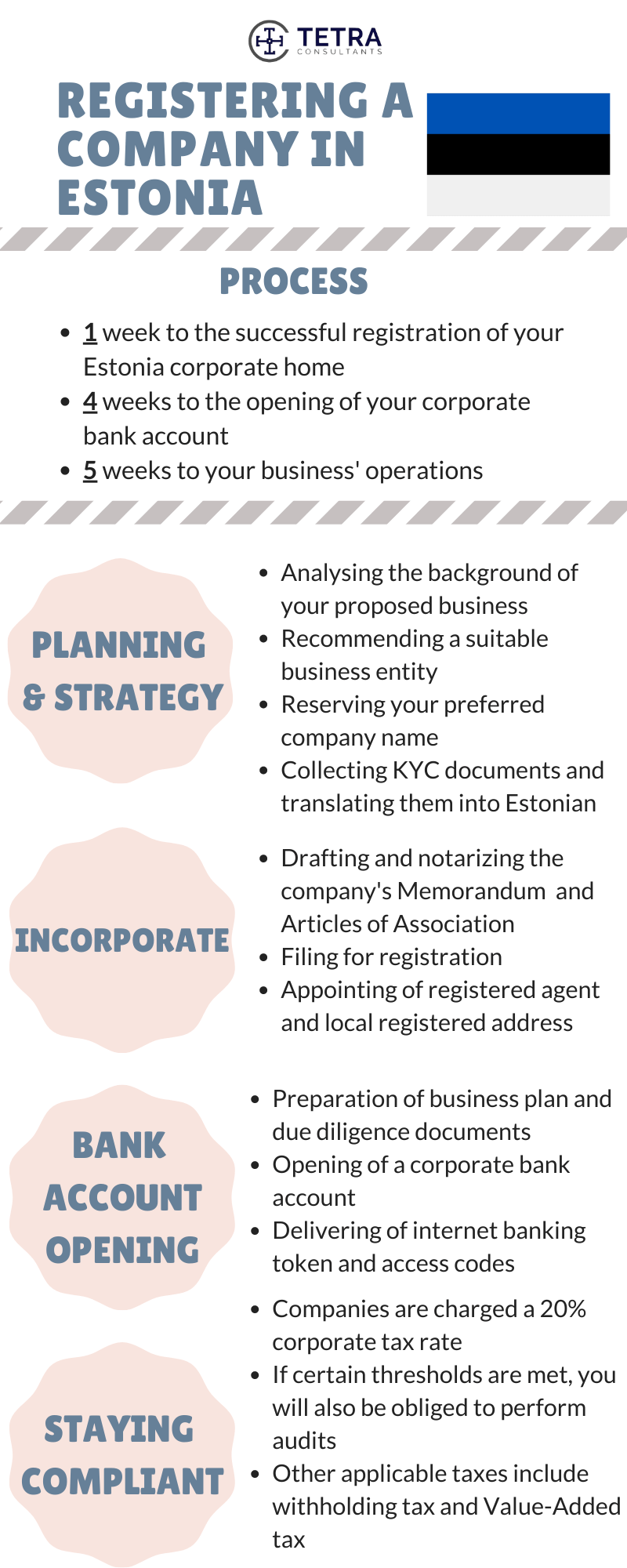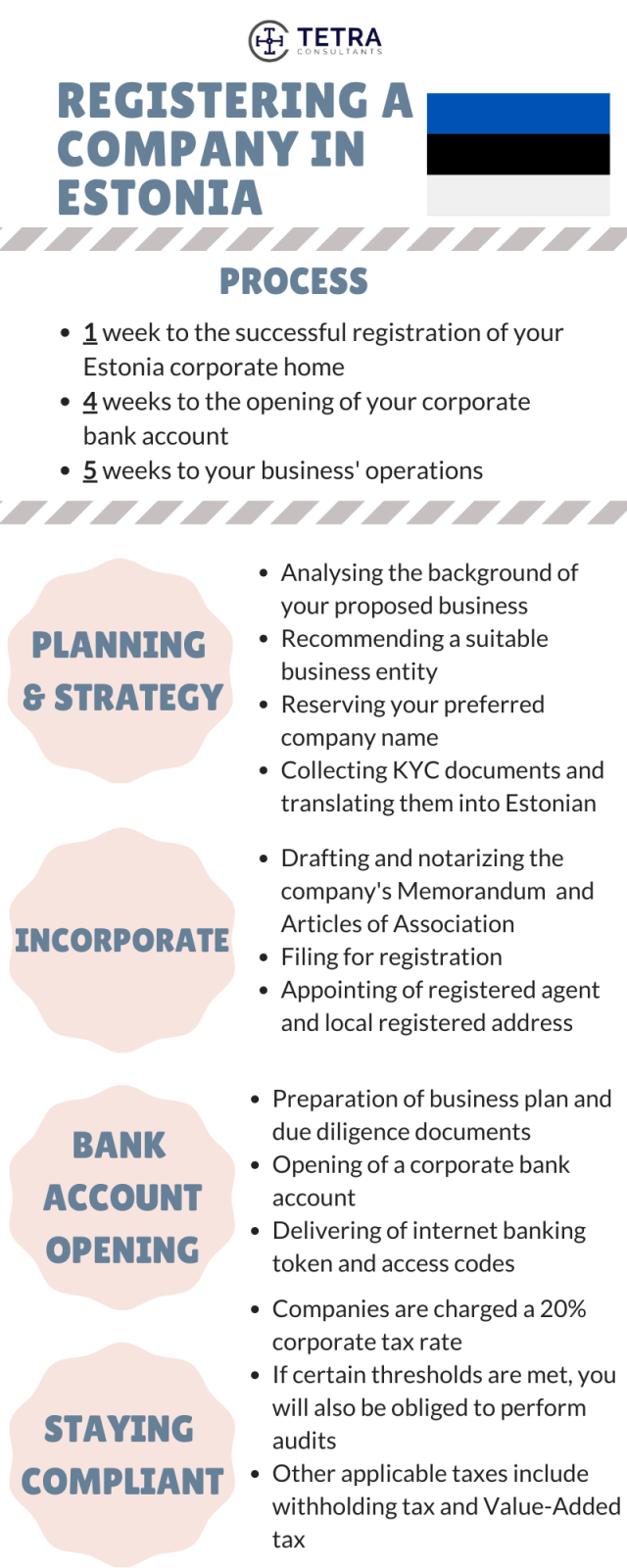 Planning and Strategy
After understanding your business goals and activities, our team of dedicated consultants will recommend the most suitable corporate entity for you to carry out your business. Prior to incorporating an Estonia company, you will be advised on the optimum paid-up share capital, corporate structure, legislations and whether there is a need to apply for any licenses to operate.
Before Tetra Consultants can incorporate your company in Estonia, you are required to provide a list of required KYC documents. Some of these documents include the names of directors, the company's resolution and identification proof.
Tetra Consultants will reserve your preferred company name with the Estonian Centre of Registers and Information Systems. According to the business activity and corporate structure, Tetra Consultants will also draft articles of incorporation, business plan and other incorporation documents.
Incorporation
Upon receiving all the necessary documents, Tetra Consultants will proceed to draft and notarize the company's Memorandum and Articles of Association.
On average, you can expect your company to be successfully registered within

5 business days

.
We will then proceed to file for registration with the Estonian Centre of Registers and Information Systems.
After receiving approval, Tetra Consultants will courier the Certificate of Incorporation, Memorandum and Articles of Association and other corporate documents to your preferred address.
A registered agent will also be assigned to act as the point of contact between the local authority and your company.
If necessary, Tetra Consultants will also provide you with a legal address to meet your compliance requirements.
For the appointment of all nominee directors, our legal team will prepare agreements that are to be signed by all relevant parties. This is to ensure that our nominee is passive and will not hold any decision-making power in your business operations.
Bank Account Opening
After registration, Tetra Consultants will assist you in opening a corporate bank account. Our team has established partnerships with multiple reputable banks in Estonia. We will present your business to each relationship manager and compliance team.
To prepare for the meeting, a comprehensive business plan explaining the details of your business will be crafted by us.
To ensure that there is no potential miscommunication between all parties, we will translate the document into Estonian.
Typically, a corporate bank account opening will take roughly four weeks. In most cases, the directors and shareholders are not required to travel. However, if travel is required, we will have a representative accompany you to the bank meeting. Alternatively, our team will negotiate with the banks to conduct a conference call instead or to request for a waiver.
Once your account has been successfully opened, Tetra Consultants will courier the internet banking token and access codes to your preferred address.
Some of the international reputable banks we work with include Bank of Estonia, Swedbank and SEB Bank. By engaging our services, you can leverage on our full portfolio of banking partners.
Staying Compliant
Following the setup of your new Estonia corporate home, Tetra Consultants will continue to provide you with the necessary accounting and tax services to ensure that you can continue to legally conduct business while staying compliant to regulatory obligations.
Our team of dedicated consultants will timely prepare your firm's financial statements, corporate tax returns and manage bookkeeping on your behalf.
We will prepare the required filings in advance to ensure we meet all stipulated deadlines.
Generally, corporate tax rate is held at 20% for all Estonia-incorporated companies.
Audit obligations will also apply if you exceed a certain threshold.
Our team of dedicated consultants will continue to clarify any doubts you may have with regards to your company's obligations.
Contact us to find out more about the process of Estonia company setup. Our team of experts will revert within the next 24 hours.
FAQ
Can a foreigner own a company in Estonia?
Yes, foreigners can create and own all the shares in a private limited company incorporated in Estonia.
What are the different kinds of entities available in Estonia?
Estonia has different types of business entities, each with its distinctive feature suitable for various businesses that include limited liability company (LLC), joint-stock company, general partnership, limited partnership, branch, and representative office for foreign Investors.
What are the minimum formation requirements for Estonian LLC?
A limited liability company (LLC) is the most common form of entity adopted by foreign investors. To form an LLC there are minimum requirements of a shareholder of any nationality, a director of any nationality, a local company secretary, An Estonia registered office address and minimum paid-up capital depending on the type of business activity and business entity.
How much does it cost to start a business in Estonia?
Depending on the services you need from Tetra Consultants, the total engagement fee will differ. Our services include planning and strategizing with your company, assisting you in the incorporation process, ensuring that you are compliant, and more.

The final cost is determined by the type of services required, such as whether you need a sworn translator to translate the Articles of Association from Estonian to English, whether you need an apostille on documents, whether you need a VAT number, and the procedure for incorporating a company.
Is Estonia good for startups?
Registering a company in Estonia is an ideal solution for a startup or for a small business that is not tied to a particular place. This comprises all businesses in the digital realm that develops computer software, provide IT consulting, online education, design, and marketing, among other things.
Additionally, the Estonian taxation system, which taxes profits only when they are paid, will provide a significant comparative advantage for such corporations.
Where does Estonia rank in the world?
What business can I do in Estonia?
To name a few of the most preferred type of businesses includes IT-business; sale of goods (export and import).; provision of various types of services like logistics.
Why should you invest in Estonia?
A company registered in Estonia will have the advantage of having a relatively low corporate tax rate, free from negative tax haven association, strong economic growth, the possibility to work in the European market, and ease of doing business with the electronic resident card.
How do I open a corporate bank account in Estonia?
Once the registration is completed, a company is required to have a corporate Bank account. Our team of experts at Tetra Consultants will assist you in opening a corporate bank account, as we have established partnerships with multiple banks in Estonia
What is the tax implication for a company set up in Estonia?
A company set up in Estonia is generally subject to corporate tax at the rate of 20%.
What are the documents required to be submitted?
To proceed with company registration in Estonia, for a start, you are required to provide the notarized passport copy, proof of address, CV, and proof of income of the individual director and shareholder of the Estonian company along with Board of directors' member's notarized statement of consent to serve as a member; Statement explaining the planned business activities; and any other documents as requested by the Registrar at a later stage of incorporation.

If the shareholder is another entity, we will require the Certificate of Incorporation and Memorandum and Articles of Association of the corporate shareholder.

Once Tetra Consultants receives the above, we will review the documents and provide you with an updated due diligence checklist with the list of outstanding documents.