India Free Trade Zones: Introduction
India Free Trade Zones are easy to set up company in with Tetra Consultants' assistance.
The Indian government has established unique areas around the country with the main objective of attracting foreign direct investment (FDI) to the country and, thus, stimulating the economy.
These unique areas are called Special Economic Zones (SEZ) in India that are treated as a duty-free foreign territory for all trading activities. Foreign investors and business owners who set up there are provided with various fiscal and non-fiscal incentives and support. The SEZs are subjected to the Special Economic Zone Act of 2005 passed by the Indian government.
These can be established by the Central and the State government. Besides this, the Private Sectors can also establish SEZs by submitting a proposal to the Indian Board of Approval as per the SEZ Rules of 2006.
Popular India Free Trade Zones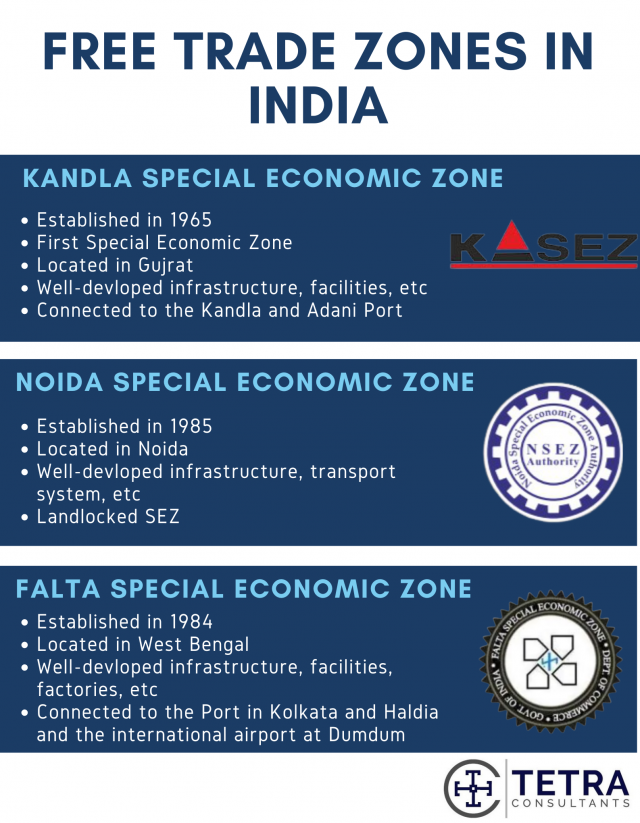 Free Trade Zones are called 'Special Economic Zones' (SEZs) in India. Presently, there are 265 SEZs operational in India spread across the country. Approximately 150 more Zones are in the process of being established according to the news.
Kandla Special Economic Zone (KASEZ)
Spread across 400 hectares, KASEZ is located on the Gulf of Kutch in Gujrat.
Businesses are provided with well-developed infrastructure, facilities, and more for their office.
It is well-connected to the world through its seaports namely the Kandla Port and the Adani Port Mundhra.
It is a multi-product type of SEZ which means that any business can be established in this region.
Noida Special Economic Zone (NSEZ)
This Zone offers businesses with well-developed infrastructures and facilities, strong telecommunication network, efficient transportation system, and more.
Located in Noida, NSEZ is one of the only land locked SEZ area in India as opposed to others which are usually located on the ports. For this reason, it is ideal for low volume and skill-intensive commerce products such as those found in the Accessories and Electronics Industry.
Falta Special Economic Zone (FEPZ)
Established in 1984 as an Export Processing Zone, the Falta Economic Zone now falls under the policy of the SEZ Act of 2005.
It is well-connected to the world with access to an extensive network of roads, two ports in Kolkata and Haldia, and an international airport at Dumdum.
It also has well-established infrastructures with industrial sheds, factory buildings, trade and export incentives, telecommunication networks, and utilities.
Why should you set up your company in the Free Trade Zones in India?
The Indian government allows foreigners to have complete ownership of their company in most sectors in India. However, businesses should have at least one local resident director.
New businesses are completely exempted from paying income tax for the first five years.
They are exempted from goods and service tax, minimum alternative tax, import duties on customs, and more.
As per the Doing Business Report of 2020 by the World Bank, India had a rank of 63rd out of 189 countries in terms of Ease of Doing Business.
Cost of labour is relatively low compared to in other states which can be advantageous for labour-intensive businesses.
Besides this, the other operational costs in terms of infrastructure, utilities, and more are relatively low.
With a large population comprising many states, the consumer market in India is large. Businesses can take advantage of the large demand for goods and services in the region.
Since India is a developing country, its economy is in a growing stage which may be advantageous for businesses to grow.
The government has issued various business-friendly policies and initiatives to attract foreign investment into India.
How we can help you set up company in India FTZs
There are multiple SEZs available in India to choose from. Once Tetra Consultants understands your business activities, requirements, and long-term objectives, we will recommend a suitable SEZ for you. We will advise you on the requirements you need to meet for incorporating in the selected zone. We will then proceed to register with the relevant authorities, opening a corporate bank account for your new company by leveraging our extensive banking network, and ensuring the new company's compliance with the government regulations.
Contact us now to know more about Free Trade Zones in India and how you can register your company in your selected Zone. Our dedicated and experienced team will revert within the next 24 hours and answer any queries you may have.
FAQ
Are there any free trade zones in India?
Yes, there are over 265 Special Economic Zones (SEZ) spread across the country.
In India, Free Trade Zones are the same as SEZs.
Contact us for more information about the Free Trade Zones in India and our team of experts will revert within the next 24 hours.
How many Special Economic Zones are there in India?
There are over 379 SEZs notified in India out of which 265 SEZs are currently operational.
Moreover, over 50 SEZs are also in the process of receiving approval from the government.
Can a foreigner own a business in India?
Yes, foreigners can have complete ownership of their company in India. However, you may require a local resident director.
Why should I set up my company in India?
Setting up your company in India may be a good idea for you for the following reasons:
Foreigners can have 100% ownership.
The government offers businesses various fiscal and non-fiscal incentives to attract FDI to the country.
India has a well-developed infrastructure with a highly skilled and inexpensive labour force that businesses can take advantage of.
There is a large consumer market, owing to India's vast population.
Who can set up SEZs in India?
Both the central and state government can set up a Special Economic Zone in India.
Besides this, the private sector can also establish an SEZ in India. Some examples of the above include the following:
Apache SEZ Development India Private Limited in Andhra Pradesh.
Zydus Infrastructure Private Limited in Gujrat.
Tata Steel Special Economic Zone Limited in Odisha.
Foreign companies are also permitted to set up a Special Economic Zone in India.
How to set up business in India?
In order to set up your company, you must follow these steps:
Choose a suitable entity for your business
Reserve your preferred company name
Prepare required documents
Register with the Ministry of Corporate Affairs
Open a corporate bank account
Fulfilling all annual tax and accounting obligations
What would be the cost of setting up my company in India?
The total engagement fee that you will be required to pay will depend on the services you require from us. Our comprehensive service package includes planning and strategising with our clients to select a suitable business entity, incorporating the business, opening a corporate bank account, and more.
This total fee includes the government fees that is required to be paid when incorporating in India.
We will further discuss this cost with you before starting the setting up process.
Who benefits from Free Trade Zones?
Free Trade Zones are beneficial to the government as it leads to an increase in foreign investment in the country, subsequently leading to economic growth.
It is also advantageous for the businesses set up in these Zones as they are provided with various exemptions and incentives.