Nominee director service in Japan
Tetra Consultants offers nominee director service in Japan for our international clients. Our full-service package includes Japan company registration, nominee director services, Japan corporate bank account opening, local company and registered address and tax registration.
If you are a business owner planning to expand your business in Japan, while preparing for the incorporation process, you may have encountered the terms "Japan nominee director", "Japan representative director" or "Japan resident director". This webpage will explain them in detail so that you are able to understand these terms fully and make an informed decision for your Japanese business.
What is a Japan nominee director?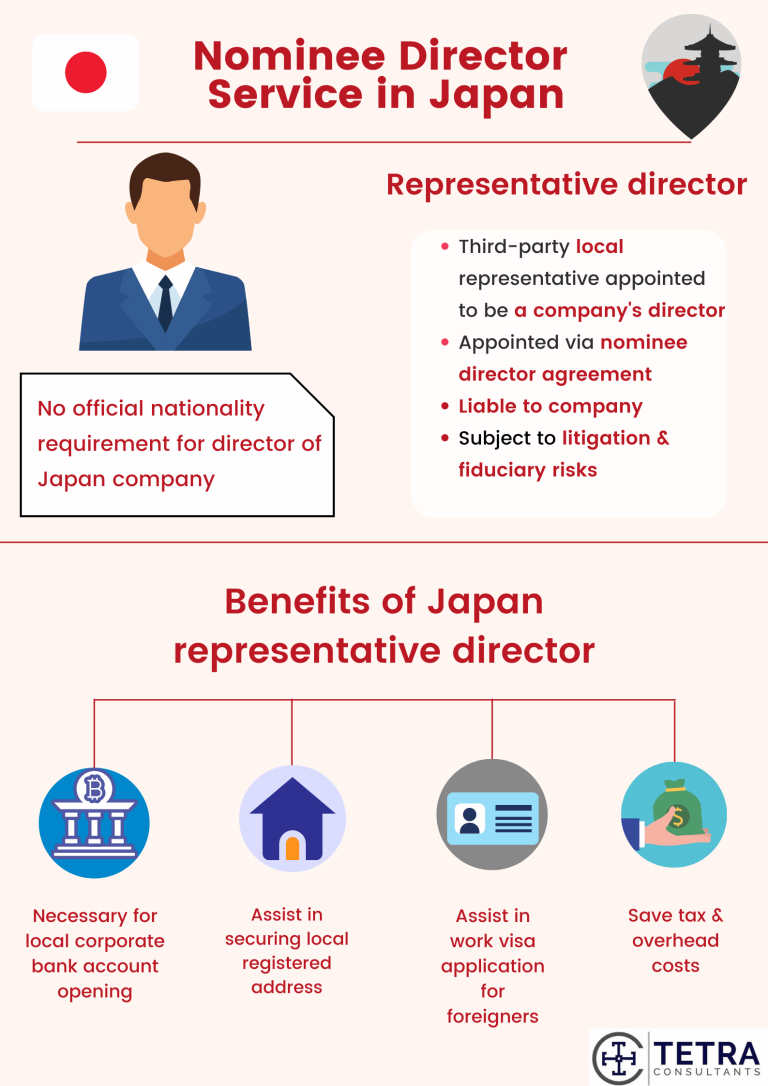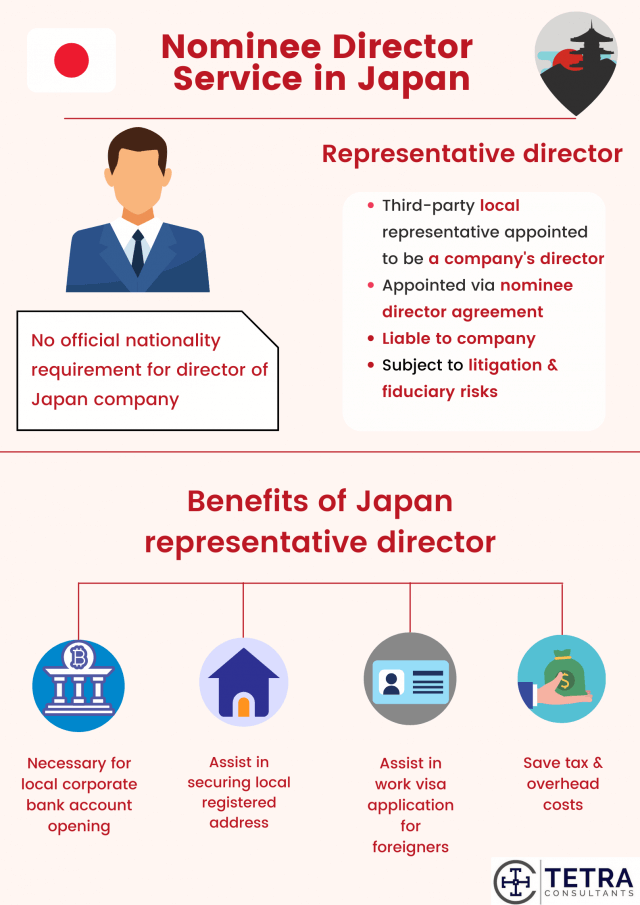 A representative director refers to a Japanese local who is appointed to be a nominee director of a company and acts as a local representative, especially for foreign entities.
A nominee director is a third-party qualified individual who is appointed to be a director of a certain company. They tend to be appointed in order to fulfil the requirements for a resident director in certain jurisdictions such as Singapore and India, where they are compulsory for business incorporation. 
Although foreigners are able to start a business in Japan and the there are no nationality requirements for directors of companies in Japan, Tetra Consultants will still recommend engaging a nominee director service in Japan for your Japan business. This is as having a Japan representative director will allow you to more easily open your corporate bank account and liaise with local banks and authorities.
As finding a suitable candidate to take up the position of nominee director in Japan is time-consuming and challenging, Tetra Consultants serves to bridge this gap by providing a cost-effective nominee and resident director service in Japan

.
Benefits of using Nominee Director Service in Japan
Despite the fact that there is no official nationality requirement for the directors of most Japanese companies, a nominee director as a local representative is still useful for many reasons as explained below.
Representative to local authorities and for opening bank accounts
A local representative will be needed to open a bank account in Japan for your business. This is as reputable local banks such as

Mizuho

,

SMBC

and

MUFG

may ask for a local director before approving your account, so that there is a local director who can be contacted and held responsible in the event of non-compliance of the company. They also often need a local representative to be present for in-person interviews in the local bank branch.
At no additional fees, Tetra Consultants' qualified Japan representative director will attend the interview on your behalf such that you will not need to travel at any point, saving time and expenses. 
In addition, having a local representative can also speed up the company incorporation process itself, as despite a resident director not being mandatory, during the company formation process, the Japan Legal Affairs Bureau may ask for a director or shareholder's proof of capital in a local bank account. A Japan resident director will then be better be able to provide this as well as to liaise with local authorities, so as to allow your business to have an easier and swifter incorporation process.
Representative for acquiring local registered address 
Having a Japanese representative director will also make it easier for your business to have a local registered address in Japan, which is a compulsory requirement to set up a company in Japan. The Japanese nominee director can assist you in securing office space or equipment for your business.
Local representative for visa application
Having a local representative can significantly expedite the process to secure work visas. You may wish to attain an Investor/Business Manager Visa for your business. However, the visa requirements changed after July 2012, making the process for foreigners to acquire long-term work visas become harder and more tedious. With a local director, however, the local will possess extensive knowledge of local regulations and can assist the non-Japanese staff of the company, who intend to work in the country, to apply for work visas more easily.
Save on tax costs 
Having a nominee director can help you save on tax costs. This is due to the fact that under Japan's corporate tax regulations, there are certain tax benefits or deductions that directors do not qualify for, which regular employees of Japan companies instead are able to enjoy. For instance, Japan directors' bonuses do not qualify for tax deductions.
As such, directors of Japan entities may have to pay more corporate taxes on financial compensations compared to typical employees.

In such a scenario, having a nominee director who is not given bonuses as part of the payroll will help you avoid this problem of higher corporate taxes for directors.
Navigate language barriers
In addition, as most meetings and corporate or legal documents in Japan will be in Japanese, having a local representative will also be useful in bridging the language barrier. The representative will also be able to assist in translating all documents to Japanese or from Japanese, such that the paperwork process will be greatly sped up.
Drawbacks of using a Nominee Director Service in Japan
Despite the myriad of benefits, there are a few disadvantages and potential risks involved in having a Japanese resident director. The main risk is that the resident director will have access to and authority over the company's seal. This is as a Japanese entity's company seal will have to be registered by the representative director, who will possess the sole authority to use the company seal unless he or she issues a Power of Attorney to authorize another individual. This could create risks for the business.
However, Tetra Consultants will take steps to mitigate these risks by setting out clear terms for the role and powers of the nominee director we appoint. Unless specifically requested, in the Nominee Director Agreements that we draft at the start of the engagement, the nominee director will be prohibited from interfering in the day-to-day running of your business and acting without your consent. 
Hence, you will be guaranteed to maintain full control over your business at all times without having to worry about your authority or business integrity being compromised.
Risks involved for the Japan nominee director
There are also some risks involved for the representative director himself in agreeing to take on the role. The nominee director will

be subject to litigation and fiduciary risks

, as in the event of the Japanese company committing a legal offence or any of the directors found guilty of negligence, the nominee director will also be held liable together with all the directors. This is as Japanese law views all directors as equally responsible and liable for any misconduct.
However, rest assured that Tetra Consultants will take steps to mitigate this risk. The nominee director appointed for your business will be a qualified and reliable individual who has gone through our stringent KYC checks and due diligence process and will monitor the business' activities closely to ensure strict compliance with all local regulations. Hence, by engaging Tetra Consultants' Japan representative director service, you will be able to minimize such risks.
In addition, directors of Japan companies will not qualify for the same Japanese Labour Insurance benefits that ordinary employees in Japan are able to access. These Labour Insurance benefits include insurance against unemployment as well as compensation for potential accidents that employees may encounter. 
Why choose Tetra Consultants' Nominee Director Service in Japan?
The nominee director appointed by Tetra Consultants' will go through strict KYC checks and be knowledgeable of the local Japanese regulations, such that he is able to assist your business in maintaining full compliance with all laws. 
By engaging Tetra Consultants' nominee director service Japan, you will also be able to maintain full authority and control over your business, as the nominee director we appoint will not be able to interfere in the daily operations and running of your business, nor have access to your business bank account funds as per the terms of the Nominee Director Agreement.
In addition, unlike other firms, we do not charge our international clients with deposits and there are no hidden costs. All payment terms will be transparently stated clearly in the appointment letter prior to the start of the engagement.
How can Tetra Consultants provide Japan representative director service?
Before the start of the engagement, Tetra Consultants' compliance team will first shortlist trusted individuals who have relevant experience in corporate governance and annual reporting or filing, and passed our enhanced due diligence checks. These nominees are usually either our in-house employees or long-term partners and are mostly professionals in the field of accounting or tax or law.
Once engaged, Tetra Consultants will provide you with the KYC documents of the new nominated Japan director, including his or her updated resume, passport copy, proof of address and legal records proving lack of criminal activity.
Our legal team will also draft a nominee director agreement and statutory declaration to be signed by all parties involved. This is to guarantee that the company is completely and fully under your management and that you are indemnified as well. Unless requested specifically, the role of the nominee director appointed will not include playing an active part in your business, nor acting as a signatory to the bank.
After the settlement of the nominee director fee, Tetra Consultants will proceed to register the Japan company and appoint the Japan nominee director with the Japan Registry Office (

Houmukyoku

).
Required documents for nominee director in Japan
Due to the litigation and fiduciary risks that the Japan resident director will ultimately be subjected to, Tetra Consultants' compliance team will require certain information from your business for due diligence checks:
Identity documents of the Ultimate Beneficial Owners (UBOs) and non-resident directors.
Documents of the parent company (in the event a corporate shareholder is appointed)
Nature of intended business activity
Dormant or active status of the company
Contact us to find out more about our Nominee Director Service in Japan. Our team of experienced professionals will revert within the next 24 hours.
FAQ
What is nominee director service?
A nominee director refers to a third-party individual appointed as the director for a company through a contract. A nominee director service then refers to services provided by professional agencies such as Tetra Consultants that assist businesses in securing and appointing a nominee director for your business. 
What is the role of a nominee director?
Nominee directors act as the director for a business via a nominee director agreement. 
A nominee director does not hold any shares in the company and will not be involved in your everyday business operations or have access to your corporate bank account. 
Unless specifically requested, most nominee director roles will take on a passive role. This means that despite being appointed as an office member of the company, a nominee director is prohibited from making decisions or performing duties at his sole discretion. He is only allowed to act based on instructions given by the Ultimate Beneficial Owner (UBO) of the company.
Can you have a nominee director?
Yes, you can legally have one. Simply appoint a qualified individual who passes the relevant KYC checks and complies with the jurisdiction's regulations for nominee director requirements, and your business will have a nominee director to act as your director.
Tetra Consultants assists our international clients to fulfil KYC checks to appoint trusted nominee directors, through a hassle-free process.
Is Nominee Director a director?
Yes, a nominee director is a non-executive director of a company. He or she will usually be treated equally to the other directors in the eyes of the law.