New York Money Transmitter License
A New York Money Transmitter License is one of the most appealing and valuable licenses after the California Money Transmitter License and Texas Money Transmitter License for investors planning to provide money transmission services in the states. 
Accordingly, many financial and money-handling businesses must first get and maintain a

payment license

and more specifically – a state money transmitter license, before they may operate in that state. This is undoubtedly true in New York, as well as in the remaining 47 states and the District of Columbia. If you assist in the transfer of funds between individuals or businesses, you must apply for and get a money transmitter license before operating in any state that mandates one. To operate in New York, virtual currency enterprises must first get the New York Virtual Currency License, popularly known as a "BitLicense." Depending on the company's business model, New York may need a virtual currency business to get both a

New York MTL license

and a BitLicense.
Securing a New York money transmitter license is not an easy task, and it may be a costly procedure if you are unfamiliar with the licensing process and requirements governing a

New York MTL license

and make any mistakes to that effect. Hence, we recommend enlisting the help of a professional and not jeopardizing your operations or the success of your business. 
What are the laws governing the issuance of a New York Money Transmitter License?
According to the aforementioned law: No person shall engage in the business of selling or issuing checks, or engage in the business of receiving money for transmission or transmitting the same, without a

New York MTL license

thereof obtained from the superintendent, nor shall any person engage in such business as an agent, except as an agent of a licensee or as an agent of a payee; provided, however, that nothing in this article shall apply to a bank, trust company, private banker, foreign banking corporation licensed pursuant to article two of this chapter or foreign banking company authorized to operate pursuant to the International Banking Act of 1978. 
With the amendments in the above-mentioned law the following institutions are exempted from acquiring a

money transmitter license in New York

pursuant to the specific regulations of such institutions: a savings bank, a savings and loan association, an investment company, a national banking association, federal reserve bank, corporation organized under the provisions of section twenty-five-a of an act of congress entitled the "Federal Reserve Act", federal savings bank, federal savings and loan association or state or federal credit union.
What constitutes a money service business and who is required to obtain a New York Money Transmitter License?
Under the New York Banking Law (BL), a business that sells the following product or service will be treated as a money services business and hence need to acquire the money transmitter license in New York in order to maintain the good legal standing of your business:
Money Order or Traveler's Checks
This includes issuers, sellers, and redeemers of money orders or traveler's checks.
As long as a company issues or sells traveler's checks or money orders that are greater than US$1,000 to any person on any day, it will be regarded as a money services business.
Money Transmission
Generally, companies that transmit currency, funds, or other monetary instruments from one person to another person or location are considered to be conducting money transmission business.
Check Cashing
An individual or company that accepts checks or monetary instruments in return for currency or other monetary instruments worth at least US$1,000 on behalf of another person in one day is regarded to be a check casher.
However, this does not include companies that sell prepaid access in exchange for a check or monetary instrument; companies that accept monetary instruments as payment for goods or services; and companies that hold customers' checks as collateral.
Currency Exchange
Specifically, an individual or company that accepts currency or other monetary instruments in the currency of another country in an amount greater than US$1,000 on behalf of another person is regarded to be a dealer in foreign exchange.
Prepaid Access
This includes providers and sellers of prepaid access. In general, a provider of prepaid access refers to any person that receives funds from clients. These funds can be subsequently retrieved by clients through an electronic device or means. 
Who is the regulatory authority?
What are the activities allowed under a New York Money Transmitter License? 
Under a New York money transmitter license, you will be authorized to operate the following activities: 

Bill paying

Issuing and/or selling drafts

Selling prepaid access/stored value

Electronic money transmitting

Foreign currency dealing or exchanging 

Issuing money orders

Issuing prepaid access/stored value 

Issuing traveler's cheques

Other-money services

Selling money orders

Selling traveler's checks
You need to take note that these business activities may also encompass virtual currency business activity. Conducting this activity with a virtual currency requires an approved NY Virtual Currency Business Activity License.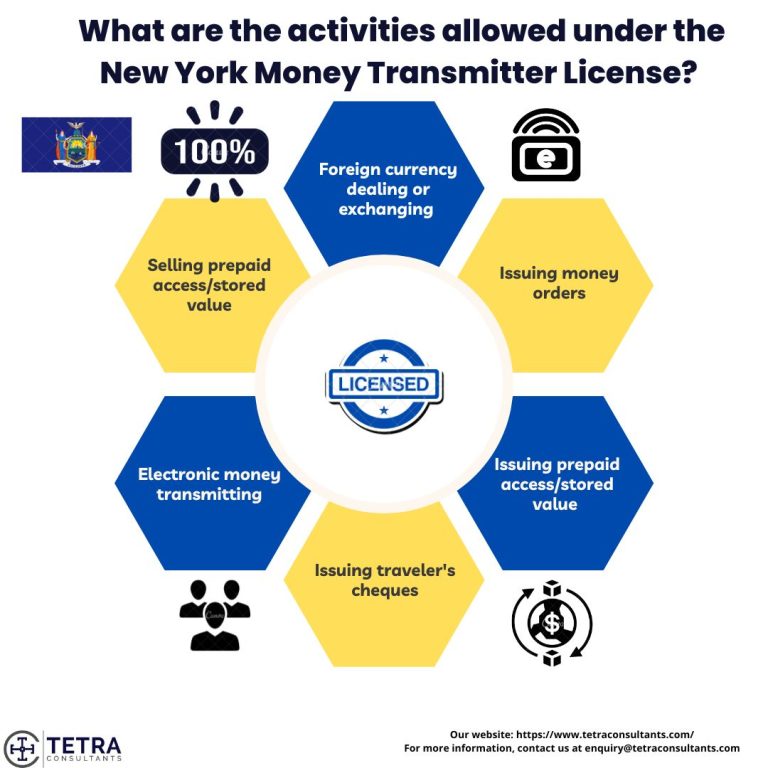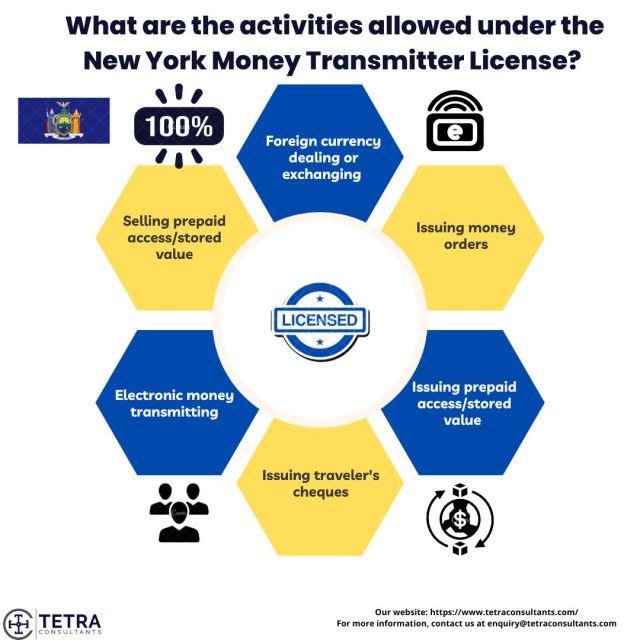 What is the minimum capital requirement to obtain a New York Money Transmitter License? 
Currently, there is no minimum capital requirement that is specified in advance as to how much must be invested. The superintendent assesses the licensee's reliability in financial matters. Financial integrity is determined by taking into account the overall assets and liabilities of the licensee, the projected level of virtual currency activity, the amount of leverage employed, liquidity positions, and the kinds of goods and services that will be provided, among many other things. The supervisor will next decide whether the totality of the information recorded is adequate to satisfy the capital requirement.
As a result, each licensee must maintain capital in an amount and form that the superintendent deems sufficient to protect the licensee's financial integrity and ongoing operations, based on an assessment of the specific risks that apply to each licensee.
What are the documents required to submit a New York Money Transmitter License application?
Everyone who wants to apply for a

money transmitter license in New York

has to prepare a long list of required documents. According to Nationwide Multistate Licensing System and Registry (NMLS), license requirements for money transmitters are found primarily in Article 13-B of the New York Banking Law (BL) and the regulations thereunder. New York Money Transmitter License (NYMTL) application process is starting with Company Form (MU1). 
Company Form (MU1)

: In NMLS, the MU1 form serves as the license application. The following documents and information must be accompanied and submitted through NMLS.
Financial statements:

Every applicant is required to submit audited financial statements for the last two years. The statements must be prepared by a Certified Public Accountant and dated within 90 days of the end of the fiscal year. 
Information of authorized agents:

Once your license is approved, use the NMLS Uniform Authorized Agent Reporting functionality to submit a list of agents authorized to conduct money transmission business on your behalf.
Resident/registered agent:

List all entities that will receive service of legal process on the company's behalf.
Primary contact employees:

Provide information regarding your primary company contact and primary consumer complaint contact.
Non-primary contact employees:

Applicants must list a non-primary contact for the areas of accounting, licensing, consumer complaint (public/regulator), legal, and pre-exam contact.
Approval and designation:

Submit the company's registration confirmation Number and filing date.
Bank account:

Provide the bank account information and Identify the bank(s) you will use for money transmission purposes, as well as the bank(s) that will extend credit to you.
Disclosure questions:

A document and detailed explanation must be provided for each "yes" answer in this section.
AML/BSA policy:

Submit an Anti-Money Laundering (AML)/Bank Secrecy Act (MSA) Policy. In New York, licensees must have an independent review of their BSA-AML program.
Business plan:

Provide detailed information on your business plan including the areas of target markets, products, marketing strategies, operating structures, and fee schedule. Note that a Pro Forma Financial Statement is required of all applicants.
Certificate of Authority/Good Standing:

Submit the relevant state-issued and approved document.
Agent and correspondent policies:

Provide a written detailed description of the general procedures by which the applicant intends to enter into agency contracts in order to engage in money transmission.
Document Samples:

Provide copies of the customer, operating, and agency agreements, as well as samples of receipts, traveler checks, money orders, or other instruments.
The flow of Funds Structure:

Provide a step-by-step description of each type of transaction or service to be conducted.
Formation Documents:

Provide a state-certified copy of the applicable documentation, including all subsequent amendments:
Corporation: Articles of incorporation, bylaws, shareholder agreement, IRS Form 2553, corporate resolution
Not-for-Profit Corporation: Documents requested of a corporation, proof of not-for-profit status
LLCs: Articles of organization, operating agreement, IRS Form 2553 (or 8832), LLC resolution (if not in Operating Agreement)
Limited (Liability) Partnership: Certificate of limited (liability) partnership, partnership agreement
General Partnership: partnership agreement
Sole Proprietor: Documents for sole proprietors are requested by the department on a case-by-case basis.
Unincorporated association: bylaws or constitution
Trust (Statutory): Certificate of trust, governing instrument
Management chart:

Provide a chart that shows all directors, officers, and managers. Individual names and titles must be included. Note that applicants must also indicate all front office business units, as well as back office reporting for compliance, internal audit, and IT infrastructure.
Organizational chart description:

Provide a chart/description which includes the ownership percentage of direct/indirect owners, subsidiaries/affiliates of the applicant, and all owners with more than 10% of ownership.
Permissible investment affidavit:

Provide an affidavit stating that you comply with Section 651 of the Banking Law.
Chief Compliance Officer:

The Chief Compliance Officer must have at least 3 years of relevant experience and demonstrate current training indirectly related topics. The Compliance Officer must also be listed under the Direct Owner/Executive Officers section.
Individual Form (MU2):

Additionally, you will be required to complete the Individual form (MU2) for all Direct Owner/Executive Officers listed in the respective section in form MU1. This form must be attested by the applicable control person before it is attached to MU1 and submitted. 
What are the general bonding requirements?
Generally, the bonding requirements for a New York Money Transmitter License are determined by the superintendent based on the financial status and integrity of the applicant. However, the recommended minimum bonding requirement is $500,000.
In making any determination of the minimum bond amount when applying for a

New York MTL license

, the superintendent may take into account the financial condition of the licensee, the number of locations in this state at which the licensee, either directly or through agents, transacts the business of selling New York instruments or New York traveler's checks, the controls imposed on such agents, and the possible exposure of purchasers and holders of New York instruments and New York traveler's checks to lose in the event of the insolvency, bankruptcy or other financial impairment of the licensee.
Further, a superintendent may modify or dispense with security or bond requirements if the superintendent finds that a licensee has transacted the business of money transmission in this state for a period of five (5) consecutive years and that such business has been conducted honestly, efficiently and safely, and that the licensee's financial condition is sound and that its New York instruments are insured.
What is the procedure for obtaining a New York Money Transmitter License?
Before proceeding with the preparation concerning the New York money transmitter license application, Tetra Consultants will assist you in registering a domestic company in New York with the

New York Department of State (NYSDOS)

, by providing a local company address, local company secretary and

local nominee director services

(if required). Typically, this process should take approximately

3 weeks

.
Upon registering the company, we will proceed to

corporate bank account opening

with a reputable local or international bank. You can expect your corporate bank account to be ready in

4 weeks

. Once the legal entity is registered and the corporate bank account is secured our team will move forward with the drafting and consolidation of the license application and documents to be accompanied. 
Step 1: Preparation of application for a New York money transmitter license
Tetra Consultants will assist you in preparing the documents required for the application of a New York money transmitter license. Documents required include the Company Form (MU1), business volume estimate, information about the ownership and control of the money services business, and a list of agents that will be authorized to sell or distribute MSB services.
Afterward, our team of consultants will assist you in preparing a comprehensive business plan as well as planning a compliance program. The business plan and compliance program will be drafted in writing for your further review and in accordance with the Act and associated regulations imposed by the respective authority in New York. 
As all companies require a chief compliance officer, Tetra Consultants will also assist in recruiting a fit and proper compliance officer. The compliance officer will also be equipped with the necessary knowledge about the Act and its associated regulations to ensure that your business remains compliant. 
Step 2: Preparation and Implementation of AML/CFT policies
Developing and applying written compliance policies is fundamental to upkeeping the license. Our team will draft the compliance policy and advise you on how you can more effectively update and improve the compliance program. We will also assist you with the drafting of an effectiveness review of the compliance program. 
Since the money services businesses are required to develop and implement an AML program within 90 days after the business has been established. Tetra Consultants will assist in providing the necessary legal expertise to implement an AML program that complies with federal regulations.
Step 3: Fulfilling bond requirements
It is worth paying attention to one of the requirements that you have to provide to get a New York money transmitter license is the surety bond. All applicants have to obtain a US$500,000 New York money transmitter bond. The details concerning the same have to be provided in the official bond form.
The bond serves as an extra layer of protection for the state and for your customers against potential illegal activities on your side. It ensures your compliance with the New York money transmitter law and any other applicable regulations. 
In order to get bonded, you have to cover a small percentage of the required bond amount. This is your premium. A range of factors influences the exact bond price you will pay. The most important one is your personal credit score as a business owner. The audited business financials are also of great significance in bond cost formation. Tetra Consultants' team of licensing experts will guide you on the expected minimum amount of bond based on the business plan and investments, after the detailed consultation call. 
Step 4: Submission of New York Money Transmitter License application 
Tetra Consultants team at this stage will thoroughly negotiate on any inquiries posed by the regulatory authorities on your license application. Accordingly, our team will draft precise and suitable responses in order to ensure early acceptance of your license application. 
If everything goes according to the regulations set forth by the authorities, you will be granted a New York money transmitter license and be required to start the business operation within the stipulated time period as may be specified.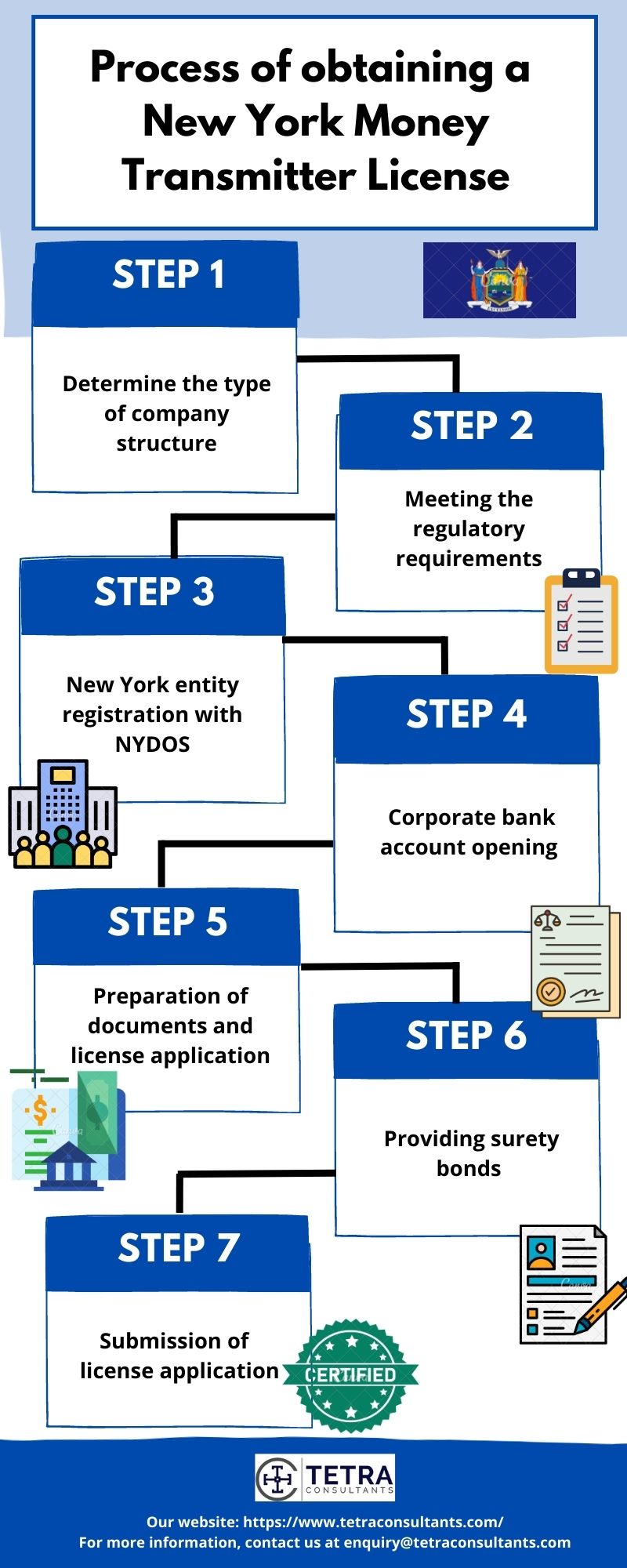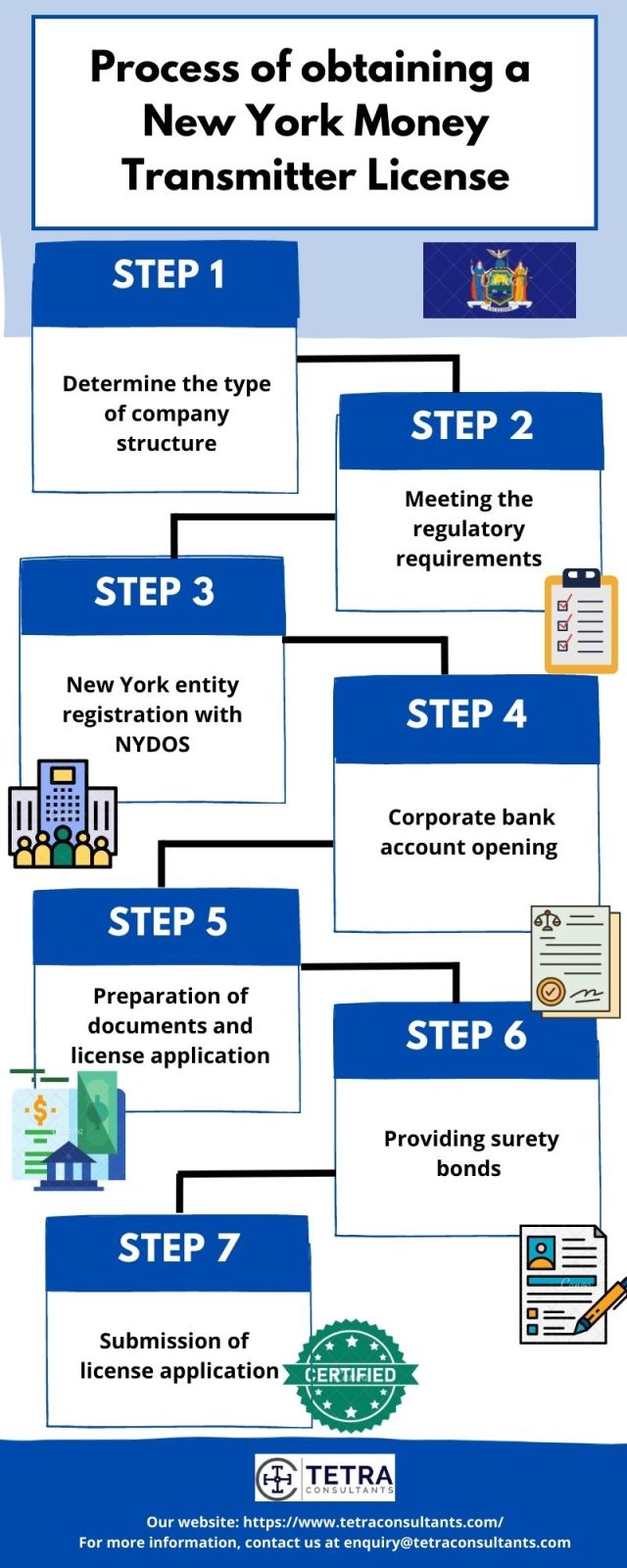 How long does it take to obtain a New York Money Transmitter License?
Before the start of the engagement, Tetra Consultants will send you a project plan with the timelines stipulated for company registration, preparation of documents as well as

New York MTL license

application. This is to ensure that all parties are clear on the time to be needed for the acquirement of a

money transmitter license in New York.

 
How much does it cost to obtain a New York Money Transmitter License?
The total engagement fee depends on the services you need from Tetra Consultants. We provide you with multiple services ranging from assisting you through the incorporation process to obtaining the New York money transmitter license. This total fee that will be charged will be inclusive of the company registration fee, license fee, and any additional cost that may arise.
We will discuss with you the total engagement fee charged in detail before we begin the registration and application process so that you have a better understanding of what you are paying for.
Our services
If you are thinking of applying for a payment license, it is always advisable for you to hire a consultant to help you with the application process. In practice, applications that have sought professional help are frequently more detailed and of far higher quality. 
Tetra Consultants

is proficient in providing consulting services for obtaining a

money transmitter license in New York

and provides a comprehensive set of services which include preparing the license application form, creating a comprehensive timeline for the full setup and operation of your entity, drafting the needed documents, and gathering relevant and acceptable data. 
Moreover, Tetra Consultants also provide advisory services related to management structure, designing and creating a business plan that includes: – strategy/market/client target/customer journey, the structure of the company, procedures for operations, procedures for AML, communicating with regulatory authorities on behalf of the customer, serving as a liaison/Project Manager, tax Compliance and legal services. Further, Tetra Consultants will act as the coordinator by communicating with the local regulatory authorities, and government officials throughout the whole course of the engagement. 
Tetra Consultants licensing experts are also proficient with attaining various types of

offshore financial licenses

depending on your long-term business goals.
Find out more!
Contact us to find out more about how to get a New York money transmitter license. Our team of experts will revert within the next 24 hours.
FAQ
How to open a money transfer business in New York?
A New York money transmitter license is a mandatory requirement to open a money transfer business. Before applying for the license, the applicant needs to accumulate the required minimum paid-up capital first and then incorporate an entity conforming to the local laws of the proposed jurisdiction.
Tetra Consultants is proficient in providing assistance to our international clients in obtaining payment licenses. We make sure that our clients get the approval and payment licenses in a shorter period of time while taking care of all the regulatory requirements and preparation of documents.
Is there any requirement for physical attendance when applying for a New York Money Transmitter License?
Tetra Consultants' team of licensing experts ensures to provide services with zero to minimal travel requirements when obtaining a money transmitter license in New York. In case the regulatory body requires a physical interview, our team ensures to negotiate for the online video conference instead. 
What is the capital requirement for obtaining a New York Money Transmitter License?

Currently, there is no specified minimum capital contribution as set by the New York financial regulatory authority for obtaining a New York money transmitter license. However, when granting the authorization, the license issuing authority takes the financial integrity of the applicant into consideration.