Belize, a Central American country, is a well-known location for many to consider incorporating their company in. The country's attractive tax regime and Free Zones allows foreign investors to maximise their profits, enticing more firms to register company in Belize. The country's main economic activities lie primarily in the tourism and exports of food products, with financial services showing stable growth. For those who have wondered how to start a Belize company formation with bank account, you have come to the right place. In this article, Tetra Consultants presents the ultimate guide on how to register company in Belize.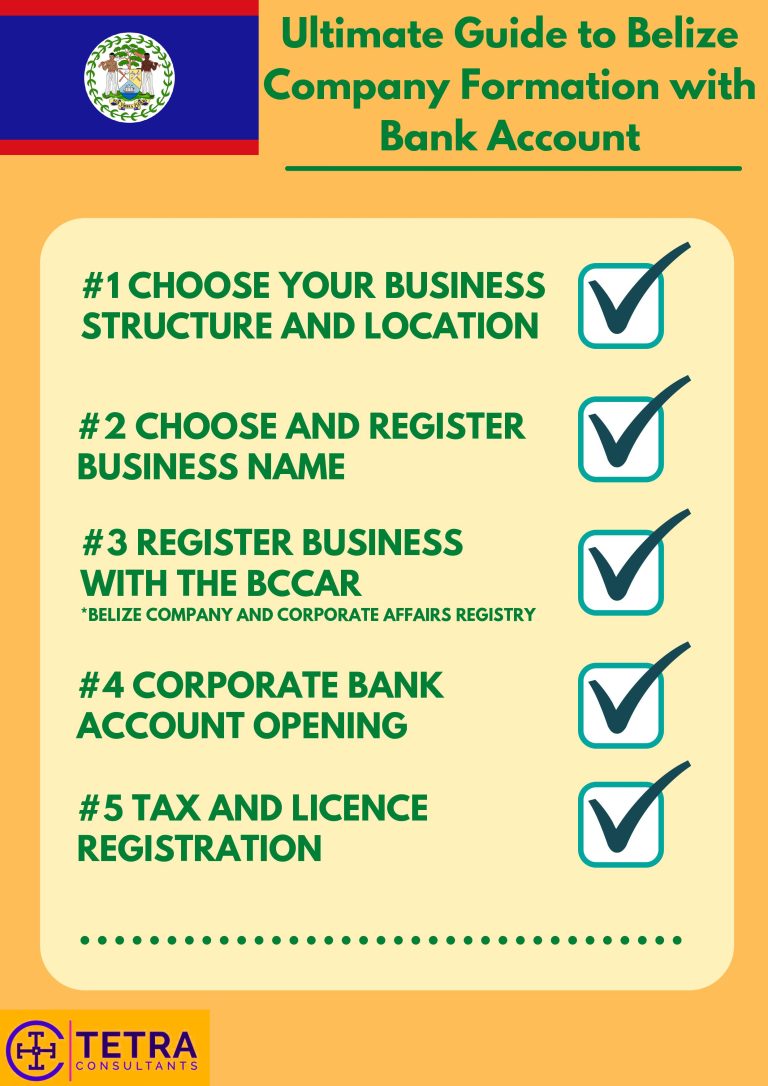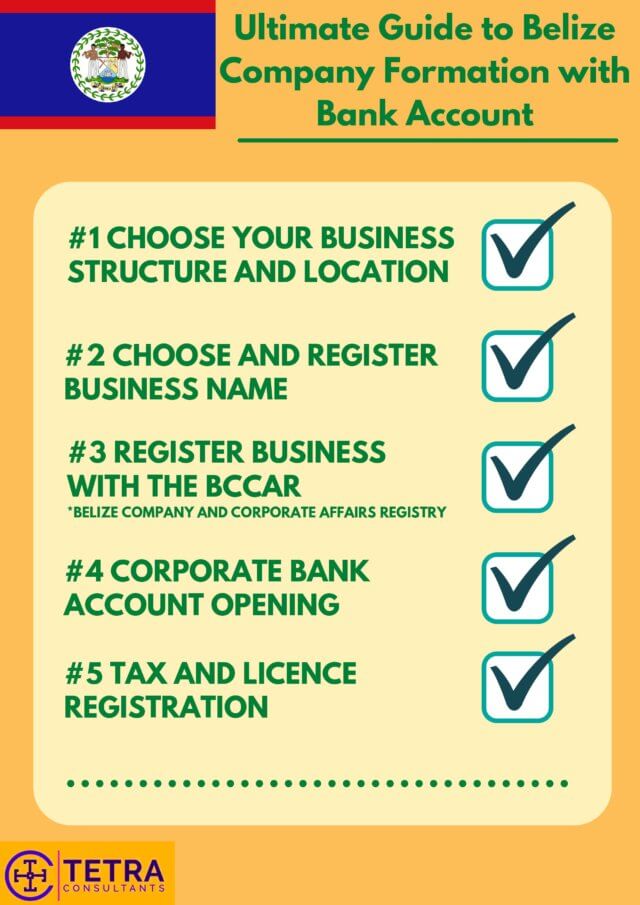 1. Choose Your Business Structure/Location :
The first step to Belize company formation with bank account is to decide on your business structure. After the development of your business plan, it is important to decide which type of business structure best aligns to your goals and business operations. Pertinent to company formations, there are up to 3 types of formation to pick from.
1) Public Investment Companies
According to the International Business Companies Act, the provision allows public investment companies to conduct businesses while enjoying the benefits of tax exemptions for up to 30 years. However, public investment companies under this act are required to meet the following requirements:
Minimum value of $2,500,000 on net tangible value

Minimum value of $25,000,000 on gross tangible value

Minimum net income of $500,000

Minimum 1 Director

Operated your business locally for a continuous period of preceding 24 months.

Provided a minimum of 50 Belize nationals full-time employment for a continuous period of preceding 24 months.

Listed on existing Approved Stock Exchange or intends to be listed within the next 24 months.
2) Limited Life Companies
Limited life companies is what is known as the Belize Limited Duration Company. This business structure operates with a life span of 50 years and can accordingly file to subsequent extensions in increments of 50 years. Similarly, under the IBC act, limited life companies are exempted from tax and stamp duties. This particular business structure tends to be adopted by investors seeking asset protection.
3) International Business Companies
International Business Companies (IBCs) are companies that are subjected to limited liability and are one of the most popular forms of companies to be incorporated in Belize. All IBCs that are/will be developed in Belize will fall under the Belize IBC Act and are exempted from paying any form of tax, including stamp duties.
After determining your company structure, the next step to Belize company formation with bank account is to ensure you have a registered local address. Any form of notice or correspondence to your company will be sent to this local address.
2. Choosing and Registering Your Business Name:
Step 2 on the ultimate guide to Belize company formation with bank account is choosing and registering your company name with the Belize Companies and Corporate Affairs Registry (BCCAR). Similar across most businesses, the name chosen cannot be the same as those existing firms and in Belize. Under the application process, you will be prompted to provide up to 3 different business names to register in order of preference.
3. Registration of Your Business:
Up till this step of the guide, you would have already completed your name application form and have an existing local address to operate in. The very next step to Belize company formation with bank account is to register and incorporate your business officially with the BCCAR. For overseas company registration, the documentation and process required can be quite simple. Your required information includes: constitution (includes statues, memorandum and articles) that governs all factors of your company, Certificate of Good Standing/Incumbency, list of all shareholders and directors and their identification, and payment of the incorporation fees.

4. Corporate Bank Account Opening:
Following this ultimate guide on Belize company formation with bank account, you would have already incorporated your company in the country. Congratulations, you are now able to register for a corporate bank account. Given the perceived tax haven image of Belize, it might be difficult to open a corporate bank account through your own means. Approach Tetra Consultants to tap onto our well established network and working relationships with various reputable banks as we process your application.
5. Tax and Licence Registration:
The final step of the guide is to comply with tax obligations and licence registration. What you have to do now is to register for your Tax Identification Number (TIN) and also related licences depending on the municipality and type of activity your company will be engaged in.
Conclusion:
Engage Tetra Consultants as we guide you to register company in Belize in a smooth and hassle-free process. The team provides a comprehensive service package that includes planning and strategizing with our clients to select a suitable business entity, completing the registration and documentation processes, obtaining required licences, opening a corporate bank account, and ensuring your compliance with the government regulations. 
Contact us to find out more about company registration in Belize and our dedicated and experienced team will revert within the next 24 hours.