Estonia is an ideal location for a variety of virtual currency-related activities. Because of its progressive regulations, the nation has rapidly established itself as a "cryptocurrency haven." It is the first EU country to regulate cryptocurrency companies. Many companies, exchanges, and exchangers have constructed physical offices in the nation during the previous five years, and over 2,000 companies have secured cryptocurrency licenses.
Most entrepreneurs prefer Estonia for crypto-related business operations such as IEOs, ICOs, and IDOs, as well as to expand their operations. The number of active entrepreneurs is rapidly increasing. Despite regulatory revisions in 2021 and 2022, the Estonia cryptocurrency license is relatively inexpensive in comparison to other nations. After all, the stringent character of the regulation is a huge commercial advantage rather than a drawback. Virtual currencies are now governed in the same way that fiat money is. They have been authorized and placed on par with other forms of payment, which is an advantage over nations where cryptocurrencies operate in the "liminal space." Due to its advantageous legal framework for regulating cryptocurrency businesses, appealing tax policies, and lower licensing costs, Estonia has been seen as a competitor to countries like Malta and Switzerland.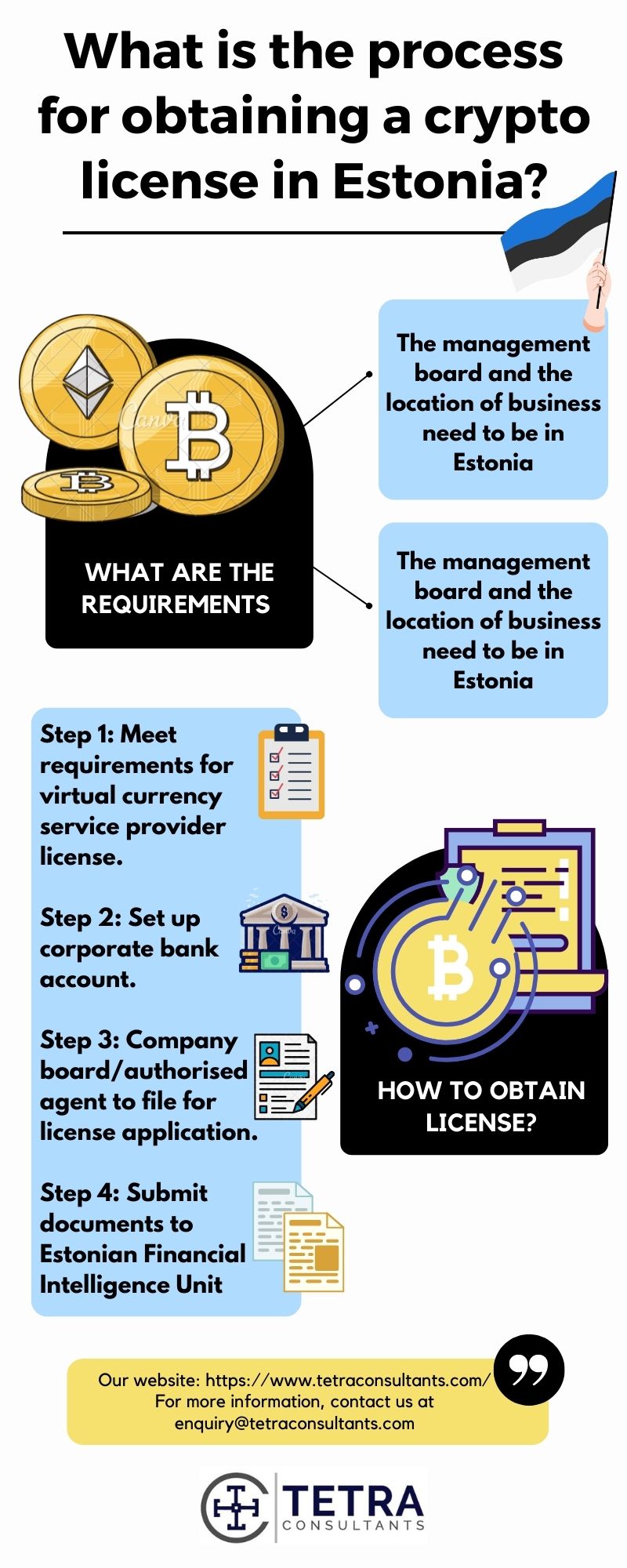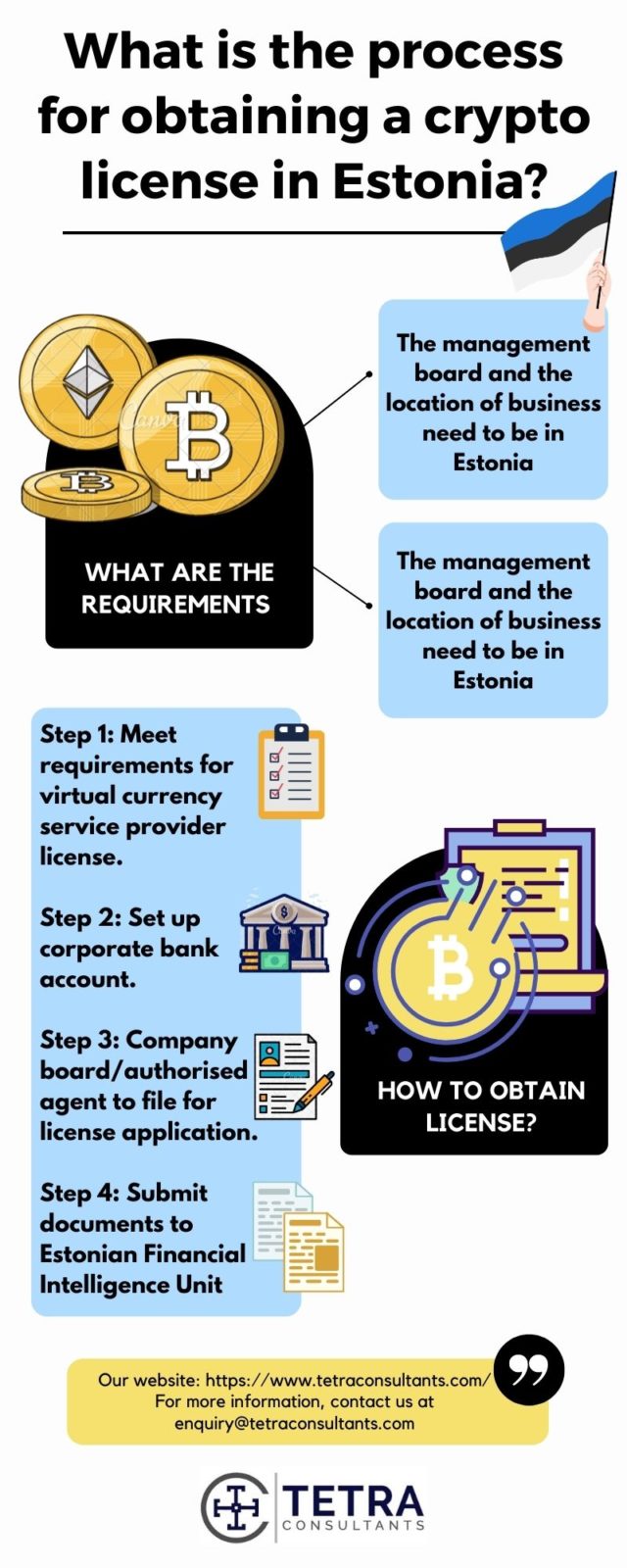 Process for obtaining an Estonia cryptocurrency license
Tetra Consultants' team of licensing experts has more than a decade of experience in advising our international clients with securing an Estonia cryptocurrency license. Our comprehensive service package includes everything you need to operate your cryptocurrency business in the nation. Our team of experts will provide full support throughout the engagement, including the formation of an entity in Estonia, the opening of a corporate bank account, drafting legal documents and license application, and securing the cryptocurrency license from the Estonian finance authority, that is FIU. 

Our team of licensing experts advises you to read through this article to understand the steps involved in the process of obtaining an Estonia cryptocurrency license: 
Step 1: Formation of Estonian Entity
The procedure to obtain cryptocurrency authorization in the country begins with the steps of duly forming an Estonian entity. In order to register an Estonian entity in the country an applicant needs a residence card. Tetra Consultants' team of incorporation specialists will apply for the e-residence card on the behalf of your entity which will require minimal identification documents like copies of notarized passports, CVs, and utility bills of the shareholders and directors of the entity. 

Once the e-residence card is secured, Tetra Consultants will proceed to reserve the name for your Estonian entity. Our team will perform the name search and reserve the same through Estonian Company Registration Portal. 

Prior to the registration of an entity in Estonia, Tetra Consultants team will ensure that you fulfill the minimum regulatory requirements for the registration of an entity and apply for a cryptocurrency license in Estonia. Accordingly, the cryptocurrency company at this stage needs a minimum authorized capital amount (depending on the type of services to be offered. for example, at least €100,000 for virtual currency exchange service or at least €250,000 for virtual currency transfer service), a registered address in Estonia, and a local representative or agent. 

With the above in place, you can proceed to

register company in Estonia.

Tetra Consultants' legal team will prepare the required corporate documents including Articles of Association entailing the necessary clauses and information of your new establishment. The registration of your Estonian entity will be conducted through the Estonia company registration portal. Upon engaging Tetra Consultants, you can expect to complete the process of Estonia company registration within 3 weeks.  
Step 2: Fulfill the minimum regulatory requirements for a cryptocurrency license
According to the latest amendment to the Anti-Money Laundering and Counter-Terrorist Financing Act, all operating crypto businesses, as well as those applying for a license, must provide the regulator with all necessary documentation, open a physical office and provide local management. Tetra Consultants will assist you to meet them. Our team will assist with the recruitment of local qualified employees to join the team.

Tetra Consultants' HR team will undertake candidate shortlisting and preliminary interviews for key employees, including the compliance officer. Following that, you can narrow down the final list of prospects to choose who is best suited to join the team. Tetra Consultants will assist in the preparation of an employment contract with the agreed terms once the candidate has been selected.

In addition, our team will compile a list of physical offices and deliver it to you. We will include crucial factors such as monthly rental, location, size, and so on so you can better determine which is best for you. Tetra Consultants will prepare the lease agreement to be executed between you and the landlord once the office has been selected.
Step 3: Preparation and submission of license application
Simultaneously, you are required to work on the preparation and drafting of the license application and other supporting documents. Tetra Consultants' team of legal experts is proficient in drafting necessary documents for cryptocurrency business which includes AML/CFT policies, insurance policies, risk assessment and procedural rules preparation, and drawing up a detailed business plan. 

Our team will ensure to send the prototypes of the documents drafted and customize with the modifications required if any after your review on the same. 

With everything prepared and right in place, our team will submit the final license application through the

Estonian Ministry of Economic Affairs and Communications

and pay the requisite application fee to the

Estonia Ministry of Finance

. If required, the Estonian authority may call for the interview, in such case Tetra Consultants will provide full support and send our nominee AML officer to represent your entity. 

A license for a virtual value service provider will be issued by the Estonian

Financial Intelligence Unit (FIU).

The company data, the license number, and information about the person in charge of monitoring compliance with the requirements are publicly available in the electronic version of the register. Once registered, a crypto company is granted the license. 

Once the license has been given, a crypto-friendly corporate bank account should also be opened to facilitate any transfers. You can engage Tetra Consultants for

corporate bank account opening services.

Our banking team will ensure that we apply for a crypto-friendly bank account in an EEA country.
Conclusion
Even though the steps on how to get a crypto license in Estonia may seem tedious, rest assured that it is a one-off process since the Estonia cryptocurrency exchange license will not expire, and even has the additional benefit of the European Union (EU) passporting rights, allowing it to be used throughout the EU.

Tetra Consultants provides our clients with an easy, hassle-free way to obtain a cryptocurrency license in Estonia. Our team of experts will guide you through the full application process so that you can start operating your crypto business as soon as possible. Tetra Consultants' team of licensing experts is proficient with securing various

offshore financial licenses

depending on the entity's long-term needs and goals. 

Contact us

now for a free, non-obligatory consultation and we will revert within 24 hours.