Forex License
For a forex company, an offshore forex license is a necessity as it not only gives them access to the array of business opportunities in the forex market but it also implies the trust enraged by the regulatory authority to step into the forex market of their concerned jurisdiction.
If you are a new forex broker or seeking to establish a forex brokerage firm, one of the first things you will need to think about is acquiring a forex license. While licensing operations necessitate that forex enterprises adhere to strict norms of behavior, obtaining a license will benefit your company's operational and financial performance.
Tetra Consultants assist forex dealers with their regulatory and forex licensing needs and provide continued support and assistance to forex companies concerning all aspects of entity formation and operation.
What is a forex license?
An offshore forex license is a brokerage license that allows you to operate on the forex currency exchange market. It is usually regulated by the Central Bank or Financial Services Authority of the country.
For example, the Bahamas forex broker license is regulated by the country's chief regulator, The Securities Commission of The Bahamas (SCB).
Why do you need a forex license?
A

forex trading license or forex brokerage license

will enable your entity to legally operate as a forex brokerage and trading firm, provide a full array of brokerage and trading in forex services to clients, and an online platform for your clients to do their own forex trading, manage forex trading options, and process debit card payments or credits of client accounts.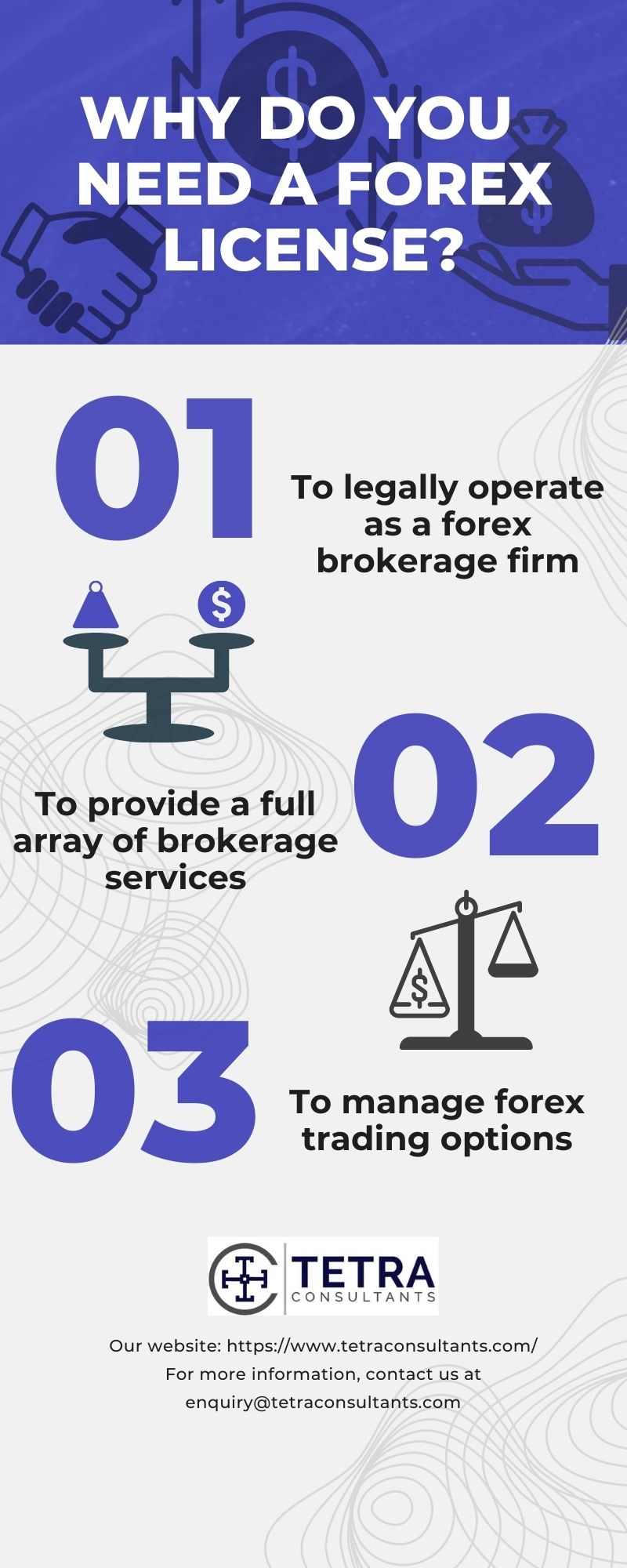 What are the positive implications of having an offshore forex license?
There are plenty of benefits when it comes to setting up a company with an offshore forex license.
It allows for directors of any nationality to operate the offshore forex brokerage in the jurisdiction that has been chosen. There are no citizenship or residence requirements.
The due diligence requirements for obtaining an offshore forex license are quite straightforward in most jurisdictions.
The renewal costs are generally low.
An offshore forex license allows you to operate in various regions around the world.
Being a fully licensed forex broker will greatly add to your reputation, and give your customers a sense of trust. It will also allow you to operate in reputable jurisdictions where a license is a must.
Licensing processes in offshore jurisdictions tend to be more straightforward and less paperwork heavy than in onshore jurisdictions.
Acquiring a forex broker license in an offshore jurisdiction is often quicker and more cost-effective.
A quicker licensing process means fewer costs incurred. You can get set up and be profitable in a shorter period.
There are also lower capital requirements when you incorporate and start the licensing process. This leaves more cash to invest in other areas of the forex business.
Many offshore jurisdictions have favorable tax regimens. In some cases, there are zero taxes payable on revenue generated by the Forex business.
There are cases where operating in an offshore jurisdiction can provide greater levels of privacy for the beneficial owners.
You can enjoy greater security for your business by incorporating your Forex broker offshore. This puts it out of the reach of creditors and lawsuits.
What are the regulatory requirements and documents for a forex license?
For obtaining a typical forex license, a regulator would want you to consider the following factor:
Choice of Jurisdiction
When deciding upon the right jurisdiction in which to obtain a forex license, you should consider the factors such as the time taken by the regulatory authority to grant a forex license, your customer base, eligibility, or qualifying criteria to operate as a forex dealer in the different jurisdiction, and more.
Offshore Forex Brokerage capital requirements
Another important factor to consider before you decide where you will register your offshore forex brokerage is the capital requirements that you will need to meet.
For example, for obtaining a Belize forex license, a company is required to have the charter capital amounting to US$500,000.
License Fee
For most banking licenses, there will be license fees during application as well as on a renewal basis. For example, if you are looking to renew your Cayman Islands international banking license, the renewal fee is US$85,000 to maintain.
Physical registered office in the country of incorporation
Under the different regulations of jurisdiction, you may be required to maintain the economic substance by the way of having a physical registered office, board meetings, and more in the country of incorporation.
For example, International Financial Services Commission (IFSC) requires that a company in Belize must ensure that economic substance is maintained in Belize. This means that an adequate amount of business activities must be conducted within or from Belize.
Required Documents
For a typical forex license, a regulator may ask you to provide the following documents:
notarized copies of valid passports of all shareholders, directors, and/or beneficial owners;
character reference letters for each director and shareholder;
certified diplomas as proof of high educational studies in the financial field;
proof of residential address, such as a recent utility bill for each shareholder and director;
bank references for all shareholders and directors;
curriculum vitae for each shareholder and director;
all directors and shareholders must also have clean criminal records;
a detailed business plan;
and, a description of various policies related to the types of services to be provided.
What is the procedure for obtaining a forex license?
Obtaining a forex license will have unique steps, regulations, and procedures in different jurisdictions. Tetra Consultants has summarized the more common steps that will be required in a typical engagement for attaining a forex license.
Step 1: Choosing the correct jurisdiction and forex license
Tetra Consultants will guide you on the most appropriate region and license for your business model based on your projected company operations and the jurisdictions of your client base.
Before the commencement of the engagement, our team of specialists will equip you with the licensing requirements, including paid-up capital requirements, local economic substance criteria, timelines, and regulations.
Step 2: Company registration
Tetra Consultants will perform due diligence on the company's management and shareholders. We will start to register the business with the local Companies Registry after we have all KYC papers, incorporation documents, and power of attorney.
We will deliver the corporate documents, including the Certificate of Incorporation, Memorandum, and Articles of Association, as well as other internal documents, after the company has been officially registered.
Step 3: Opening a corporate bank account
Tetra Consultants will proceed to open a corporate bank account with a reputable bank. This bank account will be used to deposit the minimum paid-up capital required to secure the license.
Step 4: Preparation of documents
The legal experts at Tetra Consultants will prepare the necessary documents for the licensing application. According to the local regulations, these papers will contain the business plan, financial statements, AML/CFT policy, and insurance policy.
Tetra Consultants will provide you with the drafts after the documents have been prepared for review. Following that, we'll email them to you for e-signature and start working on your license application.
Step 5: Meeting local economic substance requirements
In the event, the local regulator requires you to have economic substance like a local office and local qualified personnel, Tetra Consultants will assist you to meet these requirements. Our team will assist with the recruitment of local qualified employees to join your team.
Tetra Consultants HR team will conduct the initial shortlisting and interview with the potentially qualified applicants. Within 1 week, Tetra Consultants will send you the final list of shortlisted candidates and arrange for a final interview with you. Once you determine the candidate, we will immediately start working on the employment contract stating clearly the job scope, salary, responsibilities, and working hours.
Our team will also shortlist a list of physical offices and send them to you. We will include important considerations such as monthly rental, location, size, etc so you can better decide which is most suitable for you. Once the office is chosen, Tetra Consultants will prepare the lease agreement to be signed between you and the landlord.
Step 6: License application
Once the above is completed, Tetra Consultants will submit the application to the local regulator. Depending on the jurisdictions, you may be required to attend an interview with the regulator before license approval. In this case, Tetra Consultants will prepare you for the interview and assist with the follow-up actions required by regulatory authorities.
All going well, your firm will receive the forex license and will be required to start business operations within the stipulated time frame to maintain the license.
How long does it take to obtain a forex license?
Before the start of the engagement, Tetra Consultants will send you a project plan with the timelines stipulated for business setup, drafting of documents as well as license application

for obtaining relevant offshore forex license.

This is to ensure that all parties are clear on the upcoming project.
How much does it cost to obtain a forex license?
The total engagement fee

for obtaining an offshore forex license

depends on the services you need from Tetra Consultants. We provide you with multiple services ranging from assisting you through the incorporation process to obtaining the forex license. This total fee that will be charged will be inclusive of the company registration fee, license fee, and any additional cost that may arise.
We will discuss with you the total engagement fee charged in detail before we begin the registration process so that you have a better understanding of what you are paying for.
Our services
Tetra Consultants is an international professional consultancy firm that specializes in the attainment of financial licenses

like forex broker licenses or forex trading licenses

. We can assist you in obtaining a specific forex license or authorization from your selected jurisdiction, to lawfully operate as a brokerage firm in the foreign exchange industry. We provide licensing services in all major jurisdictions that have introduced advanced legislation regulating brokerage or forex activities.

Tetra Consultants will assist you with communications with the local regulatory authorities, and government officials throughout the whole course of the engagement.

In addition, Tetra Consultants can also assist with attaining other

offshore financial licenses

depending on your long-term business goals.
Find out more!
Contact us to find out more about how to get an offshore forex license. Our team of experts will revert within the next 24 hours.
FAQ
Does a forex broker need a license?
Every jurisdiction has different laws and regulations governing foreign exchange and its requirements. Generally, it is suggested for a forex trader to get a forex license to conduct the forex business, especially in conventional and restrictive jurisdictions like US & UK.
Moreover, nowadays most clients prefer to get engaged with forex forms that are properly licensed and have good legal standing in the proposed jurisdictions and under the respective regulatory authority.
How do I get a forex broker license in the UK?
To get a forex broker license in the UK your entity must be registered in Great Britain along with the condition to meet other regulatory requirements as posed by the UK's regulatory authority which is Financial Conduct Authority.
Even though the UK has less stringent regulations governing forex exchange, FCA takes extensive care while approving the applications for forex licenses by posing high requirements on the company personnel. Hence, it is suggested to engage a professional consultant for the licensing procedure.
Tetra Consultants is specialized in obtaining a forex license for our clients in the UK. We provide assistance from entity formation to the submission of application along with taking care of any regulatory inquiry as posed.
How do I start a currency exchange business?
To start a currency exchange business you need to get the requisite permit or forex license in the jurisdiction where your business is located.
What is meant by a licensed forex broker?
A licensed forex broker means an entity has the requisite permits to carry on the forex trading business and its business is regulated, transparent, and controlled by the competent authority.
Which jurisdictions are preferred most by the forex trader?
The attractive jurisdictions in terms of requirements and obtaining a forex license can be but are not limited to the UK, Latvia, Belize, Estonia, Seychelles, and Cyprus. However, it totally depends on your business activities and long-term goals.
For this reason, you will need to discuss your business plans with our team of experts who will then recommend the best-suited jurisdiction and forex license for your business.