Bahamas Forex Broker License
Bahamas Forex License, also known as a Forex Broker License, which is necessary for conducting businesses dealing in securities, is easy to obtain with Tetra Consultants' assistance.
The Bahamas has always been a popular destination for financial services firms looking for a business-friendly jurisdiction, with financial services being the second largest contributors to the country's Gross Domestic Product. However with the increasing association of money laundering and other fraudulent activities to financial services firms in the country, the country's chief regulator, The Securities Commission of The Bahamas (SCB) has implemented changes in the forex broker license to deter such fraudulent brokers whilst ensuring the country continues to encourage the development of legitimate users.
Tetra Consultants will go through the changes in regulations governing a Bahamian Forex Broker License and how this affects the operation of existing licensees, and how it might affect your decision to apply for a forex broker license in The Bahamas. The process of Bahamas company registration and forex broker license application can be hassle-free if you know how. With Tetra Consultants at the wheel, you will be able to dedicate your time and resources to other more important business channels.
With our lean-and-mean mentality, you can rely on our team of experts to provide you a seamless experience throughout the whole process of setting up a brokerage business in The Bahamas. Our ultimate goal is for your Bahamas brokerage firm to be operationally ready within the stipulated time frame.
Our service package includes everything you will require to register business in The Bahamas and register for a forex broker license: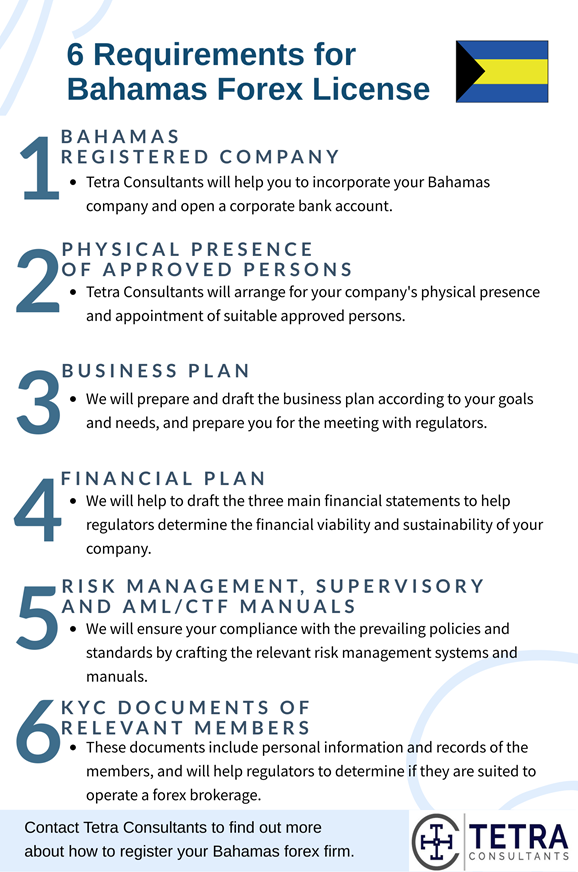 Introduction to changes in forex broker licensing
On the 27th of May 2020, legislation was passed by the Bahamian government to tighten the regulations concerning forex broker licensing. Under these new changes, Contracts for Difference (CFD) providers would face new restrictions and fees, whilst regulated entities will also see their maximum allowed leverage lowered and marketing activities restricted.
Changes regarding Contracts for Differences (CFD) providers
A new fee category has been created for providers of Contracts for Difference, which are contracts where the buyer agrees to pay to the seller the difference between the asset's current value and the value at time of contract. In general, this makes it significantly more expensive for CFD licensees, that could see their yearly cost increase from US$16,500 to US$230,000. This is an increase of almost 15 times.
Although this increase is likely to deter fraudulent brokers and thus increase the legitimacy of the license for genuine users, these users should also consider the benefits of a forex broker license and alternative jurisdictions before deciding to start their forex business in The Bahamas. These will be covered in a later section.
The new fee structure will be as follows:
Application fee of US$2,500
Registration fee of US$15,000
Annual renewal fee of US$30,000
Quarterly activity fee of US$45,000
CFD supervisory officer fees:
Application fee of US$1,000
Registration fee of US$3,000
Annual renewal fee US$5,000
Apart from fraudulent users, these fees will also deter smaller and more inexperienced brokers that typically attract more regulatory attention and thus bad reputation for the jurisdiction since there are less familiar with the operational and compliancy requirements of a forex business. Thus, this is likely to increase the overall standing of The Bahamas, helping them to market themselves as a premium jurisdiction for forex businesses with a well-defined and regulated framework, especially in the area of CFDs.
Changes regarding portfolio composition and maximum leverage
With the new rules, all underlying CFD assets must have a minimum margin of 0.5% and a maximum leverage ratio of 200:1, as compared to the previous ratio of 500:1. These rules will be relooked on a case by case basis for cryptocurrencies. Forex brokers must also ensure that retail client accounts have a net equity at least 50%. These retail clients are also no longer allowed to trade in binary options. Stop-loss orders will now be set at 50% instead of the previous 20 or 30%.
Professional clients are clients who satisfy at least two out of the three criteria, which would demonstrate their expertise, knowledge and experience in CFDs, and that they understand the nature of such transactions and services. The criteria are as follows:
The client has made significantly large transactions on the market. The must have been an average of 10 of these transactions being made every quarter-year for the past 4 quarters.
The financial instrument portfolio of the client must be more than US$500,000. This portfolio includes financial instruments and deposits of cash.
The client possesses at least one year of working experience in a professional occupation in the finance and banking industry, in an occupation mandating knowledge of the services or transactions forecasted.
Professional clients are not subjected to the leverage requirements or margin requirement.
Changes regarding permitted marketing activities
These changes would ensure that consumers are able to make well-informed decisions without being unnecessarily pressured by aggressive marketing tactics such as cold calling. By minimizing the use of these hard selling tactics, it is also more likely that the forex market will be able to attract customers whose needs and risk appetite are in line with what the market offers. Overall, this would also prevent the reputation of forex firms from worsening further as they would not be seen as pushy or intimidating customers.
When will you require a Bahamas Forex License?
It will be required by all firms that want to deal in securities. They are separated into two tiers. Additional authorization will also be needed for those who are keen to deal in Contracts for Difference, as mentioned above.
Dealing as Agent and Principal
The equivalent of a B-Book forex broker, or a market maker, such firms are able to process your trades in-house by acting as a counterparty to your trades. In other words, you will be trading directly with the broker, which guarantees that there is more liquidity. This allows you to execute orders and guarantee fills even when overall liquidity might be low. You would also be somewhat insulated from market shocks and fluctuations since such brokers charge a fixed spread.
Such firms have a minimum capital requirement of US$300,000.
Dealing only as Agent
Known as A-book brokers, it uses a Straight Through Processing model whereby they pass your order directly to the liquidity pool as opposed to dealing directly with you. While this is good in the sense that they cannot take advantage of your trading history as a B-book forex broker might be able to, it does leave you vulnerable to larger spreads that vary drastically based on the prevailing liquidity. Lower liquidity could arise both due to market conditions, or when you are trading in a rarer currency pairing with lower trade volume. Higher spreads might also occur when you are trading during off-market hours.
Such firms have a minimum capital requirement of US$120,000.
If you are unsure of what type of forex license your business requires, feel free to contact us for a non-obligatory consultation. Our team of experts will revert within the next 24 hours.
Bahamas Forex License requirements
Bahamas registered company

The license can only be obtained by a Bahamas registered business. Tetra Consultants assists our international clients with registering for a Bahamas business. This has relatively few requirements compared to other jurisdictions since it is relatively easy to do business in The Bahamas. Minimally, you will need one director and shareholder, which do not have to be local directors or local shareholders, and a registered agent and office address. Tetra Consultants can provide both a dedicated registered agent and office address for this purpose, allowing you to easily satisfy the requirements.
Although there is no minimum capital for a Bahamas business, you will need a minimum capital of either US$120,000 or US$300,000 depending on what type of forex license you apply for. Bahamas company registration is estimated to take 1 week, excluding corporate bank account opening.
Physical presence of approved persons
Your forex business must have a physical presence in The Bahamas if your firm is expected to conduct business deals or arranging deals within the country. Your firm must also meet certain requirements with regards to having key personnel physically present in the country. These are the Compliancy Officer and Chief Executive Officer. These appointment holders must pass fitness and properness tests to be approved by the regulator, SCB. The approval process will take into consideration the relevant qualifications and experience of these candidates.
Business plan
This business plan should include the following elements. Tetra Consultants will seek to understand your business activities and goals when we help you to draft your business plan that best encompasses this while still being compliant to the prevailing regulations. Subsequently, when your business meets the regulators to present your business plan, we will also advise you on the possible questions they might ask.
Organization and management plan
This is in relation to how the firm plans to manage its employees, and other internal controls that will also be elaborated on below.
This is in relation to the target consumers of the firm, what services it will offer and what distribution channels it will use.
This is in relation to how to firm plans to carry out its activities, such as investment sources, financing sources, use of technology and how it plans to satisfy audit requirements.
Timeline of when the firm will achieve key strategic outcomes.
Information on types of activities to be conducted.
Financial plan
This financial plan should include the three key financial statements, as listed below.
Profit and Loss statement (based on estimated revenues and costs)
Balance sheet (including proposed capital structure and sources)
This would help the regulators to determine the financial viability and sustainability of the proposed company.
Risk management, supervisory and AML/CTF manuals
This refers to the internal controls put in place by the company in terms of how decision making and organization structure is being designed to mitigate risks determined to be present based on risk assessment methods.
Conformance to AML/CTF (Anti Money-Laundering and Countering Terrorist Financing) principles laid out by the EU is also expected.
KYC documents of relevant members
These KYC documents help us and the SCB to determine if the appointment holders in question are able to operate a payment institution with sufficient stability. Rest assured that we will keep all sensitive and personal information strictly confidential in accordance with our privacy policy. Thus, we would require:
Educational and professional experience of the members
Criminal records or pending criminal proceedings, and any bans or restrictions as a result of past proceedings
Personal and corporate affiliations
Current financial and corporate commitments
Additional requirements
Prospective forex brokers are also required to apply for and show proof that of their Professional Indemnity Insurance. This is an insurance regulation that indemnifies the broker against claims from clients that their service is inadequate.
In terms of financial reporting, you will need to prepare audited annual financial statements, and quarterly interim financial statements. Both these statements should be in accordance with generally accepted accounting principles. Any material changes in the firm, its operations or staffing should be updated to the SCB.
How long to secure Bahamas Forex License?
Each license can only be applied for by an existing registered company. This registration process is estimated to take 5 weeks, including corporate bank account opening. The license will be individually reviewed by the SCB to ensure it complies to all the stated regulations and requirements. The whole process is expected to take around 4 months in total. If the information provided is inaccurate, incomplete or inconsistent, they might revert back with a clarification request or request for further information, which might delay the process.
How to apply for Bahamas Forex License
Tetra Consultants will first help you to apply for a Bahamas company and open a corporate bank account. Subsequently, we will help you to draft your business plan and prepare to submit your application. Even after your company has registered and the forex license has been obtained, Tetra Consultants' team of Chartered Accountants will continue to assist your company in the financial reporting requirements to ensure the continued complying of your business.
Contact us to find out more about Bahamas company registration and forex license application. Our team of experts will revert within the next 24 hours.
FAQs
What is a CDBC?
A CDBC refers to a Central Bank Digital Currency. This differs from privately issued or minted cryptocurrencies since they are legal tender and directly backed by the Central Bank.
What does The Central Bank of The Bahamas do?
What is Sand Dollar?
Part of Project Sand Dollar, Sand Dollar is a digital version of the Bahamian Dollar. Project Sand Dollar also aims to create the digital payments infrastructure system to support the widespread usage of digital currencies.
Is Sand Dollar legal tender?
Yes, it is. It holds similar legal status to the Bahamian Dollar.
What currencies are accepted in The Bahamas?
The Bahamian Dollar is pegged to the US Dollar, hence both are widely used in the country. Certain vendors might also accept payments through your sand dollar wallet, the country's digital currency.
Is cryptocurrency legal tender?
Only CDBCs are legal. Other privately issued cryptocurrencies such as Bitcoin or Ethereum are not.
Are cryptocurrencies legal or regulated in The Bahamas?