Fund Management License
Obtaining the fund management license is a procedure that requires extensive professional help due to the intricacies to be involved in every aspect of it, be it filing of application form to the maintenance of business post-approval of the license. To simplify the process, it is always recommended to get a specialist engaged in such a process.
Tetra Consultants has years of expertise assisting our international clients in obtaining a fund management license. For this, you can count on us for being your one-stop business solution.
Who are fund managers?
Fund managers are recognized as an entity that administer one or more funds as their primary and ongoing business activities. In other terms, the principal and permanent business of a fund management company is to administer the assets of a fund constituted as a company or a contractual fund.
Who issues a fund management license?
A regulating authority enacted under the statute governing the investment activities of the proposed jurisdiction issues the fund management license. For example, in Singapore fund management activities are regulated by the Monetary Authority of Singapore (MAS) under the Securities and Futures Act. Hence, a business engaged in such activities is mandated to have a capital market services (CMS) license to operate as a fund management company.
What are the positive implications of obtaining an offshore fund management license?
Depending on your long-term business goals, when setting up a fund management company in offshore jurisdictions, you may enjoy the following advantages:
Capital gains, incomes, profits, and dividends accruing to the fund are taxed at a low or negligible tax rate. This would ordinarily enable the fund to overtake its peers established in a high-tax territory. In this case, profits that otherwise would have been paid as tax can be invested back in the assets held by the fund in the case of an offshore FMC.
Fees, commission income, and profit made by fund managers, consultants, and executives licensed and regulated in an offshore financial centre are subject to a minimum or zero tax. Again, this may give these professionals a market edge, for example, by allowing them to charge lower fees and commissions than their competitors who are located in high-tax territories.
Operational efficiencies and flexibility, both in terms of investment portfolio selection and structuring and in terms of the Fund's organizational structure. This is mainly due to the reason that offshore financial centers' fund manager law allows for less "red tape" and stricter regulation than other high-tax nations' mutual investment vehicles.
Offshore investment funds have access to the broadest range of investment instruments and are typically able to pursue more aggressive investing techniques than funds registered in "conventional" jurisdictions.
The minimal degree of regulation makes the process of establishing an offshore investment vehicle simpler and cheaper. Following that, the costs of running and administering the business are usually reduced.
A series of offshore investment funds, all established in the same way and with the same well-known managers and administrators, may be set up rapidly and at a low cost.
For example, when getting a Mauritius fund manager license you will have the benefit as enumerated:
Modern and flexible laws
Minimum capital requirement of MUR 1 million (approx US$30,000)
Low tax rate – maximum of 3% on net profits
Low fund management license fee & operational costs
Availability of professional fund administrators and fund lawyers
Extensive network of double tax treaties and favorable tax incentives
Sound regulatory and legal framework
The strategic location makes it a well-placed international financial centre to access African markets
What are the regulatory requirements and documents for obtaining a fund management license?
For a typical fund management license, the regulating authority will require you to consider the following factors –
Competency requirements
In conformance with the administered guidelines on eligibility requirements issued by most of the regulatory authorities, you will be required to ensure that the minimum competency requirements for the key managerial personnel are being complied with. Generally, it should appease regulators that your shareholders, directors, representatives, and employees, as well as your entity itself, are "fit & proper" to operate the business of fund management.
For example, the Monetary Authority of Singapore (MAS) requires a Singapore fund management company to have a minimum of 2 directors with at least 5 years of relevant experience in the financial services industry each, including managerial experience or experience in a supervisory capacity.
Capital adequacy requirements
As a Fund Management Company, you must always fulfill the regulatory minimum capital requirements. Furthermore, such basic capital must be maintained on a continuous basis, with an excess capital buffer and range as necessary.
For example, If you are looking to set up a fund management company in Labuan, the Labuan International Business and Financial Centre (IBFC) will require you to have a paid-up capital that is unaffected by losses of at least RM300,000 or its equivalent in any foreign currency throughout its operations and at least one shareholder, two directors, and three local employees.
Accordingly, the Monetary Authority of Singapore (MAS) requires a Singapore registered fund management company to have a minimum capital requirement of at least S$250,000, depending on the business scope.
Auditing requirements
Another important point of consideration before you apply for the fund management license is to have a look at the audit requirements. Regulators of most jurisdictions require a fund management company to meet the annual audit requirements along with the direction to appoint an internal auditor competent for the required purpose.
For example, In Singapore, a fund management company must be subject to adequate internal audit. The internal audit may be conducted by an internal audit function within the FMC, an internal audit team from the head office of the FMC, or outsourced to a third-party service provider.
On the other hand, in Labuan, a fund management company is required to appoint an approved auditor to carry out an annual audit of the accounts under the Labuan Financial Services and Securities Act.
Required Documents
For a typical fund management license, the regulating authority will most likely ask you to submit the following documents with the application form-
A detailed business plan entailing the brief resume of the applicant, its organizational structure, type of the services to be offered, projected financial positions, and business objectives.
A notarized copy of the certificate of incorporation and documents of proof with regards to payment of minimum capital.
The initial balance of the entity and statements of income and expenses or a balance and profit report as at the end of the month prior to the application for an operating license, and annual reports for the past three years (if applicable).
Documents and personal information of key managerial personnel including valid passports, proof of date of birth, CV, professional references, proof of the absence of a criminal record, place of residence, description of education, full list of jobs and positions held.
A list of the roles and responsibilities of representatives of the management board, as well as any supporting documents that the applicant perceives appropriate to exhibit trustworthiness and compliance.
Information about the auditor and internal auditor of the applicant, giving the names, place of residence, and valid passports or dates of birth or registry code if there is no ID card.
A list of the shareholders of the applicant showing the name of each shareholder or member, their valid passports, or date of birth if they have none, and the details on the share of equity holdings of each shareholder and the voting weight is given to them.
Data on the people directly or indirectly control more than 10% of the voting shares of the applicant.
Data on any business that the applicant or its management or supervisory board members for managing director holds more than 20%, where those data include the size of each shareholder equity capital, a list of its areas of activity, and the size of the holding of the applicant of each member.
Last but not least, a detailed description of the characteristics of the established fund including every information that is relevant for obtaining the license.
What is the procedure for obtaining a fund management license?
For obtaining a fund management license different nations will have different stages, regulations, and processes. Tetra Consultants has consolidated the more prevalent steps involved in obtaining a fund management license in a normal engagement.
Step 1: Evaluating the correct jurisdiction and requirements for a fund management license
Tetra Consultants will advise you on the most appropriate region and license for your business based on your projected business operation and the jurisdictions of your client base.
Prior to the commencement of the engagement in the targeted jurisdiction, our team of specialists will present you with the licensing requirements, including eligibility criteria, paid-up capital requirements, local economic substance requirements, timelines, and procedures.
Step 2: Company registration
Tetra Consultants will perform due diligence on the company's directors and shareholders. We will move to register the entity with the local Companies Registry after we have all KYC credentials, incorporation forms, and power of attorney.
We will send the corporate documents, including the Certificate of Incorporation, Memorandum and Articles of Association, and other administrative documents, after the business has been properly registered.
Step 3: Opening a corporate bank account
Tetra Consultants will proceed to open a corporate bank account with a reputable bank. This bank account will be used to deposit the minimum paid-up capital required to secure the license.
Step 4: Preparation of documents
The legal experts at Tetra Consultants will draft the necessary documentation for the licensing application. Depending on the local laws, these papers will contain the company strategy, AML/CFT policy, and other necessary documents.
Tetra Consultants will deliver you the draft of such documents after they have been prepared. Following that, we will email them to you for e-signature and start working on your license application.
Step 5: Meeting local economic substance requirements
In the event the local regulator requires you to have economic substance, Tetra Consultants will assist you to meet them. Our team will assist with the recruitment of local qualified employees to join the team.
Tetra Consultants HR team will conduct the shortlisting and initial interview with the candidates. Thereafter, you can shortlist the final list of candidates to determine who is most suitable to join the team. Once the candidate is chosen, Tetra Consultants will assist to prepare an employment contract with the terms and conditions that are agreed upon.
Our team will also shortlist a list of physical offices and send them to you. We will include important considerations such as monthly rental, location, size, etc so you can better decide which is most suitable for you. Once the office is chosen, Tetra Consultants will prepare the lease agreement to be signed between you and the landlord.
Step 6: Conducting fit & proper test
Tetra Consultants' team of experts will make sure that every key managerial personnel engaged has the requisite qualifications and is competent enough to take the position, by verifying the informational data and supporting documents for the same.
Step 7: License application
Once the above is completed, Tetra Consultants will submit the application to the local regulator. Depending on the jurisdictions, you may be required to attend an interview with the regulator prior to license approval. In this case, Tetra Consultants will prepare you for the interview and assist with the follow-up actions required by regulatory authorities.
All going well, your firm will receive the fund management license and will be required to start business operations within the stipulated timeframe in order to maintain the license.
Step 8: Post-application compliances
Tetra Consultants will assist you in ensuring you are compliant with the local laws after you have received the necessary approval to conduct your fund management business.
We will assist you in adhering to the yearly compliances of submitting the annual audited financial statements to the local regulatory authorities along with taking care of tax and accounting obligations.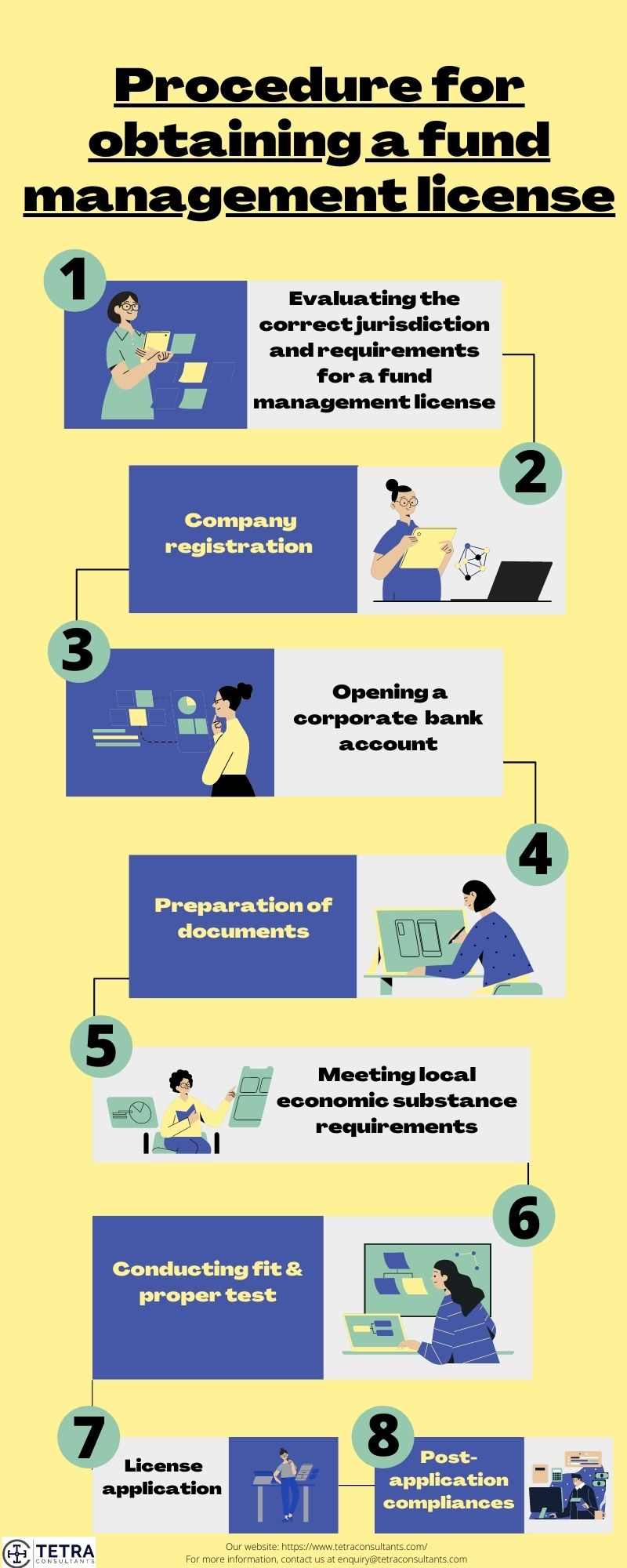 How long does it take to obtain a fund management license?
Prior to the start of the engagement, Tetra Consultants will send you a project plan with the timelines stipulated for company registration, preparation of documents as well as license application. This is to ensure that all parties are clear on the upcoming project.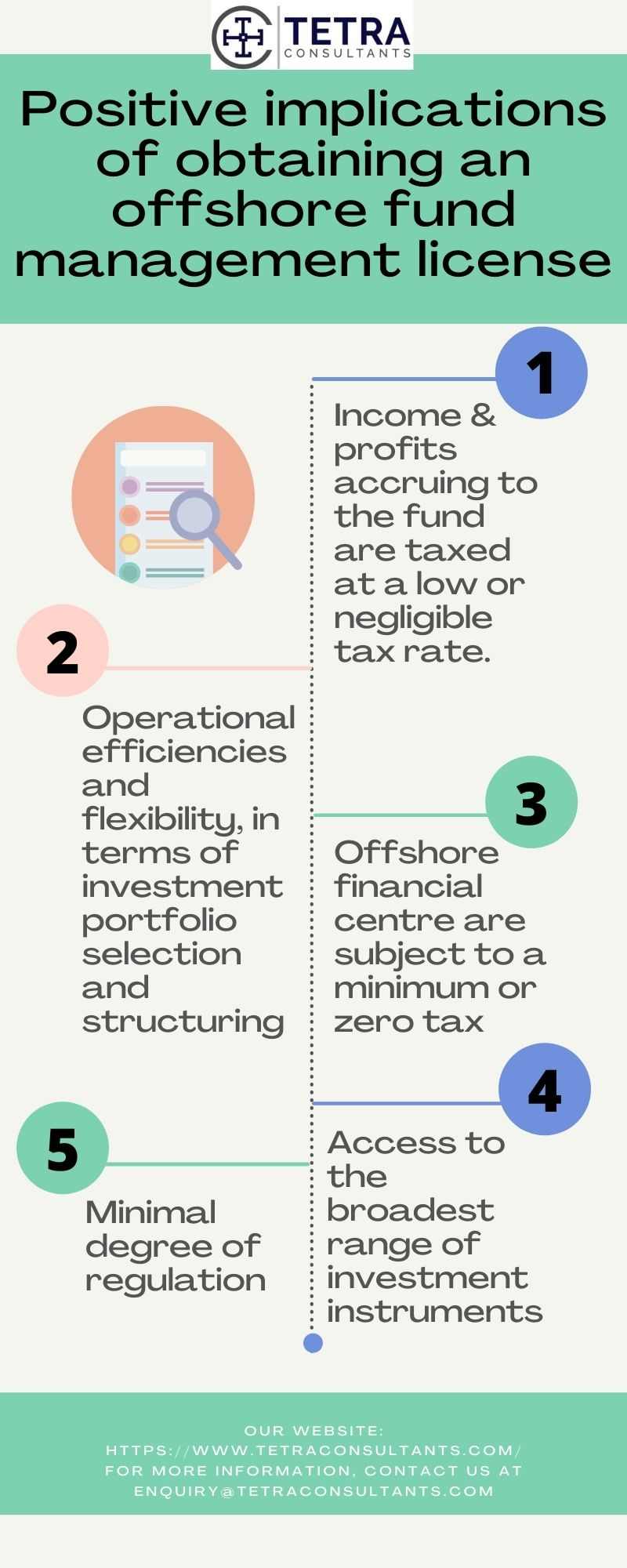 Validity and revocation of fund management license
Even though a banking license is not granted with the specified validity period, it does not mean that once it is granted it cannot be revoked by the issuing authority under the terms of the law.
A fund management license approved once can be revoked by the regulators in the event that there is a violation of any requirements of law.
For example, a fund management company licensed under the Securities and Futures Act of Singapore can be valid until-
The fund manager either ceases to do business as a registered FMC or stops performing all regulated activities under the capital market service license,
or when its license is canceled by MAS (regulating authority),
or when there is a lapse of license according to section 95 of SFA which includes conditions like when the holder has not worked in the interest of its customers and subscriber, where there have been dishonest and fraudulent actions by its employer, employees, or directors (KMPs), and when the holder of such capital market service license has disregarded any provision of the law.
How much does it cost to obtain a fund management license?
The total engagement fee depends on the services you need from Tetra Consultants. We provide you with multiple services ranging from assisting you through the incorporation process to obtaining the fund management license. This total fee that will be charged will be inclusive of the company registration fee, license fee, and any additional cost that may arise.
We will discuss with you the total engagement fee charged in detail before we begin the registration process so that you have a better understanding of what you are paying for.
Our services
Tetra Consultants is proficient in advising our global clients on securing fund management licenses. Our team of experts will manage your fund manager license application from the start to the end, including the incorporation of a new offshore company, the opening of a corporate bank account, drafting the legal documents required, consultation on the client's eligibility and application procedures, write-up of such a suitability study based on the client's profile.
Additionally, Tetra Consultants will also take care of due diligence check, profiling, and guidance on documents drafting and preparation, construction of a specific business plan to meet the client's objectives, preparation of financial forecast, KYC, and AML manuals.
Moreover, Tetra Consultants also act as a liaison and key contact person for both, the client and regulating authorities on all correspondences, meetings, and /or interviews if required in the furtherance of the application process.
Tetra Consultants will assist you with communications with the local regulatory authorities and government officials throughout the whole course of the engagement.
In addition, Tetra Consultants can also assist with attaining other offshore financial licenses depending on your long-term business goals.
Find out more!
Contact us to find out more about how to get a fund management license. Our team of experts will revert within the next 24 hours.
FAQ
What qualifications do you need to be a fund manager?
An individual looking to apply for a fund management license or become a fund manager must have the relevant degree and professional experience to carry out the fund management activities.
What license is required to run a hedge fund?
A regular business license is the standard licensing needed for a hedge fund manager. Because hedge fund managers are not regulated like brokers, they normally do not require a license unless they trade on behalf of consumers.
How do I get an asset management license?
To get an asset management license you will need to meet the criteria and the regulatory requirements as set in the legislation governing such activities in the proposed jurisdiction.
How do I start a fund management company?
To start a fund management company you need to set up an entity in the choice of jurisdiction best suited to your business and meet the necessary qualifications and regulatory posed and then move on to apply for the fund management license to officially and legally operate your business in the respective nation.
What are the kinds of activities permitted under a fund management license?
A regular fund management license enables you to oversee the funds of clients and invest such funds in the securities under the name principal agent of such clients.
Can you manage securities without a fund management license?
No, a fund manager cannot sell securities and exercise such other activities of managing funds of clients without being properly licensed in the proposed jurisdiction.
Is there any requirement of having a registered office to carry on the fund management activities?
It depends on the choice of jurisdiction, accordingly in some jurisdictions there are economic substance requirements to be met by the entity before applying for the fund management license. Tetra Consultants will provide assistance in meeting the requirements of locally registered offices and local employees as required by the authorities.
Are there AML/CFT compliance requirements for a fund management entity?
Yes, a fund management entity, applying for a fund management license is mandated to comply with the anti-money laundering and counterfeiting terrorist financing laws and regulations of the proposed jurisdiction along with adhering to the GDPR compliance requirements.