Cyprus Crypto License
Tetra Consultants assist many international clients to secure a Cyprus Crypto License. Our service package includes everything you need to get your cryptocurrency business started in Cyprus. We will provide continuous support for entity formation, corporate bank account opening, provision of a company secretary, and local office services to the ultimate support with the preparation and filing of the Cyprus Crypto License application.
Stretching out far into the Mediterranean Sea and away from mainland Europe, Cyprus is widely known as one of the best locations for establishing and running a cryptocurrency trading company in Europe. More precisely, Limassol, a city located on the southern coast of the island, is often described as a financial center, not only of Cyprus but of the entire Mediterranean region. Limassol's financial district is home to branch offices of a number of big names in the crypto industry, such as CoinSmart, eToro, Coinbase, and Bitpanda.
What are the benefits of obtaining a Cyprus Crypto License?
There are multiple reasons why Cyprus is so popular amongst financial service providers.
Firstly, in terms of legislation and regulation, it has a clear and proven network, allowing service providers to choose from hundreds of licenses for various financial services.
In further distinction, many popular licenses are split into different levels, allowing for case-sensitive application requirements and higher application success rates. Cyprus also recognizes and supports a wide range of financial instruments – including crypto derivatives. This further contributes to a very diverse business environment on the island.
Finally, the taxation scheme in Cyprus bears lower tax rates than most countries in continental Europe, allowing better conditions for sustainable corporate growth and development. Regulatory bodies also work to offer good conditions to foreign investors, who have extensive rights when opening companies here.
And as a final significant advantage, compared to other international jurisdictions, Cyprus poses no restrictions on cryptocurrency mining activities.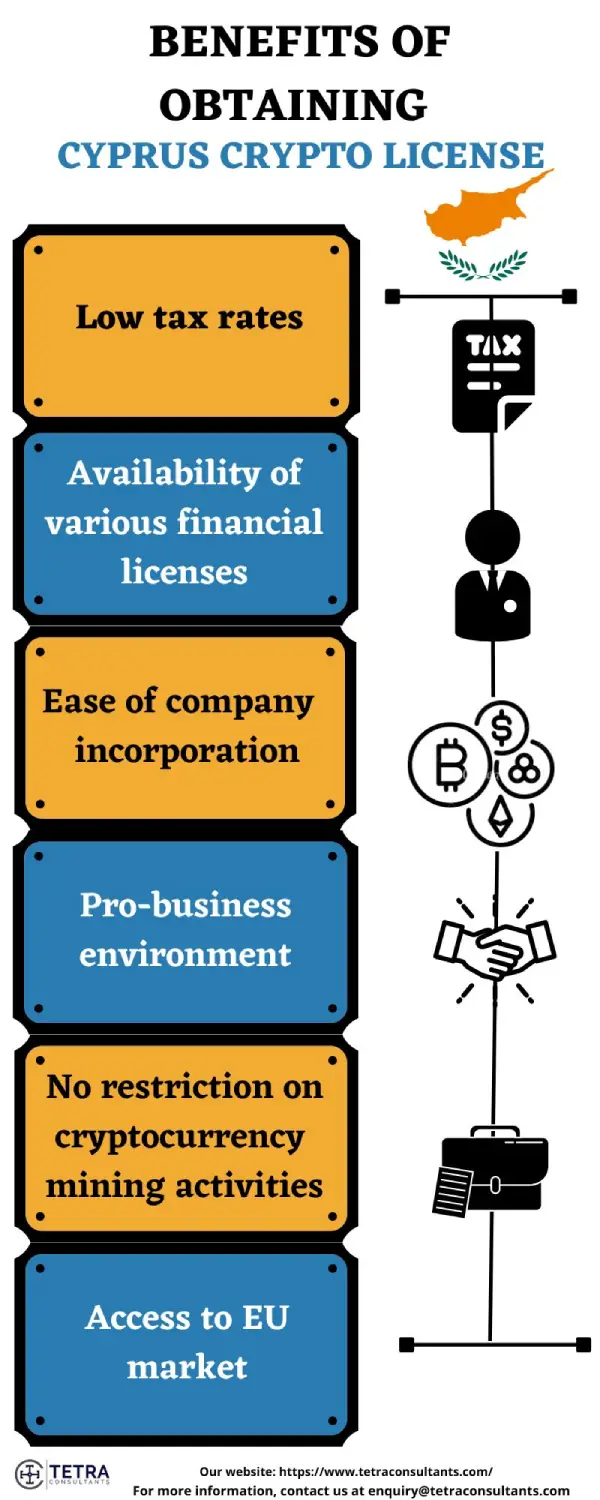 What are the laws governing a Cyprus Crypto License?
In June of 2021, the Cyprus Securities and Exchange Commission (CySEC) introduced the Crypto Asset Service Providers (CASP) Registry; its operation, registration, and supervision conditions. This major new development requires interested applicants to apply to the Cyprus Securities and Exchange Commission (CySEC) for registration, so as to be able to provide crypto exchange services within a regulatory framework.
The regulatory framework of the cryptocurrency ecosystem in Cyprus is harmonized with crypto legislation in the European Union (EU) and therefore is currently mainly focused on consumer protection, anti-money laundering, and counter-terrorist financing. The rules of the framework span from the registration of cryptocurrency companies to the monitoring of their operations. The main legislation that distinguishes and regulates cryptocurrencies in Cyprus is the Prevention and Suppression of Money Laundering and Terrorist Financing Law of 2007 (the AML/CFT Law), enforced by the Cyprus Securities and Exchange Commission (CySEC) which Is responsible for supervising compliance with regulations of anti-money laundering and counter-terrorist financing (AML/CFT) among crypto asset service providers (CASPs) operating in or from Cyprus.
Accordingly, the applicable regulatory framework is comprised of
The CySEC Directive for the register of crypto asset services providers;
The CySEC directive for the prevention and suppression of money laundering and terrorist financing.
The regulatory framework includes rules, inter alia, in relation to
The fitness and probity of the CASP beneficiaries and persons holding a management position;
The conditions in relation to CASPs registration;
The organizational and operational requirements;
Performing Know Your Client and other clients' due diligence measures;
Drawing the economic profile of clients;
Identifying the source of client funds;
Monitoring the clients' transactions;
Identifying and reporting suspicious transactions;
Undertaking a comprehensive risk assessment in relation to clients' activities and taking proportionate measures per client, activity, and crypto-asset in question.
Who is a Crypto asset service provider?
"Provider of Services relating to Crypto Assets" is defined as a person who provides or carries out one or more of the following services or activities to another person or on behalf of another person. These services include:
Exchange between cryptocurrencies and fiat money;
Exchange between crypto assets;
The management, transfer, retention, and/or safekeeping, including custody, of cryptocurrencies or cryptographic keys or means enabling control over cryptocurrencies;
Offering and/or selling cryptocurrencies, including the initial public offering; and
Participation in and/or provision of financial services related to the distribution, offering, and/or sale of cryptocurrencies, including the initial public offering.
As such, a Crypto Asset Services Provider (CASP), within the meaning of the Prevention and Suppression of Money Laundering and Terrorist Financing Law (AML/CFT Law), that provides services in or from Cyprus, must formally register with the Cyprus Securities and Exchange Commission (CySEC).
A Crypto Asset Services Provider (CASP) established in the EEA and registered with one or more EEA National Competent Authorities for AML/CFT purposes in relation to all services or activities undertaken or intended to be undertaken in Cyprus (i.e. involving residents of Cyprus, including natural or legal entities based in Cyprus), must submit a notification, providing evidence in relation to a valid registration for each service or activity. Where these services or activities are not covered by the framework that governs the registration for AML/CFT purposes, the Crypto Asset Services Provider (CASP) should submit an application to be registered as a Crypto Asset Services Provider (CASP) with the Cyprus Securities and Exchange Commission (CySEC).
What services can be offered with the Cyprus Crypto License?
According to the regulator, financial services regarding the distribution, offer, and/or sale of crypto assets are:
Receiving and transmitting instructions;
Execution of orders on behalf of customers;
Provision of investment advice;
Underwriting and/or placement of crypto-assets on a firm commitment basis;
Placement of crypto-assets without a firm commitment basis;
Operating of a multilateral trading facility for buying and selling crypto-assets.
What are the categories of Cyprus Crypto License?
When it comes to the authorization process, there are 3 different levels of authorization. The basis for their definition is the scope of crypto asset services provided by the company. Accordingly, all three levels of authorization are subject to varying capital requirements.
Class 1
This category includes CASP, which provides investment advice. They are subject to an initial capital requirement of €50,000.
Class 2 license
The CASP, which falls into this category, is authorized to provide services included in a class 1 license, plus the following range of cryptographic asset services:
Exchange between cryptographic assets and/or exchange between cryptographic and fiat currencies
Placing cryptographic assets without a fixed liability
Receiving and executing customer orders (including performing on behalf of clients)
Crypto portfolio management
Participation or provision of financial services related to the distribution, supply, and/or sale of cryptographic assets (including the original offer)
Companies receiving such a permit must have an initial capital of EUR 125,000.
Class 3 license
The CASP, which falls into this category, is authorized to provide services included in Class 1 and Class 2 licenses, plus the following range of cryptographic asset services:
Underwriting and/or placing crypto assets with a firm commitment
Administration, transfer of ownership, transfer of site, storage, and/or storage (including storage) of operations related to cryptographic assets, cryptographic keys or cryptographic asset controls
Functioning of a multilateral system that brings together multiple third parties to buy and sell interests in crypto assets in a way that leads to a transaction.
Companies receiving such a permit must have an initial capital of 150,000 euros.
What are the requirements for obtaining a Cyprus Crypto License?
The applicant in order to apply and successfully be approved by CySEC, as a licensed crypto-asset service provider must fulfill the conditions mentioned below:
Incorporate an entity in Cyprus of which the Board of Directors has at least 4 members with at least 2 being executive directors.
The directors must be approved by CySEC on their knowledge and experience in the field and must satisfy the fit and proper test of CySEC;
Satisfy the legal substance requirement: A fully operational office must be established within the Republic and local staff will need to be hired on a full-time basis in order to satisfy the key functions of the company;
Present adequate policies and procedures in compliance with the Law and Directive for the Prevention and Suppression of Money Laundering and Terrorist Financing;
Present adequate internal control mechanisms for the smooth operation and functioning of the company;
Consummate governance arrangements are in place, with reference lines that are transparent and clearly identified, and defined.
What are the eligibility criteria for obtaining a Cyprus Crypto License?
In order to apply for CASP application, the applicant must fulfill the following criteria:
Own a fully functional and compliant company that is registered in Cyprus and has a physical office space that is located in the country
Evaluate and ensure the compliance of the beneficiaries and the management of the service provider with the requirements of the law, in particular on their reputation
Prepare a report on the company, its beneficiaries, and local policies
Compile a documents package that includes all the necessary forms and questionnaires
Fulfill the capital requirements for their intended CASP license class
Comply with the requirements of KYC procedures
From the economic profile of buyers and assess various risks regarding their customers
Determine the source of funds for the implementation of operations
Conduct constant monitoring of transactions, detecting and reporting any suspicious transactions that may occur
Ensure that their internal procedures and policies are set to avoid any potential conflict of interest with clients.
What is the procedure for obtaining a cryptocurrency license?
In order to set up and operate a cryptocurrency venture in Cyprus, you need to be duly registered as a financial service provider in the nation. The requirements and procedures to be undergone heavily rely on the business needs and goals of your company. Tetra Consultants has summarised the most prevalent steps followed when attaining a Cyprus Crypto License.
Step 1: Cyprus entity formation
For newly formed businesses intending to offer services that come under the definition of Crypto asset service providers must register with the Cyprus Securities and Exchange Commission (CySEC) before commencing their operations in or from Cyprus. While existing businesses that demonstrate a material existing crypto asset activity will need to submit an application and be fully compliant with the AML/CFT Law and the Directives issued pursuant to the respective law.
Accordingly, Tetra Consultants' team of company incorporation specialists will assist with the formation of an entity in Cyprus. Our team of experts will familiarise you with the necessary information on the best-suited form of entity structure, including paid-up capital requirements, local economic substance criteria, timeframes, and cryptocurrency license requirements and regulations, prior to the beginning of the engagement.
Tetra Consultants will conduct due diligence on the management and shareholders of the firm. We will proceed to register company in Cyprus with the local Companies Registry after we have received all KYC documents, incorporation documents, and power of attorney.
After the entity has been properly registered, we will deliver the corporate documents, such as the Certificate of Incorporation, Memorandum, and Articles of Association, as well as other internal documentary evidence.
Step 2: Opening a corporate bank account
Tetra Consultants will open a corporate bank account with a reputable financial institution. The minimum paid-up capital required to secure the license will be deposited into this bank account.
Step 3: Preparation of license application and other documents required
Tetra Consultants' legal experts will begin preparing the required documents for the cryptocurrency licensing application. These documents will include the business plan, financial statements, AML/CFT policy, and insurance policy, as required by local regulations.
After the documents have been created for review, Tetra Consultants will supply you with prototypes. We will then email them to you for e-signature before moving forward with your license application.
Step 4: Meeting local economic substance requirements
As the local regulator, CySec requires you to have economic substance like a local registered address and local employees in Cyprus, Tetra Consultants will assist you to meet them. Our team will assist with the recruitment of local qualified employees to join the team.
Tetra Consultants' HR team will undertake candidate shortlisting and preliminary interviews for key employees, including the compliance officer. Following that, you can narrow down the final list of prospects to choose who is best suited to join the team. Tetra Consultants will assist in the preparation of an employment contract with the agreed terms once the candidate has been selected.
In addition, our team will compile a list of physical offices and deliver it to you. We will include crucial factors such as monthly rental, location, size, and so on so you can better determine which is best for you. Tetra Consultants will prepare the lease agreement to be executed between you and the landlord once the office has been selected.
Step 5: License application filing
Once the above is completed, Tetra Consultants will submit the application to the local regulator. Depending on the requirements of regulatory authorities, you may be required to attend an interview with the regulator prior to license approval. In this case, Tetra Consultants will prepare you for the interview and assist with the follow-up actions required by regulatory authorities.
If all goes well, your firm will receive the Cyprus Crypto License and will be required to start business operations within the stipulated time frame to maintain the license.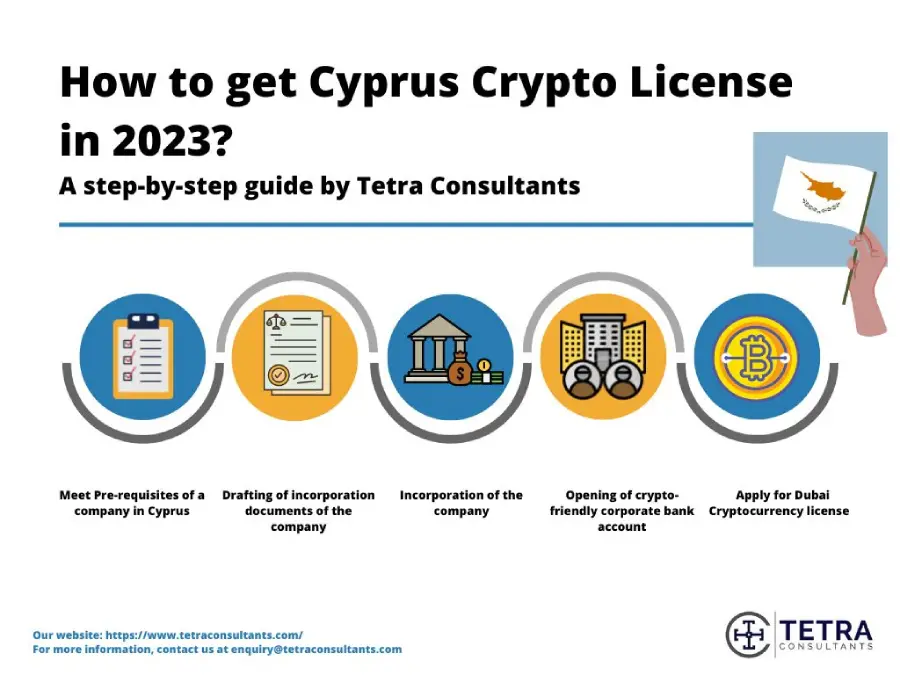 What are the documents required to obtain a Cyprus Crypto License?
To successfully submit an application for authorization, applicants are obliged to submit the following documents:
All corporate documents of the company (incorporation certificate, certificate of directors/secretary, shareholders, address, Memorandum & Articles, etc)
An internal procedures manual, anti-money laundering manual, and know-your-client procedures
Information about the capital (amount, sources, relevant contracts) proving that the CASP owns funds required by law
Financial details (forecast information and financial statements where applicable)
Organizational and operational information (initial three-year operations plan, organizational structure, and internal procedures) proving that the company will act in the best interests of its customers and will act to minimize risks of loss or imprudent operations
Business plan, including marketing strategy and financial/accounting workflows
Documentation of internal AML/KYC procedures, including customer onboarding workflows
Addresses of all crypto asset wallets and public keys managed by the CASP
Documentation of data management workflows and procedures
What is the tax implication of obtaining a Cyprus Crypto License?
As briefly noted above, in contrast to other countries in Europe, Cyprus has low corporate income tax rates. Cryptocurrencies are recognized by local authorities as taxable assets, subjecting CASPs to standard corporate tax rates. Currently, income from trading cryptocurrencies is taxed at a rate of 12.5%. Income received from cryptocurrency trading can be reduced by expenses that are incurred for the production of such income.
How long does it take to obtain a cryptocurrency license?
Prior to the start of the engagement, Tetra Consultants will send you a project plan with the timelines stipulated for company registration, preparation of documents as well as license application. This is to ensure that all parties are clear on the upcoming project.
Our services
Tetra Consultants assist cryptocurrency companies with their regulatory and licensing needs and provide continued support and assistance to financial companies with regard to all aspects of entity formation and operation in Cyprus.
Tetra Consultants is an international professional consultancy firm that specializes in the preparation of cryptocurrency license applications. We can assist you in obtaining a specific license or authorization from your selected jurisdiction, in order to lawfully operate the cryptocurrency business in overseas jurisdictions like Cyprus. We provide licensing services in all major jurisdictions that have introduced advanced legislation regulating such cryptocurrency businesses.
Tetra Consultants' team of licensing experts is proficient in assisting financial service organizations with attaining various offshore financial licenses depending on long-term business needs and goals.
Find out more!
Contact us to find out more about how to get a Cyprus Crypto License. Our team of experts will revert within the next 24 hours.
FAQs
How do you get a Cyprus Crypto License?
The procedure to obtain a Cyprus Crypto License may seem very complex specifically when you are new to the industry. As the licensing procedure is regulated according to the cryptocurrency laws of the jurisdiction which can be overwhelming if you are not familiar with the legal and regulatory jargon. Hence, it is always advisable to enlist a professional for the required assistance.
Tetra Consultants assist our international clients with the formation of cryptocurrency businesses in regulated jurisdictions like Cyprus while managing the preparation of required documents for the ultimate filing and submission of cryptocurrency license applications.
Do I need to relocate to Cyprus to start my crypto company?
No, as per the local laws only half of the company personnel needs to be in Cyprus.
Do the crypto licenses in Cyprus grant the company the right to offer other crypto services, such as derivatives?
Yes, it depends on what you are looking forward to offering to your clients exactly. The license covers a definite area of services, which should be described in detail to the granting authority. Speak to our professionals to understand if this is the right license for your business idea or if you would need to get assistance in obtaining the licenses in another jurisdiction
Are there any limitations on shareholders from certain countries?
No, only individuals from blacklisted countries, will not be able to proceed with that license.