Bahamas Free Trade Zones: Introduction
Bahamas Free Trade Zones comprise of only one main zone, The Freeport, located on the island of Grand Bahama. Operated by the Grand Bahama Port Authority under the Hawksbill Creek Agreement, it guarantees the tax-free operation of businesses within the zone until 2054, offering businesses the certainty so that they can more accurately plan for the long term. This tax-free policy extends to several areas, including corporate income, capital gains, inheritance, withholding, or on imports and exports.
Apart from the Hawksbill Creek Agreement, several other legislations work together to ensure the facilitation of trade and business in the free zone, as well as for specific industries within the free zone. These legislations are the Bahamas Free Trade Zone Act, the Tariff Act, the Hotels Encouragement Act, the Export Manufacturing Industries Encouraging Act, the Industries Encouragement Act, the Agricultural Manufactories Act and the Tariff Act.
Impact of government policies for Bahamas Free Trade Zones
These preferential business and trade laws work alongside the generous tax exemptions on customs duties to attract foreign investments into the country. This then fits into the Bahamian government's larger plans announced in the news, in reforming and opening the country to foreign investment, so as to facilitate international trade and innovation. This would mean that the Freeport offers some of the best taxation and regulatory systems for you to do business in, since these tailored policies will be a lot more responsive and flexible than other national level policies.
On an infrastructural level, such FTZs also consolidate the supporting services and facilities needed for such industries to operate. This is because these FTZs have their own logistical infrastructure in place or might even have specialized institutions for mediation in business disagreements.
The effects on human capital must also be considered. Many countries have tried to replicate the success that we have seen in the Silicon Valley, as we see in Ireland, with the area around Grand Canal Dock even being nicknamed the Silicon Docks. Bahamas is no exception to this and has also been trying to do the same in its creation of the Freeport.
Consolidating such industries together often creates location economies that facilitate collective growth and development for all firms within the free trade zone. As the reputation of the free trade zone develops, it becomes self-reinforcing in helping the zone to develop further. As they develop further, the reputation of the zone increases, making it easier for them to attract both talented individuals and prospective investing firms, which then enables it to develop even further.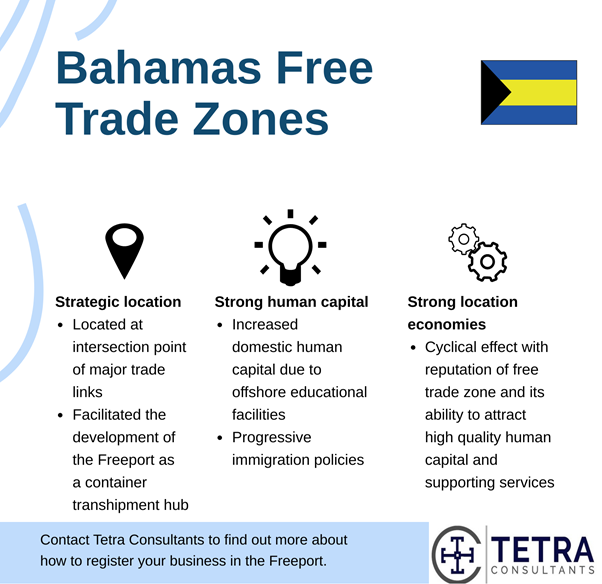 The oldest FTZ in the World?
Shannon Free Zone might be known as the first "modern" free trade zone, but it seems that Freeport in the Bahamas might also have a claim to that title. With Shannon Free Zone being established in 1959, and the Freeport being established in 1955, it seems that Freeport might be the oldest free trade zone after all.
Freeport was set up when Wallace Groves, a prominent financier, was granted 20,000 hectares of pineyard with the objective of economically developing it on the behalf of the Bahamian government. Having grown beyond its name of Freeport, the zone now spans Grand Bahama International Airport, Freeport Harbour and Container Port, and even the Sea/Air Business Centre. This really goes to show the extent of economic growth enjoyed by the country as a whole, given how much the free trade zone has developed.
Currently, the zone plays hosts to many international countries and businesses, with the total land grants being increased to 56,000 hectares and tax exemptions for businesses extended all the way to 2054. With complementary policies in place to encourage Foreign Direct Investment (FDI), it is likely that this free trade zone will continue to catalyse the development of the Bahamian economy.
Complementary policies
The government views FDI as having a key role in spearheading the growth of major sectors in the economy, such as tourism and the financial services sector. Under the explicit encouragements of the National Investment Policy and the Commercial Enterprises Act, many financial institutions have been incorporated, with more than 270 licensed banks and trust companies, 120 broker dealers and investment advisory firms, and 60 fund administrators currently operating in the region.
These policies are overseen by the Bahamas Investment Authority, the administrative arm of the National Economic Council and Investments Board. Apart from facilitating new investments for foreigners and helping them to navigate the investment process by simplifying it, they also help to retain existing investments.
Apart from these two sectors, the government also encourages investment in aircraft and maritime services, marinas, information and data processing, information technology services, light industry production and assembly, agro-industries, mari-culture, food and beverage processing, e-commerce, arbitration and international arbitrage, computer programming, software design and writing, bioinformatics and analytics, data storage and warehousing, and even offshore medical centres.
Specific help is also offered to Micro, Small and Medium Enterprises (MSME), which make up the bulk of incorporated entities at 85%, through the MSME policy and the Small Business Development Centre. Through these platforms, MSMEs are offered business advisory services, training and entrepreneurial professional development opportunities, and access to capital and mentorship. This facilitates the development of existing MSMEs and encourages the incorporation of new MSMEs since it offers them the confidence and reassurance by equipping them with the capabilities and offering them the support to make up for their relatively small size.
In general, investors are given equal access to incentives such as tax concessions and budgetary support regardless of their nationality. However, some restrictions on foreign investment remain that will be explained in the section below.
Restrictions on foreign investment
Certain sectors are still protected and reserved for local investors. These sectors are wholesale and retail operations, domestic newspapers and magazine publications, domestic advertising and public relations firms, personal cosmetic and beauty establishments, commercial fishing and public ground transportation.
Business license registration in Bahamas Free Trade Zones
In order to operate in the Freeport, you must have a valid business license as issued by the Grand Bahama Port Authority, the supervising authority for the Freeport.
Registration of incorporated entity
The first requirement to applying for this is to have an incorporated entity. This license can be applied for individuals, partners and corporations. Tetra Consultants would recommend you apply for a business license as a corporation since this would offer you the most liability protection and ensure the continuity of the business. We are experienced in Bahamas company registration and provide a full suite of services that will allow you to begin operations with your Bahamas company within 5 weeks.
Submission of business license application
After registering your Bahamas company, you should complete the application form for the business license application along with Appendix "A". These forms will collect basic information of the shareholders, such as their name, address, date of birth, as well as that of the company, including the company name, capital structure, description of business activities and references.
Alongside these two forms, submission of supporting documents will also be needed to facilitate the independent background search and verification. These documents are financial, business and personal references and full Curriculum Vitae. Lastly, you will also need to complete the Bahamas Government's Investment Policy Guide and prepare a business plan as well as any explanation on the goods and services to be produced or provided. There will be a processing fee of US$1,500.
After the investigation is completed, a report will be produced and sent to Executive Management to allow them to review and consider the application. After it is processed by the necessary government agencies, you can expect to receive the terms and conditions of your license within the following work week.
Before final approval can be given, full payment of the license fee for the year is required, as well as a payment of $25 for inspection of approved premises. You will also need to provide a lease agreement and the documents of incorporation. At the same time, your business premises will also need to be inspected for building and business zoning compliance, and the suitability of the space for its intended use in terms of adequacy and design.
Benefits of Bahamas Free Trade Zones
Strategic location
Freeport is strategically located at the intersection point of trade links between Europe, North America, South America and Asia. Being the closest offshore port to the United States also allows it to benefit from their close bilateral ties, making the United States one of The Bahama's major trading partners.
This has allowed Freeport Harbour and Container Port, one of the largest man-made harbours and deepest harbour in the region to develop into a major container transhipment hub. Business providing supplementary services to this can also expect similar success, such as those providing ship repair and wet docking services.
Strong human capital
This refers to both domestic as well as foreign domestic capital. Many offshore educational facilities have been established in The Bahamas, allowing it to increase its standard of education and the level of human capital it can deliver.
Progressive immigration policies and attractive taxation policies make it easy to attract and retain foreign talent. The high quality of life available in The Bahamas is also another attraction for expatriates that can enjoy duty-free shopping, and a perfect combination of cosmopolitan nightlife and tropical beaches.
Strong location economies
The consolidation of human capital and infrastructure within one location will also provide additional business economies for investors, granting them access to both quality and quantity in supporting services and resources. This will also have a cyclical effect with the reputation of the free trade zone that will mutually reinforce it. Having your company within such a zone would also be beneficial in terms of branding if the business activity has strong synergies with the area of focus of the zone.
Considerations before company registration in Bahamas Free Trade Zones
Given that the Freeport mostly specializes in light manufacturing, industry and pharmaceutical manufacturing, investors not operating in these areas should strongly reconsider their decision to register their Bahamas company in the Freeport. This is because it might not be worthwhile for investors to force fit their companies into a FTZ when the activities conducted by the company do not have good synergy.
Given that The Bahamas has not yet ascended to the World Trade Organization (WTO), and only expects to do so by 2025, investors should also do their due diligence in ensuring that their targeted export market is covered under one of Bahama's free trade agreements. This to ensure minimal trade barriers, since the WTO would have limited incentive to facilitate trade for The Bahamas given that they are not part of it.
FAQ
Why were free trade zones created in The Bahamas?
They were created as a means of developing the economy of the country, specifically in the industrial and tourism sectors.
Are there any disadvantages to free trade?
Free trade exposes local businesses to international competition that they would not be prepared for as they operate on either a smaller scale, or with inferior technology. This might thus lead to them facing losses or even shutting down. To combat this, the Bahamian government has implemented a list of sectors where foreign businesses are not allowed to have full foreign ownership.
Is Bahamas part of the World Trade Organization?
Bahamas has not yet satisfied the requirements to enter the World Trade Organization, though they expect to do so by 2025.
Is Freeport safe for tourists?
Yes, it is. Even if violent crimes occur, they rarely occur in tourist areas.
What is Freeport known for?
Freeport is known as a tourism centre, but has also been redeveloped with a focus on logistics, real estate, light industry and information and communications technology.
Is Freeport another name for Grand Bahama Island?
It is not. Freeport is just the main city of Grand Bahama.
Are there any travel restrictions for The Bahamas during the COVID-19 pandemic?
Travellers must either present a negative PCR test, or proof of vaccination. They must also apply for Bahamas Travel Health Visa.