How to get Cryptocurrency License in Dubai?
If you are thinking of applying for a cryptocurrency license in Dubai, Tetra Consultants advises you to read through this guide to understand the regulatory requirements and necessary steps to be taken for the smooth onboarding of your cryptocurrency business and for obtaining the cryptocurrency license in Dubai.
Tetra Consultants specializes in providing professional advice to entrepreneurs who are interested to form a company licensed for a cryptocurrency exchange or cryptocurrency wallet in Dubai. We will advise you on all the aspects starting from the setting up of an offshore entity to the preparation of documents and many other aspects related to obtaining a cryptocurrency license in Dubai.
As Dubai has become one of the best markets for cryptocurrency platforms in the world. The dramatic rise of cryptocurrency companies has completely altered the business all around the world and encouraged more investors and entrepreneurs to set up their

cryptocurrency businesses in Dubai.
By the end of 2020, the world's cryptocurrency investment and market capitalization were $265 Billion, and $6 billion in online bitcoin business transactions were recorded which made Dubai the prime hub of the world's cryptocurrency business center.
Tetra Consultants' team of professionals offers services to new entrepreneurs and start-ups so that they can easily do their business in Dubai and the rest of the emirates. Besides providing licensing facilities, we also provide other services that ensure the day-to-day operation of your cryptocurrency business is impeccable. Our one true purpose is to fulfill our client's needs and achieve customer satisfaction.
Our service package for obtaining a Dubai cryptocurrency license includes:
Set up your company in Dubai and the UAE.
Get a business trade license for your company.
Get a cryptocurrency license in Dubai for you.
Open your corporate bank account.
Advise you on any legal issues with your business.
Assist you with the day-to-day operation of your business like tax and accounting.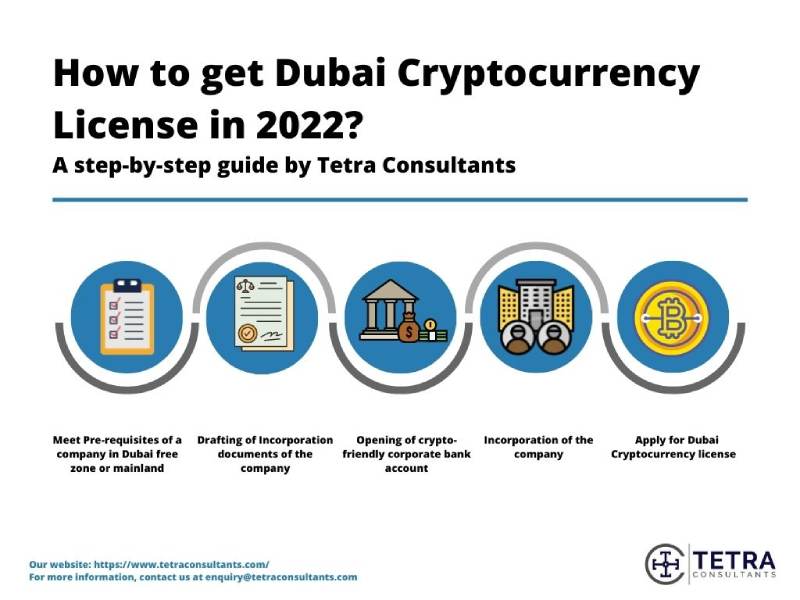 What is Cryptocurrency?
Cryptocurrency is a decentralized digital currency that is not issued by any central authority or government. It does not have any physical form and it does not exist in any physical space. Cryptocurrencies can be mined or traded, just like stocks and shares are traded on the stock market. The value of cryptocurrencies fluctuates with the supply and demand for them on various exchanges.
Why do you need a cryptocurrency license in Dubai?
To start your cryptocurrency company in Dubai, a crypto trade license is required. The cryptocurrency license is considered in the category of "commercial license". This "commercial license" is important for all the commercial procedures that involve the trading process in Dubai.
The cryptocurrency business and trade in Dubai is linked with the trading of Bitcoins and all other crypto coins. This crypto license grants you permission to do all other major cryptocurrency trading in Dubai.
What are the types of cryptocurrency licenses in Dubai?
The Dubai Multi Commodities Centre (DMCC) free zone provides 2 categories of crypto licenses depending on the nature of your business activity:
Crypto trading license:
The Dubai Multi Commodities Centre (DMCC) Free Zone Authority approves this category of

crypto license in Dubai

free zone, which allows you to purchase and trade crypto commodities. This license, however, is subject to various regulatory constraints. Companies that engage in crypto exchange operations, crypto brokering, financial, banking, storage servicing, or payment processing, for example, are not eligible for this license. Crypto trading permits may only be obtained with the consent of the free zone's authority. Likewise, the DMCC has granted a proprietary trading license. Your crypto firm must not participate in any other activities and have a minimum share capital of AED$50,000 to obtain the license.
Distributed ledger technology service:
To qualify for this license your company operations should be connected to database management solutions and the distribution of ledger-based technologies such as blockchain. Under this license, these firms are not authorized to trade or set up cryptocurrency exchanges, provide any financial-related services, or process any payment. To get this license, you must also have clearance from the Dubai Multi Commodities Centre (DMCC) and a minimum capital share of AED$500,000.
What are the positive implications of getting a Dubai Cryptocurrency License?
Here are the positive implications of obtaining a cryptocurrency license in Dubai:
With the cryptocurrency license, you can stand out from the crowd. Despite its popularity in the UAE, Bitcoin is currently used by only a few companies as a means of payment.
It is quite affordable when compared to other commercial trade licenses in the UAE. You can get a lot more in return owing to the UAE cryptocurrency license.
Cryptocurrency blockchain technology is extremely secure. With a bitcoin license in Dubai, you can maintain your anonymity.
Cryptocurrencies are widely acknowledged worldwide. Cryptocurrency transactions are quick and have no downtime.
Why should you consider getting a Cryptocurrency license in Dubai?
The UAE has aimed to become a pioneer in business and industries and also has a view on the cryptocurrency industry. With the rising curiosity in cryptocurrency investments, trade and business in this industry are also taking place in Dubai, UAE. Following are some of the major highlights of UAE's cryptocurrency landscape:
The UAE has unveiled its "Blockchain Strategy 2021," which intends to assist international companies in doing trade and business in this sector. Within this, blockchain technology is expected to be used in 50% of government transactions.
The Financial Services Regulatory Authority (FSRA), the financial regulator of Abu Dhabi Global Markets (ADGM), is the first in the UAE to give complete instructions and rules on cryptocurrency trading.
Currently, there are more than 400 crypto businesses operating in the UAE. This figure is anticipated to rise to 1000 by the end of 2022, as the UAE ramps up its efforts to expand the digital economy.
The framework and laws governing cryptocurrency of the Dubai and Abu Dhabi Free Zones encourage crypto entrepreneurs to set up exchanges while laying out norms for ethical trading and consumer protection.
The DMCC Crypto Center, which opened in May of 2021, is strongly promoting cryptography and blockchain technology in Dubai. This hub is home to roughly 100 crypto-related firms, with an additional 900 having submitted applications for a license.
The UAE has implemented favorable policies to enhance digital asset trading and increased interest. The Securities and Commodities Authority struck an agreement with the Dubai World Trade Center (DWTC) authority in September'21 to enable the trade of crypto assets.
Dubai also hosted its first Crypto Expo, which soared the crypto assets in the region.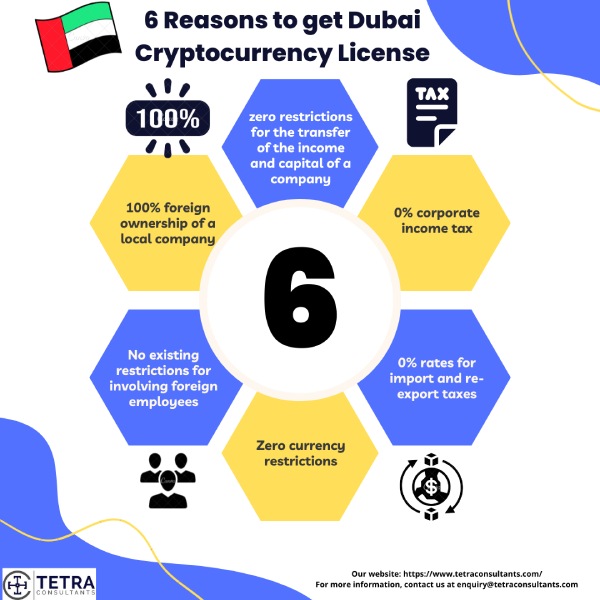 Legislation and regulators of cryptocurrencies in the UAE
Regulation of cryptocurrency and blockchain projects in the UAE is performed by the FSRA (Financial Services Regulatory Authority) regarding ADGM (Abu Dhabi Global Market). This authority publishes guidance on cryptocurrencies. It also monitors blockchain businesses to ensure transparency as well as prevent money laundering and financing terrorism.
Where to get the cryptocurrency license in Dubai?
Before starting a cryptocurrency business here, you need to get a cryptocurrency license in UAE. Currently, three of the free trade zones are issuing cryptocurrency licenses in the UAE. They are:
Dubai Multi-Commodities Centre (DMCC):
The Dubai Multi Commodities Centre (DMCC) free zone is an option for dealing with cryptocurrencies in the UAE. The DMCC crypto license ensures the legitimacy of your business. Regal Assets was the first firm to get this license, and it provided its clients with cold storage of cryptocurrencies.
The Dubai Multi-Commodities Centre welcomed the advent of cryptocurrencies. They provide cryptocurrency licenses to Dubai entrepreneurs and company owners. People from all over the world approach Dubai Multi-Commodities Centre to obtain their UAE cryptocurrency license. The Dubai Multi-Commodities Centre cryptocurrency license in Dubai allows you to do commercial operations such as offering cryptocurrency-related services, storing cryptocurrency, trading, managing cryptocurrency, developing cryptocurrency-related software, and so on. With the cryptocurrency license in Dubai, you may also give advisory services and consultancy.
Dubai Multi-Commodities Centre has created a new crypto center and intends to be the hub for all blockchain-related activity in Dubai. Dubai is already regarded as the world's most technologically advanced city, and the inclusion of crypto and blockchain has further strengthened its standing. The Dubai Multi-Commodities Centre cryptocurrency license is fundamental to this success.
Our team of consultants has summarized the core advantages of operating with your cryptocurrency license here:
100% foreign ownership of a local company – it is not necessary to search for local partners;
zero restrictions for the transfer of the income and capital of a company;
Favorable tax regime with 0% corporate income tax for the subsequent 50 years of operation;
0% rates for import and re-export taxes;
Zero currency restrictions;
No existing restrictions for involving foreign employees in the company's operation.
Dubai Airport Free Zone Authority (DAFZA):
Dubai Airport Free Zone Authority, or DAFZA for short, is another free zone in Dubai that has welcomed cryptocurrencies. They formed an agreement with the Securities Commodity Authority (SCA) to assist entrepreneurs and businesses who sought to conduct cryptocurrency-related commercial activity. With the cryptocurrency license in Dubai, they facilitated business concerning cryptocurrency in the region.
Companies who have obtained a cryptocurrency license from the Dubai Airport Free Zone Authority can conduct business with their cryptocurrency assets. They may offer services to international investors visiting Dubai from all over the world. Companies inside the Dubai Airport Free Zone Authority may easily do business due to the solid regulatory framework in place. They are progressing with the goal of increasing the adoption and expansion of cryptocurrencies such as Bitcoin, Ethereum, Dogecoin, and others..
Abu Dhabi Global Market (ADGM):
The Abu Dhabi Global Market (ADGM) Free Zone allows cryptocurrency assets that are regulated by the Financial Services Regulatory Authority (FSRA). It is the regulatory body that governs all crypto-related assets in the UAE.
It is currently the only legal body that has an extensive regulatory framework for cryptocurrency licenses in the UAE. Financial Services Regulatory Authority (FSRA) in combination with Abu Dhabi Global Market (ADGM) has published a guideline about how to use the cryptocurrency license in the UAE for the betterment of businesses around the country.
What are the regulatory and documentary requirements for obtaining a cryptocurrency license in Dubai?
A DMCC Company is a limited liability company wherein the shares can be held either by a single or multiple shareholders. The shareholder/s can be either individual/s or corporate entities.
The minimum share capital required for forming a Dubai multi commodities center (DMCC) company would be AED 50,000/- (AED 10,000 per shareholder) for Specific Trading or Service License and AED 1,000,000 for General Trading License. The value of each share is AED1,000 or multiples thereof. The capital contributed to the DMCC Company can be utilized in the operations of the company. In the case of a branch of a local or foreign company, no initial share capital is required. Special rules and regulations are applicable to DMCC companies.
The DMCC Company needs to appoint a minimum of one Director, a Manager, a Secretary, and a Negotiator. The Director, Manager, Secretary, and Negotiator can be the same person.
The manager will be required to be on the residence visa of the company under the sponsorship of the Free Zone Authority. To validate the visa, the Manager, would be required to enter the country at least once in six months. In case the Manager is already having a UAE visa, a NOC from the present sponsor has to be submitted.
Other required documents
A commercial license issued by the Dubai Department of Economic Development (DED) must be submitted
Copies of valid passports of all business members must be submitted
Capital resources and operational expenses documents for the past 12 months period must be documented and submitted
Crypto-assets should be aligned with the financial free zone departments of the UAE
All information must be secured in a crypto wallet
A clean record of activities must be submitted.
NOC from Securities and Commodities Authority (SCA).
Provide copies of the passports of all the partners in the business.
Other important factors considered by the regulatory authority
It needs to be considered in mind that you will only receive your

Dubai crypto license

after the authorities consider some factors. And some of them are traceability, market capitalization, price volatility, and many more.
Besides, it is vital that your entity adheres to a strict KYC (Know Your Customer) Norm.
Furthermore, your business must have enough capital in order to operate successfully for at least six months. On the other hand, it is essential to fulfilling some requests from government authorities regarding the disclosure of VAT, anti-money laundering, etc.
And it is also mandatory to show compliance with the Anti-Money Laundering and Counter-Terrorism Financing Laws of the country.
Lastly, there is one more requirement, which is related to safeguarding against cyber security and securing clients' financial information.
What is the procedure for getting a cryptocurrency license in Dubai?
To operate a cryptocurrency business in Dubai, you will need a trade license. But there is a little bit of admin to take care of before we get to that stage. Tetra Consultants has summarized some of the most prevalent steps to be undertaken when applying for a cryptocurrency license in Dubai:
Step: 1 Pre-requisite for a legal entity to be registered and choosing a trade name
To apply for a cryptocurrency license in Dubai you need to have a registered legal entity in the region. Tetra Consultants is proficient in providing assistance to our clients in registering company in Dubai mainland and free-zone.
Before moving forward with the registration of the entity, Tetra Consultants' team of experts will first evaluate your business needs and goals on the basis of which we will recommend the best-suited business entity type for your cryptocurrency business in Dubai.
Tetra Consultants team will help you with the pre-registration requirements to choose a trade name for your cryptocurrency business in Dubai. First, we will help you choose your company name. When making this decision, we will make sure that you must abide by a strict set of naming conventions.
Tetra Consultants will also check that your chosen name is available before registering it for you with the respective free-zone authority like Dubai Multi Commodities Centre (DMCC) or with the Dubai Department of Economic Development (DED). Once confirmed we will register the same with the respective authority.
Once the above step is completed, Tetra Consultants will conduct due diligence on the management and shareholders of the firm.
Step 2: Choosing the Free-zone jurisdiction and evaluating the licensing requirements
To set up a cryptocurrency business in Dubai. You can choose to set up in the mainland or free zone. Tetra Consultants' team of professionals will help you decide whether to set up in a free zone or in the mainland. If you opt for a free zone, you will benefit from zero currency restrictions, plus capital and profit repatriation. However, you will need to work with a local agent to trade directly with the UAE market.
The Dubai Multi Commodities Centre (DMCC) is the most preferred and recommended free-zone area to be considered for setting up a cryptocurrency business. As the benefits offered under this zone to new entrepreneurs are worth considering.
Once the choice of jurisdiction is confirmed by our clients, we will carry forward the process of getting a cryptocurrency license in Dubai.
Step 3: Opening of corporate bank account
The minimum paid-up capital required to secure the license will be deposited into this bank account.
Step 4: Documents preparation
Tetra Consultants' legal experts will begin preparing the required documents for the cryptocurrency licensing application. These documents will include the business plan, financial statements, AML/CFT policy, and insurance policy, as required by local regulations.
Since cryptocurrency trading is regulated in the same way as other financial trade in Dubai you will be required to adhere to the extensive set of regulations concerning Anti-money laundering and Counterfeit Financial Terrorism. Tetra Consultants will take serious caution that the documents are prepared and the formation of the entity is conducted accordingly.
After the documents have been created for review, Tetra Consultants will supply you with prototypes. We will then email them to you for e-signature before moving forward with your license application.
Step 5: Meeting the economic substance requirements
When conducting cryptocurrency business in Dubai free zone there are no such requirements of meeting economic substance for your entity but in the case of corporate bank account opening, there may be strict requirements to be complied with.
In the event, the bank requires you to have economic substance like locally approved professional persons or a director, Tetra Consultants will assist you in meeting them. Our team will assist with the recruitment of local qualified employees to join the team or we will extend our nominee director services to fulfill the requirement of bank account opening.
Tetra Consultants' HR team will undertake candidate shortlisting and preliminary interviews for key employees, including the compliance officer. Following that, you can narrow down the final list of prospects to choose who is best suited to join the team. Tetra Consultants will assist in the preparation of an employment contract with the agreed terms once the candidate has been selected.
Step 6: Submission of license application
With these decisions made, Tetra Consultants will apply for your

Dubai crypto license

directly to the free zone authority or equivalent Municipality if you wish to set up elsewhere in the emirates or to the managing authority of your chosen free zone.
All going well, your firm will receive the Dubai cryptocurrency license and will be required to start business operations within the stipulated time frame to maintain the license.
Taxation of cryptocurrency in Dubai
No income taxes in the UAE for cryptocurrency projects is what makes this country very appealing to entrepreneurs.
The tax of cryptocurrency in Dubai equals zero percent if you use cryptocurrencies for trading or receive them as a salary. However, since the beginning of 2018, the UAE has Value Added Tax at a very low rate of 5%.
Tetra Consultants team of tax and chartered accountants will provide you with separate consultations to determine for sure whether your project is VAT-exempt or not. Thus, while there can be some exceptions, the taxation of cryptocurrencies is generally not performed in the UAE.
How much time does it take to obtain a Cryptocurrency License in Dubai?
Prior to the start of the engagement, Tetra Consultants will send you a project plan with the timelines stipulated for company registration, preparation of documents as well as license application. This is to ensure that all parties are clear on the upcoming project.
How much does it cost to obtain a Cryptocurrency license in Dubai?
The total engagement fee depends on the services you need from Tetra Consultants. We provide you with multiple services ranging from assisting you through the incorporation process to obtaining the Dubai crypto license. The total fee that will be charged is inclusive of the company registration fee, license fee, and any additional cost that may arise.
We will discuss with you the total engagement fee in detail before we begin the registration process so that you have a better understanding of what you are paying for. Tetra Consultants strives to be transparent with the engagement fees prior to the start of any engagements. All these terms and conditions will be stated clearly in our appointment letter.
Our services
Tetra Consultants assist cryptocurrency companies with their regulatory and licensing needs and provide continued support and assistance to financial companies with regard to all aspects of entity formation and operation.
Tetra Consultants is an international professional consultancy firm that specializes in the preparation of cryptocurrency license. We can assist you in obtaining a specific license or authorization from your selected jurisdiction, in order to lawfully operate cryptocurrency business in the foreign exchange industry. We provide licensing services in all major jurisdictions that have introduced advanced legislation regulating such cryptocurrency businesses.
In addition, Tetra Consultants can also assist with attaining other offshore financial licenses depending on your long-term business goals.
Find out more!
Contact us to find out more about how to get a Dubai cryptocurrency license. Our team of experts will revert within the next 24 hours.
FAQs
Do you need a license to trade crypto in Dubai?
Providers who wish to offer crypto-assets within the UAE must be licensed. As a part of that process, applicants must demonstrate strict compliance with UAE's anti-money laundering and counter-terrorism financing laws, cyber security compliance standards, and data protection regulations.
Is it legal to trade cryptocurrency in UAE?
Although the UAE regulation recognizes Bitcoin as Illegal, the government allows citizens to buy and trade Bitcoin while staying in UAE. This means that citizens can buy, sell, and hold BTC, but they are not allowed to buy anything with this currency.
How can I get a cryptocurrency license in Dubai?
Tetra Consultants assist our international clients with the formation of cryptocurrency business in the best-suited jurisdiction while managing the preparation of required documents to the ultimate filing and submission of cryptocurrency license applications.
Can a Dubai crypto license be acquired online?
Yes, Tetra Consultants will make sure to provide you with such services which require minimal or zero travel possibilities to the proposed jurisdiction for attaining a cryptocurrency license.
What are the factors taken into consideration by the regulatory authority while approving the license application at the final stage?
The regulatory authority scrutinizes the application at the final stage of the application review, taking into account factors such as the entity's understanding of risks related to money laundering and financing of terrorism ("ML/TF") and the technology risks posed by their business model, as well as the efficacy of controls implemented to mitigate such risks.