Nominee Director Philippines
Tetra Consultants offers Nominee Director Philippines Services for our international clients. Our full-service package includes Philippines company registration, nominee director services, provision of local company secretary and registered address, Philippines free trade zone company setup, VASP cryptocurrency license application, corporate bank account opening and registration for tax obligations.
Looking to expand your business into the Philippines? While preparing for the incorporation process, you may have come across the terms "Philippines nominee director", "Philippines resident director" or "Philippines representative director" and be wondering about them. Read on to find out what they are and how to engage Philippines resident director services. 
What is a Nominee Director Philippines?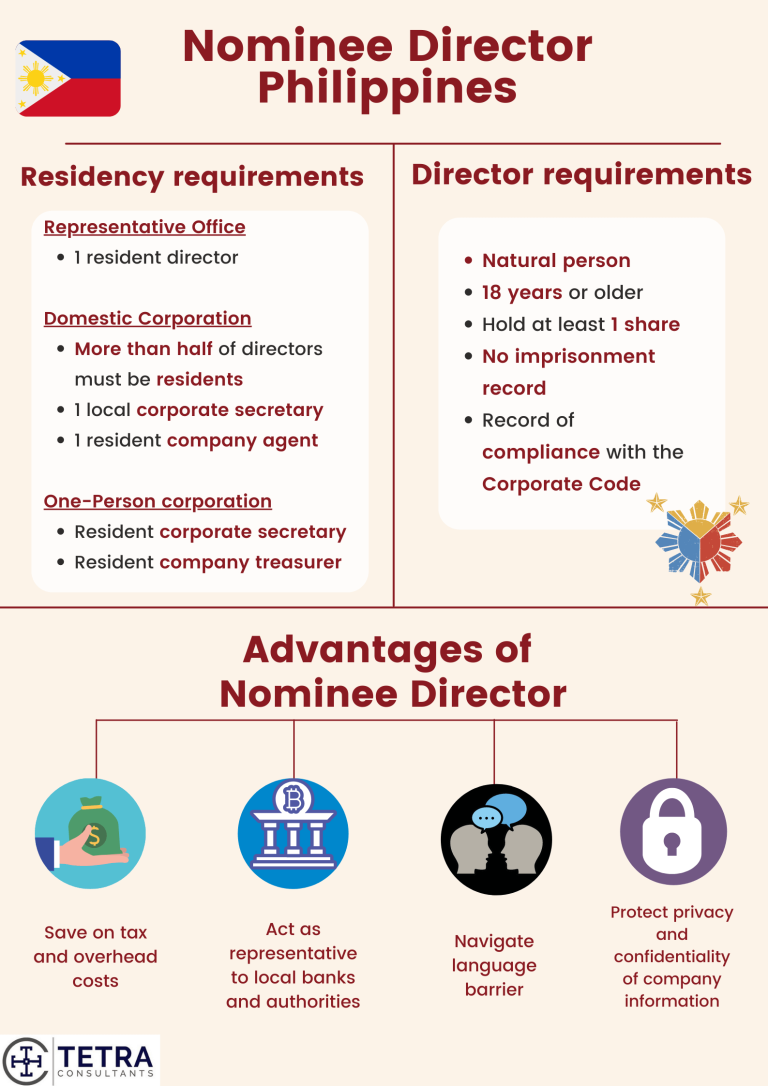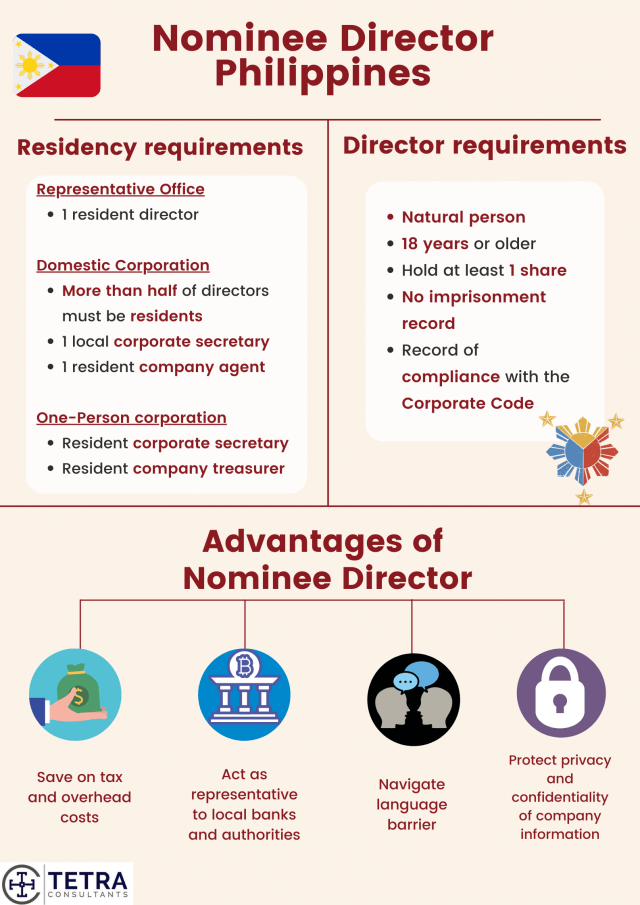 A resident director Philippines is a director of a Philippines company who resides in the Philippines. A nominee director is a third-party individual who is appointed to be a Philippines company's director to fulfil such residency requirements or for other purposes. The appointment is done through a Nominee Director Agreement contract, and a service fee.
Under the

Revised Corporation Code

of the Philippines

, Representative Offices and Corporations need at least 1 local Philippines resident director to be set up. 
The number of foreign officeholders allowed in a Philippines company also depends on the specific industry of the business. Most Philippine industries allow for foreign ownership, except for the real estate, telecom and private recruitment industries, which allow for 40% foreign ownership and 25% foreign ownership, respectively.
A local professional can hence be appointed as your business' Philippines nominee director to comply with these compulsory regulations. As the search for a suitable candidate to take up the position of resident director in Philippines is time-consuming and challenging, Tetra Consultants serves to bridge this gap by providing a cost-effective nominee and resident director service in Philippines, ensuring that all our clients can fulfil the Philippines minimum officeholder

requirements.
Representative Office Requirements
This entity is suitable for foreign investors who wish to explore investment opportunities and carry out non-commercial activities to promote their parent company.
To set up a Representative Office, 1 resident director is needed.
Domestic Corporation Requirements 
For the Domestic Corporation, 2 to 15 directors are allowed in total, and a majority of the directors must be local residents.
In addition, the corporate secretary needs to be a Filipino citizen, while the company agent needs to be a local resident.
Shareholders have no nationality requirements. Partnerships, corporations, associations or natural persons can all act as a shareholder.
One-Person Corporation Requirements
For this entity, only a single director is necessary, who can be of any nationality. However, a resi

dent corporate secretary and a resident company treasurer are needed. 
If you require resident corporate secretary or treasurer services, Tetra Consultants can also assist your business to appoint suitable and qualified individuals for the roles.
What is the difference between a Philippines resident director, resident corporate secretary and resident company treasurer?
You may be wondering about the differences between the roles of resident director, corporate secretary and company treasurer, which are distinguished in Philippines corporations.
Resident company treasurer
The treasurer is specifically responsible for managing the corporation's finances, which includes the corporate funds, financial reporting, and yearly financial statements and filings.
The resident treasurer must be:
A natural person instead of an entity or institution
Reside in the Philippines
Resident corporate secretary
The company's secretary is responsible for managing the administrative and instructive matters of the corporation. This may include ensuring compliance with Philippines corporate regulations, including maintaining a register of directors, monitoring and recording the business' share capital and preparing certifications of the board of resolutions.
The corporate secretary must be:
A natural person instead of an entity or institution
Ideally, the corporate secretary should also possess extensive knowledge and experience with Philippine corporate and legal regulations so as to be suited for the role.
Duties of a Philippines Director 
In contrast to a corporate secretary or company treasurer, a director in a Philippines company attends meetings among the board of directors and participates in the company's decision-making process, signs and authorizes the company's corporate documents, abides by the requirements and qualifications laid out in the Securities Regulation Code, and elects members of the entity's senior management.  
A nominee director, however, typically plays a limited, non-executive role compared to the executive directors. As per the terms of the Nominee Director Agreement, the nominee director typically only acts on the instructions of the Ultimate Beneficial Owner instead of interfering significantly in the decision-making process to act in his or her own self-interest.
However, regardless of whether the director is an executive or non-executive one, all directors must act in the company's best interest and in good faith at all times.
Who can be a Philippines Director?
To be a director of a Philippines entity, an individual has to be nominated by the entity's shareholders. In addition, the individual has to meet the following requirements:
Must be a natural person who is 18 years of age or older
Must hold a minimum of 1 share in the company's stocks
Must have no criminal history of imprisonment in the past 6 or more years 
Must have a record of compliance with the Corporate Code within the past 5 years
Advantages of using Nominee Director Philippines Service
As official regulations require Philippine entities such as the Domestic Corporation or Representative Office to have local residents on the board of directors, by appointing a representative director in Philippines, your business will be able to remain compliant. At the same time, you will be able to save overhead expenses and tax costs, to prevent incurring new additional costs during the business set-up process. 
You will also be able to speed up the processing of paperwork in the incorporation process with a local director, as the local director will be able to sign, authorize and submit paperwork to the local authorities without having to go through authentication of paperwork that is executed overseas.
In addition, if you intend to open a Philippines corporate bank account, some local banks may require a local representative to visit a branch for an in-person interview. At no additional fees, our qualified Philippines representative director will attend the interview on your behalf, such that you can save on the time and expenses needed to travel.
A local representative director will also be useful in bridging the language barrier in the jurisdiction, as some of the corporate and legal documents may be written in the official Filipino language. If any translation is needed, the Philippines representative director will be able to assist you in doing so. The Philippines director will also be knowledgeable about local corporate laws and practices so as to help your business stay fully compliant.
Another key benefit of using a nominee director service in Philippines is the privacy and anonymity that it affords your business. The information of nominee directors and shareholders will be publicly listed in the companies registry instead of your own information, hence you can be guaranteed a high degree of confidentiality.
Tetra Consultants is able to provide the full suite of services for your Philippines company to remain compliant.
Disadvantages of appointing a Nominee Director Philippines
Despite the advantages, there are some potential risks involved in choosing to engage nominee director services. 
As the nominee director has the legal authority to participate in the company's decision-making process, there is the risk of interference or an undermining of the UBO's authority. The nominee director could also have access to some of the company's sensitive information as he or she will be expected to sign legal documents on behalf of the company. 
However, Tetra Consultants will take the necessary precautions to mitigate such risks. The nominee director appointed by Tetra Consultants for your business will follow strict terms laid out in the Nominee Director Agreement to be signed by all parties. The terms will prohibit him or her from interfering in the day-to-day running of your business or acting without the UBO's consent. 
The nominee director will mainly take a passive role, acting on the instructions of the UBO. He or she will not have access to your corporate bank account such that you do not need to worry about any potential mismanagement of funds. This will ensure that you are able to maintain full control over your business at all times.
Risks undertaken by a Nominee Director Philippines
For the nominee director himself or herself, there are also some potential risks taken in the decision to fill the role of your nominee director in Philippines. In the event of the Philippines company committing a legal offence, the nominee director will also be implicated together with the company or the company's other directors. The nominee director will then be as liable as local officeholders of the company and subject to the full repercussions of the Philippines law.
However, Tetra Consultants will ensure that the nominee director appointed for your business is a qualified and reliable individual who has gone through our stringent KYC checks and due diligence process and will monitor the business' activities closely to ensure strict compliance with all local regulations in Philippines. Hence, you can rest assured that Tetra Consultants will mitigate all possible risks of the nominee director as much as possible.
Why choose Tetra Consultants' Philippines Nominee Director services?
Unlike other firms, we do not charge our international clients with deposits and there are no hidden costs. All payment terms will be transparently stated clearly in the appointment letter prior to the start of the engagement.
The nominee director appointed by Tetra Consultants' will be subject to strict KYC checks and be knowledgeable of the local Philippines regulations, such that he or she is able to assist your business in maintaining full compliance with all laws. 
By engaging Tetra Consultants' nominee director service Philippines, you will also be able to maintain full authority and control over your business, as the nominee director we appoint will not be able to interfere in the daily operations and running of your business as per the terms of the Nominee Director Agreement.
How can Tetra Consultants provide Philippines Nominee Director service?
The ideal nominee director is one that has the relevant qualifications and experience in corporate governance and annual reporting or filing. Our compliance team is able to provide trusted individuals who have passed our enhanced rounds of due diligence checks. They are either our in-house employees or long-term partners and are mostly competent professionals in the field of accounting or tax or law.
Once engaged, Tetra Consultants will provide you with the KYC documents of the Philippines nominee director, including his or her updated resume, passport copy, proof of address and legal records proving lack of criminal activity.
Our legal team will also draft a nominee director agreement and statutory declaration to be signed by all parties involved. This is to guarantee that the company is completely and fully under your management and that you are indemnified as well. Unless requested specifically, the role of the nominee director appointed will not include playing an active part in your business, nor acting as a signatory to the bank.
After the nominee director service payment is made, Tetra Consultants will proceed to register the Philippines business and appoint the Philippines nominee director with the Securities and Exchange Commission (SEC).
The nominee director in Philippines will not have access to your corporate bank account. You can then rest assured that you will be able to conduct business without worrying about your funds being mishandled.
Required documents for Nominee Director Philippines
As the Philippines resident director will ultimately be subject to litigation and fiduciary risks, Tetra Consultants' compliance team will require some information for due diligence checks:
Identity documents of the Ultimate Beneficial Owners (UBOs) and non-resident directors.
Documents of the parent company (in the event a corporate shareholder is appointed)
Nature of intended business activity
Whether this Philippines company is a dormant or active company
Contact us to find out more about Philippines nominee director services. Our team of experts will revert within the next 24 hours.
FAQ
What is a nominee director?
The term refers to a third-party individual who is appointed, through a contract and for a service fee, to be one of the directors of a company.
What is the purpose of nominee director?
Nominee directors act as the director for a business, via a nominee director agreement. 
A nominee director also does not hold any shares in the company and will not be involved in your everyday business operations or have access to your corporate bank account. 
Unless specifically requested, most nominee director roles will also be passive. This means that despite being appointed as an office member of the company, a nominee director is prohibited from making decisions or performing duties at his sole discretion. He is only allowed to act based on instructions given by the Ultimate Beneficial Owner (UBO) of the company.
Who can appoint a nominee director?
Nominators, who tend to be members of the board of investors of a business, typically appoint a nominee director through contracts. Companies or agencies providing nominee director services, such as Tetra Consultants, can assist you to appoint the nominee director for your business via a nominee director agreement to be signed by all parties.
What is the difference between director and nominee director?
A nominee director is part of the board of directors of a company. A nominee director is typically a non-executive one, meaning that he or she is a third-party to the business and not a shareholder. A nominee director will also typically have a limited and more passive role compared to the executive directors, acting only according to the instructions of the UBO instead of interfering in the company's decision-making process.